Creating art while empowering artists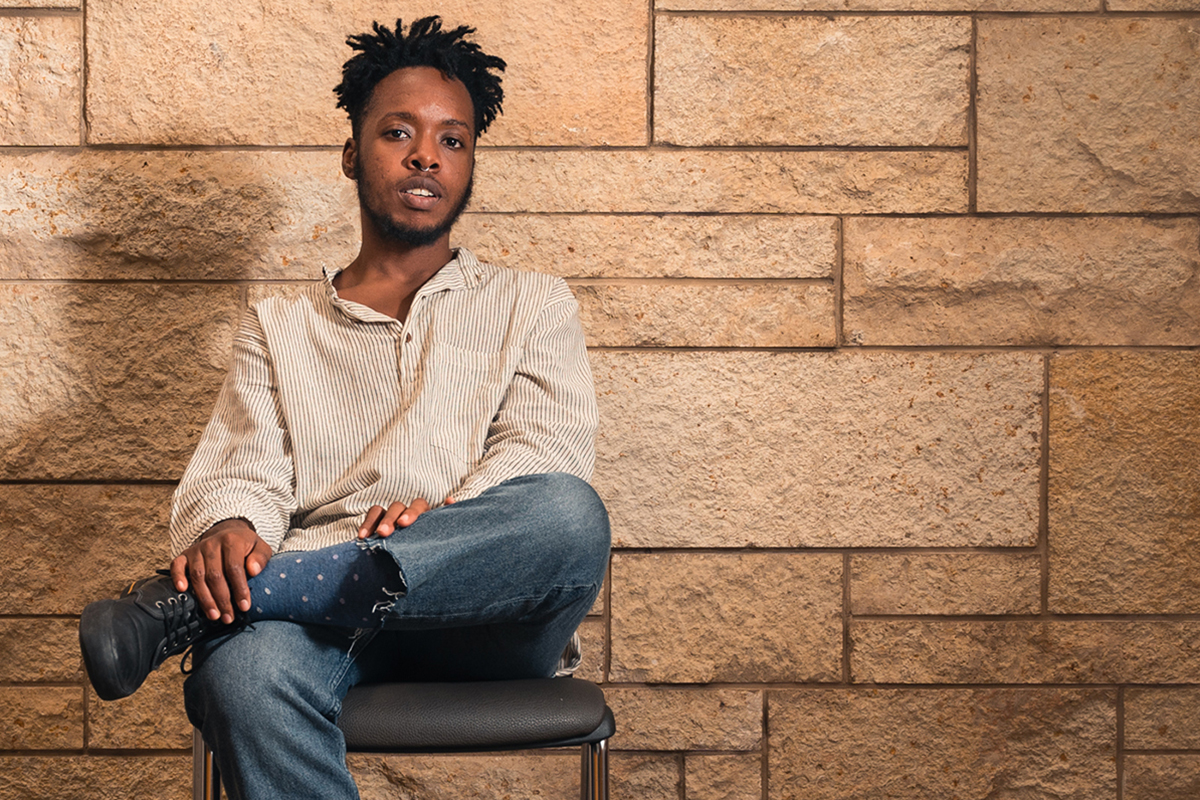 Anaïs Duplan is a poet and video artist. The Iowa Writers' Workshop graduate also has a passion for elevating the work of fellow artists, both in his current home of New York City, as well as back in Iowa City.
University of Iowa students leave their mark on the campus and wider Iowa City community in one way or another, but rarely is that impact as tangible as the one left by Anaïs Duplan.
The New York City resident, poet, curator, artist, and 2017 Iowa Writers' Workshop graduate returns regularly as the founding curator of the Center for Afrofuturist Studies (CAS), an artist residency program for artists of color based in Iowa City.
Duplan says the idea of what would become CAS came to him during an artist residency in Iceland. While there, he learned he had been accepted into the Iowa Writers' Workshop and began to research arts organizations in Iowa City. He emailed his pitch to Public Space One Director John Engelbrecht and Program Director Kalmia Strong.
"It says a lot about John and Kalmia that they were willing to entertain this idea," Duplan says.
The CAS, which launched in late 2015 and hosted its first artist in May 2016, is an initiative to reimagine the futures of marginalized peoples by generating dynamic workspaces for artists of color. It hosts artists-in-residence and produces lectures, workshops, public forums, and exhibitions on the intersections of race, technology, and the diaspora.
"We are very public programming focused," Duplan says. "With many residencies, they give you a studio space and you go work on something for a while. Maybe you do an open studio or have a final exhibition, but that's about it. Here, we are programming all the way through."
CAS artists have worked with community groups such as the Neighborhood Centers of Johnson County through its G! World program and with multiple groups on the UI campus.
When asked to describe what he does, Duplan says there are two sides of the coin. One side includes working with artists and facilitating community engagement around art, while the other involves creating his own art.
Duplan was born in Haiti and moved at age 3 to Boston, Massachusetts. He moved around growing up, mostly in the Northeast but also spending several years in Cuba. He went to the Rhode Island School of Design for a year as a visual artist, but moved toward social sciences and poetry after transferring to Bennington College in Vermont.
He arrived for the Iowa Writers' Workshop without having ever stepped foot in Iowa.
"My first day, I thought, 'What have I done?'" Duplan says. "Bennington has a few hundred students and a few hundred acres. It was a very different environment and a bit daunting."
Duplan says Iowa City was a big culture shock for him.
"I grew up in a lot of white spaces, but they were very 'crunchy,' for lack of a better term—lots of people barefoot, eating vegan pizza," Duplan says. "I had just never lived somewhere outside my sort of idealistic hippie haven. I imagined the whole U.S. was like that."
Despite his feeling of isolation, Duplan says he appreciated the close-knit writing community he found at Iowa.
"There's this awesome weirdness of seeing poets everywhere—in the supermarket and in the bars," Duplan says. "The conversations you're having with your peers aren't just happening in the workshop spaces. They are happening all over Iowa City. I went back for a workshop reading and we were talking about poems to a depth and specificity that doesn't happen in my everyday life in New York. It's a really special bubble to be a part of."
Duplan says the workshop made him a better writer and opened his eyes to new ideas. He references a class taught by Elizabeth Willis as an example.
"There's this awesome weirdness of seeing poets everywhere—in the supermarket and in the bars. The conversations you're having with your peers aren't just happening in the workshop spaces. They are happening all over Iowa City."
"It's a terrible fact, but her seminar was the first class I took in any setting in which the reading list was all women and/or people of color," Duplan says. "I remember thinking, 'You can do this?' She made that possible for me in my imagination."
Duplan is the program manager at Recess in Brooklyn, New York, where he works one-on-one with artists on everything from discussing their work and how it's changing over time to logistical concerns and helping them engage with the community through their work.
Even though he works full-time at Recess, Duplan also is an adjunct assistant professor in poetry at Columbia University.
"Teaching gives me so much energy and makes me excited about writing," Duplan says.
As an independent curator, Duplan also has facilitated artist projects in Chicago, Boston, Santa Fe, and Reykjavík.
Despite working so much with other artists and students, Duplan hasn't abandoned his own art. His second book, Blackspace: On the Poetics of an Afrofuture, will be published this year. The book is largely made up of essays that examine black digital media artists and the strategies they use to approach and challenge the idea of freedom—creative freedom, social freedom, individual freedom, and spiritual freedom.
Duplan credits the Iowa Writers' Workshop with encouraging its students to take classes in other departments across the university. Because of that, he began doing video work. Duplan's video and performance work has been shown on Daata Editions and at Flux Factory (Queens, New York), the 13th Baltic Triennial in Lithuania, Mathew Gallery (New York City), and the Paseo Project (Taos, New Mexico). This year, his video work will be featured in an exhibit at the Institute of Contemporary Art in Los Angeles, California.
While he said it took some time, Duplan says he found his people in Iowa City, both through the workshop and his work with CAS and Public Space One, and he enjoys returning to Iowa City.
"The audiences for our programs in Iowa City tend to be 50-50 people of color," Duplan says. "That doesn't even happen in our audiences in New York. That's special."
Along with his work with CAS, Duplan also participates in local events such as fall 2019's Black Curators' Roundtable, organized by CAS and the University of Iowa Stanley Museum of Art, and spring 2020's Obermann Humanities Symposium, "What Can Museums Become?"
Duplan urges current and potential students to take advantage of their time in the workshop and in Iowa City.
"Treat it like a time to go inside," Duplan says. "It was an introspective time. I learned a lot about myself, partly because I was willing to and partly because I felt isolated. I got a lot of work done in Iowa—way more than I get done in New York."