Hall reaches new heights following hip procedure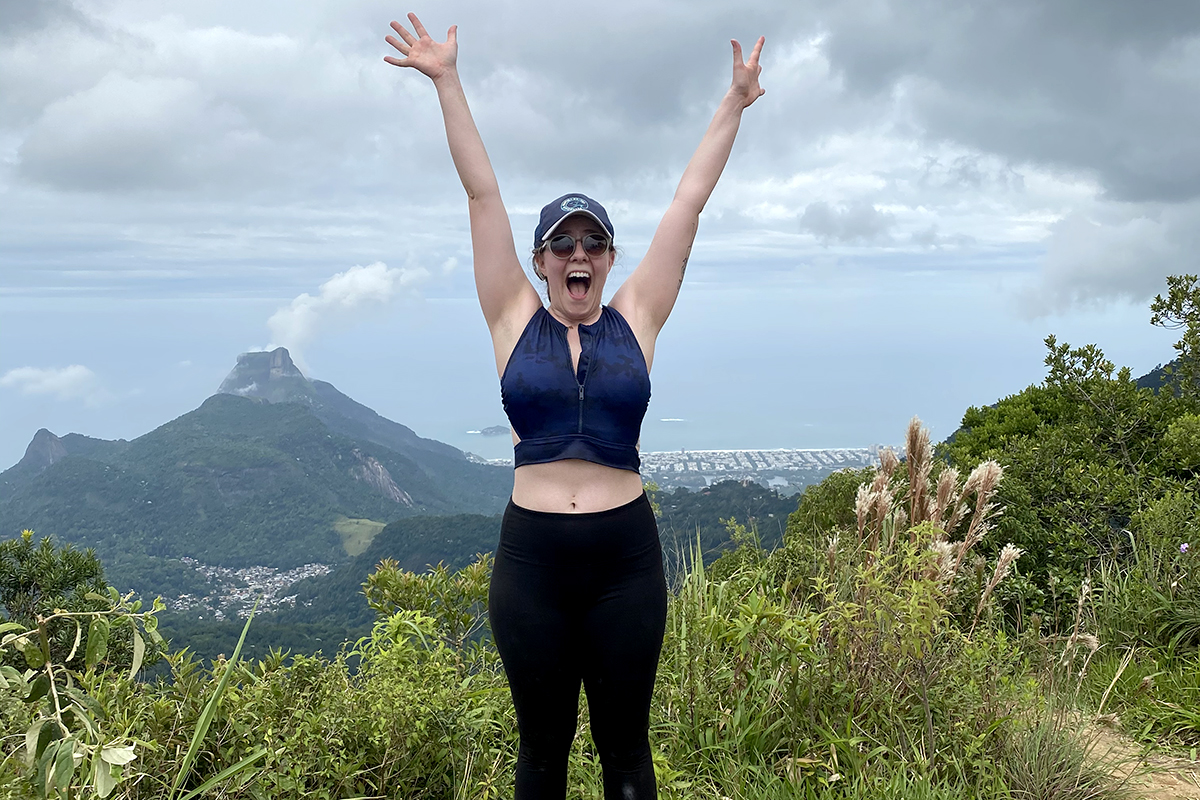 The University of Iowa Young Adult Hip Clinic is the only clinic in Iowa that performs the procedure Becky Hall needed to return to her active life.
UI Health Care Marketing and Communications
Becky Hall, of Des Moines, Iowa, woke up one day in March 2019 with terrible hip pain. She assumed she had pulled a muscle while swimming the day before. When the pain didn't go away, she went to see her doctor.
She was diagnosed with hip dysplasia. The socket in her hip joint was too shallow to support the ball at the top of her leg bone. Left untreated, hip dysplasia leads to joint damage, arthritis, and, eventually, a hip replacement.
Hall, 26, had been enjoying an active life that included swimming and yoga. Now her hip was in constant pain. She needed complex surgery, called periacetabular osteotomy (PAO), to correct the deformity and to repair other joint damage caused by the deformity.
Her doctor referred her to the Young Adult Hip Clinic at University of Iowa Hospitals & Clinics, the only clinic in Iowa that offers PAO. UI orthopedic surgeons Michael Willey, MD, and Robert Westermann, MD, specialize in the advanced hip care required for patients with hip dysplasia.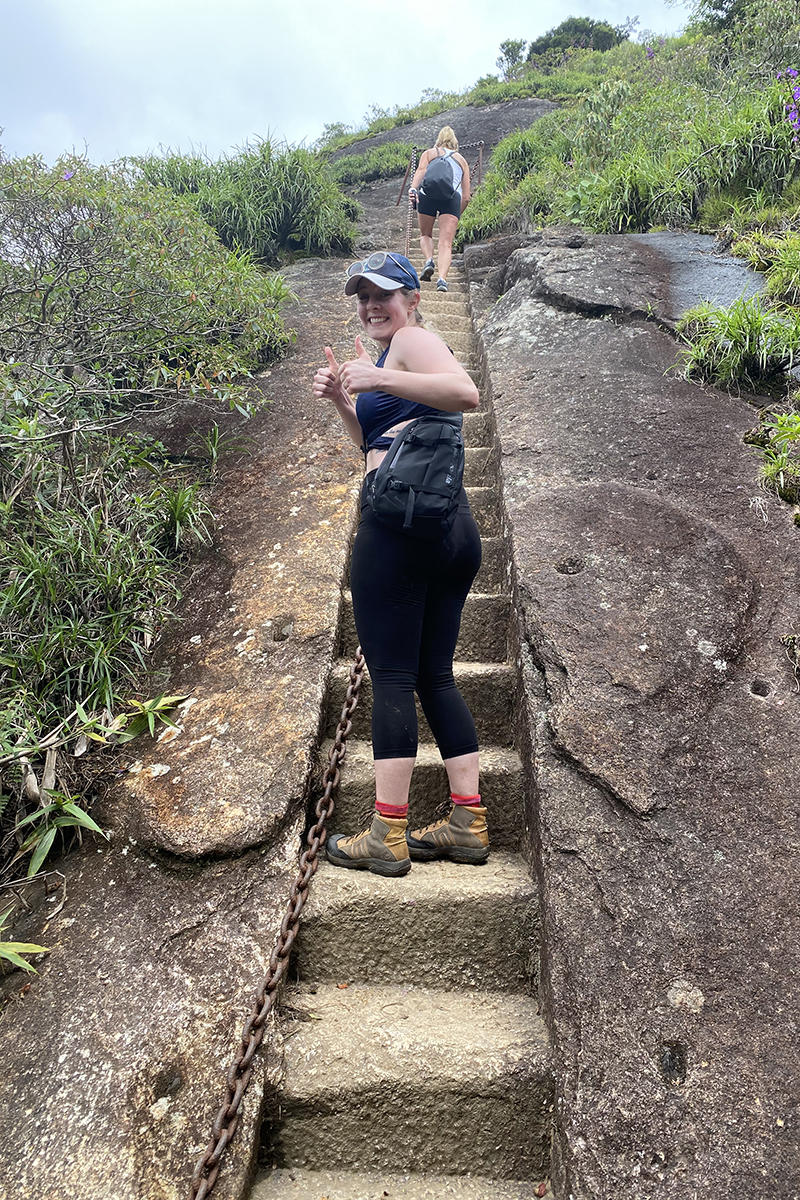 In February 2020, during a trip to Brazil, Becky Hall hiked more than 10 miles to the summit of Pico da Tijuca, a 3,300-foot peak in Tijuca National Park.
Six months later, with a repaired hip, Hall traveled to Brazil and hiked to the tallest summit in the rainforests of Rio de Janeiro.
"I'm so happy to have my life back, pain free," Hall says.
A unique, team approach for hip dysplasia treatment
While Hall enjoys her workouts, they're not just for recreation. She grew up with a chronic health issue, Ehlers-Danlos syndrome, a genetic condition that weakens tendons and ligaments and makes joints more likely to dislocate.
Hall exercises to keep her muscles strong, reducing her risk of dislocating a joint. Hip dysplasia was depriving her of her ability to take control of her own health.
Hip dysplasia causes pain and disability in young people. The deformed hip joint becomes unstable. The ball at the top of the leg bone loads abnormally in the joint. This leads to wear and tear that damages the cartilage and a tissue—known as the labrum—inside the joint.
Hall's joint damage included a torn labrum and femoral impingement—deformed bone that creates pinching in the joint. That damage would need to be repaired with PAO surgery. Willey and Westermann work together to stabilize the joint and correct the hip dysplasia.
"Our approach to hip preservation is unique for people with hip dysplasia," Willey says. "We correct the problems inside the joint as well as problems outside the joint. We've done research that shows it's important to correct the deformity—the bone causing impingement—when stabilizing hip joints."
"The surgery is painful and hard, but it's worth it. I'm thankful I had the amazing staff who listened to every concern and held my hand through the process. My life is completely changed."
Specialized hip care has Creston dancer jumping for joy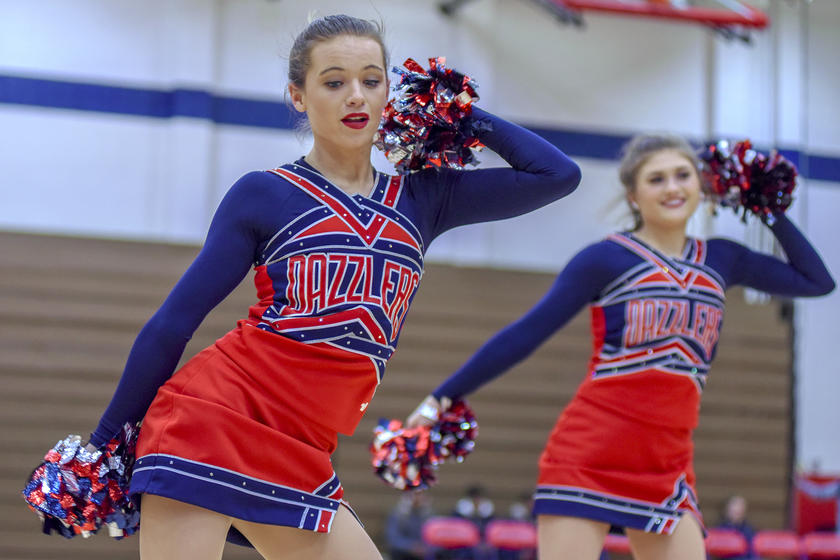 When pain from hip dysplasia threatened to prevent Kiersten Latham from participating in her favorite activities, a team at University of Iowa Hospitals & Clinics worked with her to get her back in action.
During surgery, Westermann first works inside the joint to repair tears and remove bone that's causing impingement. Willey then performs the PAO, cutting the bone around the hip sockets to reposition it and place screws to hold it in a stable position.
It's a relatively new procedure offered by a small number of providers. UI Health Care orthopedic surgeons perform 60 to 80 PAO surgeries each year.
"My life is completely changed"
Because of her childhood health issues, Hall has had more experience with health care providers than most people her age. She says the attention and empathy she received during her hip treatment at UI Hospitals & Clinics is the kind of care all patients deserve.
"I've been used to doctors not taking me and the pain I was experiencing seriously, so I was prepared to feel invalidated," Hall says. "From my first appointment, Dr. Willey was empathetic and took me seriously. He and Dr. Westermann were kind and understanding. I have nothing but respect for them."
The treatment went beyond the operating room. The entire care team provided her with the ability to manage the long process of hip dysplasia treatment, including six weeks of physical therapy before the procedure and plenty of patience and hard work afterward.
"Dr. Willey focused heavily on mentally preparing me for the surgery's long recovery, which I appreciated," she says.
After the procedure, Hall transitioned from bedrest to crutches to intense physical therapy over the course of five months. In February 2020, during a trip to Brazil, she was ready to put her hip to the test. She hiked more than 10 miles to the summit of Pico da Tijuca, a 3,300-foot peak in Tijuca National Park.
"The surgery is painful and hard, but it's worth it," Hall says. "I'm thankful I had the amazing staff who listened to every concern and held my hand through the process. My life is completely changed."