Hip procedure has performer singing UI's praises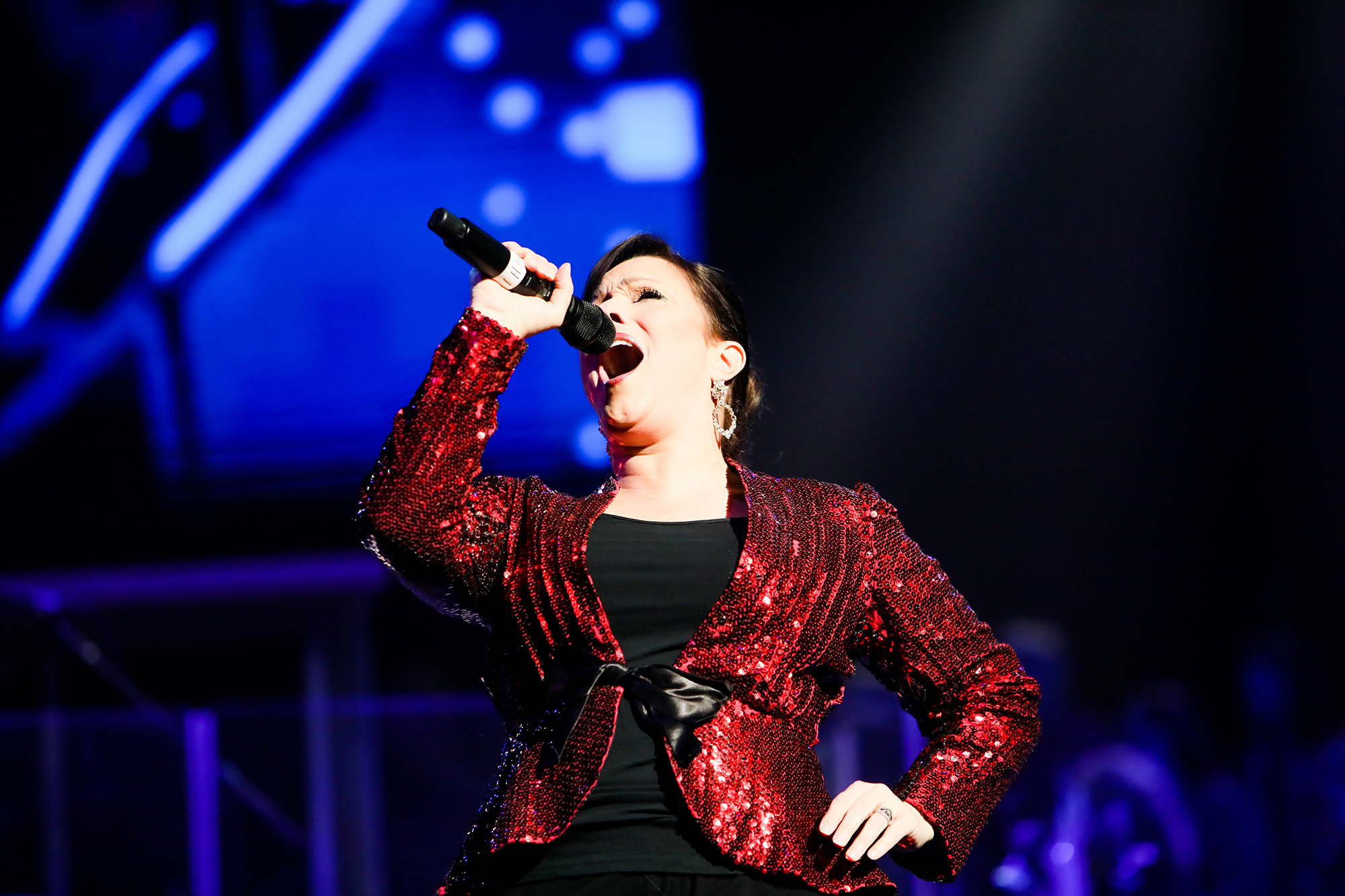 Paula O'Brien's longstanding performing career was threatened by a degenerative hip disease. The Bettendorf singer is back on the stage, thanks to University of Iowa surgeon Jesse Otero's specialty training in hip replacement and personable approach to patient care.
For Paula O'Brien, being on stage wasn't just a hobby; it had been a career.
Her first professional theater role was at age 11, and her love of performing developed from there. But once she turned 40, degenerative hip disease limited her life considerably.
"Singing at church was about all I could handle because of the pain," says O'Brien, of Bettendorf, Iowa.
Have hip issues? UI can help
Choosing the hip replacement procedure that's right for you is not an easy task, and making the right choice is crucial. University of Iowa Health Care has the expertise to help you choose the right options for your individual hip diagnosis.
A family history of hip issues was part of the problem, but an active lifestyle and dysplasia had severely worn down the joints. A replacement of her left hip was done in 2014, but that experience had not gone well and left her with limitations and lingering pain.
"I got to the point where I was afraid to leave the house because I couldn't trust my hips," O'Brien says. "I felt like at any moment something was going to go terribly wrong."
When it was time for her right hip to be replaced in 2018, Paula chose UI Hospitals & Clinics and orthopedic surgeon Jesse Otero, whose specialty training in hip replacement and personable approach to patient care made all the difference.
"He's so knowledgeable, but he also interacts with you on a personal level," Paula says. "He understands that you're living in pain. I knew from my first meeting with him that I was in the best hands possible."
"I got my life back and I feel young again. I didn't think that was possible!"
who underwent total hip arthroplasty at UI Hospitals & Clinics
For O'Brien's hip surgery, Otero used the anterior approach, which involves an incision on the front of the hip instead of the more traditional approaches that use an incision on the side or the back of the hip.
"For total hip arthroplasty, the anterior approach can have several benefits, including shorter hospital stays and quicker time to full recovery," Otero says. "And in Paula's case, that was certainly true."
O'Brien did not require any physical therapy after the surgery, and her return to a normal life was swift.
"I just did exercises at home," she says. "About six weeks after the surgery, we took a trip to St. Louis, and I got in 15,000 steps in one day with no pain."
At three months, even her left hip was feeling better.
"Dr. Otero was considering doing a revision on the left hip," O'Brien says. "But once my right hip was fixed and I was no longer walking with a limp, I was suddenly experiencing much less pain in the left hip."
By December, O'Brien was back on stage. She was also getting out more, keeping up with her kids, Kieran and Avery, and even going out dancing with her husband.
"I got my life back and I feel young again," O'Brien says, "I didn't think that was possible!"
Produced by University of Iowa Health Care Marketing and Communications