Here's looking at you, Kid Captains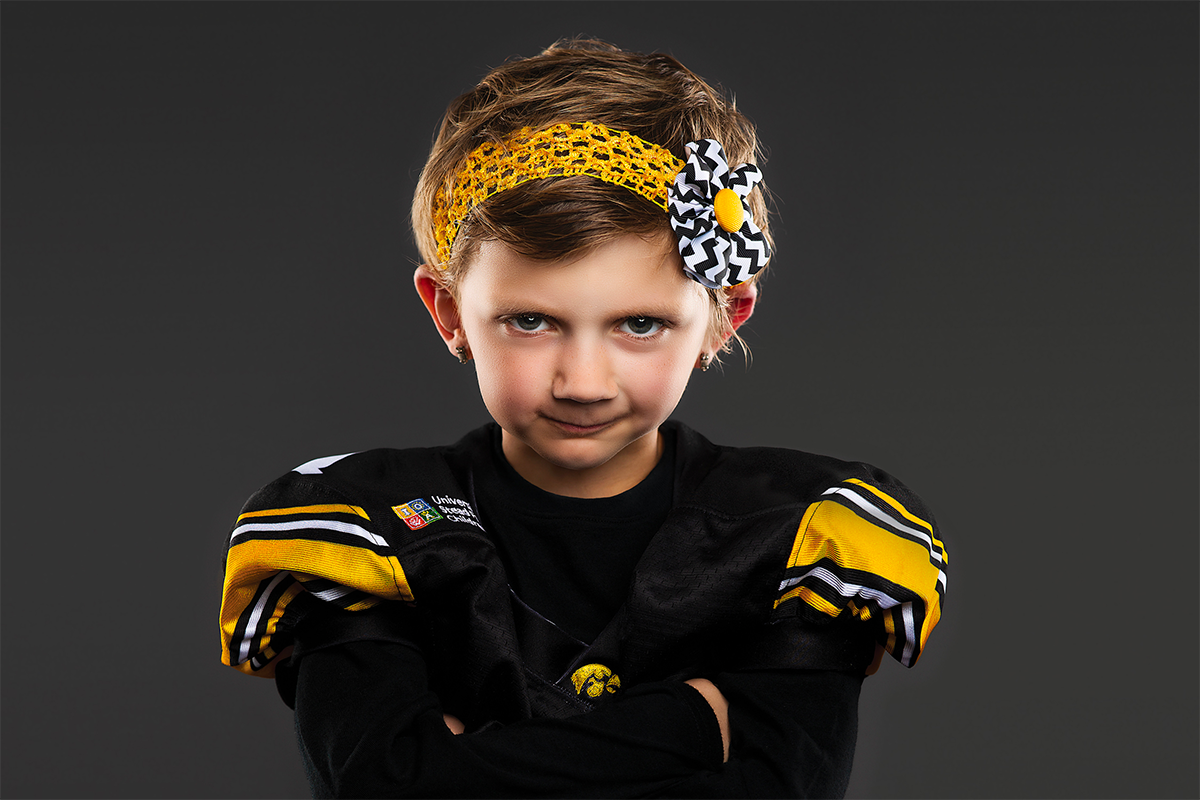 A decade of Kid Captains highlights the special bond between University of Iowa Stead Family Children's Hospital and the football team that plays right across the street.
Six-year-old Harper Stribe waited on the sidelines, heart pounding, wearing a football jersey and black-and-gold headband. The crowd was calling her name, and her big sister, Maddie, stood nearby to calm her nerves. Suddenly, it was time. The game's honorary captain joined her, and Harper stepped onto the gridiron as the Kid Captain for the 2018 faceoff between the Iowa Hawkeyes and Iowa State Cyclones.
Your 2019 Kid Captain roster!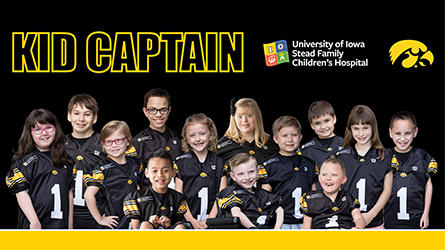 Thirteen current and former University of Iowa Stead Family Children's Hospital patients are gearing up as members of the 2019 Kid Captain team. This year's Kid Captains were selected from 241 nominations from five states.
Grinning shyly as the announcer called her name, she performed a dance move called "the dab" that brought the fans to their feet. Behind her, in the gleaming oval tower overlooking Kinnick Stadium, patients and their families watching from the top floor of University of Iowa Stead Family Children's Hospital cheered, too.
That moment was one of the highlights of a remarkable 10-season partnership between the hospital and the Iowa football team that grew out of their close physical proximity and history of informal connections. The Kid Captain program, which honors pediatric patients and connects them with their Hawkeye heroes, kicked off in September 2009, with the first captain, Jack Koehn, making his debut at a matchup against the University of Northern Iowa. When Harper stepped onto Kinnick's field, one month before a Kid Captain reunion during Homecoming, she was the program's 123rd participant.
Hawkeye football player and UI junior Landan Paulsen leaned down to speak to Harper in the Kinnick tunnel ahead of the game. During the conversation, he gave her his gloves, which she wore until heading out onto the field and now keeps in her bedroom. "There's just something about her," says Paulsen, a 6-foot-5, 305-pound offensive lineman from Moville, Iowa. "She has a sassiness about her, and she's a fighter—but her smile could make anyone's day. What 6-year-old kid can go to the middle of the field in front of 70,000 fans and get them pumped up?"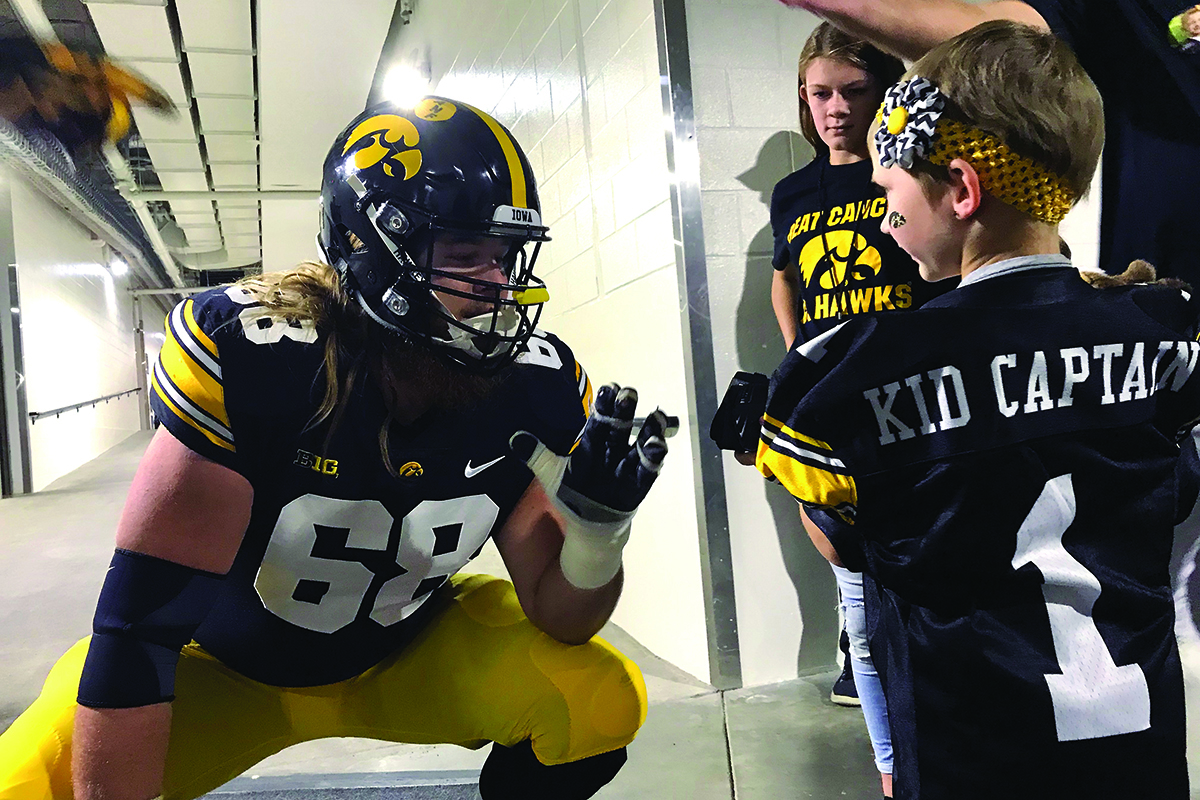 A devastating diagnosis
Nicole and Nolan Stribe, of Polk City, Iowa, weren't surprised that Harper, the youngest of their three children, was able to do so because she'd already overcome a much bigger challenge.
At first, they thought it was a mosquito bite—then a virus—causing the rapidly growing bump on Harper's cheek in May 2017. Eventually, they discovered it was embryonal rhabdomyosarcoma, a type of cancer that forms in the skeletal muscles and had become a 6-centimeter tumor entwined around her jawbone and facial nerves.
Due to the tumor's location, surgery wasn't an option. Instead, Harper underwent a 45-week treatment protocol of chemotherapy and six weeks of radiation at UI Stead Family Children's Hospital.
In 2017 alone, the hospital, which is home to the state's only nationally ranked pediatric cancer program, treated more patients than Kinnick Stadium can seat. It saw 77,068 children from every county in Iowa, every state, and several countries.
"During football season, we'd walk into the hospital for clinic and grab a Kid Captain flier, I'd read their stories to Harper in the waiting room, and they made us feel less alone. These kids were sick, too—they were poked and prodded—and yet they went on to become Kid Captains."
mother of Harper Stribe, a 2018 Kid Captain
The Stribes were no strangers to the children's hospital because Harper's older brother, Nile, already was receiving care there for Fragile X Syndrome, a genetic condition that causes a range of developmental problems, including learning disabilities and cognitive impairment. Nolan Stribe says that Harper has been familiar with the hospital since she was 3 months old because they'd tested her for Fragile X Syndrome prior to her cancer diagnosis.
Harper's parents knew she was in good hands for her treatment. Yet those early days, when doctors were conducting a battery of tests and installing an intravenous line for medications, remained agonizing for the Stribes. Harper's mother recalled the despair she and her husband felt when they realized this was their family's new reality. They also felt shattered when two of Harper's young hospital friends—whose pictures were on buttons she wore during her Kid Captain day—died, and they had to explain the deaths to their daughter.
Throughout those tough times, the Stribes found hope in the Kid Captain program. "During football season, we'd walk into the hospital for clinic and grab a Kid Captain flier," says Nicole Stribe. "I'd read their stories to Harper in the waiting room, and they made us feel less alone. These kids were sick, too—they were poked and prodded—and yet they went on to become Kid Captains."
The fliers, some of which are now in a keepsake box in Harper's bedroom, inspired the Stribes to nominate their own little girl for the program—and helped make one of the most joyful days of their lives even sweeter. On May 7, 2018, Harper's extended family celebrated her end-of-treatment party at the children's hospital. On that same day, doctors told them she was cancer free. Then, just as they were preparing to drive away from the hospital, a final bit of good news: Their phone rang, and they learned that Harper would be a Kid Captain.
"We all were crying in the car," says Nicole Stribe, who, along with her husband, is a lifelong Hawkeye fan. "We were on cloud nine."
That exuberance carried over into Harper's day with the Hawkeyes, during which she got visits from Cody, a therapy dog who'd cheered her up during some difficult moments in the hospital, and Jamie Truscott, one of the physicians from her care team. Best of all, the experience gave the Stribes an unexpected gift. Their entire family—including Nile, whose condition makes it difficult for him to tolerate noisy or crowded situations—was able to sit together in the stands for part of the game.
"We never thought we'd get Nile there," says Nicole Stribe. "But he even participated in the Iowa chant. We had tears in our eyes because that probably will never happen again. The stars were aligned, and it was all because of Harper's Kid Captain honor."
Ten seasons and counting
During the 2017 season, football fans came up with a new tradition known as the Wave, which swept through the world of collegiate sports thanks to the brand-new children's hospital across the street from Kinnick Stadium. At the end of every home game's first quarter, Hawkeye fans turned away from the field to wave at patients and families watching from the "press box" on the hospital's top floor. Since then, this heartwarming phenomenon has expanded to include fans, players, and coaches from both teams, who light up the Wave with their cellphones during night games. But long before the Wave took off, the Kid Captain program was going strong.
"We're in a unique situation, with the hospital and the stadium being such close neighbors," says Cheryl Hodgson, director of marketing for UI Stead Family Children's Hospital. "So many of our patients love sports and want to play, but they aren't able to do so. Kid Captain lets them be sports heroes for a day—and gives them something to remember for the rest of their lives."
"Kid Captain lets them be sports heroes for a day—and gives them something to remember for the rest of their lives."
University of Iowa alumna and director of marketing for UI Stead Family Children's Hospital
Hodgson and Chuck Schroeder, then the general manager of Hawkeye Sports Properties, created the Kid Captain program to honor pediatric patients and celebrate their stories. It is open to any current or former UI Stead Family Children's Hospital patient who is 18 years old or younger, and only parents or legal guardians may nominate a child. Hodgson says she was stunned to receive 350 nominations during Kid Captain's inaugural season, and the program's independent committee has continued to review 300 to 400 submissions per year in the decade since. The group annually selects 13 Kid Captains—sometimes pairing up siblings as joint captains—for every game in the football lineup.
Prior to the season's start, all Kid Captains are invited to the annual Kids Day at Kinnick. During this year's event, Harper and the other Kid Captains toured the Iowa locker room, where they found their own personalized lockers filled with Hawkeye gifts. They also exchanged Kid Captain trading cards, donned oversized football helmets and pads, and collected player autographs before senior team members led them out, hand-in-hand, onto the field. Before the group entered the stadium, senior offensive lineman Dalton Ferguson—whose appreciation for the children's hospital has only grown since his twins were born there prematurely in the fall of 2017—lifted Kid Captain Gwen White up to touch the top of the tunnel for good luck.
This special day on the field was just the beginning of their Kid Captain experience. The hospital also shared the patients' stories through flyers, videos, social media, and banners lining the street near the stadium. In addition, each home-game captain spent an hour on the sidelines before the game, met coaches and players in the Hawkeye tunnel, and was introduced at midfield before the game.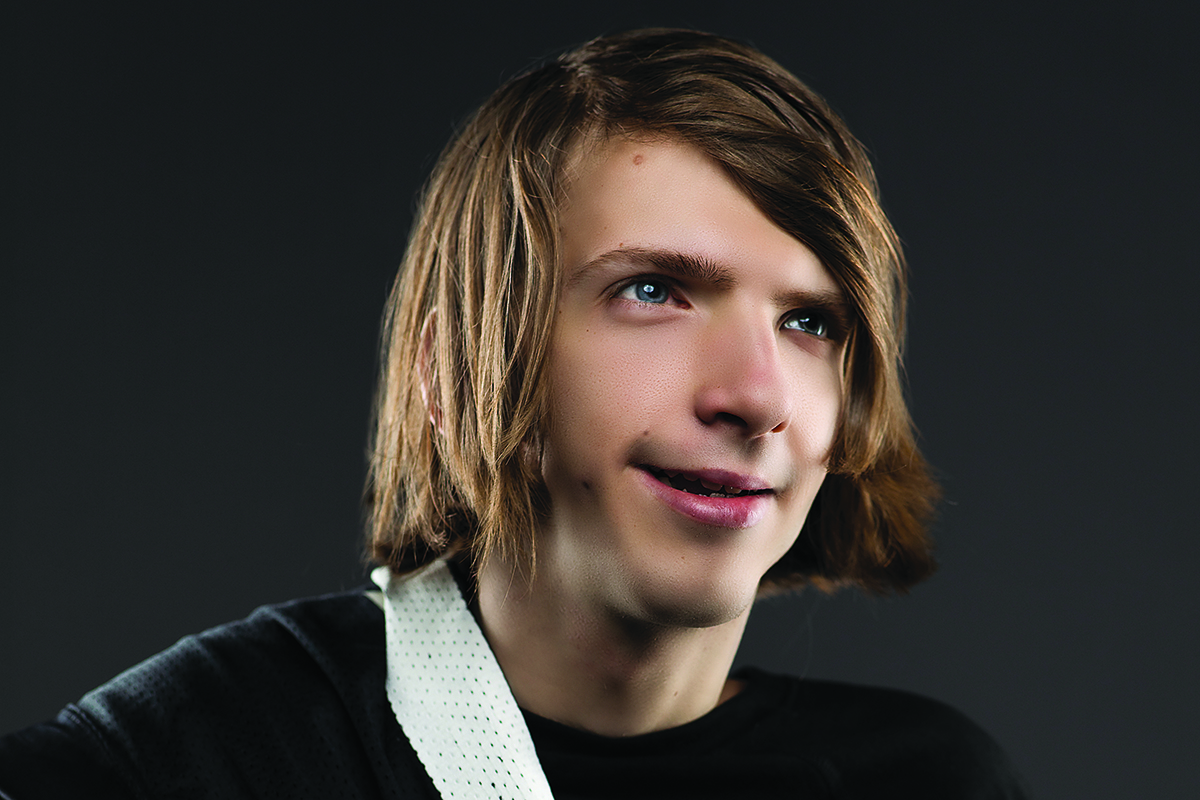 Into the Swarm
What Koehn, of Mount Vernon, Iowa, remembers most vividly about his "strangely emotional day" as the first Kid Captain in 2009 is that time at midfield. He was a die-hard, 13-year-old Hawk fan, and when he stepped out of the tunnel, the experience felt "huge" to him. "I remember looking out at the swarm of black and gold and hearing the announcer calling my name," he says. "It was just this overwhelming feeling that something amazing was happening to me."
Making it even more incredible, he was standing next to a giant of the Hawkeye pantheon, legendary coach Hayden Fry, who was the honorary captain for that game. "He was the nicest guy," says Koehn, now 22. "When we walked onto the field together, I was screaming, 'Go, Hawks!' the whole time."
"The hospital has a special place in my heart and always will. I've practically lived there for the last 22 years. I've formed relationships there and received care there, just like I would at my own home. It's my community."
the first patient honored as a Kid Captain
This was a scene that Koehn's mother, Julie Ruden, couldn't have imagined for much of his life, though she eventually would write his Kid Captain nomination. During her pregnancy with Koehn, doctors told her the baby was hydrocephalic and would need immediate surgery after delivery to place a shunt that would relieve the build-up of fluid on his brain. Further complicating matters, they discovered that Koehn also had a severe case of hemophilia, a blood-clotting disorder that made the procedure even more harrowing.
While the initial surgery was a success, Koehn remained a regular at UI Stead Family Children's Hospital throughout the years. He had countless appointments in pediatric neurosurgery, endocrinology, and dentistry, as well as in the hemophilia clinic, and continues to make frequent trips to the hospital, which he considers a second home. In fact, one of Koehn's favorite UI care providers, hemophilia nurse Karla Watkinson, likes to remind him that she was among the first to see him when he was born—even before his mother.
"The hospital has a special place in my heart and always will," says Koehn, who now works at an after-school program for elementary students. "I've practically lived there for the last 22 years. I've formed relationships there and received care there, just like I would at my own home. It's my community."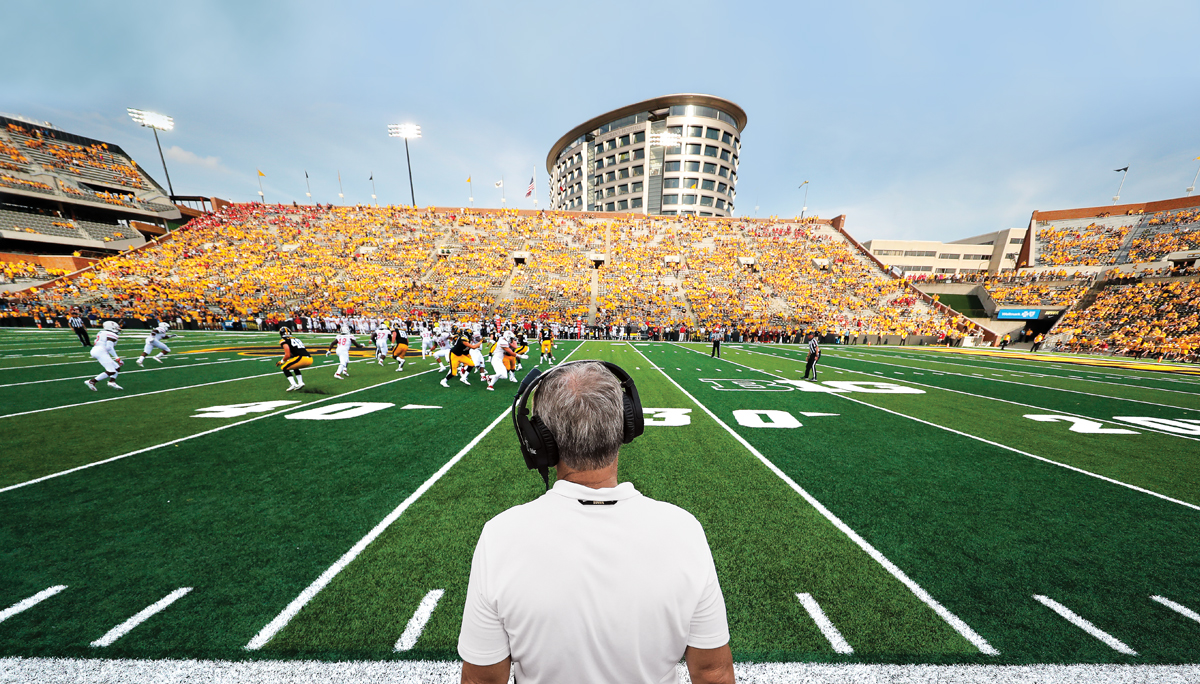 The hospital's Hawkeyes
Fostering that sense of community is a driving force behind the Child Life Program at UI Stead Family Children's Hospital. In 1980, the program had just four employees; now it's grown to encompass 15 staff members and several student workers who strive to make patients' experiences as comfortable as possible.
One way Child Life does this is by facilitating visits between sick kids and Hawkeye student-athletes. It's the reason why Harper was able to meet some of the players from the men's basketball and women's soccer teams while she was in the hospital. "Seeing that kind of support for these kids is just amazing," says Nicole Stribe. "It's a really inspiring community."
For years, UI players have come to the hospital to visit families such as the Stribes. However, according to Child Life event specialist Kathy Whiteside, these visits have become much more streamlined throughout the last few seasons, giving sick children who aren't Kid Captains chances to meet their Hawkeye idols. The program also ensures the hospital adheres to NCAA compliance standards for fair treatment of student-athletes—and has created more avenues for football players to get involved.
"We've literally watched that building rise out of the ground. It's a constant reminder that we're making a difference."
chair of UI Stead Family Children's Hospital's advisory council
James Vandenberg understands the life-changing nature of this involvement. The former UI quarterback (2008–12) made several trips to the children's hospital while on the team. There, he forged a deep bond with a "little peanut" named Ellie Capaldo, a toddler who lived near his hometown of Keokuk, Iowa, and had been diagnosed with B-cell acute lymphoblastic leukemia in July 2012. She was undergoing two-and-a-half years of treatment, both in and out of the hospital, and the chemotherapy drugs she was taking were so toxic that her parents had to wear gloves when changing her diapers.
"Ellie was super shy when I dropped in," says Vandenberg. "Her parents liked to tease her about me being her boyfriend."
During those visits, he would do everything from color with Ellie to play an Easy-Bake Oven game on her iPad. Ellie's father, Nick Capaldo, remembers a time when Vandenberg and his teammate Micah Hyde stopped by and then left for a team meeting with their clothes covered in silver glitter after doing crafts with Ellie.
"You only ever saw those guys on TV, and that could make them seem larger than life," says Capaldo. "But watching James sit at a tiny table with Ellie—we didn't know him as a football player; we knew him as a good-hearted, down-to-earth person."
Today, Ellie's cancer is in remission, and her dad describes her as a "spunky, fearless, outspoken" second-grader who loves dance and acrobatics. She also remains involved with UI Dance Marathon, a student-run organization that provides emotional and financial support for patients and families at the children's hospital.
Ellie still has a soft spot for Vandenberg. He stays in touch with the Capaldos—and even has eaten dinner at their house. "It's funny how much my awareness has changed," says Vandenberg, now the father of a 1-year-old daughter. "I try to imagine what they went through, and I can't even put a thought to it. I knew it was a big deal back then, but I understand that even better today."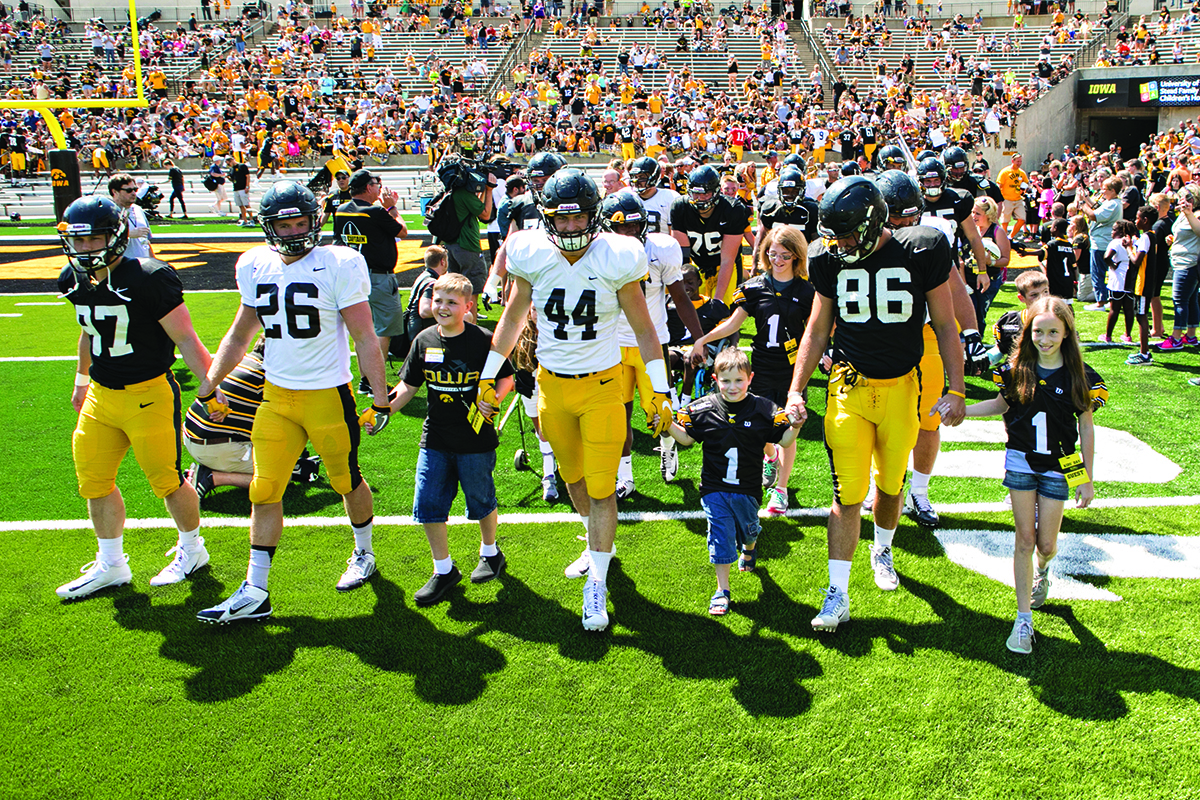 A perfect partnership
Like the Capaldos, Mary Ferentz knows firsthand that players such as Vandenberg are more than just local celebrities. "Most people only see a bunch of big guys down on the field, but they are sons, husbands, fathers, brothers, and boyfriends," says Ferentz, wife of longtime Iowa football coach Kirk Ferentz and mother of Brian Ferentz, the Hawkeyes' offensive coordinator and a former offensive lineman in the NFL. "Who better to advocate for our most vulnerable population than these elite athletes blessed with so many gifts?"
Mary Ferentz is herself a tireless promoter for the children's hospital, which has been her passion since 2006, when she became chair of its newly formed advisory council. She also served as community liaison for the hospital's recent building campaign, which culminated in the November 2016 dedication of a state-of-the art, 14-floor facility—home to 170 pediatric physicians, surgeons, and dentists and more than 700 specially trained pediatric nurses.
In August 2014, the Ferentzes' granddaughter Savvy Elizabeth was born at Iowa—at less than 22 weeks' gestation—and did not survive. Three years later, the couple donated $1 million to the new hospital to establish the Savvy Ferentz Program in Neonatal Research in her memory. At the time of the gift, Mary Ferentz wrote: "We knew Savvy was born too early. We also knew they do extraordinary things at UI Stead Family Children's Hospital that would give her a fighting chance. We were thankful for that."
Because she believes so strongly in its work, Mary Ferentz has helped raise more than $2 million for the hospital through her Iowa Ladies Football Academy. In 2011, she created the annual fundraising event, which gives women the chance to experience a day in the life of a Hawkeye football player.
"Women, children, and football—it's a perfect trifecta," says Ferentz. "We love our Hawkeyes, and we love our children, and we've literally watched that building rise out of the ground. It's a constant reminder that we're making a difference."

children seen at UI Stead Family Children's Hospital in 2017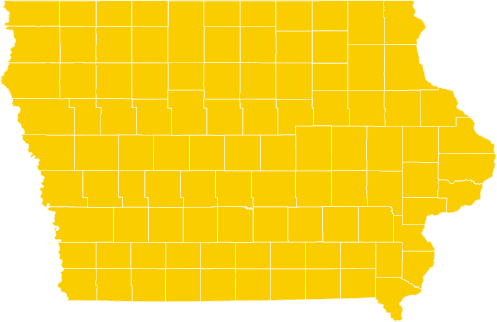 Iowa counties served in 2017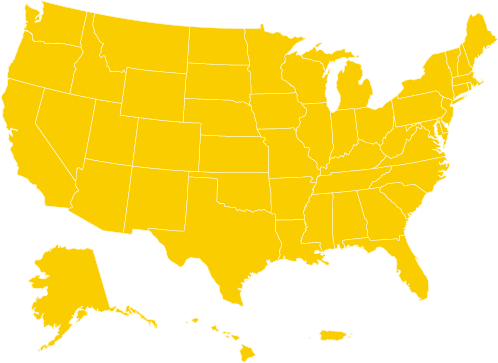 Dallas Clark, a former All-American Hawkeye tight end who played in the NFL for 11 years, believes the new space also makes it easier for Iowa's football players to help patients and families. In 2016, he joined forces with actor and former Iowa student Ashton Kutcher to host Back Porch Revival, a country music festival at Kinnick Stadium that donated a portion of its proceeds to UI Stead Family Children's Hospital.
Want more stories like this?
Iowa Magazine, produced by the UI Center for Advancement, has no shortage of stories that showcase the amazing talents of the University of Iowa community.
Clark says the building has created opportunities that didn't exist when he was with the team (1999–2002). "The Hawkeye football program and the children's hospital both have come a long way," he says. "That facility has opened the door for some incredible connections between the two."
A moment earlier this fall, during Harper's Kid Captain debut, brought that home for Clark, who was in the stands with his three young children. He recalls watching Coach Kirk Ferentz pause to join in the Wave, rather than using those precious few minutes to huddle with the team after a rough first quarter.
"That was a good reminder that some things are more important than any game," Clark says. "When everyone in Kinnick waves at patients—and when Kid Captains walk out onto the field—those kids get to feel normal again. They get to think about the Hawkeyes. And it's a great feeling to help them fight another day."
Produced by the UI Center for Advancement
Dan Rolling, Brian Ray, and courtesy of UI Stead Family Children's Hospital
UI Stead Family Children's Hospital