Performances, projects that help define illustrious career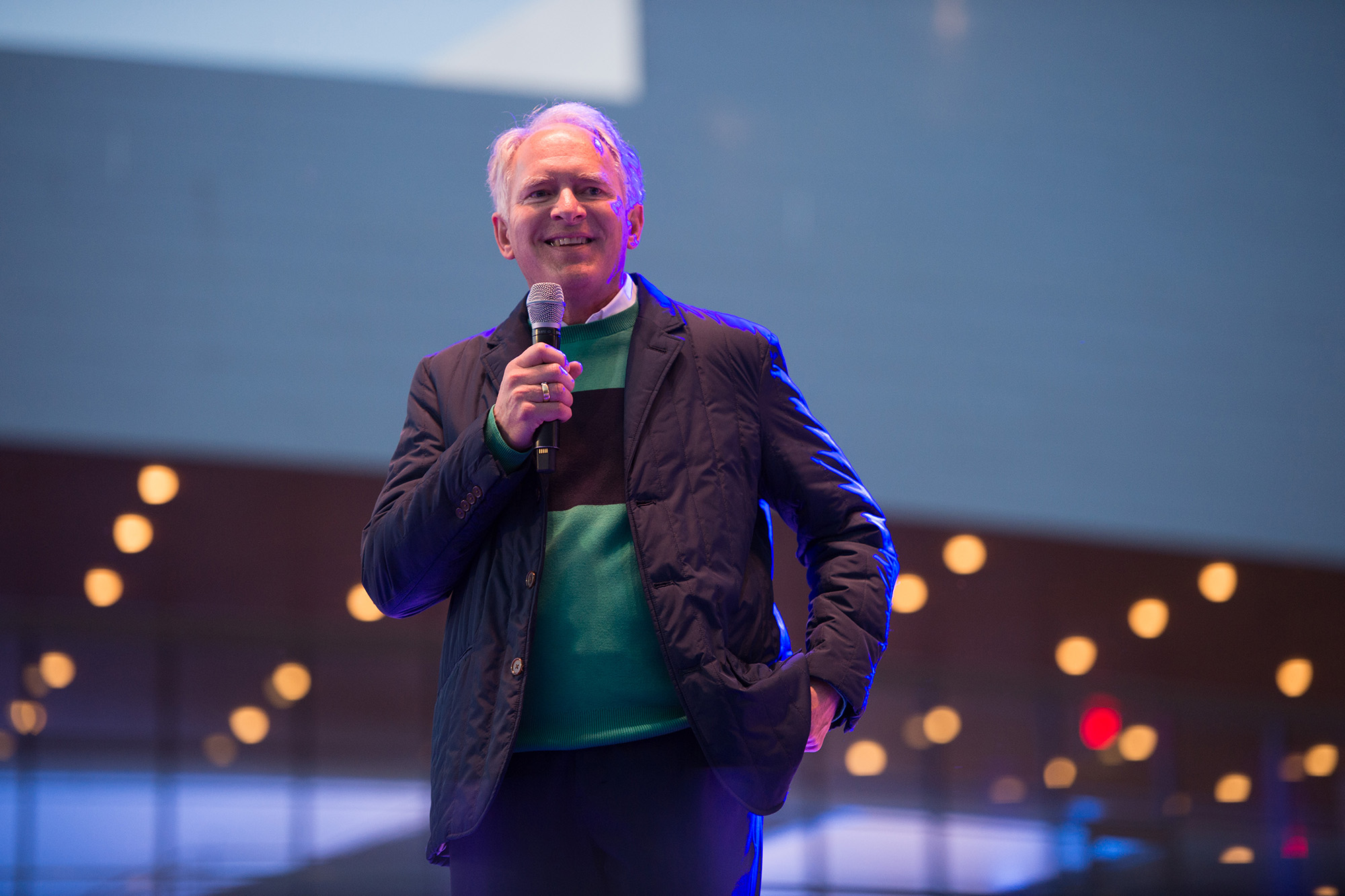 As executive director of Hancher Auditorium, Chuck Swanson has helped introduce Iowans across the state to hundreds of artists for more than two decades. As he prepares to retire this summer, he shares a few of his favorites.
Hancher Executive Director Chuck Swanson speaks Oct. 1, 2017, before Leslie Odom Jr.'s free outdoor performance at Hancher Auditorium. (Photo by Tim Schoon)
As an undergraduate student at the University of Iowa, Chuck Swanson was in the audience during Hancher Auditorium's inaugural season in 1972 for a University of Iowa production of the Broadway musical The Music Man, written by Iowa-born composer Meredith Willson. 
Swanson has seen hundreds of performances in the original and new Hancher over the years—and since being named executive director of the performance arts presenter in 2002, he has played a leading role in introducing Iowans across the state to a diverse array of artists.
As Swanson prepares to retire this summer—having worked at Hancher since 1985, first as a business manager and then associate director—he shares, in his own words, some of the performances and projects that stand out as fond memories and points of personal pride since assuming the main leadership role­.
---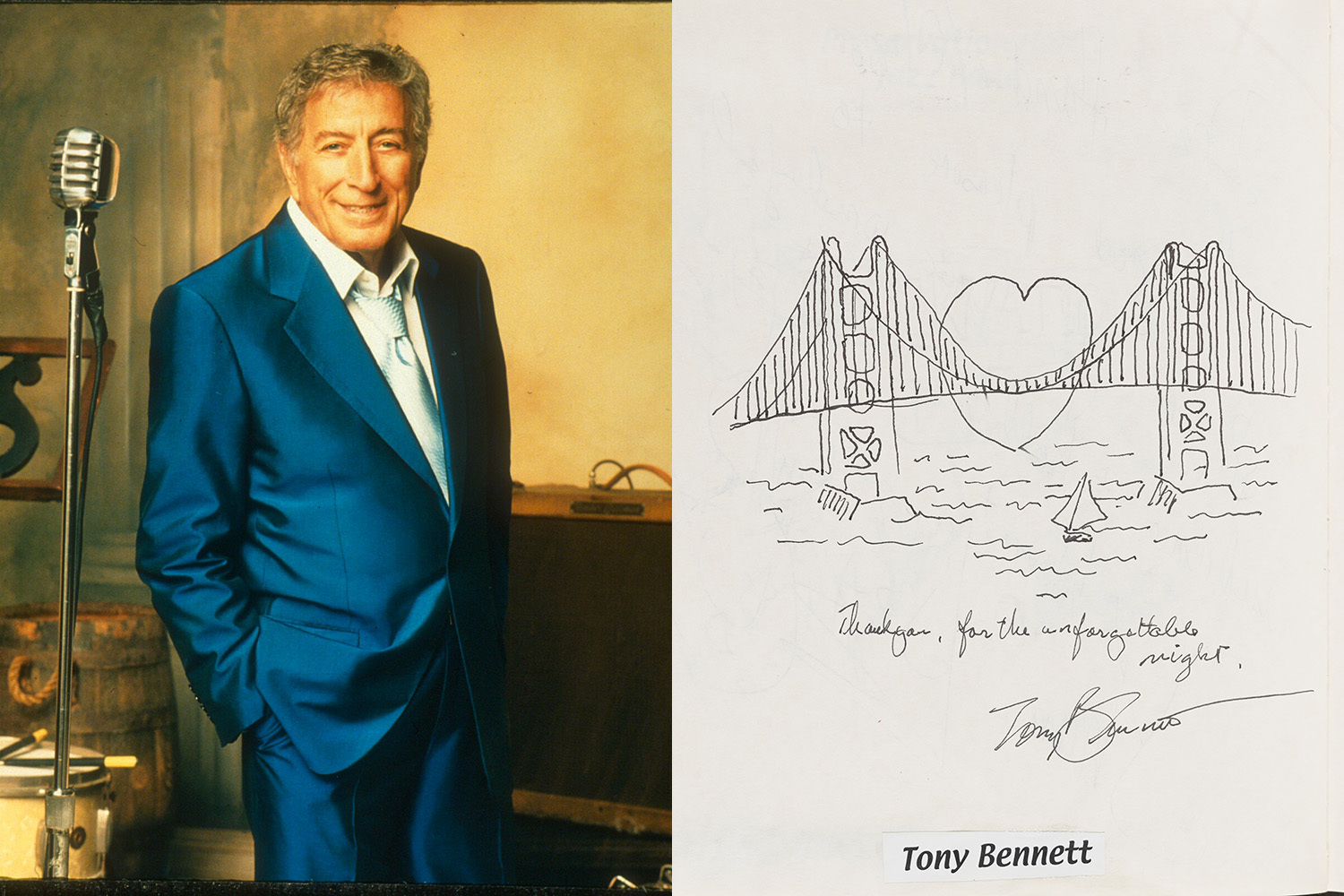 Tony Bennett, 2002
To commemorate Hancher's 30th anniversary, we were thrilled to present the great Tony Bennett. Our season theme that year was Hancher: A Pearl by the River, and presenting such a pearl of American music was the perfect way to celebrate. Presenting Tony was such a pleasure. He was such a gent and his motto was "Make it easy!"
---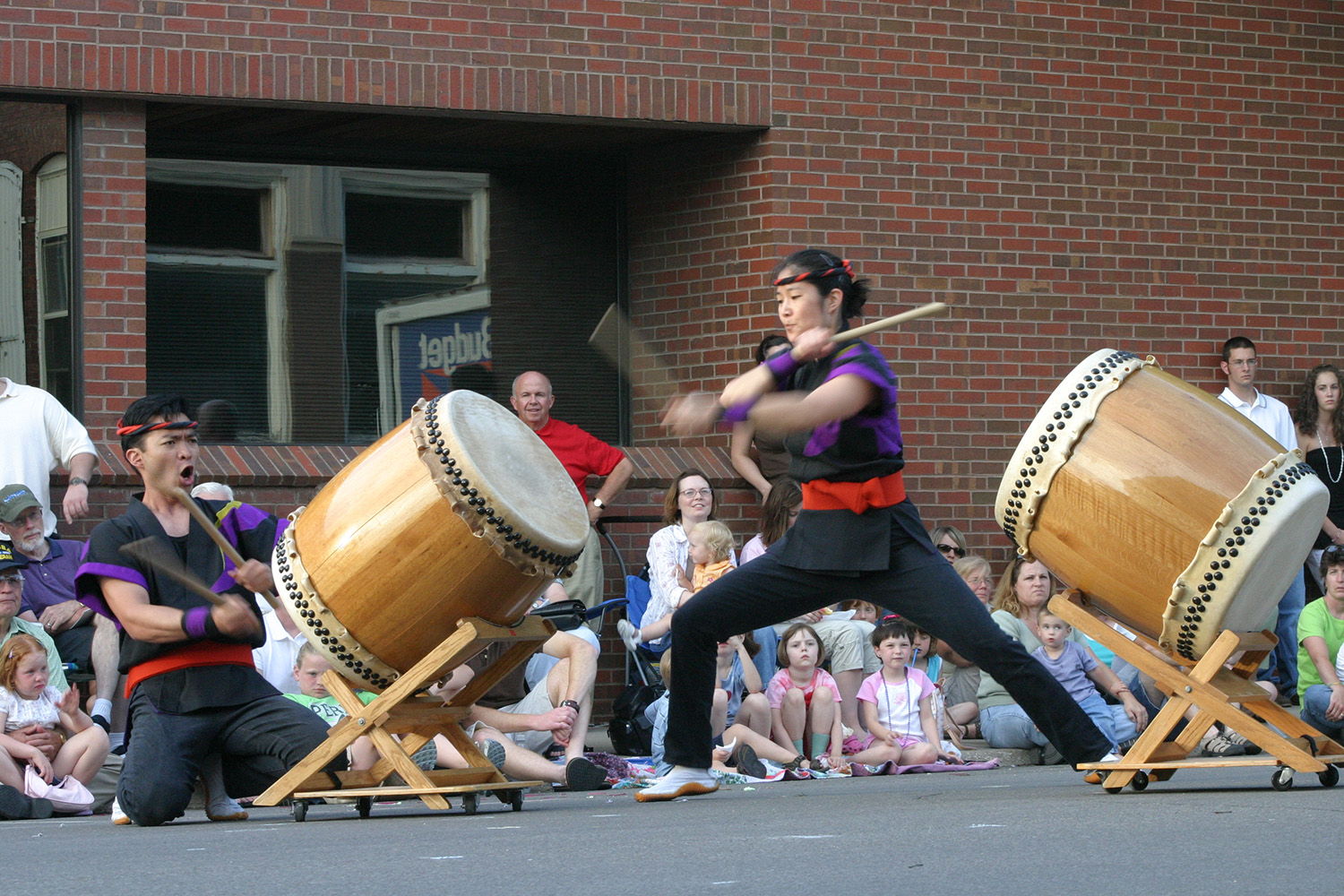 SPOT Project, 2004-2008
This was an ambitious project funded by the Wallace Foundation. Hancher connected with four communities across the state: Spencer, Perry, Marshalltown, and Iowa City. We partnered with libraries, YMCAs, art centers, and other organizations, bringing two artists each year over a four-year period to connect with young families in these communities. It was such a joy to serve as an ambassador for the University of Iowa and to connect these young families early with the university. We made friends for a lifetime—and probably inspired some young people who became Hawkeyes down the road.
---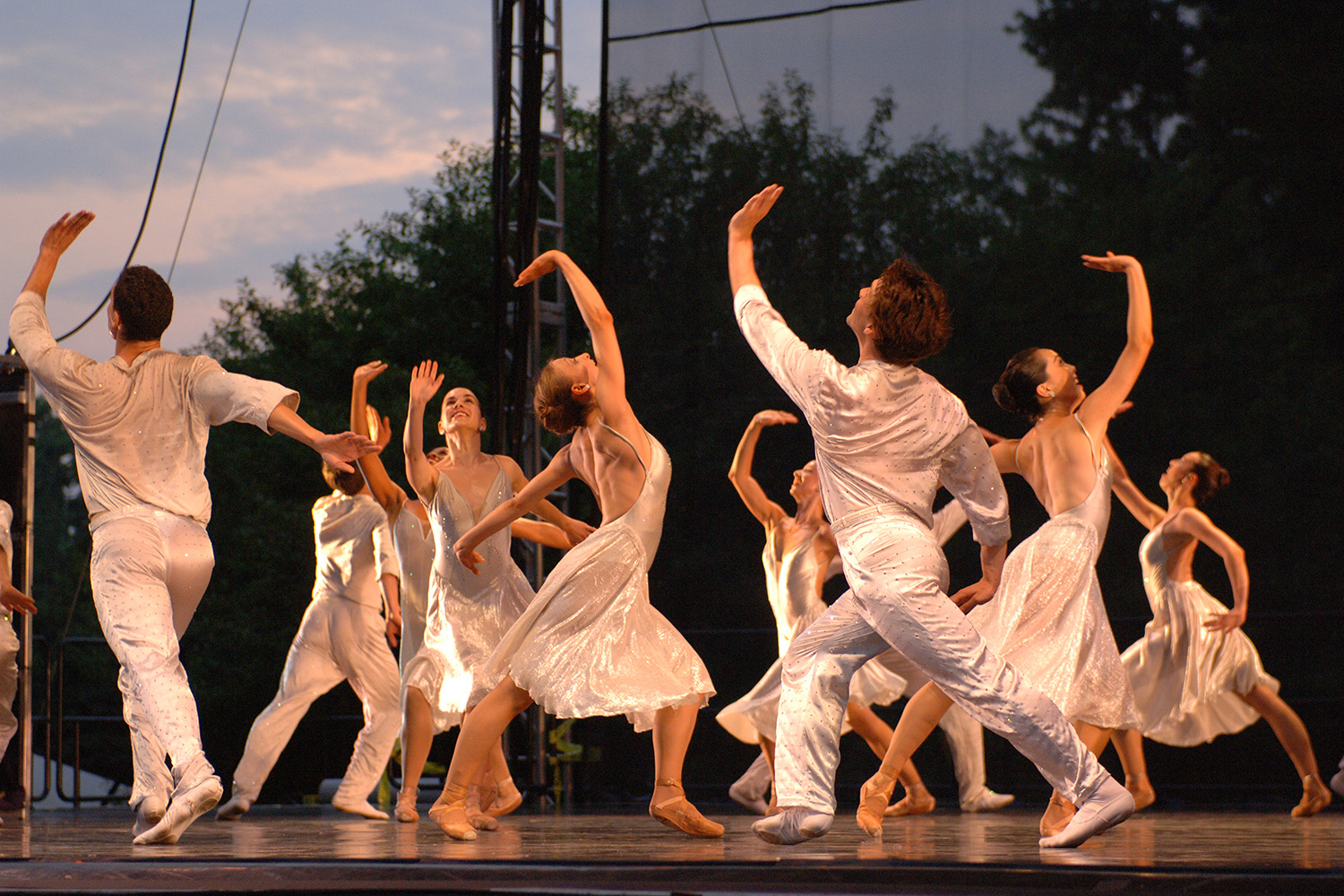 Joffrey Ballet River-to-River Tour, 2007
This was our gift to the state in celebration of Hancher's 35th anniversary. We presented free outdoor performances in Des Moines, Council Bluffs, Muscatine, Cedar Rapids, and Iowa City. All told, we brought these amazing dancers to 35,000 Iowans! This was a bold project with a very successful outcome, creating memories that will last forever. It was such a pleasure working with community members in each of these towns. Special friendships were created.
---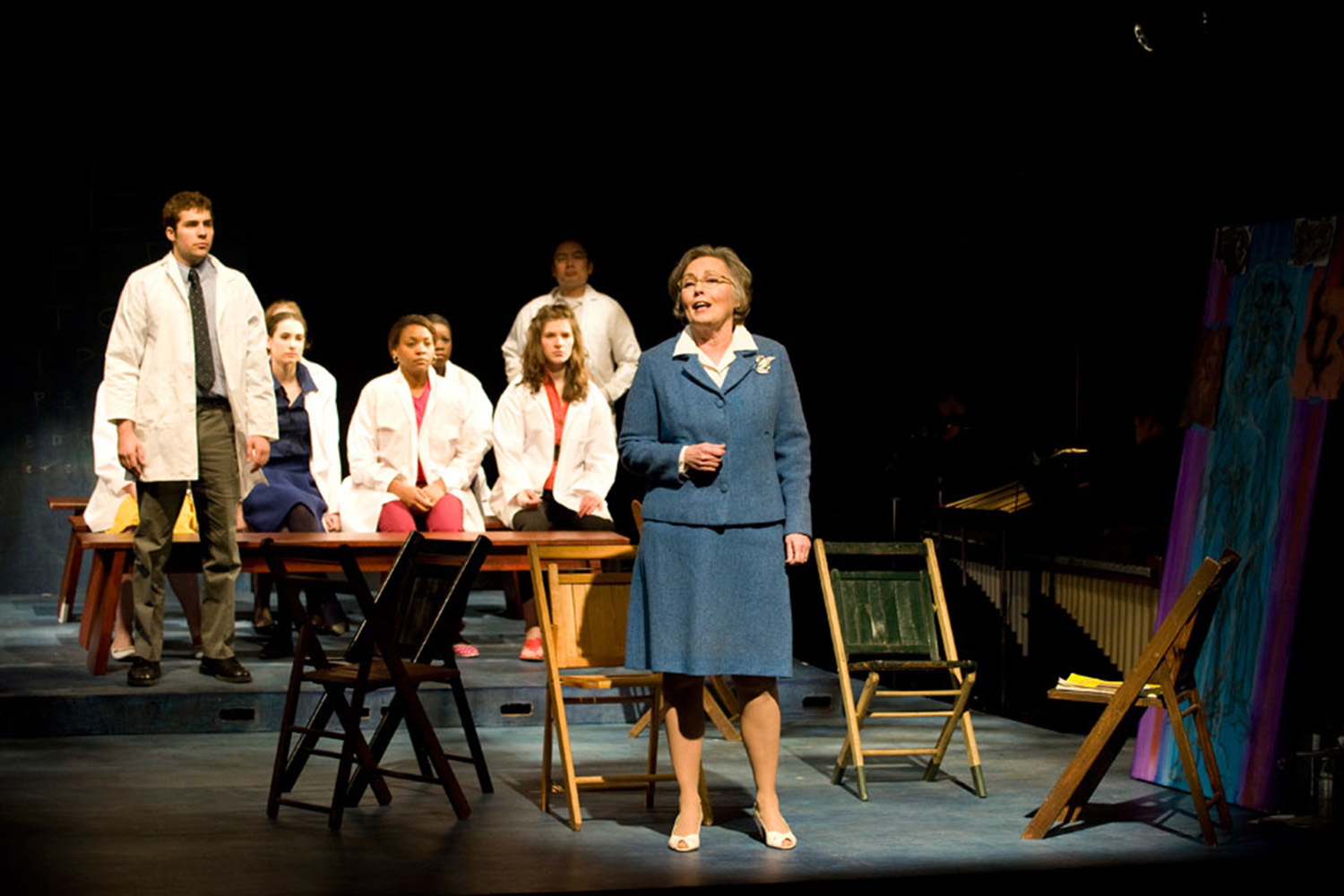 Eye Piece, 2010
Eye Piece really demonstrated the ways in which Hancher can partner across the University of Iowa—sometimes in unexpected ways. We partnered with University of Iowa Hospitals & Clinics' Center for Macular Degeneration and the UI Department of Theatre Arts for a project funded by the Doris Duke Charitable Foundation. Artist Rinde Eckert—acclaimed UI alum and longtime friend of Hancher—was in residence for six weeks working with my good friend Dr. Ed Stone and others to collect stories related to the experience of macular degeneration. The resulting play starred Rinde and theatre arts students. The goal was to use the arts to spark more empathy in doctors and medical students for patients and family members. Ed was delighted with the project, and the students shared how moved they were by the experience in a wonderful conversation with Rinde at the conclusion of the project.
---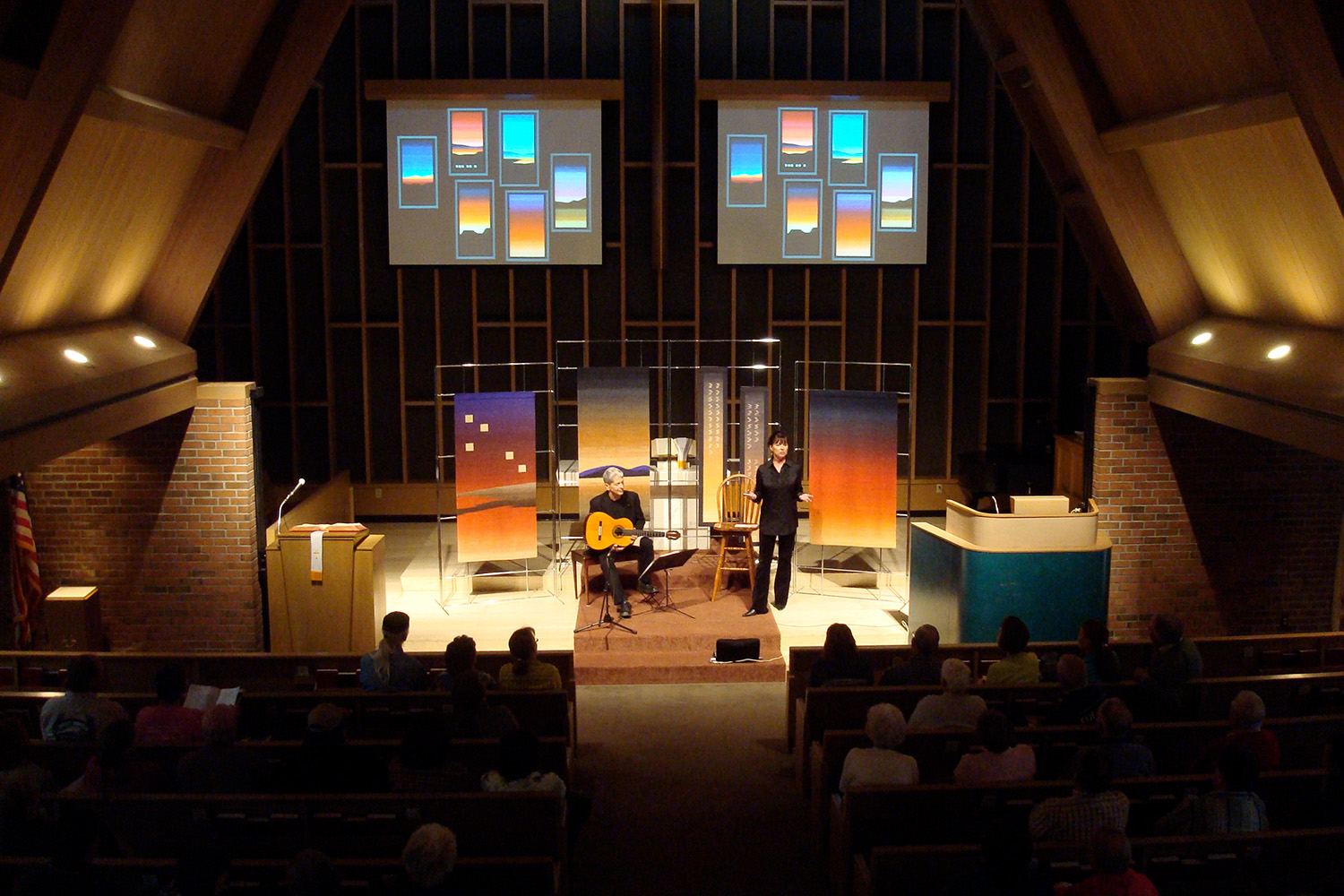 Woven Harmony: Journey Across Iowa with Robert and Rebecca Bluestone, 2010
This was a wonderful partnership with the Holden Comprehensive Cancer Center and the College of Public Health. The Bluestones—Rebecca is a weaver and her late husband, Robert, was a classical guitarist—visited Spencer, Algona, Des Moines, Grinnell, and Davenport, presenting a program in cancer centers and hospitals demonstrating how the power of the arts can help us deal with difficult situations. Deep connections were made and many people experienced the ways in which the arts can be a balm in times of trouble.
---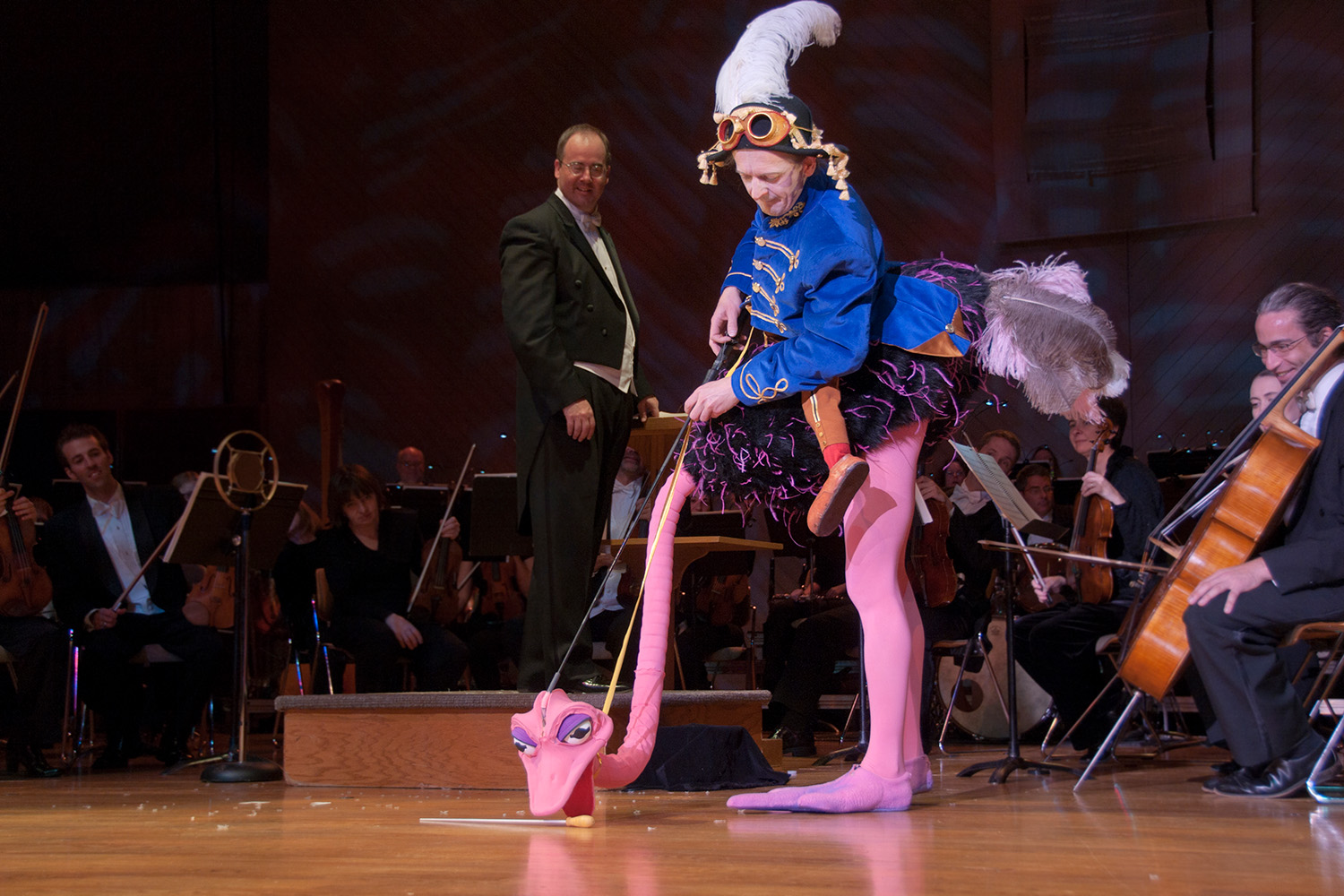 Professor Kubínek Meets the Symphony, 2010
We collaborated with Orchestra Iowa to create an evening of orchestral music with comic elements expertly delivered by our friend Tomáš Kubínek (whom we first met when he was part of the SPOT Project). The project toured Cedar Rapids, Decorah, Mason City, Iowa City, and Omaha (where Tomáš performed with the Omaha Symphony). It was a very creative and engaging project—and Tomáš became a dear friend to everyone involved.
---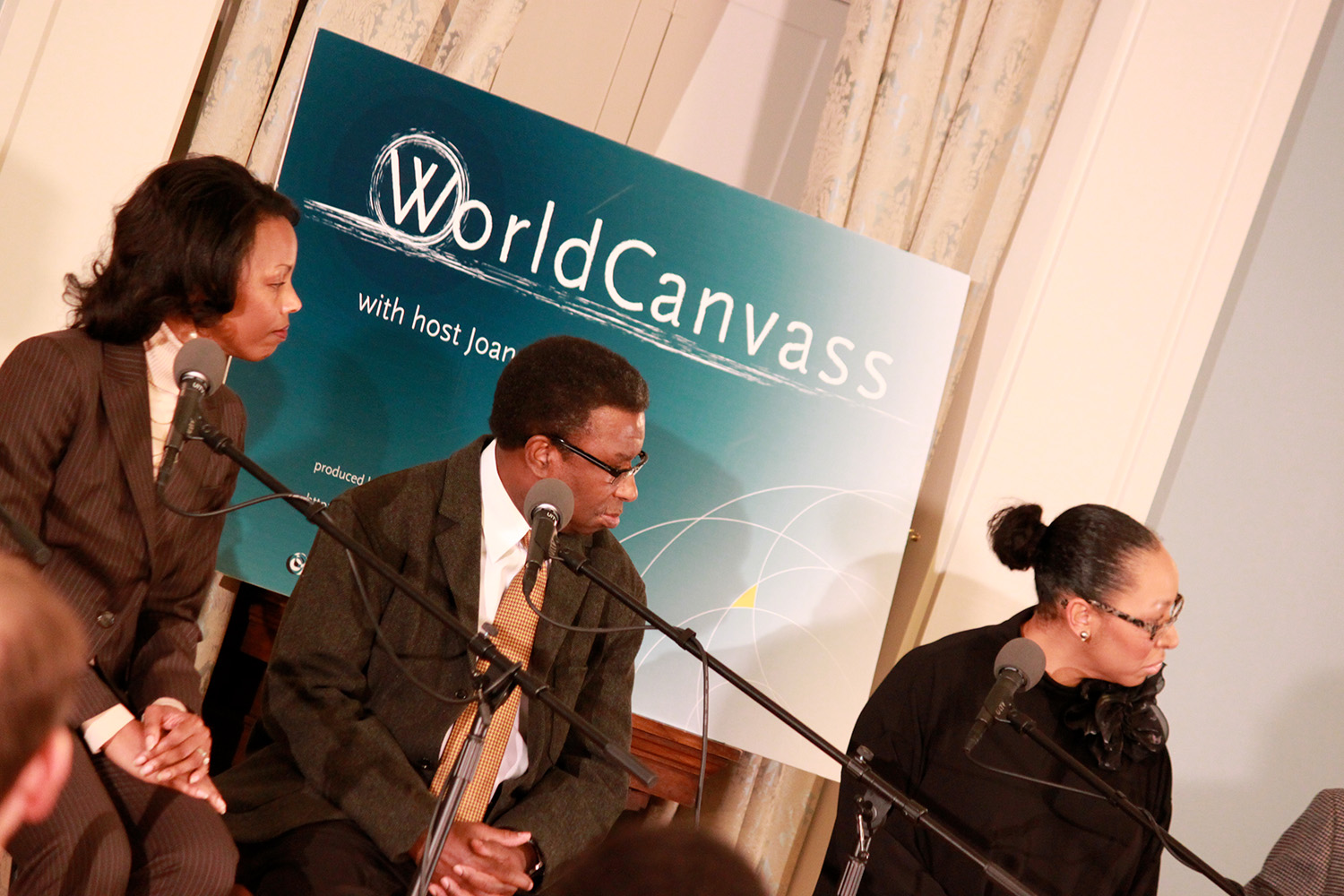 Iowa and Invisible Man: Making Blackness Visible, 2011
We worked closely with a colleague and dear friend, Professor Lena Hill, who had done her scholarly work on Ralph Ellison's essential 1952 novel Invisible Man. A director from New York City came to the university to work with Lena on the final details of the first staged play of Invisible Man. A weeklong residency was created to reflect on the African American experience at the University of Iowa at the time of Ellison's book. It was a timeless residency that touched many and allowed Hancher to contribute to important ongoing conversations.
---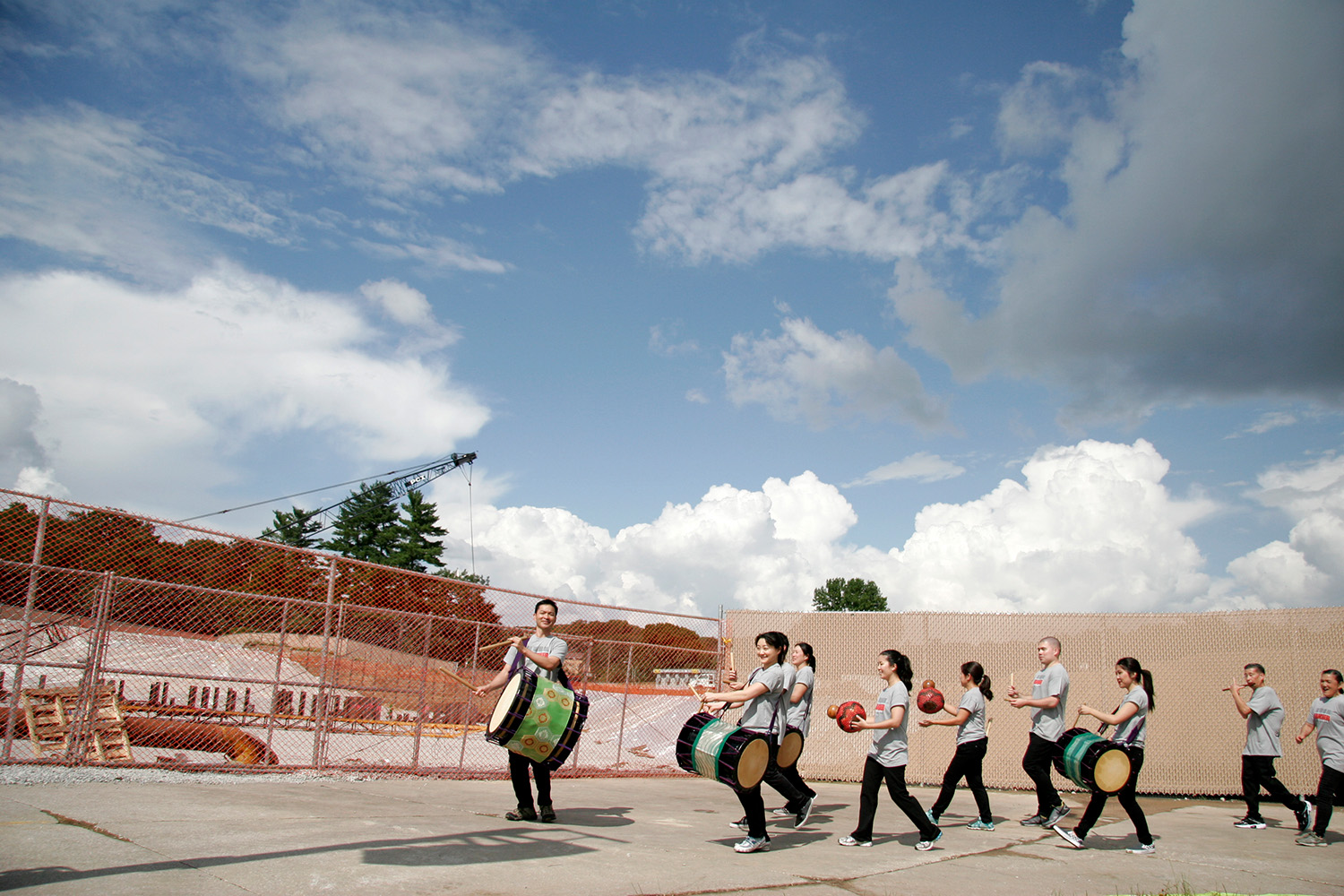 Hancher site ceremony featuring San Jose Taiko and Rinde Eckert, 2013
Three construction workers were killed in an accident during the construction of the original Hancher Auditorium. In recognition of this loss and as a sign of everyone's commitment to safety during the construction of the new Hancher facility, we commissioned San Jose Taiko to create a site ceremony and bless the ground where the work would take place. We wanted to create a safe environment for the construction workers, all of whom we appreciated very much. Throughout construction, we brought artists to perform for the workers to continue to demonstrate our gratitude to them for their work.
---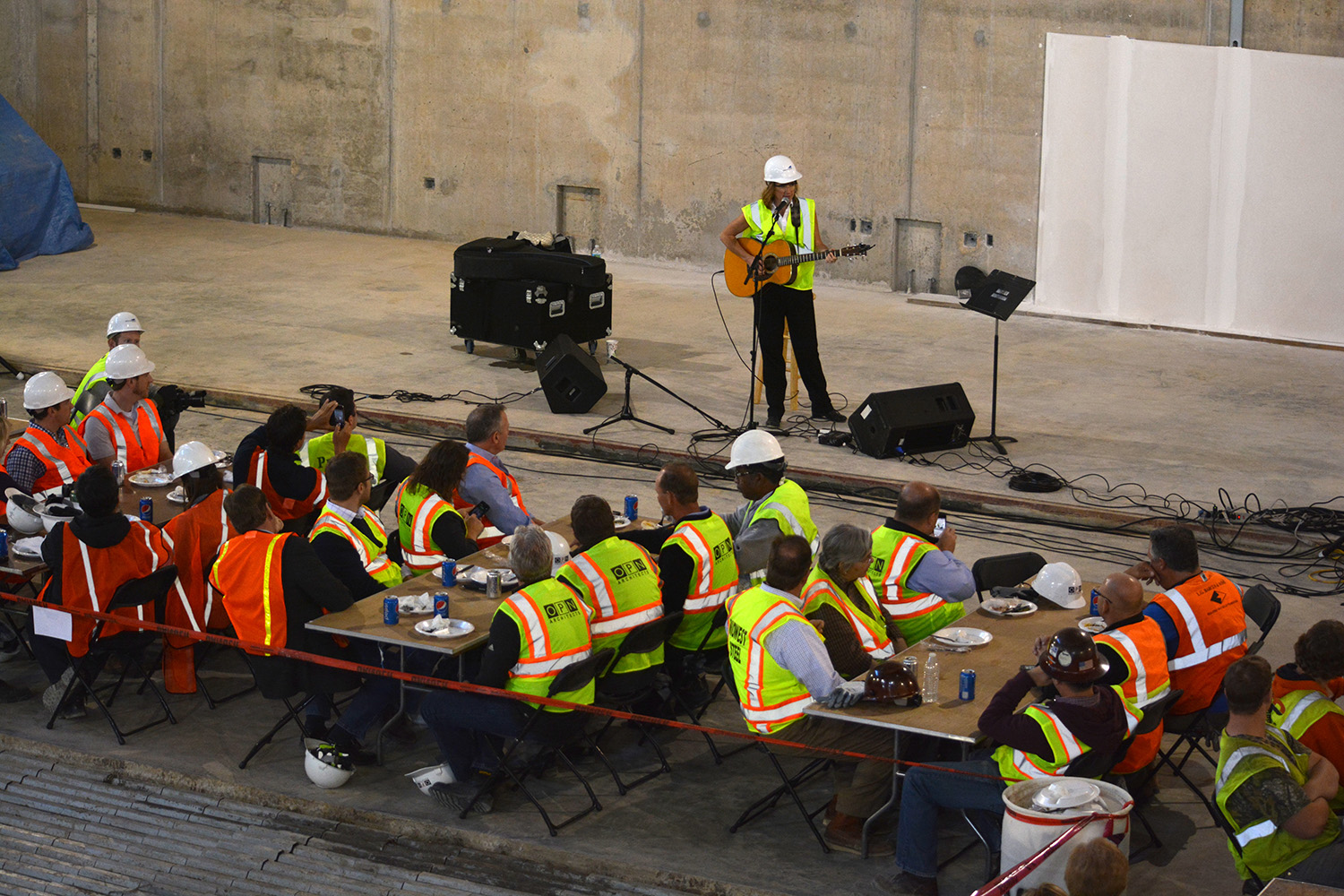 Susan Werner performance on the stage after Leave Your Mark, 2015
The experience of designing and building Hancher was a once-in-a-lifetime experience for the project team. For example, Susan Werner, a great singer-songwriter and UI alum, created one truly special moment during construction. After community members and others signed a beam that was lifted into place in the new facility, more than 300 construction workers and the project team gathered on the stage for lunch. Susan sang her funny song "Iowa," an opera aria, and more. It was an amazing moment—and the very first performance on the new stage.
---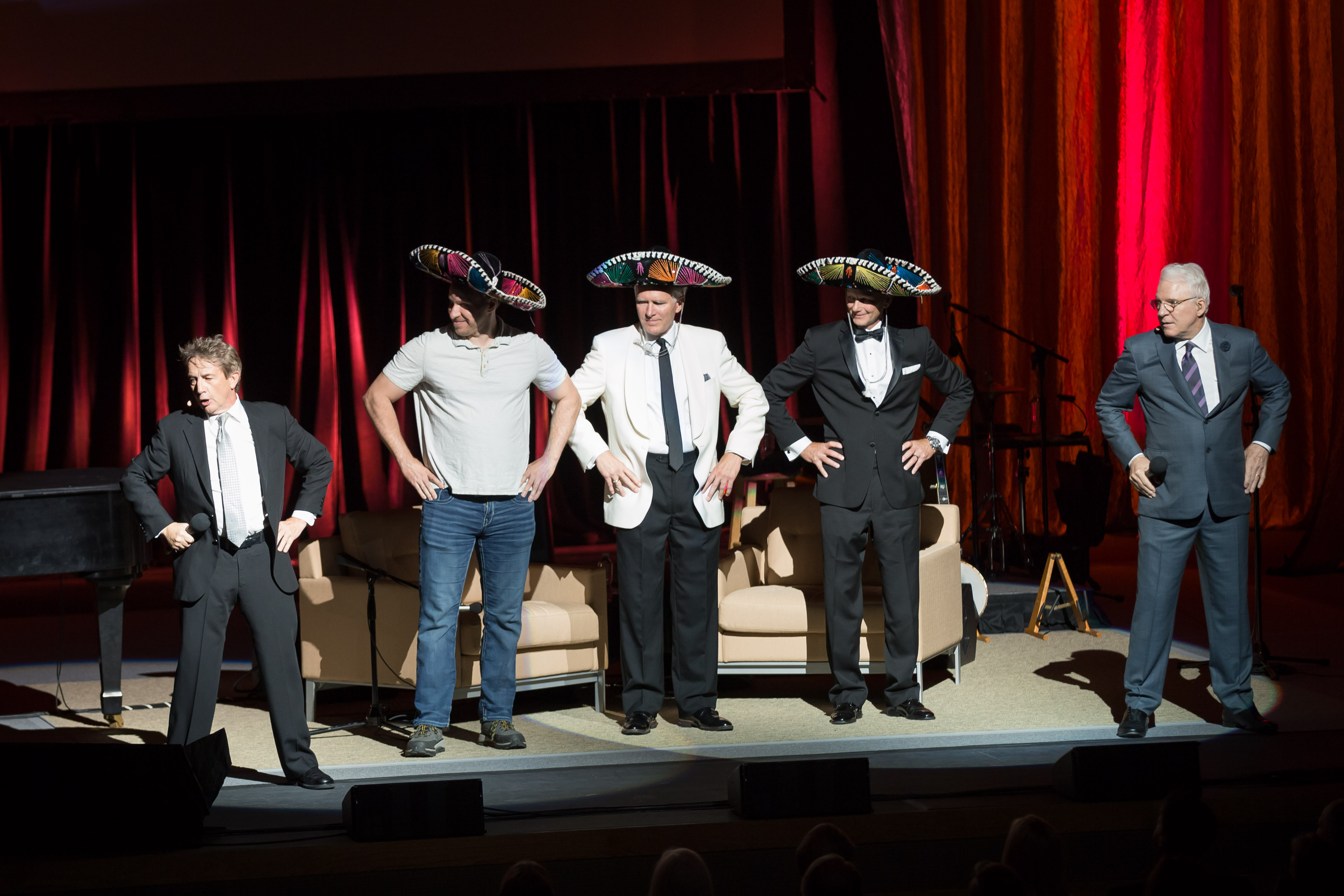 Steve Martin and Martin Short: An Evening You Will Forget for the Rest of Your Life, 2016
Despite the title of the event, the opening of the new Hancher Auditorium is something I will remember forever. I will always cherish going out on stage with Cesar Pelli, the exceptional architect who designed the new Hancher Auditorium, who shared that the building was built with love. Martin and Short were hilarious, the Steep Canyon Rangers were great, and our friends from Quixotic delivered an astonishing post-show performance outside. It was a wonderful way to welcome the community to Hancher's new home.
---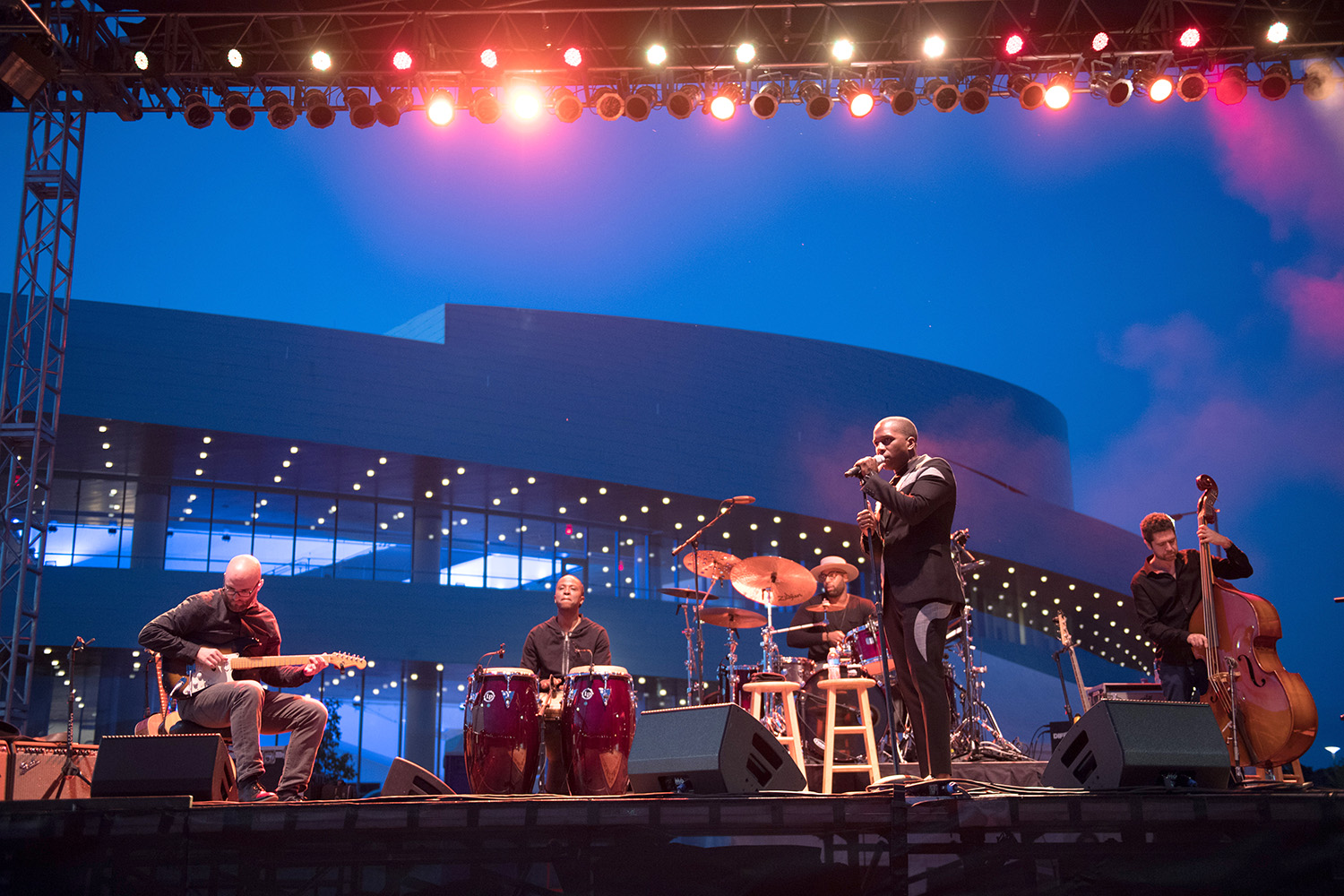 Leslie Odom Jr. free outdoor concert, 2017
Students from Iowa City's City, West, Liberty, and Regina high schools were invited to sing together prior to the free outdoor performance by Broadway star and original Hamilton cast member Leslie Odom Jr. They sang "Be the Change" to help inspire strength and unity. I loved watching the young singers who were so excited for this opportunity, and their parents were so proud.
---
Wellspring installation at Hancher, 2020
We commissioned Colette Hosmer from Santa Fe to create 30 fish sculptures that were each hand carved out of granite. Donors provided the resources to make this happen. Colette named the installation Wellspring because she believes that Hancher is a source for so many things. During the worst of COVID, Hancher partnered with the Iowa Youth Writing Project and more than 700 third-graders across the state named the fish and wrote about their own Wellspring. Hancher also commissioned a writer and an illustrator to create a children's book about the fish, titled Fishtastic. UI International Programs collaborated with Hancher to produce a memorable dedication ceremony. All of this happened during a time when we all were looking for ways to connect.
---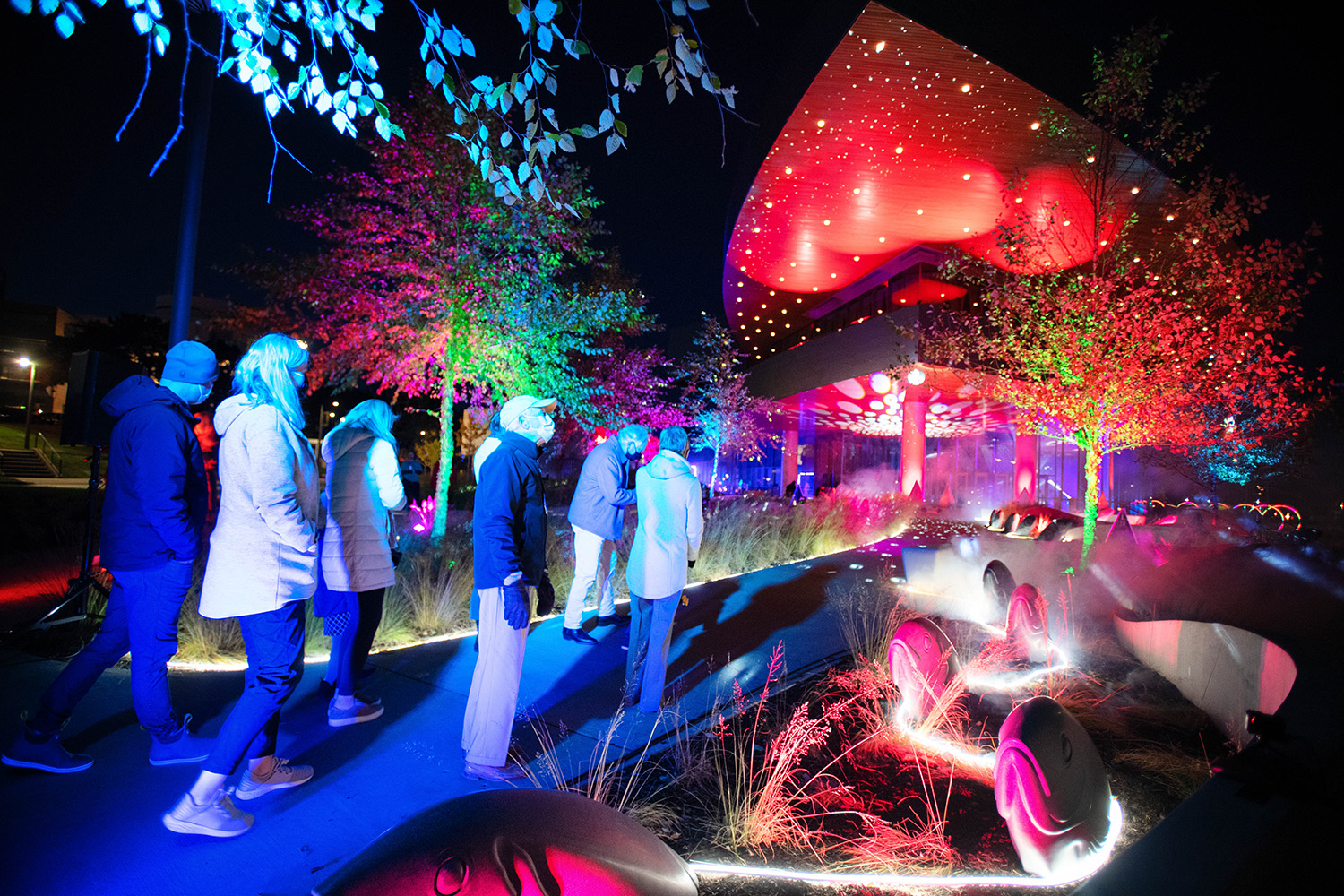 Hancher Illuminated, 2020 and 2021
The pandemic was so hard for so many reasons, but all of us at Hancher wanted to find creative ways to continue connecting our community. Hancher Illuminated was a perfect way to do that. With help from Quixotic and the talents of UI dance and music students, we created an outdoor tour of Hancher that featured so many wonderful moments and images. It went so well in 2020 that we did it again in 2021, offering many more people the chance to experience this magical event.