Marrying love of performance with poetry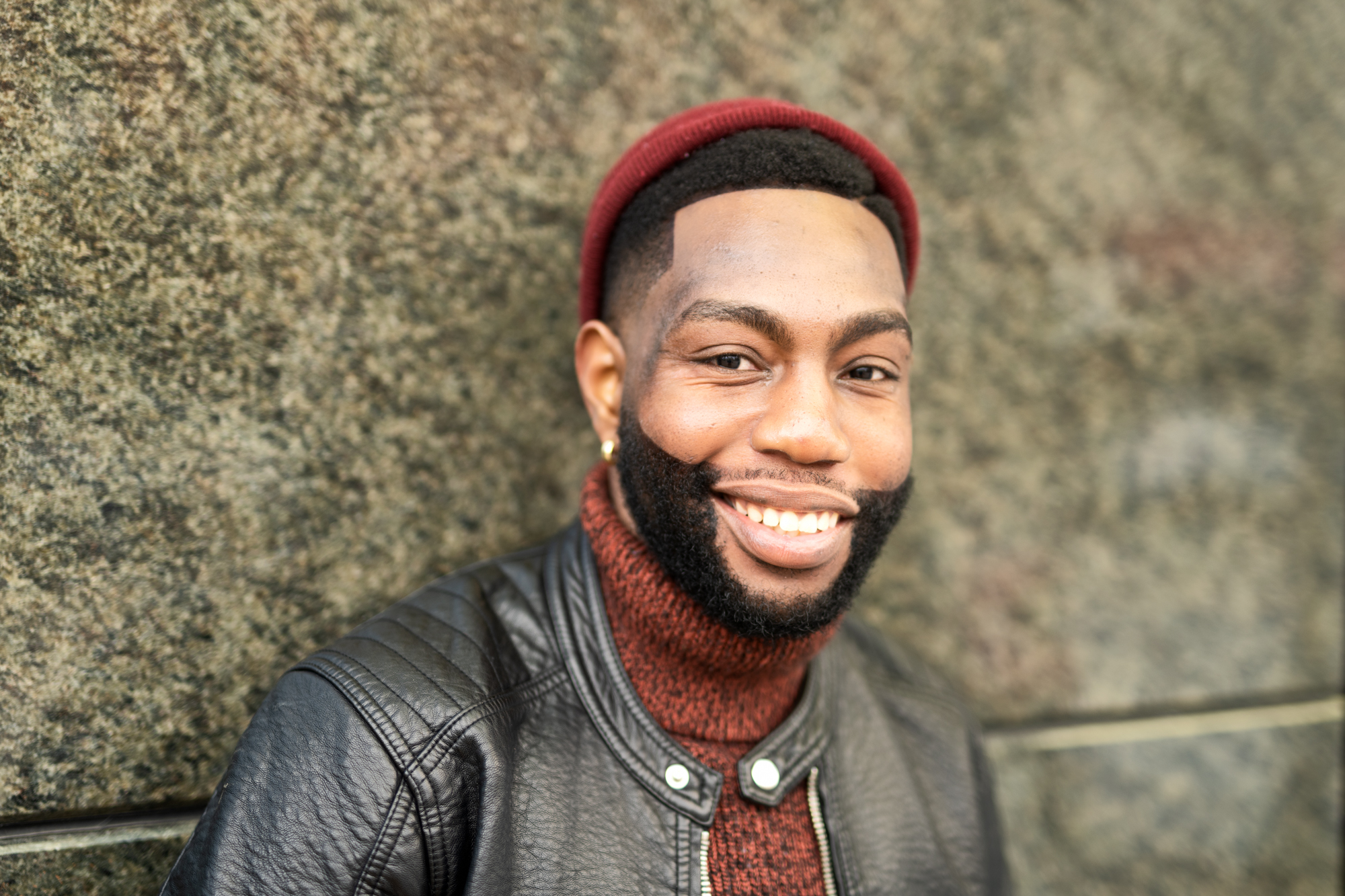 An accomplished spoken word poet, Steven Willis chose the nation's premier writing university to advance his performance skills.
Hometown: Chicago, Illinois
Degree: MFA in acting
Future plans: Attend the Iowa Writers' Workshop; write, perform, and teach
"How did I end up as a poet at the most famous creative writing school in the world getting a degree in acting?"
Steven Willis laughs asking the question while recounting his journey to the University of Iowa.
Willis may be a poet, but he was a performer long before coming to Iowa City to get his MFA in acting.
Willis grew up in Chicago and discovered a love of spoken word poetry at age 14 while participating in Louder Than a Bomb, the largest youth poetry festival in the world. He moved to New York after high school to major in creative writing and minor in criminal justice—in part to appease family who wanted him to become a lawyer—at Manhattanville College.
After graduation, Willis moved in with a friend in Brooklyn.
"I made the decision that I was going to be a spoken word artist and take this on the road," Willis says. "I thankfully worked myself up from that air mattress with a hole in it and became a teaching artist. I taught Monday through Thursday, and then Friday through Sunday I was on the road performing."
Willis was a slam team member at the famed Nuyorican Poets Café from 2015 to 2017 and worked for the youth literacy organization Urban Word NYC. He also became a three-time Individual World Poetry Slam finalist.
"Coming in here, I thought nobody could tell me anything about my voice. I made money off my voice. But Mary Mayo really challenged my relationship with my voice and how I use it. That was huge, and really, in a way, challenged my self-concept."
expressing his gratitude for being pushed to develop his technique
Wanting to get more involved in the nonprofit world, Willis began thinking about getting an advanced degree.
"I thought about what it was that I loved about spoken word, which is the marriage of performance, art, and literary art," Willis says. "I thought, 'Would I love writing as much if I couldn't perform?' And the answer was probably not. So, how can I be a better performer? How can I make what I'm performing come to life in a different way? And then it was just ironic that the backdrop of the Writers' Workshop would be behind me the entire time."
Willis attended an Undergraduate Resident Theatre Association (URTA) recruiting event, after which several schools expressed interest in him, including Iowa.
"Steven's story of how he got to where he is, it's phenomenal," says Paul Kalina, associate professor and head of acting. "This profession takes great tenacity to survive because it beats you up nonstop. And here he was, this very accomplished spoken word poet."
Along with the generous offer Iowa made him, Willis says Iowa had a few other things going for it.
"I felt seen in the room with them and felt like they were genuinely interested in me as a person," Willis says. "Iowa also gave me the opportunity to be closer to home. At that point, I had been away from Chicago for almost a decade. I felt like the Midwest was calling me home."
Willis says the faculty at Iowa challenged him in several ways. For one, as a spoken word artist he was used to working alone, where he was director, dramaturge, stage manager, and actor.
"I had to be reminded that I can still do all that when it's time, but that right now I'm focusing on developing that technique, that style, so that I can take it into other places," Willis says.
He says he's thankful for Mary Mayo, associate professor of instruction in vocal direction, for pushing him in his technique.
"As a young spoken word performer, you just get up there and do your thing," Willis says. "Coming in here, I thought nobody could tell me anything about my voice. I made money off my voice. But Mary really challenged my relationship with my voice and how I use it. That was huge, and really, in a way, challenged my self-concept."
Not coming from a traditional theater background, Willis says he especially connected with Kalina, who also has a unique performance background.
"Clown work in many ways is similar to what I did as a spoken word artist," Willis says. "It's really centered in this vulnerability, and he is often by himself the same way that I was. And our relationship with the crowd is important. Knowing his background and what he shared with me about performing in Chicago, it really made me feel as though I had a place and that my more eccentric approach to what I was going to do with my theater training had a place. It really helped me a lot for when I sometimes felt like I didn't belong."
Kalina says Willis had to work hard to let go of some things that he clung to.
"At the end of his first year, I told him he had to decide whether to jump in with both feet or jump out and do something else," Kalina says. "And he chose to jump in with both feet. Steven's very charismatic and has great intellect, and whatever area he finds himself in, I hope his training helps him get there."
Willis says the challenges and hard work are paying off.
"I'm now a better performer," Willis says. "I feel I'm one of the better spoken word performers out there. But I don't know if I'm a good actor yet, if that makes sense. I feel like I can give you the most authentic two-and-a-half-minute performance ever, but I don't know if I can give you the most authentic two-and-a-half-hour play performance. So that's what I'm working on. But your MFA gives you the tools, and then you have to go out and really marry yourself to it."
The Master of Fine Arts in acting at the University of Iowa combines rigorous professional training with a highly innovative curriculum. The training immerses students in a variety of acting techniques, extensive movement and voice training, theatrical analysis, and digital media to produce an unusually responsive, emotionally available, and hyper-present artist, equipped to meet the creative and technical demands of the 21st century.
Willis also has become involved with the Darwin Turner Action Theatre, which was originally established in 1968 as Black Action Theatre to expose Iowa audiences to African American culture and bring university students into classrooms and community centers around the state to explore social and political topics.
While its core mission remains, Willis says they aim to expand the theater's scope.
"For centuries, theater has in some ways been the safe haven for marginalized groups," Willis says. "We want to extend the theater's mission across the board to all programs on campus, such as the Afro American Cultural Center, Asian Pacific American Cultural Center, Latino Native American Cultural Center, or Pride Alliance Center. We want them to know there's a place for you to express yourself, your identity, your culture, the richness of who you are in the theater department. To say you're always safe here on 200 North Riverside Drive."
Between classes and rehearsals and performances, Willis didn't have much time to interact with the rich local writing community. He joined the advisory council of Iowa City Poetry and has led workshops for them and was able to take a performance studies course with Tracie Morris, professor of poetry in the Iowa Writers' Workshop.
"She is a spoken word poet and, ironically, a Nuyorican poet just like I was," Willis says. "She is this beautiful mixing of everything that I believed in as a writer. To take her class and marry performance and literature was kind of a perfect storm."
While Willis may not have originally come to Iowa to study writing, he will be directly in the center of the writing community next fall, having been offered a spot in the Iowa Writers' Workshop.
"Being accepted into the workshop is one of the highest honors of my life," Willis says. "I really can't express what it means to me. It's the best news I've gotten all year."
Whatever happens after the workshop, Willis' end goal is the same.
"My dream is from Aug. 15 to May 15 of every year, I'm a tenured professor teaching some variation of poetry or theater," Willis says. "And then from May 15 to Aug. 15, I'll be on the road, performing or talking about the book of poetry I just wrote or the play I have on Broadway. I really want that double life.
"I love teaching. Information and knowledge are constantly changing, and I love bringing that to my students. They keep you on your toes. But I'm also an artist at my core. I never want to stop getting my hands dirty. I never want to stop being in the trenches."