Keeping the family business on track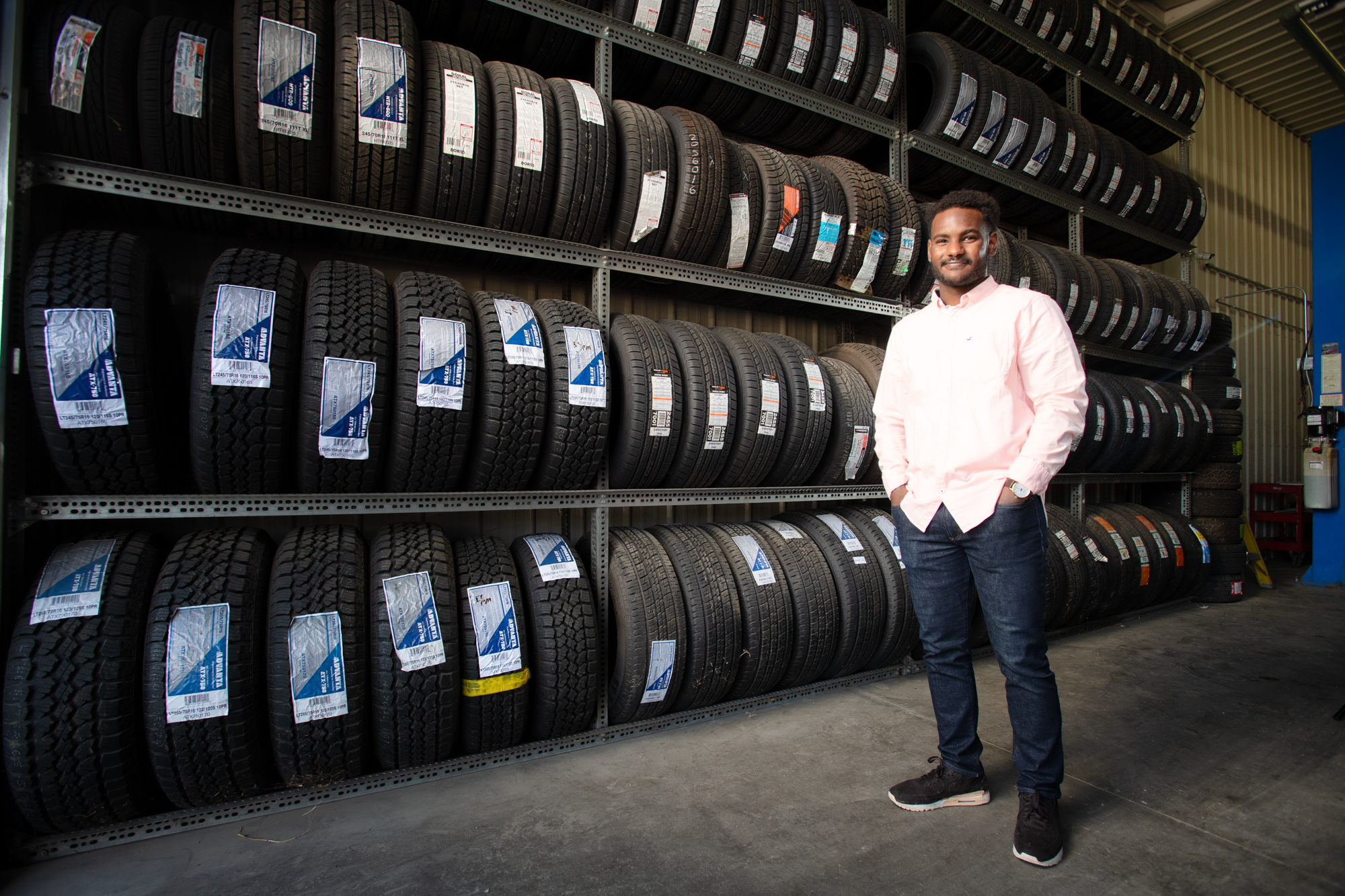 Iowa engineering graduate Elhadi Elhadi applied his knowledge of coding to streamline the inventory system for his family's Iowa City-based business. Next stop: a job as a data engineer at Goldman Sachs.
Hometown: Iowa City, Iowa
Degree: Bachelor of Science in electrical engineering
Future plans: Work at Goldman Sachs as a data engineer
Elhadi Elhadi leveraged his education at the University of Iowa to solve a very real problem.
Since last spring, Elhadi, a graduating senior in the College of Engineering, had been regularly visiting his father's tire and automotive service business, Chicago Used & New Tires LLC, located in Iowa City. He noticed that whenever someone asked about a tire, no one other than his father could determine quickly whether it was in stock.
"My father is the only one who knows the tires' location," Elhadi says. "So when he's not there, the inventory is hard to find. It's not organized well. There were tires just stacked on top of each other.
"So I suggested to him, 'Why can't we use technology to speed up the customer waiting time?' He said, 'OK, go for it.' So, I built a software-based inventory program. We tested it, and it worked fine."
The tire inventory program is one example how Elhadi, who will earn a Bachelor of Science in electrical engineering and a minor in computer science, has capitalized on his time at Iowa to learn how technology can better society, from streamlining the family business to addressing global issues.
"Iowa was a big part of my success both academically and professionally. I wouldn't be where I am today without my time there."
graduating senior this May with a bachelor of science in electrical engineering
In December 2017, Elhadi journeyed to India as part of a UI group that worked with local engineers to investigate and collect data on well water. He was chosen to participate in a select program through Google to design and build consumer products. He has mentored students with résumé-building and professional-interviewing skills.
The payoff for Elhadi's diligence in and outside the classroom: A job after graduation with one of his "dream" companies, Goldman Sachs, working with a team of data engineers to build reliable, scalable infrastructure for clients' sensitive data.
"Iowa was a big part of my success both academically and professionally," Elhadi says. "I wouldn't be where I am today without my time there."
Elhadi was born in Sudan and emigrated to the United States when he was 11 with his mother and younger brother. (His father joined them two years later.) Elhadi flashed a curious mind, recalling his fascination as a youngster in Sudan with how his uncle would restore electricity using a mechanical generator the family had on hand for regular power outages.
"The first time I saw him do that, I thought, 'Man, that is pretty cool.' After that, every time the power would go out, I'd run to the backyard and watch him crank the generator. And, then I started doing it myself when I got older."
Elhadi entered Iowa planning to go into biomedical engineering but became interested more in how electrical engineering and coding can be combined to tackle an array of challenges.
Electrical engineering at Iowa
Electrical engineering is at the core of many technologies that we take for granted, including wireless communication, electrical power, consumer electronics, digital computing, computer software, computer networks, automatic controls, medical imaging, remote sensing, and the miniature devices that make all of these technologies possible.
Iowa's Department of Electrical Engineering is committed to providing high-quality educational and research experiences for students. The department fosters interdisciplinary activities across campus and maintains strong ties with the Carver College of Medicine, the Department of Physics and Astronomy, and the Department of Computer Science.
"It's like an idea that you have in your head that can be tangible and that you can make happen to solve a problem," he says.
Elhadi harnessed his coding skills to add important features to RubricApp, a web application for instructors around the U.S. that assesses students on their "soft" skills, such as teamwork and communication. He says he was inspired by his difficulty with networking and communication when he was younger.
"I wanted to contribute to that research because it helps students get feedback on their professional skills. Anything that helps people improve themselves—personally, professionally, and academically—I love contributing to that."
He also has been a peer adviser, a teaching assistant, and vice president in Iowa's chapter of the National Society for Black Engineers.
"I would say he exemplifies what we want in our students. He's the complete package," says Anton Kruger, electrical and computer engineering professor at Iowa who taught Elhadi in three classes and advised him on job prospects. "He's easy to get along with, he's a really good student, and he has leadership qualities. I associate success with him."
Elhadi's father, Mustafa Elhadi Omer, can attest to his son's burgeoning accomplishments. With a revolving inventory of more than 300 tires, Omer struggled with having real-time information about his fluctuating supply. He turned to his son for help, thinking the knowledge he was getting at Iowa could directly benefit the family business.
"I knew he was the right person," Omer says.
Elhadi began creating a software-based platform that listed each tire in stock by number available, rim diameter, manufacturer, and condition. He then added coordinates so that every tire in the shop's two storage areas can be quickly located.
He completed the project in less than three weeks.
"I was proud of myself for putting what I learned in school, and my technical skills, to use. And I was proud that I contributed to the business," Elhadi says. "Efficiency is everything for a business, so I felt very accomplished that I had helped my father with his business."
Omer credits his son's streamlining of the family business, as well as his future prospects, to his Iowa education.
"He's lucky to find a university such as Iowa to graduate from," Omer says. "The university has made him the right person, ready to make a great future for himself, supporting the community, supporting people in the United States and in his home country of Sudan. Absolutely, the university has meant that much to his life."