A warrior for the vulnerable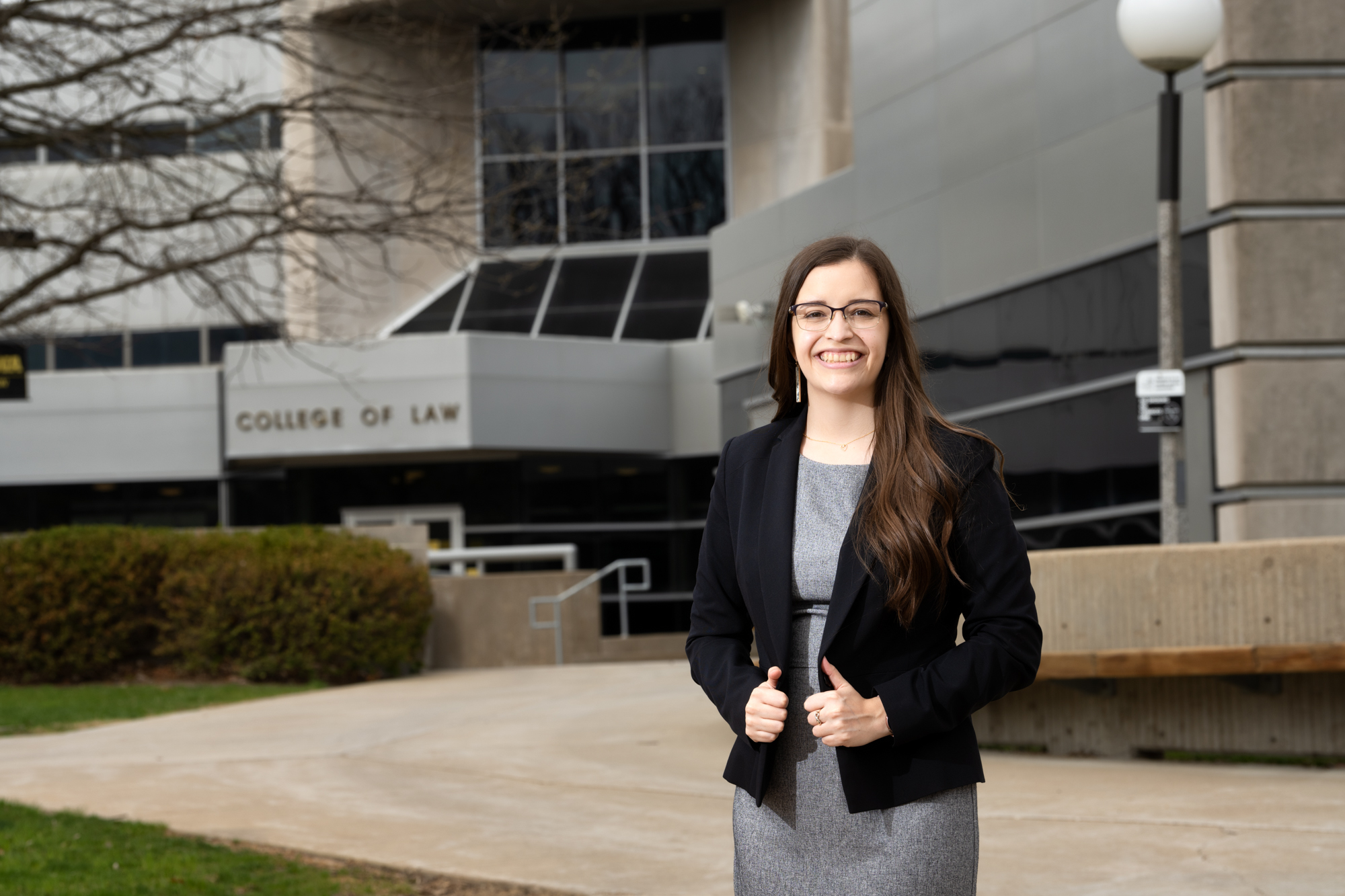 Kayla Boyd strives to defend the disadvantaged. The University of Iowa College of Law student has seized opportunities to show she is prepared to be a powerful advocate.
Hometown: Colorado Springs, Colorado
Degree: Juris doctorate
Future plans: Work for the state public defender's office in Colorado
Kayla Boyd knew from a young age that she wanted to use what she calls her "warrior mentality" to help the disadvantaged and the vulnerable get a fair shake in life.
As a member of Cornell College's moot court team, she figured out that becoming an attorney was her best way to do so. She's now ready to take her dream job when she graduates from the University of Iowa College of Law this month, working for the state public defender's office in her native Colorado.
"My goal is to help the most vulnerable people in our criminal legal system, and the best way to do that is to provide an outstanding legal defense for those who have been wrongfully accused and treated unfairly, to stand up in court and tell their story," says Boyd, who hails from Colorado Springs.
She says her interest in helping people in difficult circumstances dates back to when she was 14 years old and participating in a program at her church that worked with incarcerated people seeking clemency. There, she met Chuck, who had been convicted of murdering his mother when he was 14, the same age she was at the time. He was poor and Black and couldn't afford a decent legal defense. As a result, he was tried as an adult despite his age, convicted, and sentenced to life in prison.
"There are so many people out there like Chuck who need help, and I decided that's what I would do," she says.
Boyd says her law school experience prepared her well for her future work, with membership in the Equal Justice Foundation, Organization of Women Law Students and Staff, and the trial advocacy and moot court teams. She stayed connected to her legal roots, too, as an assistant coach on the mock trial team at Cornell that inspired her legal career.
She had two summer internships with the Colorado public defender's offices in Colorado Springs and Pueblo, and a third-year externship with the Black Hawk County public defender's office in Waterloo, Iowa.
"I can't imagine any student I ever worked with who could have argued that case better. She was better than 99% of practicing attorneys."
clinical associate law professor in the College of Law
Boyd also argued a mock case before the Iowa Supreme Court on the law school's annual Supreme Court Day, and has argued real cases before federal courts as a part of the law school's Federal Criminal Defense Clinic. In one, a compassionate release case before the U.S. District Court for the Southern District of Iowa, she successfully argued to have an incarcerated man who suffered from life-threatening illnesses released to a long-term care facility so his health was not placed in further danger by the COVID-19 pandemic.
In another, this one before the Eighth Circuit U.S. Court of Appeals, she argued for a sentencing reconsideration appeal, and while the court turned down the effort, she says it was still the most rewarding experience of her life.
"The client was a real person whom I got to meet and get to know and have real conversations with," she says. "To represent him and tell his story to the Eighth Circuit was an honor."
Iowa law students develop their legal skills and know-how through a robust curriculum that includes diverse experiential opportunities. It takes both knowledge and practice to become the lawyer that the world needs.
At Iowa Law, skills training is built into all three years of the law school experience.
Alison Guernsey, clinical associate law professor in the College of Law and director of the clinic, says that while Boyd lost the appeal, her courtroom arguments and demeanor showed she was already prepared to be a powerful advocate.
"I can't imagine any student I ever worked with who could have argued that case better," she says. "She was better than 99% of practicing attorneys."
The two first met when Guernsey was judging an undergraduate moot court tournament Boyd competed in as a part of Cornell's team. Guernsey says that Boyd was not only good at the performative part of being a trial attorney—something many undergraduates are—she was also good at understanding the substance of the law they were arguing—something many undergraduates are not.
She started recruiting Boyd to come to Iowa that day and was thrilled when she agreed.
"She really is spectacular," says Guernsey. "She's incredibly poised in the courtroom. She makes eye contact and uses her body in emotive ways, occupying the space in a way that show's she's not going to shirk. She fights for what she believes is right.
"Kayla's been in every sense of the word an advocate for people whose voices have been silenced by the powerful, and she will continue to be," Guernsey says.