Nursing student saving lives in Van Meter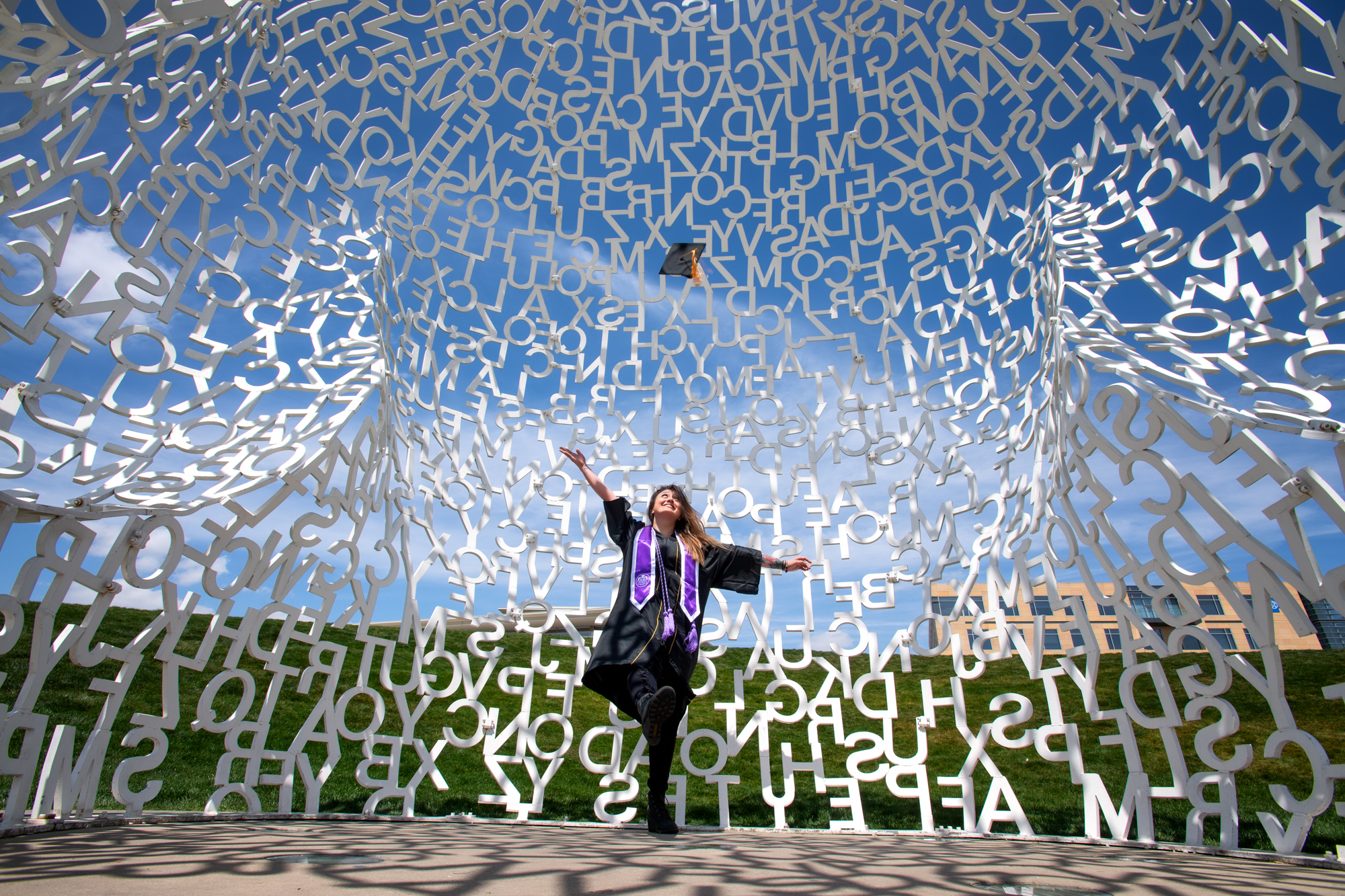 An Iowa nursing student is helping to develop a plan that educates students, faculty, and staff in Van Meter, Iowa, about anaphylactic reactions—all while working a full-time job, raising her child, and completing Iowa's Bachelor of Science in Nursing program.
Hometown: Des Moines, Iowa/Kailua Kona, Hawaii
Degree: Bachelor of Science in Nursing
Future plans: Long-term goal of becoming a nurse practitioner
When a student at Van Meter High School tragically died from a food allergy in early 2020, school administrators turned to nurse Katie Hovda to develop a strategy so nothing like that would happen again.
Part of Hovda's plan was to put together an anaphylaxis awareness campaign throughout the Van Meter School District so students, faculty, and staff could take steps to prevent it from happening again—and if it does, how to best respond. For that, she turned to University of Iowa nursing student Danielle Yonemura.
Yonemura was working at Van Meter, an Iowa community located to the west of the Des Moines metro area, as part of her public health rotation, and Hovda thought Yonemura would be good at a project like that.
"She's a top-notch student, dedicated, and sees the big picture," says Hovda, herself a 2002 graduate of the Iowa College of Nursing.
"The teachers are really, really good. There's never been a time when I've struggled because they are so committed to work with the students to make sure you understand what they're teaching."
who will graduate with a Bachelor of Science in Nursing
Yonemura grew up splitting her time between Des Moines and Kailua Kona, Hawaii. A single mom, she received her Associate in Applied Science in nursing from Des Moines Area Community College and became an RN, working at Planned Parenthood in Des Moines.
"Nursing seemed to make sense because I knew that I liked to take care of other people and help others," she says. "When I was younger, I went on an 'I'm going to become an RN' kick, and it never went away."
Yonemura started attending classes through Iowa's RN-to-BSN program online in spring 2019 while still working full time at Planned Parenthood. While managing a job and parenthood with classes was an exercise in time management, she says the quality of the education she received from the Iowa faculty made the workload so much easier to handle.
"The teachers are really, really good," she says. "There's never been a time when I've struggled because they are so committed to work with the students to make sure you understand what they're teaching."
She says Brenda Duree was particularly helpful, always willing to work extra with students and go out of her way to provide guidance.
"She cared, and it's nice to have an instructor who cares that much," Yonemura says.
As part of the College of Nursing's effort to prepare the next generation of nursing leaders, Iowa's online RN-BSN program provides access to baccalaureate education for nurses throughout the state. Nurses who graduate from this program acquire vital knowledge and skills that help enhance their ability to provide quality care to diverse patient populations that have increasingly complex health care needs.
Duree, instructional assistant professor of nursing, taught Yonemura in four classes and was always impressed with how much energy the single mom with a full-time job had.
"She was eager and passionate and so proud she was going back to school to finish her bachelor's degree at the University of Iowa," says Duree.
Yonemura's long-term goal is to receive a Doctor of Nursing Practice and become a family nurse practitioner. In the meantime, she'll continue working at Planned Parenthood and will stay involved with the College of Nursing by mentoring two students in a practicum, arranged by Duree, next fall.
"She's a good communicator and always excited about nursing, so she's exactly what we're looking for," says Duree.
Hovda says the educational campaign at Van Meter High School will include a video that will be shown to middle school and high school students during orientation each fall, along with a brochure to help train faculty and staff. She says the materials' intent is to educate students about what to look for in someone experiencing an anaphylactic reaction, how to get help, and how to administer epinephrine using an EpiPen that the school keeps in stock. Yonemura has done most of the work on her own from her West Des Moines home to avoid unnecessary risk of exposure to COVID-19.
Yonemura says the project inspired her because it was a chance to help children stay safe.
"If they know this information about anaphylactic shock and they know how to administer an EpiPen, they might act more quickly and save a life," she says.
"It's excellent, high-quality work," Hovda says. "I'm quite pleased with it."