Dance Marathon vows to 'rise with resilience'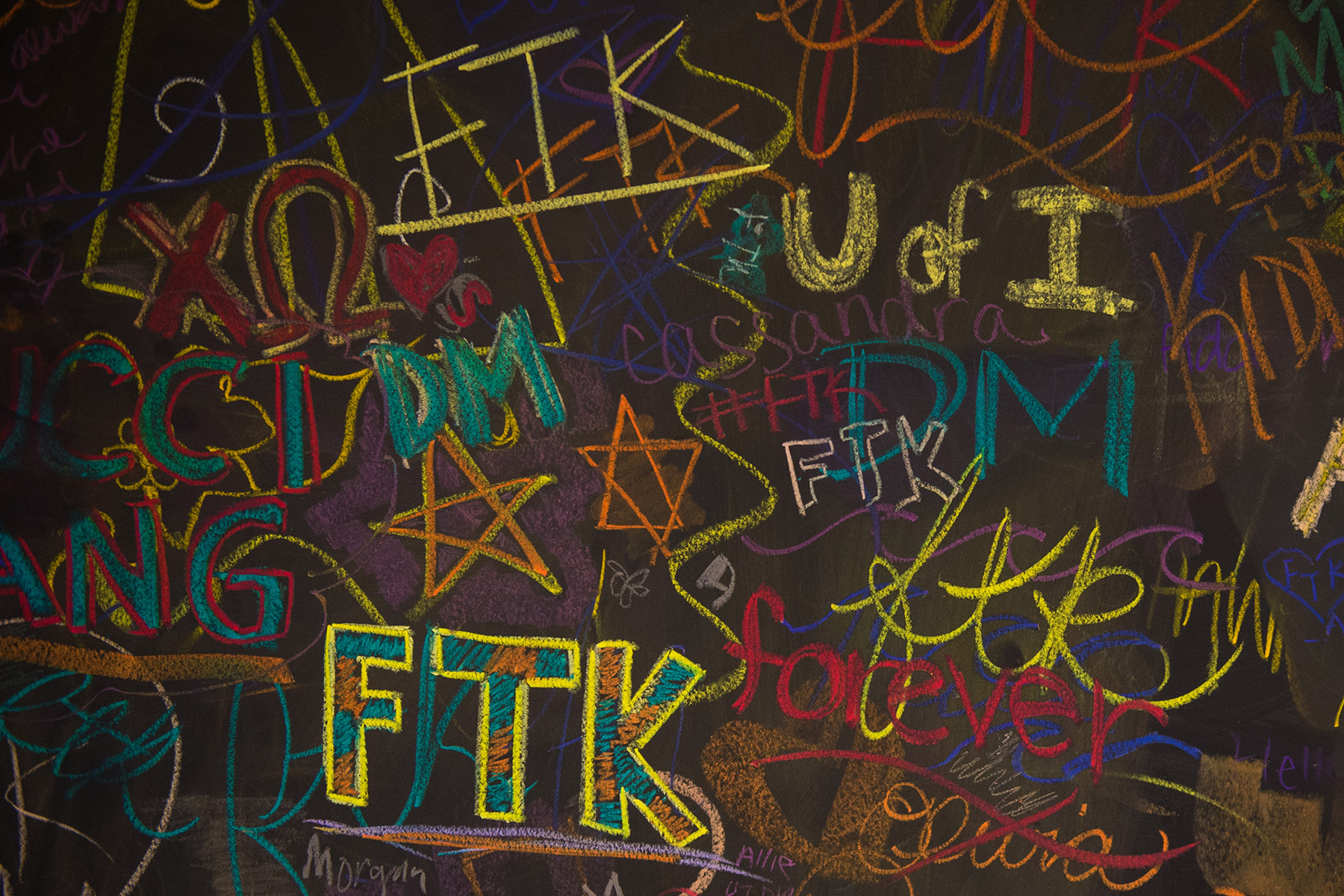 The coronavirus pandemic has paused many things, but pediatric cancer is not one of them. Despite COVID-19, University of Iowa participants in one of the nation's largest student philanthropies are as committed as ever to helping young oncology patients.
When a family receives the terrifying news that their child has cancer, they don't simply give up. They don't shrug and decide to let nature take its course. They steel themselves for the challenge ahead and do everything in their power to support their child, hoping to see them through high school graduation, college, and perhaps even marriage. For them there is no alternative.
That's how organizers of University of Iowa Dance Marathon approached their philanthropy this year. Despite pandemic restrictions on in-person campus gatherings and hospital visits, the student organization that supports patients and families receiving cancer treatment at UI Stead Family Children's Hospital forged ahead.
Dance Marathon 27: Virtual and vital
The coronavirus is not stopping student philanthropists in Dance Marathon. If anything, it has caused them to redouble their efforts and improve upon their organization's traditions. The 2021 Big Event, held Feb. 26–27, included livestreams, Zoom breakout rooms, and Discord message boards. Participants were able to log in to play games, check out entertainment acts, hear from Hawkeye student athletes, and more. Dance Marathon 27 raised $1,422,443.27, pushing the 27-year total beyond $31.8 million.
Leaders say they are—and always will be—FTK, or "for the kids."
"Our families are fighting cancer with everything that they have, because their kiddo has strength and resilience. So, it was important to us that we also try, in whatever capacity we have, to reflect that resilience," says Courtney Becker, a UI senior and the hospital liaison director for Dance Marathon. "We know how much Dance Marathon means to these families, and we want them to know that we are there for them no matter what."
In addition to raising funds throughout the year to boost pediatric oncology research at Iowa and to help families of young oncology and bone marrow transplant patients receiving care on campus, Dance Marathon participants plan fun events for families and carve out time to play games with patients on the 11th floor of the hospital, which is named the UI Dance Marathon Pediatric Cancer Center. Their efforts culminate each February with the "Big Event," a 24-hour dance marathon at the Iowa Memorial Union during which students and families gather to celebrate their successes and honor lives lost. Near the end of the event, leaders climb on stage with large tote boards to reveal how much was raised in the previous 12 months. Dance Marathon has brought in more than $31.8 million since 1995—including more than $1.4 million this year, in the midst of the pandemic—and currently serves some 1,125 families.
In the summer of 2020, as COVID-19 cases swelled across the nation, the organization decided that all Dance Marathon events, including the Big Event, would either be held virtually or reimagined altogether. The theme for Dance Marathon 27 is "Rise with Resilience," to mirror the effort students witness in the patients and families they support.
Since its first event in 1995, University of Iowa Dance Marathon has raised more than $31.8 million to support pediatric oncology and bone marrow transplant patients and their families at UI Stead Family Children's Hospital. Student participants not only raise money for the kids (or "FTK," as they say) and volunteer in the hospital, they also develop career skills and personal connections that last a lifetime.
Here are some of Dance Marathon's allocations:
Fall 2018: $2.2 million to support a child life specialist at UI Stead Family Children's Hospital
Fall 2017: $2 million to establish the UI Dance Marathon Chair in Pediatric Oncology, Clinical and Translational Research
Fall 2017: $653,000 to cover a portion of the costs for a state-of-the-art MRI machine
Fall 2015: $2.23 million to create the UI Dance Marathon Pediatric Oncology Targeted Therapy Program
Spring 2011: $5 million toward building UI Stead Family Children's Hospital (the 11th floor is named the UI Dance Marathon Pediatric Cancer Center)
Instead of sponsoring its popular summer excursions to Adventureland Park and Lost Island Water Park, Dance Marathon distributed gift cards to drive-in movie theaters across Iowa. Rather than hosting craft nights at the hospital, students assembled and sent out weekly activity kits and created Zoom gatherings so the kids could easily follow the instructions online. They started a YouTube channel. They held virtual bingo games and trivia contests, complete with prizes. They auctioned off curated gift baskets.
"We know that Dance Marathon is their family outside of their family, their home away from home. A lot of our events are not just a fun day for them—they present an opportunity to reconnect with people who used to be friends and are now like family members," says Becker, who is from Maquoketa, Iowa, and plans to start Iowa's physician assistant program after graduation. "When the coronavirus started limiting what we could do in spring of 2020, we had to flip and say, 'OK, how can we make this work?' Because if these events don't happen, it wouldn't be Dance Marathon."
Becker adds that COVID-19 has forced some changes, such as holding playtimes virtually, that likely will continue: "Who would have thought that new and better things would come from a year with a pandemic?"
Although disappointed to move Dance Marathon's high-profile Big Event entirely to a virtual platform, the organization's executive director, UI senior Elizabeth Jackson, says safety is the top priority.
"We'd all love to be in the Iowa Memorial Union celebrating together, but we've had families watching at home on the livestream for years because of flu season or families watching from the hospital because their kid is still receiving treatment," says Jackson, a journalism and mass communication major from Story City, Iowa. "This is a time to reevaluate why we do the things that we do in Dance Marathon and emphasize that we're not doing this for ourselves. We're not doing this because it's fun—although it is a lot of fun—we're doing this for our families and to support them. We're still committed to our families, and the work we do is important, especially in times like these."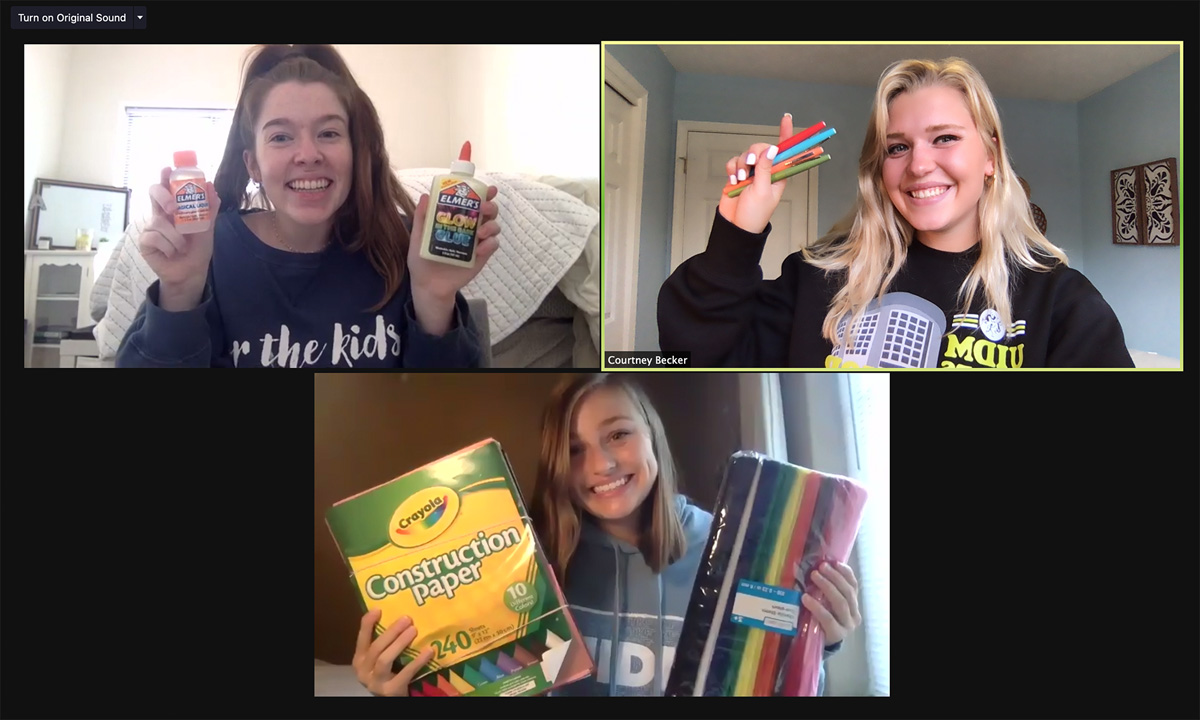 Austin Strom, a UI graduate student in electrical and computer engineering, is this year's events director for Dance Marathon, and he says he is more inspired than ever. He has been involved with the organization since his sophomore year, when his best friend finally convinced him to attend a meeting. A family member spoke at the gathering, and it changed everything for him.
"The speaker really moved me and made me realize that Dance Marathon was an opportunity to be part of something so much bigger than yourself and to impact so many people so greatly," says Strom, who is from Sioux City, Iowa. "This year, against all odds, we are doing a majority of the things that we normally do, and we've re-envisioned so many things that a lot of people probably would have said weren't possible. That has inspired me, the executive directors, the Event Committee, and the 1,000-plus participants, and is a large reason that I am now FTK and I will always be FTK."
Carly Witherell, from Ankeny, Iowa, earned a UI degree in human physiology in December 2020 and is serving as this year's family liaison director for Dance Marathon. Not only did Dance Marathon draw her to Iowa, it inspired her decision to pursue a health care career. She says spending time with young cancer patients and their families has given her perspective and meaning—especially through the pandemic.
"Watching these kids go through terrible experiences but still have hope in life, in love, and for the future really pushes me forward. I know whatever we are experiencing during COVID, they experience 10 times worse," Witherell says. "Isolation and quarantine are not ideal—no one wants to be quarantined—but I think the pandemic has given us an idea of how our children and families feel up on the 11th floor, because a lot of times they can't leave. They can't go to the grocery store. They can't go see their family members because they are too sick. To be able to feel an ounce of what it feels like to them has motivated us. We've had just a little taste of how difficult it is for them."
"We'd all love to be in the Iowa Memorial Union celebrating together, but we've had families watching at home on the livestream for years because of flu season or families watching from the hospital because their kid is still receiving treatment. This is a time to reevaluate why we do the things that we do in Dance Marathon and emphasize that we're not doing this for ourselves."
UI senior and executive director of UI Dance Marathon
Shoutout to health care workers
Courtney Becker, UI senior and hospital liaison director for Dance Marathon, says the organization wouldn't have been able to conduct its work without the tireless effort of health care workers, especially those staffing the pediatric oncology floor at UI Stead Family Children's Hospital:
"This year has been crazy for health care staff, working through a pandemic and quite literally sacrificing their lives every day they go to work. Dance Marathon would not have been able to have our continued presence in the hospital without our relationship with child life specialists and the rest of the staff on level 11. We could not do playtimes without them, because there would be no way to get the craft kits to the patients. They make sure that we are still able to support our families, and we cannot thank them enough for everything that they have done this year."
Even without in-person family events, Witherell says she knows Dance Marathon continues to have an impact. She recently received letters from two families new to the organization.
"They thanked us for everything that we've done, and they have never met us. That really touched my heart and has pushed me through these last couple of weeks," Witherell says. "It's very inspiring to see that we are still engaging our families and they still love us. And they're rooting for our success, even though we can't be there for them in person."
Yatin Vyas, vice chair of research in the Stead Family Department of Pediatrics and director of pediatric hematology/oncology at UI Stead Family Children's Hospital, applauds Dance Marathon and the students' determination. The organization attracted him to the University of Iowa in 2013, and he says its efforts are integral to making Iowa one of the best pediatric cancer programs in the Upper Midwest.
Dance Marathon's partnership with the hospital, Vyas adds, is as important as ever.
"With COVID, it's a tremendous uphill battle for Dance Marathon to get the fundraising totals they like to get. But I would tell them that it's not what the tote boards say at the end of the Big Event that is important, it's the fact that they've taken up this gauntlet, this cause of raising money for the kids. In my mind, that's a massive victory already," he says. "It is not an easy task to continuously do everything they're doing. They're thinking outside the box, and they're doing all this because they want to make a difference for our kids. That is tantamount to the highest victory that they could experience in their careers."