Hawaiian-born wrestler mobilizes Hawkeye community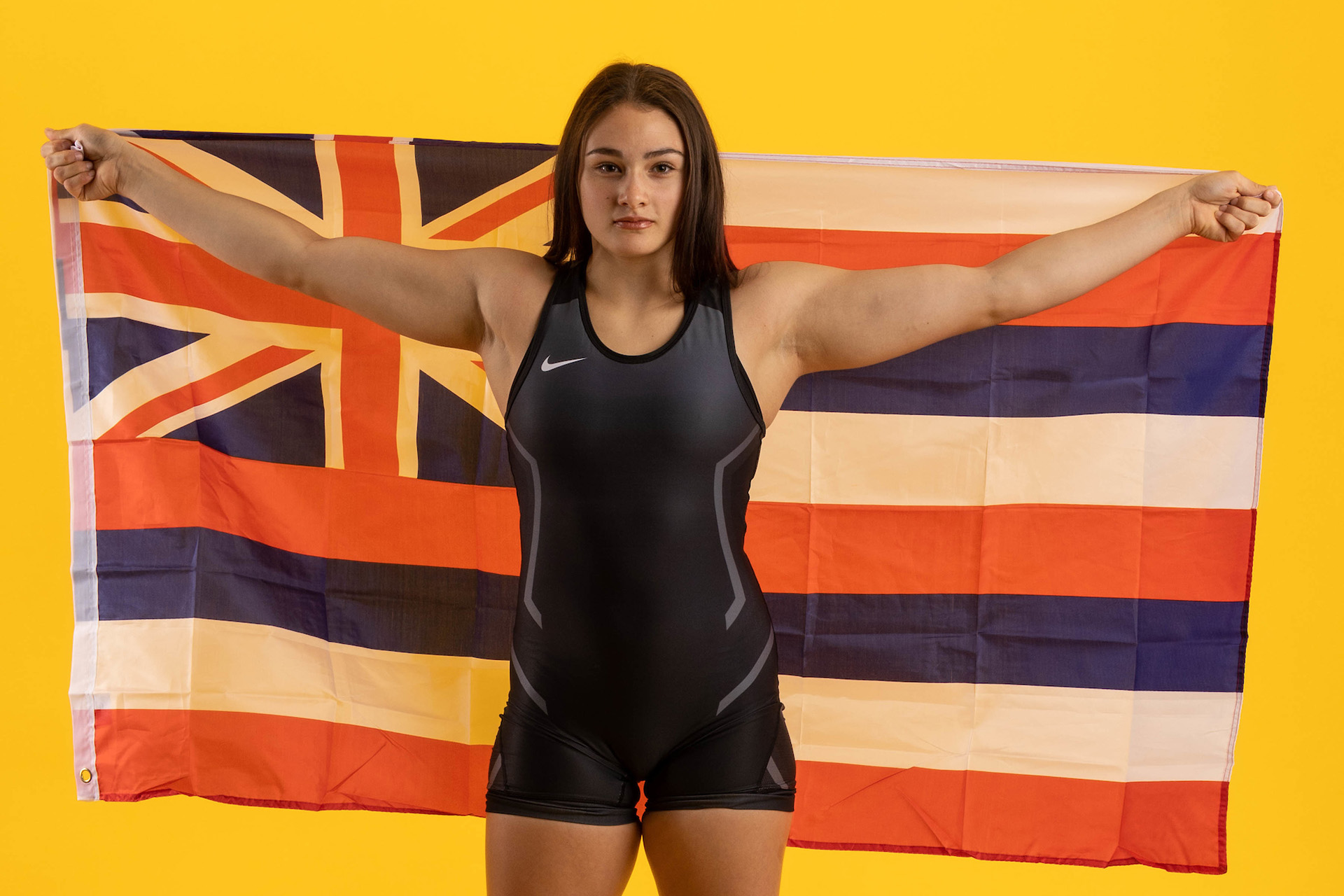 Nanea Estrella is grateful for Iowa fans' support for her neighbors in Lahaina, Hawaii, whose community was devastated by wildfires. That outpouring reinforces the Tippie College of Business student's decision to be a Hawkeye.
The strongest and most supportive people Nanea Estrella knows live in Lahaina, Hawaii.
The University of Iowa wrestler attended Lahainaluna High School for four years, boarding in her adopted community about an hour west of her hometown of Makawao, in upcountry Maui.
"They always accepted me as one of their own," Estrella says. "I've done so many fundraisers in Lahaina that made it possible for me to compete nationally. The people will always stop you on the street and say hi and ask how your family is doing. People see you out and they'll buy you breakfast. Everybody has each other's backs, and everybody knows everybody."
After the deadliest U.S. wildfire in more than 100 years burned through Lahaina on Aug. 8, killing at least 115 people and leveling homes and businesses, Estrella says she was blown away by the support she—and Lahaina—received from her newest community.
"It means the world to me to come back and feel the support from Iowa and feel that Hawkeyes really want to help," says Estrella, who will compete this season for the inaugural Hawkeye women's wrestling team. "They're giving me the same support that Lahaina gave me when I was younger. It kind of gives me a little reminder of home and makes me feel so confident in my decision to be here. I'm just so grateful."
Hawkeyes helping Hawaiians
Iowa wrestler and Makawao, Hawaii, native Nanea Estrella is spearheading a virtual food drive for the Maui Food Bank to support the people where she grew up who lost everything in devastating wildfires.
"My home and community have faced a tragedy, but it means so much to me that my new community in Iowa is stepping up and helping out in every way they can," Estrella said. "Thank you, Iowa Athletics and Hawkeye fans!"
Estrella was home in Makawao preparing to return to Iowa for the fall semester when the fires in Maui broke out. Her family woke up at 3 a.m. to reports of a fire raging above their town.
"The whole mountain looked like it was on fire," Estrella says. "It was terrifying. That was the start of the day and the start of the Maui fires."
That fire did not reach her family's home, and Estrella continued to pack and prepare for a going-away barbecue. At about 3 p.m., she received a call from her boyfriend, who was on his way back to college. He told her that his mother, who was home in Lahaina, had reported that there was a fire and she was trying to evacuate.
Her boyfriend's mom finally reported that she made it out, but then they lost contact with her for more than 20 hours.
"I also lost contact with my best friend's parents. We didn't know if they had made it out," Estrella says. "It was all just so terrifying. We kept hearing horror stories. There was a lot of tension and anxiety."
Along with trying to contact loved ones, Estrella started going through her things—including everything she had packed to bring back to Iowa—pulling out anything she didn't immediately need to send to a donation center.
Estrella, who canceled her Aug. 9 flight, returned to Iowa on Aug. 14.
"My teammates, my friends, picked me up from the airport and immediately hit the ground running, asking what they could do to help me feel secure and to help the Lahaina community," Estrella says.
Estrella called one of her former coaches in Lahaina to ask what he thought people there needed most.
"He thought the best thing that we could do was to try to bring hope to people," Estrella says. "And kids often find hope in their toys and their sports."
Estrella reached out to the Iowa Student-Athlete Advisory Committee; Macy Anderson, community engagement and communications associate in Student Athlete Academic Services; and Kara Park, assistant athletics director for student development. Together, they decided to hold a drive to replace the toys and athletic supplies that so many kids lost in the fire.
Donations poured into Carver-Hawkeye Arena and Iowa Book, as well as Xtream Arena before the Hawkeye volleyball team's home opener during FRYfest.
"It means the world to me to come back and feel the support from Iowa and feel that Hawkeyes really want to help. They're giving me the same support that Lahaina gave me when I was younger. It kind of gives me a little reminder of home and makes me feel so confident in my decision to be here. I'm just so grateful."
University of Iowa wrestler working toward a degree in marketing
While the toy/sports equipment drive has ended, a virtual food drive for the Maui Food Bank, which Estrella helped set up, is ongoing. Estrella says they plan to host another sports equipment drive in a few months as new athletic seasons get underway.
Estrella didn't start her college career as a Hawkeye. She wrestled one year for Menlo College in Atherton, California, where she was an NAIA national finalist and the Cascade Collegiate Conference champion.
When Iowa announced in September 2021 that it would become the first Division I Power Five school to add women's wrestling and hired Clarissa Chun—who is from Honolulu—as its coach, Estrella knew she had to be a part of it.
"I knew that this was going to be the next step that I needed to take to develop my career and to develop me as an athlete," says Estrella, a junior with at least three seasons of wrestling eligibility remaining. "I reached out to Coach Chun because I knew of her—everybody knew of her growing up in Hawaii—and I've been coached by her before. I knew that if I really wanted to develop as an athlete and be the person that I wanted to be, she was going to be the one that was going to take me there."
At the end of all Iowa women's wrestling team practices or team activities, the wrestlers come together and raise their hands high.
"When you win a wrestling match, you don't get your hand down, you get your hand raised," says Hawkeye wrestler Nanea Estrella.
Then they cheer: "For her on me, for her on three, one, two, three, for her!"
The inaugural Iowa women's wrestling team created the team breakdown after watching Unshakeable Belief: The Dr. Christine Grant Story.
"We wanted to say something that meant a lot and something that would stick," Estrella says. "With us being the start of Iowa women's wrestling, we wanted to start a strong tradition.
"The 'For her,' to us, means the people who came before us, us now, and the girls that are going to come after us."
The team performed the breakdown for the first time before being introduced at the Sept. 3, 2022, Iowa football game at Kinnick Stadium.
"The environment when we went out on the field and the support and love we felt from everyone in the stands, that is my favorite memory at Iowa so far," Estrella says.
Chun says that Estrella has a wonderful bubbly energy and cares for the people around her, including the community that raised her.
"She truly has the aloha spirit in her and she lets it shine," Chun says. "It means so much to see the support that Nanea received from the university, athletic department, and Hawkeye fans. It shows the strong sense of community and how special it truly is to be a Hawkeye."
Estrella says she's never felt so supported as an athlete as she has at Iowa. She has especially enjoyed getting involved with HERkys, which was founded in 2017 to honor Iowa's proud tradition in women's athletics and help empower the next generation.
"I'm so excited to compete. I can't wait to go out and represent Iowa and have people come and watch us and see the hard work that we've been putting in," Estrella says. "We're here for a reason. We came to back up Iowa, and we hope that they back us up."
Estrella is majoring in marketing in the Tippie College of Business with hopes of going into digital media marketing, a field that she says mixes her love of video and editing with business.
"The resources are so great and I'm learning so much," Estrella says. "The professors have been wonderful, and I'm getting really prepared to go out and get a career. I love Tippie."
On a lighter side, Estrella says she loves the photo booth in Tippie, where students can get a professional headshot: "It's saved me so much time and energy!"
It was in class that Estrella first heard the term "Iowa Nice." But she quickly learned its true meaning.
"Seeing how I was treated and how people here want to help you in any way that they can, 'Iowa Nice' a real thing," Estrella says.
Estrella says she is confident that her Lahaina community will come back stronger than ever—especially with her Hawkeye community's help.
"I know the Lahaina community is strong and that we will rebuild," Estrella says. "But I hope that we can continue coming together to help make it even better than it was before."