How Girls Go STEM is making waves and opening doors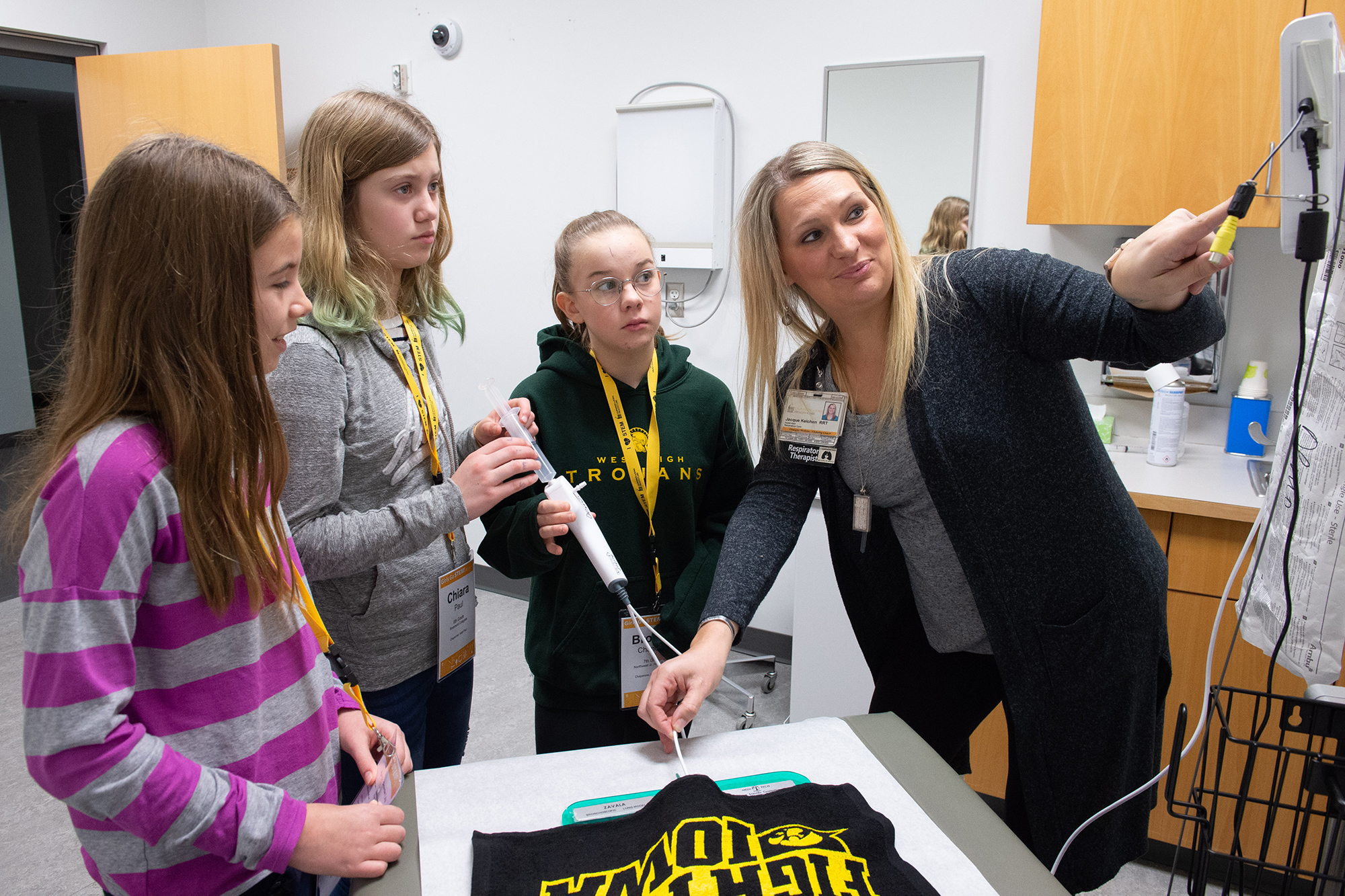 More than 1,200 girls from 42 counties across Iowa have participated in Girls Go STEM since the program began in 2012. Through this University of Iowa program, many participants are discovering new opportunities and interests.
UI Health Care Marketing and Communications
While career opportunities in STEM (science, technology, engineering, and math) are on the rise, women remain vastly underrepresented in these fields.
University of Iowa Health Care experts are helping change that, through a unique educational program aimed at getting girls interested in STEM. Girls Go STEM is an annual event intended to inspire the next generation of health care professionals. It also aims to help young people better understand health care—and health care decision-making—at an early age.
"I went into the program not knowing much about professions in health care," says Corinne Donald, a junior at Sigourney High School who attended Girls Go STEM in 2014. "It was a very eye-opening experience for me. By the end of the day, I was very interested in becoming a nurse."
More than 1,200 girls from 42 counties across Iowa have participated in Girls Go STEM since the program began in 2012. Interest is high, with some families traveling several hours to Iowa City to attend.
Several of the students who attended the program are now pursuing or considering a career in health care or another STEM-related field. Donald is currently taking nursing classes online and will graduate next year as a licensed practical nurse. She plans to attend Grand View University and hopes to work in labor and delivery or a neonatal intensive care unit (NICU) after graduation.
Maya Baker, who attended Girls Go STEM in 2014, is now a UI student with plans to attend medical school.
"It's important because some young women might not realize all the opportunities that are out there for them," says Baker, a first-year undergraduate from Bettendorf, Iowa. "They have so much potential that can be put to good use, but they have to know what they can do. This program helps to show them."
The brainchild of the outreach and engagement division of UI Health Care Marketing and Communications, the Girls Go STEM program is open to girls in grades 6-8 and is led by faculty and staff from UI Hospitals & Clinics and medical students from the UI Carver College of Medicine.
"We want to give the girls interactive, hands-on experiences and the feeling of what it might really be like to be in medical school or work in a health care environment," says Jackie Kleppe, the program's co-founder.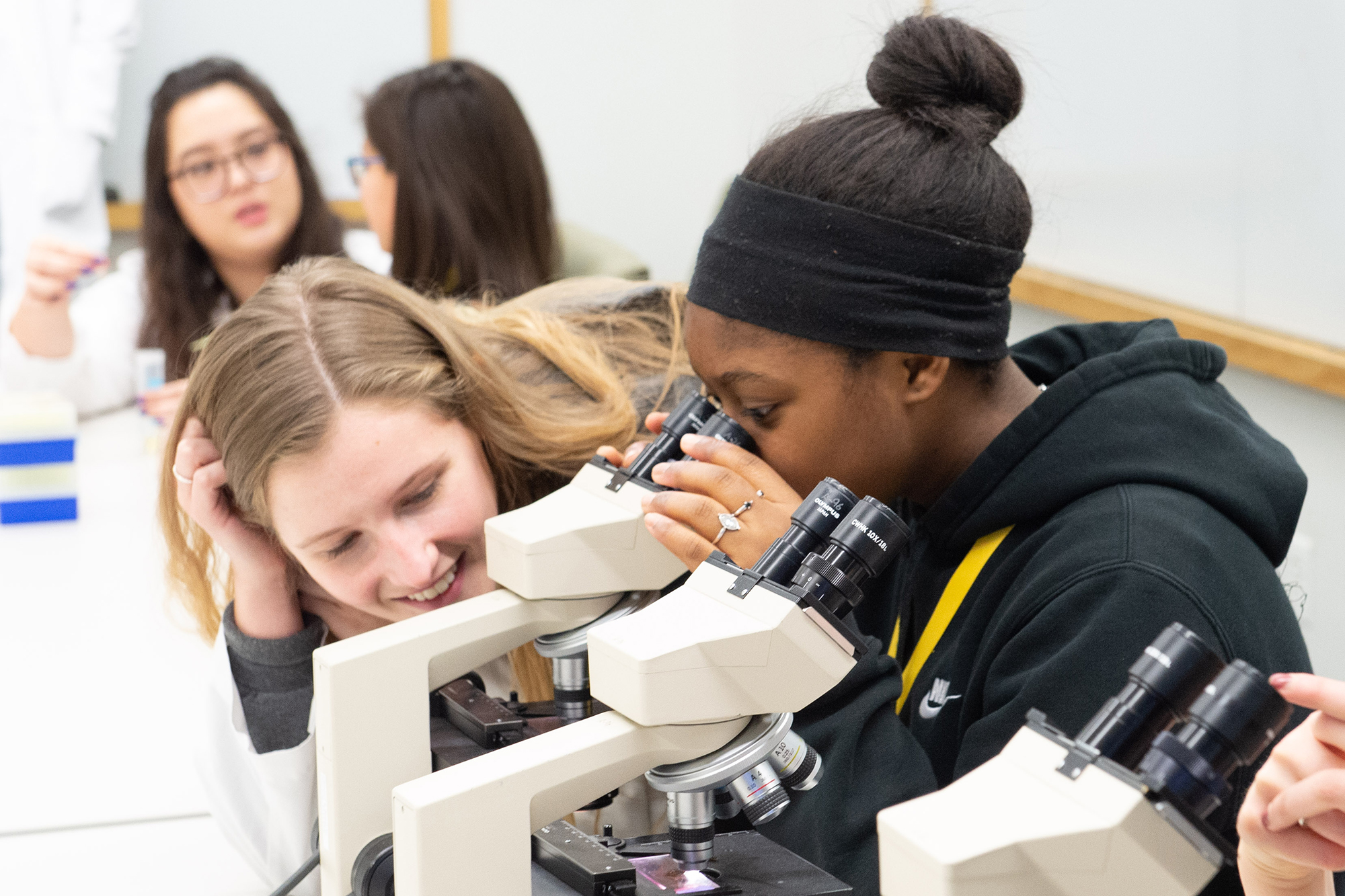 In addition to providing hands-on experience, the program strives to build an inclusive environment for its students, whose participation in the program may be their first experience in health care.
Girls Go STEM offers a multitude of educational sessions focused on areas like pharmacy, microbiology, and neuroscience. In these sessions, students learn how to mix various solutions, use microscopes and petri dishes to examine cells and bacteria, and study the brains of a variety of species.
"We did so much," says Donald. "We made small casts for our fingers, we looked at x-rays, and we even ran through scenarios where we would have to ask a patient questions to try to find the diagnosis of their problem."
Every year, UI Health Care reports that nearly 80% of Girls Go STEM participants said they were more interested in STEM after the program, with around 94% of participants saying they would recommend it to others.
The Girls Go STEM program is one part of the UI Health Care STEM Education program, which was established in 2007 to spur interest and achievement in STEM fields. Kids Go STEM, a similar annual event open to boys and girls, is in its second year.
Amy Pearlman, MD, a urologist at UI Health Care and volunteer with Girls Go STEM, says the program brings together a group of similarly motivated students, from all different backgrounds, with a shared interest in exploring the sciences.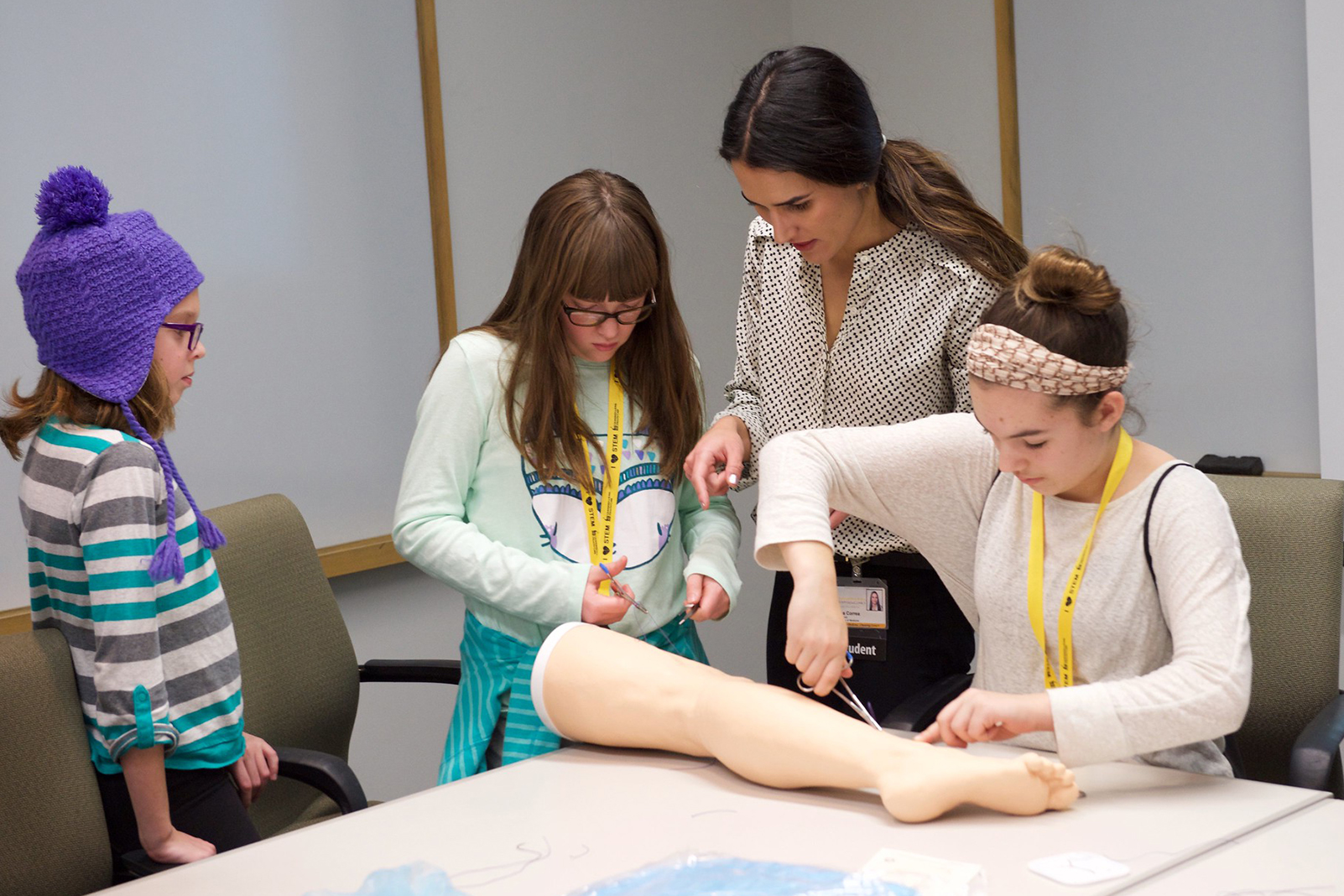 "It's never too early to get involved," says Pearlman. "Sometimes it's a single meaningful experience that encourages a student to pursue a specific field. Other times, it's a compilation of many, and they're all important."
Girls Go STEM has been recognized as one of the nation's top programs of its kind, earning both the Governor's STEM Advisory Council Seal of Approval—the state of Iowa's highest recognition—and the Award for Excellence from the Association of American Medical Colleges (AAMC) Group on Institutional Advancement in 2017.
While the program is intended to educate students, parents also participate in concurrent sessions focused on preparing their students for a career in STEM, educating them on adolescent health topics, and providing them with STEM resources such as information on other STEM opportunities and involvement in STEM clubs.
Organizers say the Girls Go STEM program provides young women exposure to opportunities they may not have previously considered. Donald is certain it helped shape her path. 
"I believe this program has greatly affected my plans for the future," says Donald. "Women greatly impact STEM fields with new ideas and perspectives, and I recommend this program to help empower any young girl."
Would you like to be notified about upcoming STEM programming offered by University of Iowa Health Care?