Iowa law students play moneyball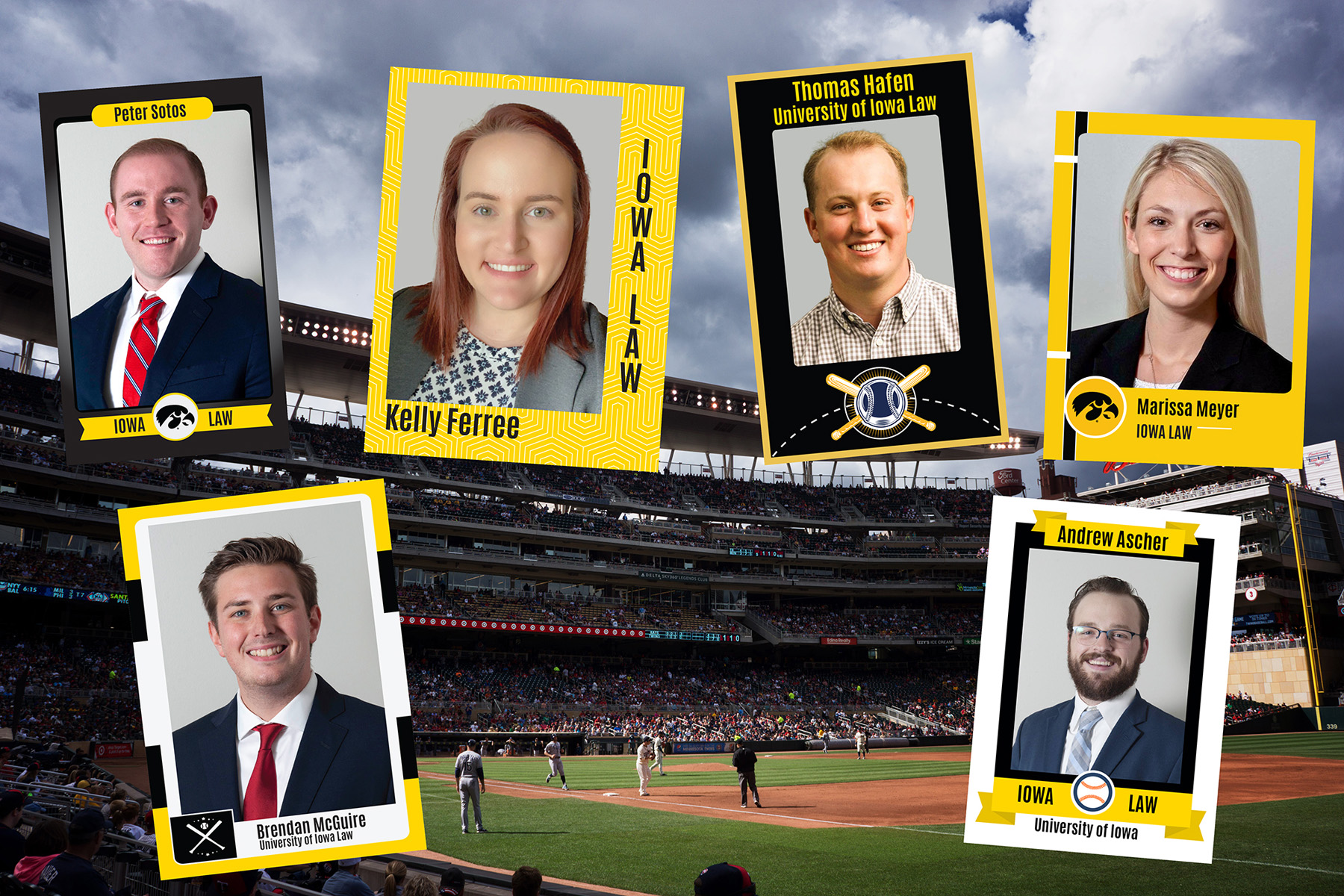 A University of Iowa College of Law class uses America's pastime to give students experience in arbitration—and an opportunity to earn top honors for written work in a national competition.
To make it to the major leagues, a baseball player has to be able to hit, catch, throw, and run.
But once you make it to the show and want to maximize your paycheck, it helps to be pretty good with numbers too—or appear before an arbitrator who is.
A new class in the University of Iowa College of Law teaches students about those dollar figures by introducing them to player salary arbitration and participating in mock arbitration hearings, using baseball as a learning tool. Students form their arguments as to why a Major League Baseball player should or shouldn't be paid a certain amount of money, just as agents and team attorneys do in real-life arbitration hearings.
Several of the students competed in this year's annual Tulane International Baseball Arbitration Competition at the Tulane University School of Law, considered the top such event for law students. Kelly Ferree, Thomas Hafen, and Brendan McGuire took part in the written competition—Ferree and Hafen teamed up to win the division's top prize.
The oral advocacy team of Peter Sotos, Marissa Meyer, and Andrew Ascher competed in three mock arbitration hearings against squads from other law schools. Overall, Sotos, Meyer, and Ascher received 90.6% of available points from the judges (who happened to be the director of international scouting for the Cincinnati Reds, a baseball player agent, and an attorney for the major league baseball players association).
"Ultimately, it helps law students sharpen their written and oral advocacy skills. This is just a different and interesting way to develop those skills."
Sports Law instructor and coach of Iowa's team in the Tulane International Baseball Arbitration Competition
Few of the students in the class are likely to pursue careers as baseball arbitrators, says Dan Matheson, the class instructor and team coach. Some are only casual fans of the game, after all. Matheson says they simply use baseball as a platform to learn skills that are useful in any legal career setting.
"Ultimately, it helps law students sharpen their written and oral advocacy skills," says Matheson, who also teaches the Sports Law class in the College of Law and directs the Sport and Recreation Management Program in the College of Liberal Arts and Sciences. "This is just a different and interesting way to develop those skills."
The salary arbitration process first appeared in the 1973 collective bargaining agreement between major league owners and players. Players are essentially at the mercy of the owners during their first three seasons and have little leverage to negotiate their own salary, so owners pay them at or slightly above the league minimum salary regardless of how well they play.
But after their third, fourth, and fifth seasons, before they become eligible for free agency, players who can't come to a salary agreement with their team's owner go to arbitration, when each side makes its case to a panel of arbitrators who pick one of the numbers. Players who lose their arbitration hearing typically still receive significant raises in their first year of eligibility because of the way they are underpaid in their first three years of team control. Even superstar Mike Trout was paid only $510,000 in his second season, a steal seeing that he had been named American League rookie of the year and placed second in most valuable player (MVP) voting the season before.
"It's a system set up to more fairly compensate players who aren't yet eligible for free agency but want to be paid closer to fair market value," says Matheson, who himself worked in baseball management with the New York Yankees' front office from 1996 to 2001.
The process requires a deep understanding of statistics and the law, with agents and owners using analytics, precedent-setting contracts, and comparable player statistics to tell the most persuasive story for their side. To help students fully understand the advanced statistics that are used in the game today, Matheson enlisted the help of Reed Zahradnik, a business analytics and information systems major in the Tippie College of Business and a sport and recreation management minor who is also an analytics expert for the Hawkeye baseball team.
"The law students welcomed Reed onto their team, and he got to learn about the baseball arbitration process and apply his passion for baseball analytics in a real-world scenario that he'll be able to talk about with prospective baseball employers in the future," says Matheson.
Hafen says the class and Zahradnik added a dimension to baseball that the self-declared fan said he had little knowledge of before.
"It's a lot more complicated than I thought it was," says the second-year student from Provo, Utah, who's a fan of the Boston Red Sox thanks to an uncle who lives in Massachusetts and took him to his first major league game at Fenway Park. "I didn't understand what WAR or wRC+ or some of these other advanced statistics were about at all."
"It's ironic how so many lawyers go to law school because we don't like math, but then we can weave these statistics into a narrative an arbitrator can understand," says Ferree, a second-year student from Sigourney, Iowa, who grew up a fan of the Chipper Jones/Andruw Jones-era Atlanta Braves.
In their competition, Ferree and Hafen had to stake out positions in their briefs for and against Philadelphia Phillies pitcher Aaron Nola, Los Angeles Dodgers pitcher Walker Buehler, and Houston Astros third baseman Alex Bregman. Matheson said both students spotted interesting statistical trends and laid out compelling arguments in clear, simple narratives in just 10 pages.
Ferree and Hafen say they signed up for the class and decided to take part in the Tulane competition both because they're interested in the legal concepts of arbitration and because it gave them a chance to learn more about a sport they enjoy.
"Talking about baseball seemed like it would be more interesting than talking about the rule against perpetuities," says Hafen.
Ferree said the experience would provide more credibility with her baseball-loving family, as well as help her in her expected career as a labor lawyer.
The class also heard from Diego Bentz, a 1996 Iowa law graduate who now works as a player agent representing such names as David Ortiz and reigning American League MVP Jose Abreu. The students also appreciated Matheson's style, with Hafen saying he "learned a ton from him" about both the law and team operations.
Both are considering competing in the Tulane tournament next year to defend their written competition title or try their hand at the oral advocacy portion of the tournament.