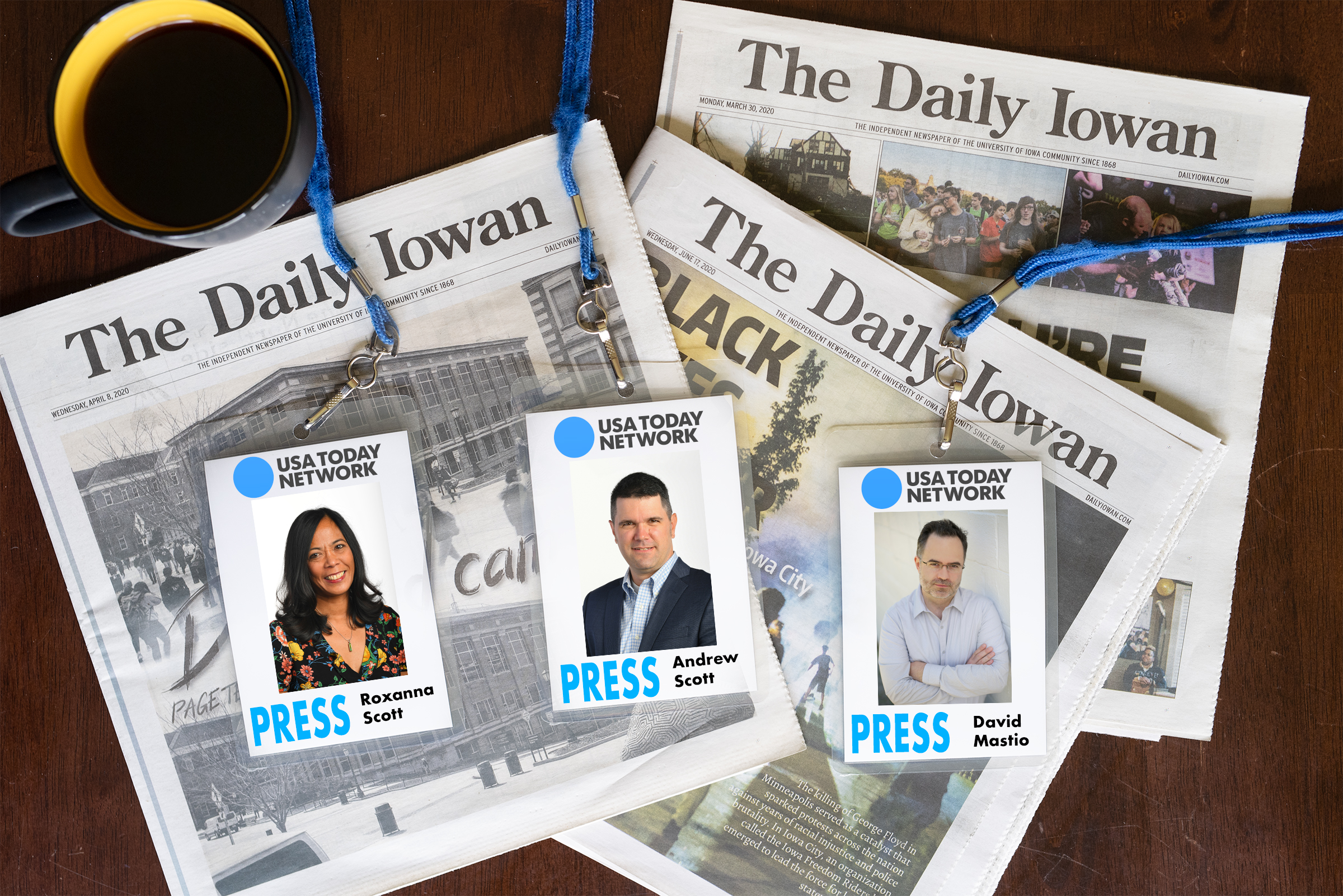 Three University of Iowa graduates who worked together at "The Daily Iowan" now help manage the newsroom at "USA Today." Their experience at a premier collegiate newspaper provided the foundation for successful careers in journalism.
Justin Torner and Sharon Amouzou
Sit in on a USA Today newsroom leadership meeting today and it might seem you've been transported back to The Daily Iowan, circa mid-1990s.
The Daily Iowan was named the nation's best college newspaper by the Society of Professional Journalists earlier this year. It received SPJ's Mark of Excellence Award in the best all-around daily category, beating out newspapers from UCLA and Yale University.
Three newsroom leaders of the country's largest-circulation daily newspaper are University of Iowa journalism graduates who worked at the DI at the same time. Andrew Scott (BA, 1995) has been the director of photo and video newsgathering at USA Today for eight years, and David Mastio (BA, 1995) has been there for nine years as commentary editor and deputy opinion page editor. In June, Roxanna Scott (BA, 1996) was named the managing editor for sports, overseeing the news organization's 40-some journalists who cover sports as one of the few Asian-American women to lead the sports desk of a major American newspaper.
It was an inauspicious time to become sports editor, in the middle of a pandemic when there were no sports to cover and the only big stories were, when will sports be back and how will COVID-19 affect them? But the murder of George Floyd by a Minneapolis police officer and the subsequent demonstrations across the country soon provided plenty of news to cover, as the social impact rippled into the sports world.
"This is such an opportunity because it's an important time regarding race in the country and a time to have conversations that in the past were not easy to have," says Roxanna, who, as a Filipino American, feels she's in a position to lead those conversations. "We've been talking about how to continue to cover issues like race, equality, and pay disparity, even when it's not part of a breaking news story. As an editor, it's my responsibility to bring a laser-like focus on topics such as gender and race in sports and in all of society."
"I can't say how much [the Daily Iowan] scholarship changed my life."
Iowa alumna and managing editor for sports at "USA Today"
Roxanna's love of journalism and sports runs deep. Her family read the newspaper every day while growing up in Davenport, and she worked at the Quad City Times while still in high school, taking scores from high school games as a clerk on the sports desk. She was passionate about sports and played many of them as a kid, she says, "but by the time I got to high school, I was not that great."
Fortunately, her other passion was writing so she decided to write about sports and the people who play them. She came to Iowa as a journalism major and a Daily Iowan scholarship paid her tuition. "I can't say how much that scholarship changed my life," she says.
She worked on the sports desk and covered the women's basketball beat, accompanying C. Vivian Stringer's Hawkeyes that made the 1993 Final Four in Atlanta.
"It was an overwhelming experience to see something on TV for so many years and then to actually be there," she says.
Internships followed at the Iowa City Press-Citizen, Des Moines Register, and the Dallas Morning News, which hired her for the sports copy desk after she graduated. She moved to USA Today in 2006 to coordinate the organization's Olympic Games coverage. Her first Olympics was the 2004 Games in Athens, which she covered for the Morning News, and she's coordinated USA Today's coverage onsite for seven games since. This year's canceled Tokyo Games would have been her ninth, and she hopes it still is come 2021.
Roxanna also met her husband, Andrew, while interning at the Press-Citizen, where he worked part-time as a photographer. An engineering major when he came to Iowa from his hometown of Ames, he joined the DI staff as a photographer and loved journalism so much he eventually switched majors.
"The expectation [at The Daily Iowan] is that we're competing with the Press-Citizen, the Cedar Rapids Gazette, and the Register, and we're going to hold our own with the pros. It's an invaluable experience."
Iowa alumnus and the director of photo and video newsgathering at "USA Today"
After internships at the Cleveland Plain Dealer and Los Angeles Times, he eventually caught up with Roxanna in Dallas and worked with her at the Morning News, first as a staff photographer and then as an editor. He was part of the team that won a Pulitzer Prize for breaking news photography for its coverage of Hurricane Katrina. At USA Today, he coordinates the paper's photographers and videographers while advising other newspapers owned by its parent company, Gannett.
Both Roxanna and Andrew say their DI experience provided a foundation that was key for their success in newsroom management. Learning how to develop story ideas, think ideas through, edit a story, delegate, inspire, and put together a budget were all invaluable skills learned in the student newsroom.
"The DI was a core influence for pretty much everybody who passed through," says Andrew. "The expectation is that we're competing with the Press-Citizen, the Cedar Rapids Gazette, and the Register, and we're going to hold our own with the pros. It's an invaluable experience."
Mastio came to Iowa from Omaha in 1991 as an economics major to pursue a career in business. But the journalism bug hit after he wrote opinion pieces for an alternative campus newspaper, so he switched his major to journalism and became a columnist for the DI. A conservative, his columns were frequently the subject of controversy because many readers objected to his viewpoint.
But he says Bill Casey, the paper's longtime publisher "who was an old hand at navigating campus controversies," always had his back. The dust-ups also taught him a lesson about having thick skin.
"I took every class I could from Gil Cranberg [retired George H. Gallup professor at the University of Iowa], and I still use what he told me today."
Iowa alumnus and nine-year commentary editor and deputy opinion page editor at "USA Today"
"It's quite a useful skill to have when you're writing opinions," he says. "You have to get used to being blasted in the letters to the editor."
Mastio decamped for Washington, DC, his senior year for a reporting internship, and then came stops at USA Today, The Detroit News, and The Washington Times, along with a year of service as a speechwriter for a government agency. His current stint at USA Today is his third.
As deputy opinion page editor, he works with contributing writers of opinion pieces that appear on the paper's op-ed page. He also writes an occasional point-counterpoint column with opinion page colleague Jill Lawrence, who takes the liberal view. Much of what he learned he says came from Gil Cranberg, the legendary editorial page editor of the Des Moines Register and George Gallup Professor of Journalism at Iowa.
"I took every class I could from him, and I still use what he told me today," Mastio says.
All three credit their professional success to people like Cranberg, professors Stephen Bloom and Venise Berry, and Iris Frost, the DI's longtime writing coach, whose comments could be terse but always helpful. Bill Casey was also a favored mentor.
"One of the great joys of working at the DI was having Bill around," says Andrew Scott. "He's a great personality and always supportive of our work. He had the understanding that we're going to make mistakes and that's part of the learning process, and still gave us his support."
But one thing no journalism program could have foreseen when they were students was how technology would change their profession. Graduating in the mid-1990s, a time when newspapers started publishing their news online, they're in the first generation of digital journalists. There was a time when reporters wrote stories, editors edited stories, and photographers took photos. But now, journalists have to be skilled at all three, as well as shoot video, so they can tell stories in multiple ways for different types of readers.
A tradition of excellence
The University of Iowa campus has had a student-produced newspaper since 1868. Not only do the student staff members have opportunities many colleges can't provide, their work has earned multiple honors and awards throughout the years, placing the paper among the best in the country. 
"Consumers reach us through so many different methods now," Andrew says. "Whether it's through our website, on a laptop or mobile phone, through social media. And there's still a lot of people we reach through print. As editors, we have to decide, what's the best way to tell this story? Is it with words, or is it best told through stills or maybe a long-form documentary video?"
That means journalists have to bring many more technical skills to the job than they did. Knowing how to write stories while shooting and editing photos and videos is a must. But what doesn't change is the basic skills needed to bring vital information to the reader.
"At the core is to use all this technology to improve our storytelling," Andrew says. "What will never change is the need to ask good questions, do good reporting, and distill the information into a good story that can explain a complex topic in a way a reader can understand."
These technological changes that have so radically changed the way journalists gather and report the news has had similar effects on news organization's business models. With news readily available for free through digital channels, print circulations have collapsed, bringing advertising revenues with it. News organizations have responded with significant layoffs—about half of America's journalists have lost their jobs in the last 12 years, according to the Pew Research Center. Mastio recalls a much larger newsroom when he returned to USA Today in 2012. Though it was smaller than it had been during his earlier stints, he says now that it was a luxury compared to the depleted newsroom of today.
"In eight more years, we're going to look at today's newsroom as a luxury, and that's a concern," he says. Fewer journalists mean fewer stories are being told, he says, and fewer government officials are being held accountable
But Roxanna still sees a future for the industry based on the excitement and skills of the young journalists she meets, including those at the DI.
"They are so committed to storytelling and dedicated to the craft," she says. "There will always be a place in journalism for people who have that kind of passion and storytelling skills."