Brian Volk-Weiss has a funny story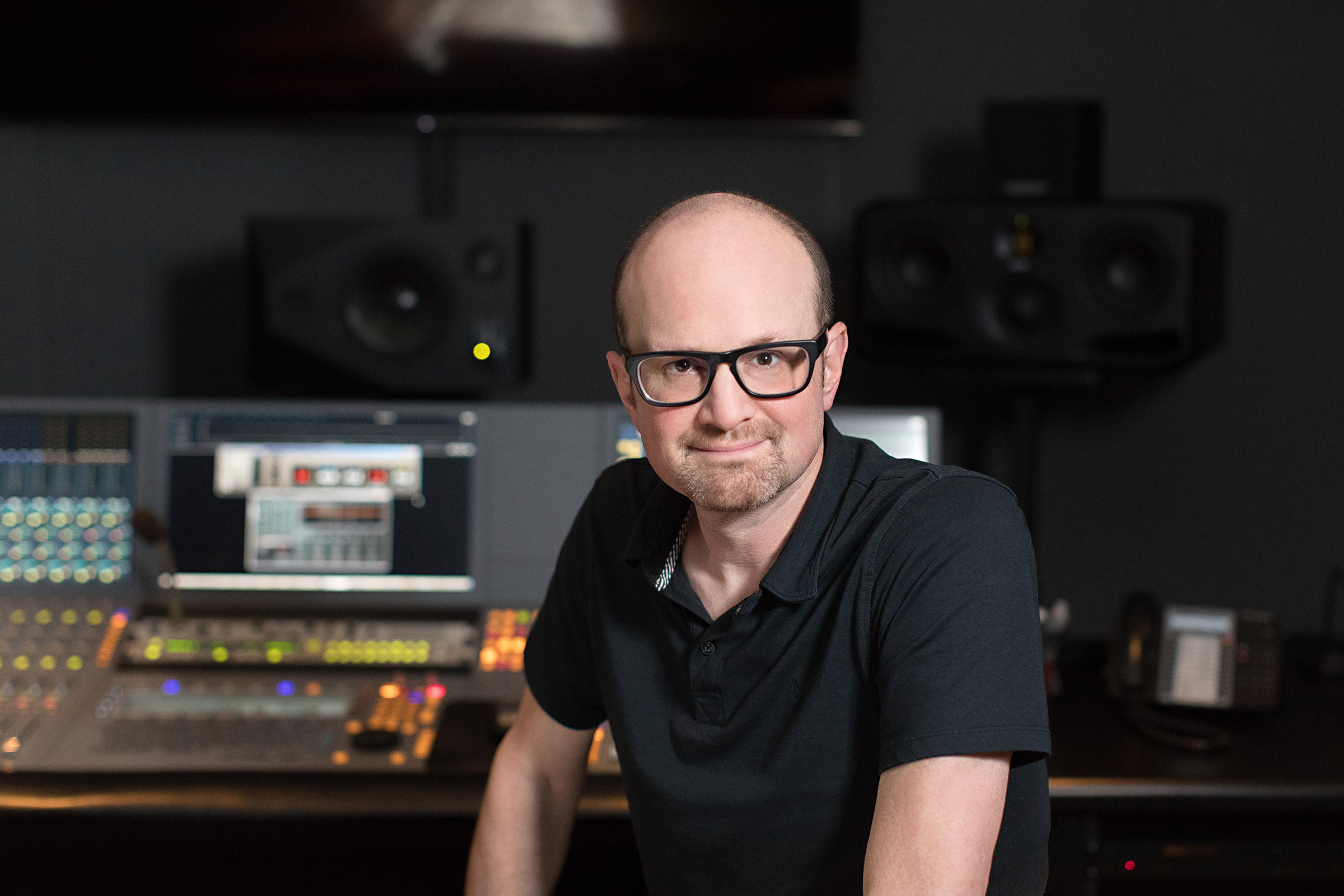 Success producing stand-up comedy specials has propelled the University of Iowa graduate to a career in which he can pick the stories he wants to tell through TV and film.
Courtesy of Brian Volk-Weiss
When Brian Volk-Weiss was growing up, he was determined to be an X-wing pilot for the Rebellion.
The youngster was obsessed with Star Wars and its rebel hero Luke Skywalker but didn't realize the story was a work of fiction. When his mother gave him a book about the making of the sci-fi blockbuster, Volk-Weiss saw that the movie's planet-sized Death Star was actually a five-feet-wide model—and he shifted his career goal to filmmaking.
Now, the University of Iowa graduate leads the Nacelle Company, the largest independent comedy production and distribution company releasing feature and documentary films and TV series. The company, which Volk-Weiss founded in 2017 in California, already boasts a long list of projects, including The Toys That Made Us and The Movies That Made Us on Netflix, A Toy Store Near You on Amazon, Sony's Mad About You reboot, and a special about Ulysses S. Grant on the History channel, among others. Volk-Weiss is currently working with Dwayne Johnson on a series for Disney+ called Behind the Attraction.
"Going to Iowa was possibly the best decision I have made. I had a theory—and it turned out to be true—that it would be good to know people from inside the coasts."
University of Iowa graduate and CEO of Nacelle Company, the largest independent comedy production and distribution company
"My goal was to build my own studio, and by every definition that is what we have," says Volk-Weiss, who is from Queens, New York. "Much of what we do is within the confines of the company—like editing, color correction, et cetera—but when a show airs, the whole world has the opportunity to see what we've been doing. People can watch it and, hopefully, enjoy it and talk about it. You don't get that satisfaction in a lot of jobs."
Shortly after graduating from Iowa in 1998 with a BA in communication studies, Volk-Weiss moved to Los Angeles and got a job as an uncredited production assistant on the Tom Hanks film Cast Away. That led to an entry-level job in a talent management company, working primarily with comedians, which brought him opportunities to produce numerous comedy specials.
He went on to became head of production for New Wave Entertainment, making specials for a string of well-known comedians including Aziz Ansari, Marc Maron, Tiffany Haddish, and Ali Wong. He has been nominated for 19 Grammy Awards for Best Comedy Album and won four—for production on performances by Louis C.K. and Dave Chappelle. His work producing Kevin Hart's Guide to Black History for Netflix earned him an NAACP Image Award nomination for Outstanding Children's Program in 2019.
Brian Volk-Weiss (second from left) shoots his first film, Identity Crash, as an undergraduate at the University of Iowa.
While Nacelle still churns out stand-up specials, the success Volk-Weiss has had in comedy production has allowed him the flexibility in recent years to focus on subjects close to his heart, like toys and President Grant, but he says the shift has not come without challenges.
"Producers and directors get typecast just like actors. It was easy for me to sell comedy, but The Toys That Made Us took seven years to sell," says Volk-Weiss, an avid toy collector who convinced Netflix to buy a series looking at the origins of iconic toys.
The first season of The Toys That Made Us, which debuted in 2017, takes an in-depth look at toy lines from Star Wars, Barbie, He-Man, and G.I. Joe. Two more seasons followed. Volk-Weiss says his approach to the documentary series has been informed by what he learned about storytelling at Iowa.
"The show is entirely story-based. We don't focus on the toys themselves but rather on the people and the stories behind how the toys got made," he says. "We develop a storyline and characters. I'm using what I learned at Iowa."
While friends of his studied film at New York University and the University of California at Los Angeles, where they were taught by people established in Hollywood, Volk-Weiss says he benefitted from the faculty at Iowa. They were artistic, independent thinkers who emphasized the importance of story.
"The fact that I was trained by experimental filmmakers rather than someone who, say, directed 200 episodes of ER allowed me to view story in a whole different way," says Volk-Weiss, citing two teaching assistants who were influential during his time at Iowa: Johanna Hibbard (MA '98, MFA '00) and Meg Jamieson (MA '98, MFA '05). "They didn't judge me for wanting to make big action films. Even though they were so different from me in storytelling styles, they were completely embracing and gave me so much great advice. They were open-minded but also hard on me when I turned in a script, questioning why I did this or that. I learned so much from them, and I still talk to both of them today."
If you are interested in becoming a filmmaker, editor, camera assistant, screenwriter, producer, or casting agent, the University of Iowa offers degrees in cinema and in screenwriting arts. Students are instructed on the practical skills and knowledge needed in these industries and also learn about history and theory.
Knowing he would eventually land in Los Angeles, Volk-Weiss had aimed for a college experience in the Midwest. While Star Wars led him to filmmaking, Star Trek brought him to Iowa.
"I wanted to see where Captain Kirk was from," says Volk-Weiss, referencing the character from nearby Riverside, Iowa, "so my dad and I came to Iowa City for a campus visit. When I left the hotel and walked out onto the Ped Mall, it was like reincarnation. I felt so at peace. I have never felt so at home."
Volk-Weiss enrolled at Iowa and realized two years later, as he was passing the Theatre Building one day, why the campus had seemed so familiar when he first arrived: Coach. Scene-setting exterior camera shots from the popular 1990s sitcom, which was created by UI alumnus Barry Kemp and loosely based on former Iowa football coach Hayden Fry, were filmed on campus. It was yet another sign that he was in the right place.
"Going to Iowa was possibly the best decision I have made. I had a theory—and it turned out to be true—that it would be good to know people from inside the coasts," he says. "Everyone in Iowa was so nice and so real and so welcoming. A friend took me line dancing and showed me her family farm, and another friend took me skeet shooting. As a New Yorker and as a Jewish person, I was a bit different, but everybody embraced those differences. Now, I have an entire network of friends from a different part of the country, and any time I'm in the editing bay, those are the people I am thinking about. If I had only lived in New York and LA, I wouldn't be the same person."
Volk-Weiss is enjoying the range of projects that Nacelle is working on, but he says he will know when to call it a wrap.
"My final goal comes back to Star Wars. I want to make a gigantic sci-fi epic, and I want to direct and self-finance it," he says. "Once I do that and the film premieres, I will know that's the beginning of my retirement."