Theater arts grad brings comedians' creative vision to life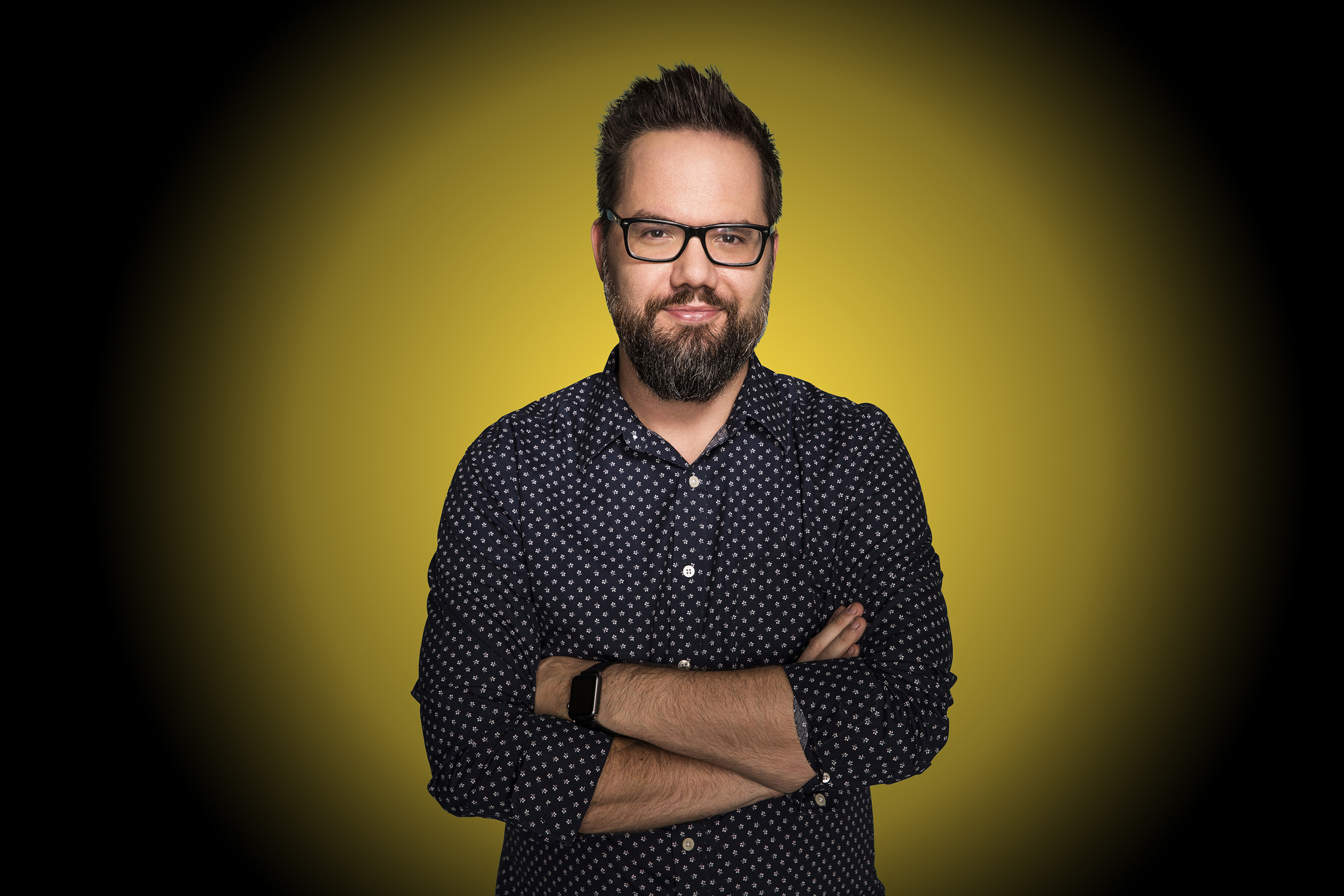 TV producer Spencer Griffin credits his experiences in theatre—which he gained at both the University of Iowa and in the Iowa City community—as the foundation for his award-winning career.
Courtesy of Spencer Griffin
Growing up, theater meant everything to Spencer Griffin. As a student at Valley High School in West Des Moines, Iowa, he wrote plays and performed in a sketch comedy and mime group, The Baker's Dozen, which happened to include among its alumni the novelist and filmmaker Peter Hedges, known for What's Eating Gilbert Grape. One day, Hedges visited his old school to talk about becoming a screenwriter, and Griffin was inspired.
"As a kid sitting there listening to him, I thought, 'If somebody from West Des Moines can do it, then maybe I can do it too,'" Griffin says.
Today, the LA-based Griffin is head of TV development for Just for Laughs, a comedy distribution company, and is responsible for finding or developing scripted and unscripted comedy projects that could be turned into shows. He has sold and developed projects for HBO, Amazon, Hulu, Starz, CW, Comedy Central, TruTV, Sony Pictures Animation, NBCUniversal, and more. Griffin's focus is on streaming and traditional television. But he says it was theater—specifically his behind-the-scenes work on productions—that prepared him for getting projects to the screen.
A sampling of Griffin's executive producer credits
Griffin entered the University of Iowa on an acting scholarship. He dove into theatrical experiences on campus, beginning with the Ten-Minute Play Festival. During his junior year, Griffin's classmate Paul Rust—actor, writer, and executive producer of the Netflix show Love—wrote a play that Griffin wanted to direct. But, as if often the case, the number of requests for student-proposed shows outweighed the time and space available for university productions, and graduate students' proposals often receive first choice.
So they looked for a way to stage it elsewhere, with an eye toward supporting other creative projects.
Griffin and Eric Burchett, a 2004 theater arts alumnus, approached the owner of the Deadwood, a downtown bar, about using space upstairs, and Public Space One was born. The organization is still in operation today, and is now an arts center and nonprofit with two locations on North Gilbert Street.
"Thanks to a number of directors who succeeded me and the whole team, I'm proud to say it still exists," Griffin says. "It all started when I realized just how much talent there was in Iowa City."
"I had a truly amazing experience at Iowa. It was a gift in my life that keeps on giving."
2004 theater arts alumnus and current head of TV development for Just for Laughs
Griffin spent the remainder of his college career splitting his time between his classes, being part of The James Gang community-building organization, and being at Public Space One, where he worked in nearly every behind-the-scenes aspect, including directing six of Rust's plays.
"As a 20-year-old, I was helping manage a volunteer staff, curating programming, and was really focused on producing others' work," Griffin says. "None of that would be possible, though, without a strong community of fellow students, staff, and residents of Iowa City, like the then-owner of the Deadwood, Jim Bell, who generously let us use his space for free. I wasn't the best writer, or the best performer, or the best director. But I was really good at helping other people do their work.
"My goal was to be known as a guy who, whatever you wanted to have happen, I could help you do that. That was such a unique experience, and I was so grateful to have it, because it has fueled everything else since."
During his senior year, the university began allowing undergraduate work to be fully staged in the Theatre Building, and Griffin produced one of Rust's plays in Theatre B, now known as the Alan MacVey Theatre.
Griffin's most influential professors:
Robert Kirby. Bob was my mentor and boss at the Honors Program. He was the faculty adviser to The James Gang and literally brought the power tools to build the benches at Public Space One. He always encouraged us to just keep going farther with what we wanted to do.
Alan MacVey. When I graduated, he said, 'You're going to be a great producer someday.' And I thought to myself, 'I guess I should think about that.' It absolutely changed my life.'
Lisa Schlesinger. I had her for my first class of undergraduate advanced playwriting, and it was such an amazing class, I took it six times. Each of us had to write one play; each week we'd read that play and give notes. It was a great experience in hearing peoples' voices, learning how to receive notes, and seeing people grow. She was also helpful and encouraging of Public Space One; she championed us in exploring all the ways we could create art, not just in classes.
"It was a thrilling time," he says. "I had a truly amazing experience at Iowa. It was a gift in my life that keeps on giving."
After graduating, Griffin moved to LA and got a job as an assistant at Miramax. After several moves back and forth from Iowa City to LA and New York, he got a tip from a fellow Hawkeye. His roommate, David Fishel—a 2003 communication studies, art, and cinema graduate who worked at the comedy site CollegeHumor—told Griffin the company needed a post-production coordinator. A few crash courses on video editing later, Griffin was hired.
While working on commercials, web series, and TV shows, he advanced through the ranks until being named an executive producer and finally senior vice president, and along the way worked with stars like Jason Bateman, Will Arnett, Sarah Silverman, and "Weird Al" Yankovic, who happened to be a lifelong favorite of Griffin's. He co-directed and produced a video starring Michelle Obama—a project that led to both Webby and Telly awards, along with a memorable exchange with both the first lady and the president (more on that later).
While Griffin may not be the star of these productions, he thrives on bringing the actors' and comedians' creative visions to life.
"What I aim to do is pitch shows from people who are the only people who could pitch that particular TV show, people who have the most unique point of view," he says. "A lot of what I do is listen to ideas from comedians, and then help make those ideas work for TV, and then producing, scripting, and executing the project."
One of the most successful examples of such partnership was the TruTV show Adam Ruins Everything, created by and starring comedian Adam Conover, who investigates and debunks misconceptions. Griffin was one of the executive producers of the show, which ran for three seasons.
"That show is so fully Adam's voice," he says. "I love working with talent and helping people realize their dreams, helping such talented comedians say the things they want to say. When people are really creative and great at what they do, it's thrilling to be around."
Griffin not only scouts talent but is in charge of every aspect of a show he sells, from hiring and coordinating with the network to budgeting and seeing things through.
"Public Space One trained me for all of this," he says. "I think about it every day."
"A theater degree teaches you how to see hurdles where others see walls. That's what being a producer is: If I hear that something is going to be a problem, my response is, 'We'll just jump over it.' You learn how to create."
2004 theater arts alumnus and current head of TV development for Just for Laughs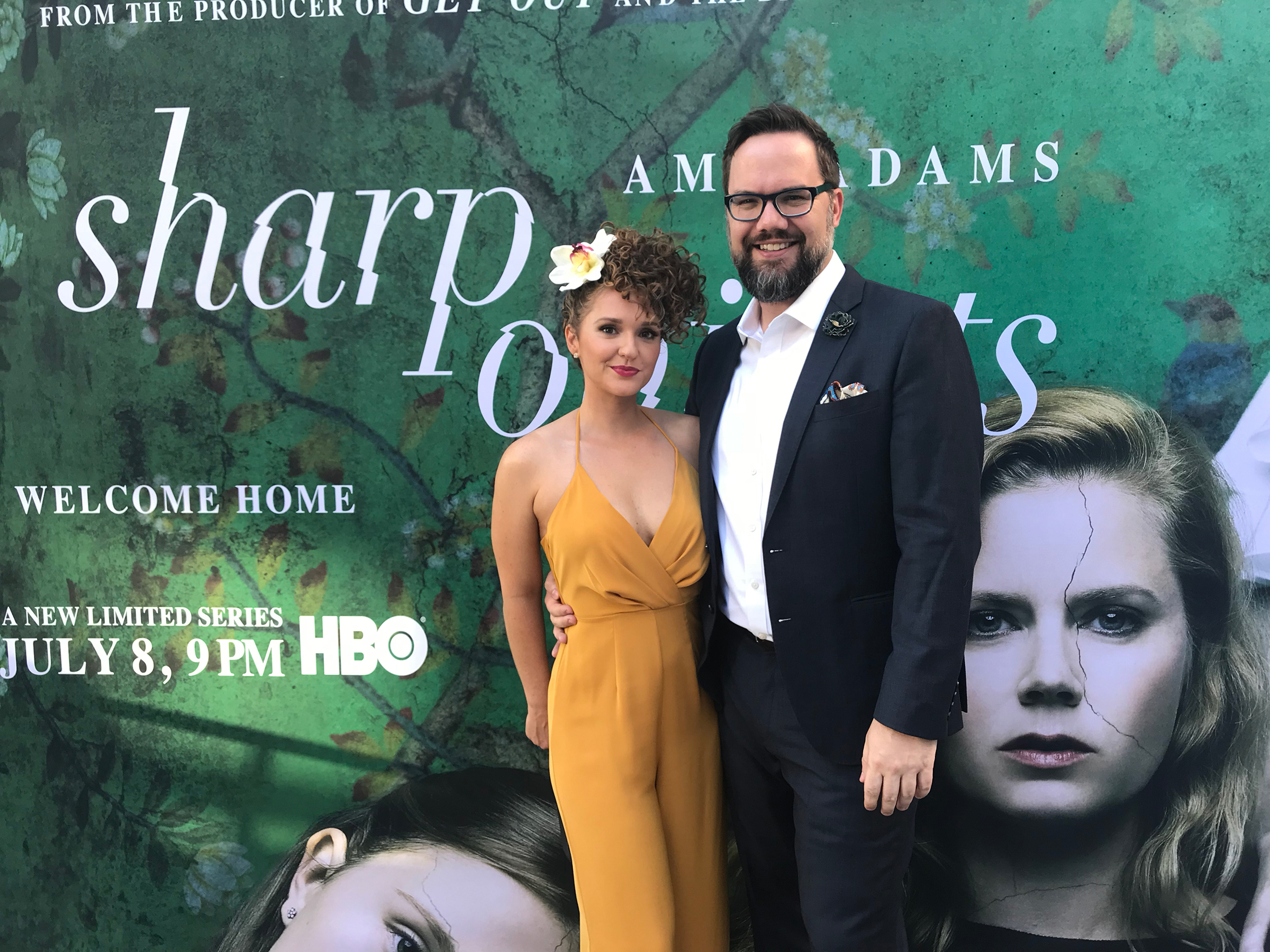 In 2015, when CollegeHumor had successfully created a video about an unfunny topic—sexual assault on college campuses—the company was entrusted to put together a message on the importance of going to college, and with none other than the first lady serving as rap star.
"It was a surreal 30 minutes—maybe 25," he says. "We got it all in two takes. She was perfect. It was amazing."
But an even more surreal moment occurred during a small group meeting with President Obama. When Griffin introduced himself as working for CollegeHumor, the president quipped, "CollegeHumor, huh? Tell me something funny,'" Griffin says. "Then when I just stood there silent for a beat, he quickly said, 'Yeah that's what I thought.' The President of the United States roasted me. It made the whole room laugh."
The University of Iowa Department of Theatre Arts is one of the oldest and most respected programs in the country. Iowa offers students the opportunity to earn a BA degree or an MFA degree with an emphasis in acting, directing, design, playwriting, dramaturgy, or stage management.
After nine years at CollegeHumor, Griffin moved on to Stoopid Buddy Stoodios, an animation studio helmed by actor Seth Green, for which he sold a game show and a live action show to HBO. A year and a half later, he was approached by Just For Laughs, a Montreal-based company known for hosting the world's largest annual comedy festival, to oversee TV development with the goal of expanding into the U.S. market. Griffin says his theater arts degree not only prepared for the challenges he faces every day in a competitive market, but is "the degree everyone should get."
"A theater degree teaches you how to see hurdles when others see walls," he says. "That's what being a producer is: If I hear that something is going to be a problem, my response is, 'We'll just jump over it.' You learn how to create. Maybe you're limited by a black box theater, or by the props available to you in the prop room, or you don't have money, but when you're producing and directing theater, you have to push through because you have to produce a show."
This is a point Griffin likes to make when he returns to campus to speak to theater and creative writing classes, while also providing practical advice about working in the business.
"Mostly, I give them a Hollywood 101, talking about what it's really like here, about managers, agents, and what 'development' means—all the sort of stuff I've learned on the clock," he says. "I do it because I'm hoping to show Iowa students that they can do it too. Kind of like what Peter Hedges did for me."