Editing television's prestige shows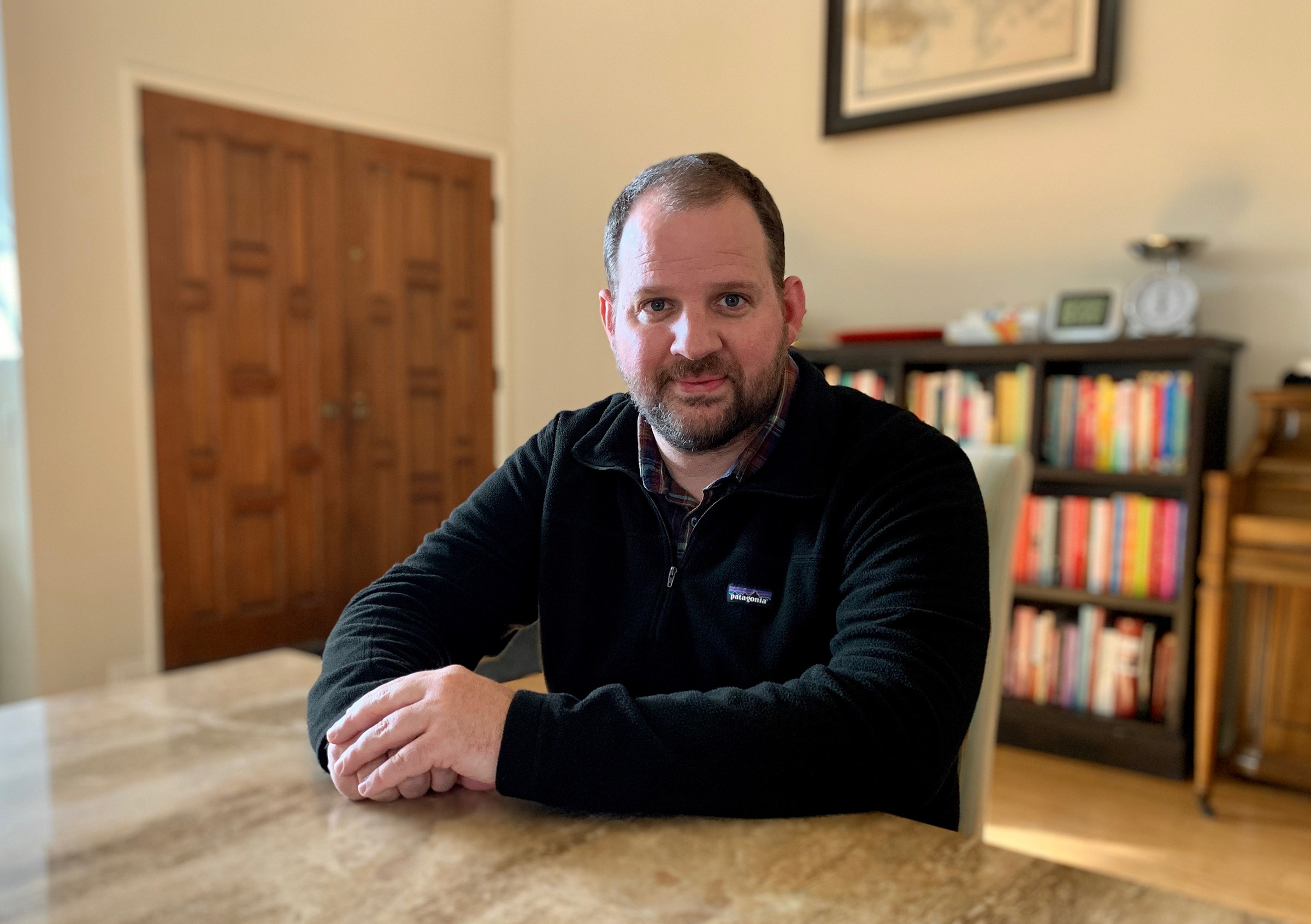 John Mullin says the skills he developed at the University of Iowa helped him establish a career working on some of the biggest television shows of the past two decades.
When John Mullin was deciding where to go to college, a teacher suggested he look at the University of Iowa. Along with Iowa's strong writing and film credentials, the self-described Star Trek nerd also was intrigued by some of the university's alumni, and one in particular: Nicholas Meyer, best known for his involvement in the Star Trek film series, writing or directing its second, fourth, and sixth films.
After moving to Los Angeles in 2001, one of Mullin's first jobs was as a visual effects production assistant on the film Star Trek Nemesis.
"More recently I've worked on Star Trek television shows, Star Trek: Discovery and Star Trek: Picard," Mullin says. "Star Trek has sort of wound up being a major feature of my career."
The 2001 Iowa English and communication studies graduate has spent most of his career in Hollywood as an assistant editor in scripted television, including such shows as Mad Men, The Walking Dead, Ray Donovan, and Better Call Saul.
"I had thought about going off to New York or L.A. to study film there, but I'm really glad I did it at Iowa because they gave us a very long leash in terms of what we could try and get away with."
University of Iowa alumnus
The Valparaiso, Indiana, native loved making movies with friends while growing up. He discovered a love of writing during a journalism class in high school. He decided to combine his two passions in college.
"The advice I got was if you want to be a filmmaker, the best thing you can do is have a very broad breadth of knowledge," Mullin says. "In some ways, I think the English classes were more significant for me in terms of me developing a sense of voice and how I communicate than the film classes. I carried those lessons into everything I've done in my career."
Mullin says how the film department at Iowa was structured greatly enhanced his education.
"I had thought about going off to New York or L.A. to study film there, but I'm really glad I came to Iowa because they gave us a very long leash in terms of what we could try and get away with," Mullin says. "A lot of the films I made are completely unwatchable now, but I really appreciated that we had space to try things out."
Writing movie reviews for The Daily Iowan and producing a radio show for KRUI also instilled in Mullin skills such as communicating in a tight space, working on deadline, and problem-solving.
When Mullin arrived in Los Angeles, he thought he wanted to be a cinematographer. After a few jobs, he realized he didn't like being on a movie or television set that much.
"I started looking for ways to bring my creative acumen to the work without being on set 16 or 17 hours a day," Mullin says.
He began working in postproduction for reality television and earned an MFA in film editing from the American Film Institute.
If you are interested in becoming a filmmaker, editor, camera assistant, screenwriter, producer, or casting agent, the University of Iowa offers degrees in cinema and in screenwriting arts. Students are instructed on the practical skills and knowledge needed in these industries and also learn about history and theory.
Mullin's arrival in Hollywood coincided with a rise of sophisticated and creative serial shows, which some have called the new golden age of television.
"Mad Men was really only my third job or so as an assistant editor," Mullin says. "I worked on season three and it was kind of the birth of scripted dramas on cable television becoming sort of different things. There were shorter seasons, only 10 or 12 episodes, and really well written and well thought out. It's been a neat thing to be part of."
Mullin says while some of his friends are more attracted to shows with traditional 24-episode seasons because it means longer job security, he gravitates toward shows with shorter seasons and more unique storytelling. It's also why he often prefers working in television than film.
"We're in an era where dramatic television is so good that much of the time that's where the more interesting stories are," Mullin says. "During Star Trek: Discovery season 2, every episode I worked on was the single biggest episode of television I had ever worked on. A single episode cost more than any low-budget movie I'd ever worked on."
COVID-19 has brought much of Hollywood to a standstill. Mullin had been working on The Old Man, a spy thriller miniseries for FX starring Jeff Bridges and John Lithgow. Six of 10 episodes had largely been shot when production shut down.
John Mullin has worked on more than two dozen television series and films during his career, including:
Greyhound
Star Trek: Picard
Star Trek: Discovery
Better Call Saul
Westworld
Ray Donovan
The Walking Dead
Cougar Town
Mad Men
Cold Case
CSI: NY
"We kept editing from home until Memorial Day," Mullin says. "But everyone was running out of footage to work with."
While new work is paused, viewers can catch one of Mullin's recent projects premiering this month on Apple TV+: Greyhound, starring Tom Hanks.
When Mullin first moved to L.A., he lived with other Iowa graduates. He also reached out to one for advice.
"Cinematographer Thomas Ackerman was kind enough to let me come by the set for a movie he was shooting, Dickie Roberts: Former Child Star," Mullin says. "He was very generous, telling me how the business worked and how he approached getting into it. I appreciated him taking time to do that, and while we never wound up working together, the fact that he did that for me really meant a lot, and I try to pay that forward whenever someone contacts me."
Mullin says it's not unusual to run into Iowa alumni on projects.
"I cross paths with them multiple times," Mullin says. "It's fun to encounter other Hawks."
Now that he's a veteran in the business, Mullin would advise Iowa students to take the time to learn the tools of their craft.
"Get comfortable with them and open yourself up to what you can do creatively," Mullin says. "That's a lot of what I did at Iowa. You have to know what you're doing when an opportunity comes up.
"It's true that you need to be in the game for anything to happen," Mullin continues. "If there's a particular field you want be in, get in the door any way you can, and work like hell to move up. Seek out professionals you admire, ask for their guidance and advice, and always remember to thank them!"