Author finds writing that makes his heart sing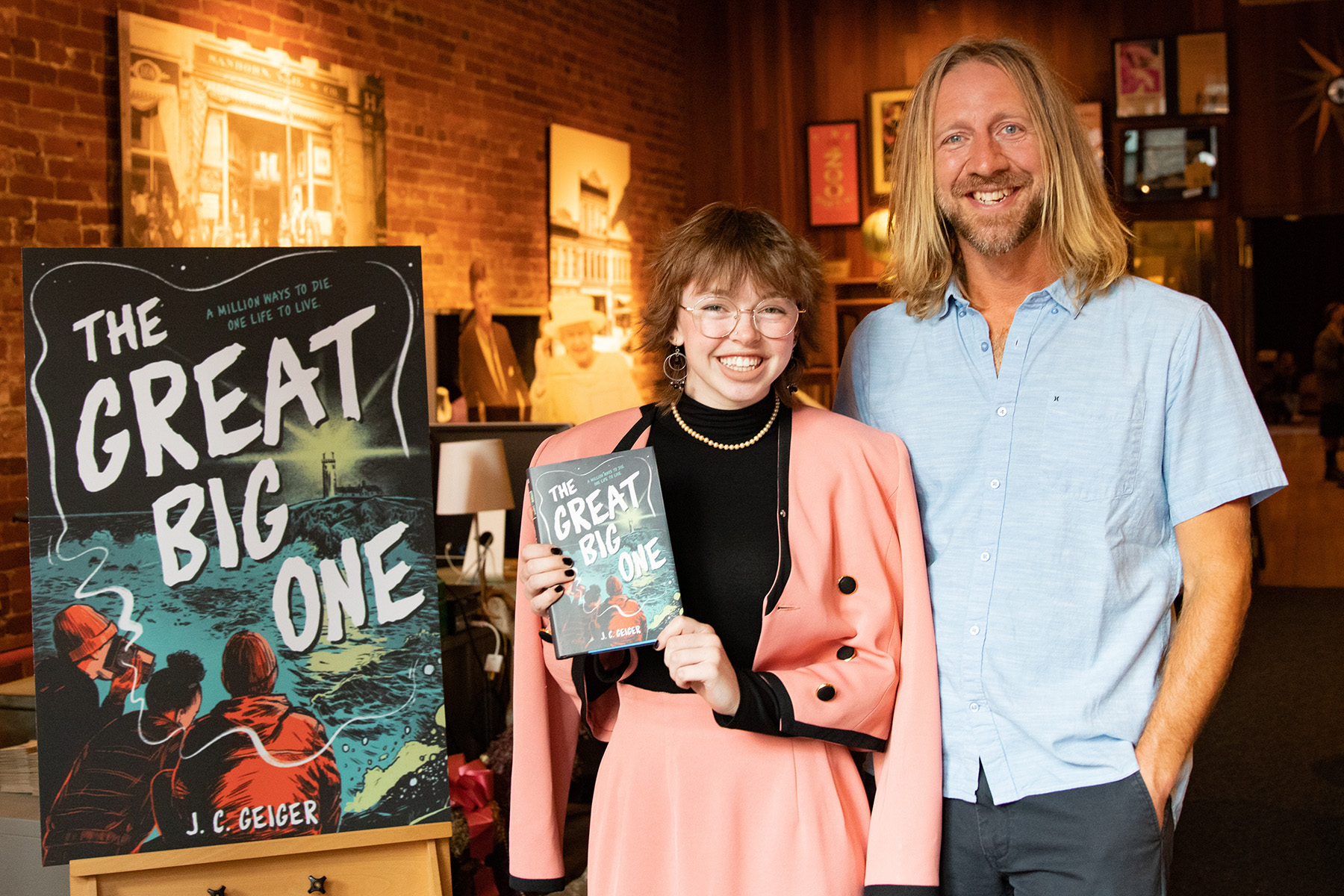 A turned-down internship, a bet, and two novels later, J.C. Geiger says the University of Iowa gave him the opportunity to see the world and find the type of writing he loved best.
J.C. Geiger stands next to Anna Boyd, the first beta reader of the final draft of Geiger's latest book, The Great Big One. Boyd also created a Spotify playlist for the book, which helped inspire the mixtape project that accompanies the novel.
When J.C. Geiger was 17, he was offered a screenwriting internship with MGM Studios. But before the Morris, Illinois, high school student was allowed to accept the position, a studio executive asked him to speak to a couple of screenwriters.
"One of them in particular, Michael Lucker, became a sort of mentor to me, and he strongly advised that I not come out to California right then," Geiger says. "He told me to go out and have adventures and live a life. He told me to not come out to California and become like every other writer out there just churning out what they think is good writing. He told me I needed to develop myself as a human being first."
Geiger took that advice. He traveled, had adventures, and developed as a writer—although not a screenwriter. The Eugene, Oregon-based author recently published his second novel, The Great Big One, which has an accompanying soundtrack filled with old and new pieces by some of Geiger's favorite musicians.
This new path started at the University of Iowa, where Geiger headed after high school.
"I was still thinking about UCLA or USC, but I opened my eyes a little bit more and I was like, 'Oh my gosh, the best actual writing school is one state away,'" says Geiger, who graduated in 2001 with a BA in English and a teaching certificate. "Iowa obviously had a really strong, well-respected writing program, but they also had a strong communications and film program."
"[My experiences at Iowa] gave me the opportunity to lean into the projects that I most loved and learn what I most loved about those experiences. I had opportunities where I could test my theories in real time."
University of Iowa alumnus
Geiger points to his participation in undergraduate writers' workshop courses, No Shame Theater, and Student Video Productions as being particularly influential in his life.
"I was able to feel what a workshop experience was like and be pushed by it," Geiger says. "With film, it helped me think more visually and communicate more visually in my writing. No Shame helped me learn to write more quickly and to not be afraid of producing something and making something public and viewable."
He says all these experiences helped shape his future and who he is now.
"They gave me the opportunity to lean into the projects that I most loved and learn what I most loved about those experiences," Geiger says. "I had opportunities where I could test my theories in real time. I could write a screenplay and film it with friends and then be like, 'Is that really what I want to do?' I learned filmmaking didn't really meet that soul-level need that I had for writing, which eventually turned out to be the deep processing time that writing a novel affords me."
Get 'The Great Big Mixtape'
J.C. Geiger reached out to some of his of favorite musicians to contribute songs to a soundtrack to accompany his newest novel, The Great Big One.
Featured artists include Alexander Schwarzkopf, Baroque Betty Bill Baron, David Lowery, Drew Harrington, Fruit Bats, Handful of Luvin', Hunter Noack, Matt Hopper, Pink Martini, Rhiannon Giddens Robert, Sarazin Blake, Shook Twins, Tender Cactus, The Collection, and The Hold Steady.
The soundtrack was released exclusively on analog cassette tapes and is being distributed in support of independent bookstores.
But Geiger says the most life-altering experience he had during college was studying abroad.
While watching The Endless Summer with his roommate, Geiger proclaimed that he was going to Fiji. His roommate bet him $20 that we wouldn't. Unfortunately, the only study abroad program Iowa offered in Fiji was agriculture. The closest he could get was Newcastle, Australia.
"That experience blew my mind and changed a lot of things in my life," Geiger says. "It gave me the perspective of living somewhere else. I realized that the combined experience of No Shame Theater, video production, the workshop classes, and this study abroad experience magically knit together all of those things that I had chosen Iowa for: I wanted to experience more of the world, and I wanted to develop into a better writer."
As for that $20 bet, Geiger ended up collecting it by making a stop in Fiji on his way to Australia.
After graduation, Geiger continued to explore the world, living in Italy, Spain, Ecuador, the Caribbean, and all over the U.S., from New Jersey to Florida to Alaska. He found jobs that had downtime that allowed him time to write, including as a cook, interpretive guide, and property manager. He also worked as a political organizer and in residential treatment centers for teens and adults.
"To the outside observer, my life may have looked like it had very little direction. But for me, it always had a very clear direction: I was going to continue to write and to learn new skills and about humans and life," Geiger says. "There were so many things I couldn't write about because I didn't have the experiences that some of my favorite writers draw from. I had a pretty traditional upbringing, and hadn't traveled much. It was valuable for me to see how more of the world lived and put me in contact with people who had very different opinions and beliefs than I did."
For more than 75 years, the University of Iowa has been a leader in the writing arts, with more than 40 Pulitzer Prize winners, seven U.S. Poets Laureate, and countless award-winning playwrights, screenwriters, journalists, translators, novelists and poets. The University of Iowa's writing programs shape the landscape of American literature.
During this time, Geiger wrote four novels.
"I wrote a lot and I failed a lot," Geiger says. "It was a story of persistence. The first book barely got any requests for a full manuscript. The second book, a few agents perked up. And then the third time, I got close and had six or seven agents ask for the full manuscript, but they ultimately passed."
Geiger then found himself sitting at a conference next to an agent who recognized his name from his previous attempts. She asked what he was working on and to see a manuscript.
"It had been 10 solid years of writing and getting rejected, but a month and a half after that I had signed a contract for two books," Geiger says. "It was crazy fast when it happened, but crazy slow before that."
Geiger's debut novel, Wildman, was named a Best YA Book of 2017 by Amazon and Bank Street. The Great Big One was published in July 2021.
While working on The Great Big One, Geiger started to think about creating an accompanying soundtrack.
What the author is reading now
J.C. Geiger, whose second novel, The Great Big One, was published in summer 2021, says he recently read Toni Morrison's Beloved for at least the sixth time.
"That book has inspired me for so many reasons throughout my life," Geiger says. "It's beautifully written, and almost incomparably powerful."
He also just finished The Magicians by Lev Grossman.
"It's sometimes hard for me to turn off my brain when I'm reading, but this one just sucked me in," Geiger says. "I couldn't put it down. It made me want to skip work because I needed to know what was happening at wizard school."
"The characters in the book are willing to risk a lot to find their musical heroes, and I got inspired by my own characters to try to do the same thing," Geiger says. "This book in so many ways is the result of this composite inspiration of bands that I have chased my whole life. I thought, 'My characters are taking real risks; I think I can at least write an email or try to make a phone call.'"
He started by contacting David Lowery, co-founder of Cracker, a band Geiger discovered when he was 13.
"It was so shocking that David wrote back and said, 'Yes, you can use a song on the mixtape,'" Geiger says. "For me, it was really about 'Who are the bands that have changed my life?'"
Along with David Lowery, the soundtrack includes songs from The Collection, Pink Martini, The Hold Steady, Fruit Bats, and Rhiannon Giddens, some of which have never been released. It also includes a track from Eleni Mandell, whom Geiger discovered when she performed in Iowa City.
The soundtrack plays like a radio broadcast, similar to the Lost Coast Radio broadcast in the novel. And embedded in the static and sounds of the broadcast are clues that lead to independent bookstores across the country that will have prizes for readers who find them.
"I really wanted this to be about independent bookstores because of how much they've endured during the pandemic," Geiger says. "I have a soft spot for indie bookstores, and I want them to thrive and flourish."
Readers who buy The Great Big One in an independent bookstore can send Geiger a proof of purchase to receive the soundtrack.
Geiger urges Iowa students and aspiring writers to experiment and find what inspires them and makes their heart sing, just as he did while on campus.
"Thinking about Iowa is kind of like a treasure trove of various inspirations," Geiger says. "I mean, I'm still reflecting on things that writers like Evan Shopper or Allison Amend said to me 20 years ago that I'm only finally understanding now."