Player of the year paving the way in business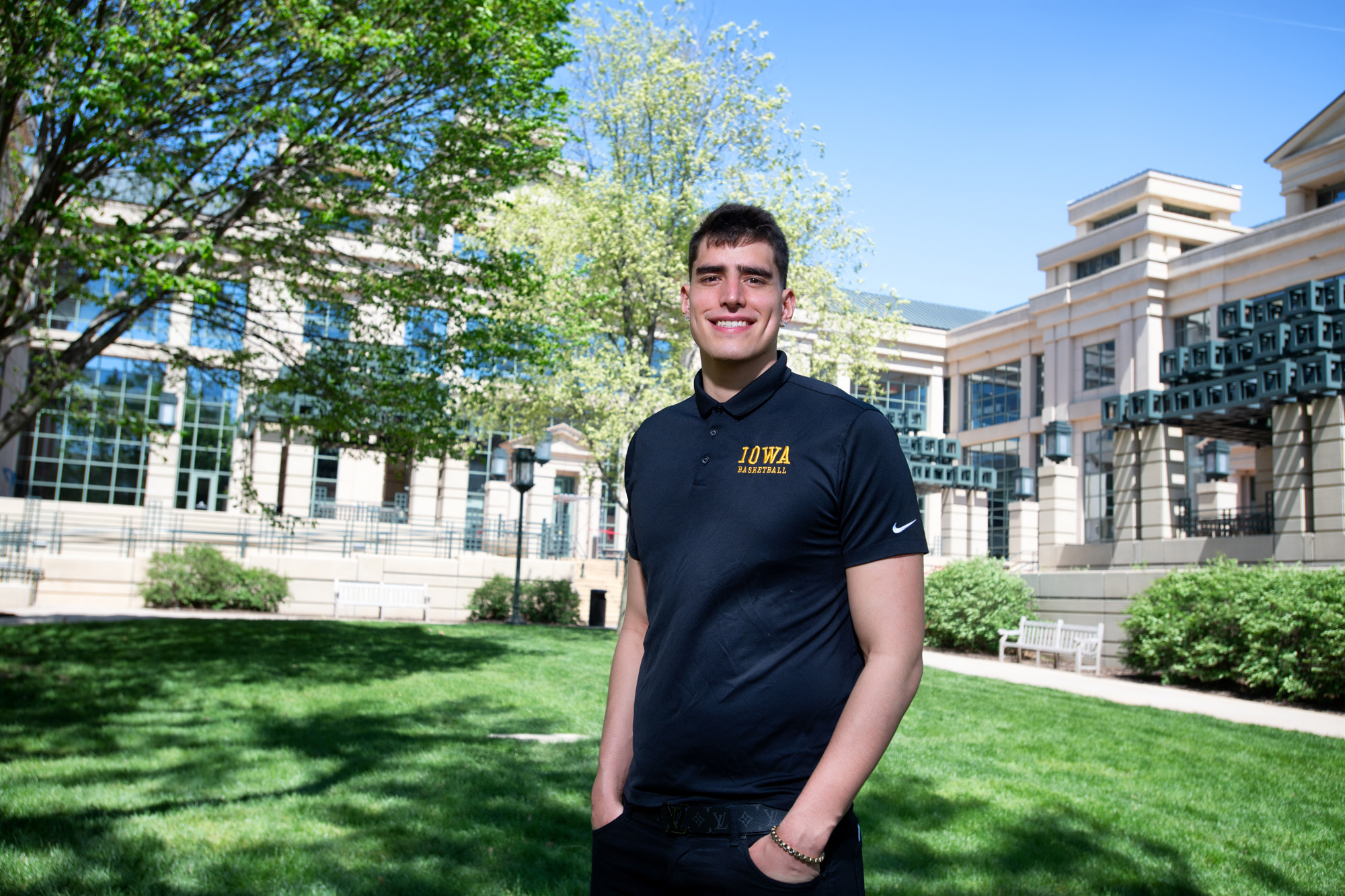 Luka Garza is an elite basketball player, but he's not a one-dimensional person. The Iowa economics major was out front on NFTs—an endeavor that will benefit UI Stead Family Children's Hospital—and looks to be a resource for athletes as name, image, and likeness laws take effect.
The saying goes, "Be part of the change you want to see in the world."
Few take that saying more seriously than University of Iowa student and Naismith College Player of the Year Luka Garza.
Garza is leveraging his status as the nation's best collegiate basketball player and the knowledge he's gained as an economics major to pave his way in business, creating potential ways for student-athletes to profit off their name, image, and likeness (NIL) in the future.
He's begun by creating his own one-of-a-kind non-fungible token, or NFT.
Garza's NFT, the first ever for a collegiate athlete, went on the auction block for three days in early April, selling for $41,141. Among the numerous perks the winner will receive are an autographed pair of shoes Garza wore when he broke the Iowa scoring record; a day with Garza that will include a game of horse, a private meditation session, and a dinner/movie; a lifetime VIP pass to attend any of Garza's basketball camps; and unique artwork. A portion of the proceeds will go to University of Iowa Stead Family Children's Hospital.
So, what exactly is an NFT, and why is it important?
"The easiest way I can explain NFTs is that they are digital trading cards," Garza says. "When you own an NFT, you are the one-of-one, exclusive owner of a blockchain technology, and that's what makes it special. You alone own the card."
The NFT trend is a new wave of all-digital goods being created and sold online using blockchain technology, which is essentially a shared, unchanging digital ledger that verifies the transaction. Once verified, the original card, while able to be replicated and copied, will always hold the original value. All NFTs are bought and sold using cryptocurrency—Garza's crypto of choice was Ethereum.
Shortly after Garza's collegiate career ended in March, he became eligible to earn money related to his athletic success free of NCAA violations, opening up an entirely new realm of possibilities. As cryptocurrency continued to rise in popularity, he decided to join the movement.
"I'm studying economics at Tippie; I've been following the tech world and things like Bitcoin," says Garza. "I knew about NFTs, but I never thought about making one of my own until my dad presented the idea. It's more of a connection to the consumer than a regular trading card because it's not sold in a pack of 25. It's unique. It's the only one."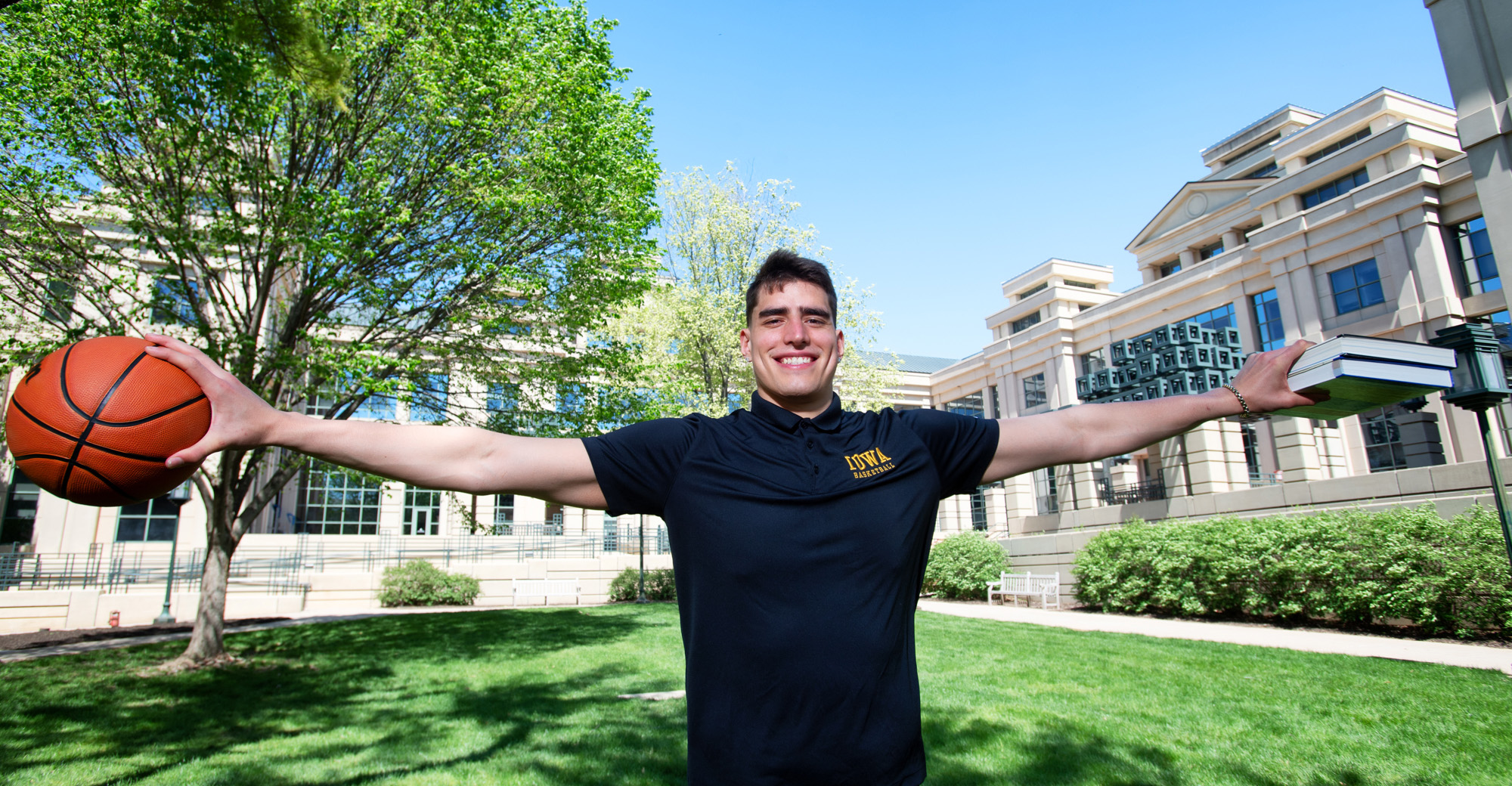 "In class, we learn to have that mindset of an entrepreneurial person who wants to go into business. You learn that from your teachers, and these classes teach you how the markets work and how you feel like you can succeed in these different areas. I've gained the knowledge of what works, and that's how I navigated what I wanted to do."
economics major, University of Iowa
Garza was the first collegiate athlete to create an NFT, so he knew it had to be special.
"I wanted to make sure mine was unique and different," Garza says. "There are special utilities with my NFT card in terms of what a person receives when they win the auction, which was the autographed pair of shoes I wore when breaking the all-time scoring record at Iowa, unique artwork, a day with me, and a lifetime utility in a VIP pass to any of the Luka Garza basketball camps."
In the wake of Garza's successful NFT, other high-profile collegiate basketball players released their own. Though Garza set the trend, he doesn't have any intention of stopping with one. He already has ideas of what future NFTs could look like, and a goal rooted in a familiar number.
"I am planning on doing 55 NFTs total," says Garza. "I've had a lot of ideas, and whether those come in a pack of five unique NFTs or not, I want the number to be 55."
Giving back to Iowa
With 54 more NFTs to debut, the children's hospital will receive 54 more donations from Garza. It's the best way he can think of to give back to the university that gave so much to him.
"There's such a connection between the University of Iowa and Stead Family Children's Hospital that is truly special. I want to be part of that," says Garza. "Every single NFT I sell, a portion of the money will go to them, every single time. That's something that's important to me—I want to be able to give back."
Garza credits Iowa with instilling in him an entrepreneurial mindset and giving him the confidence to succeed outside of basketball.
"In class, we learn to have that mindset of an entrepreneurial person who wants to go into business," Garza says. "You learn that from your teachers, and these classes teach you how the markets work and how you feel like you can succeed in these different areas. I've gained the knowledge of what works, and that's how I navigated what I wanted to do."
The cumulative effect of Garza's courses and teachers fueled his desire to become more than just a (standout) basketball player.
"That's something I learned from the University of Iowa," says Garza. "I wanted to be able to do different things, have different interests and pursue them. The university made me passionate about doing something different."
An economics degree from Iowa will open the door to many career possibilities and will help you understand what's going on in the world, make better business and personal decisions, and take an informed role in social debates.
Pursuit of NIL
One of Garza's interests rests in the ongoing conversation about student-athlete compensation surrounding name, image, and likeness. On July 1, potentially 14 states will have NIL laws take effect that would allow such compensation. Garza has recently launched a new website as a way for student-athletes to benefit from these new laws by creating their own NFT products.
"I launched LukaGarzaNFTgroup.io, which is a business where college students, athletes, artists, and musicians who are looking to monetize their own NIL can come and find out how to. And it's important to note that the solutions come through the lens of the college amateur, not big business," says Garza. "Hopefully, our effective, easy, and efficient model can facilitate their making an NFT so they can receive compensation from their own image."
Garza says one of the biggest things with compensating student-athletes for their NIL is creating a new revenue stream for athletes to use.
"Athletes can't take money away from the NCAA," says Garza. "We're not going to get salaries from the school either—the logistics discussion would never end. It's easiest to have athletes use their name, image, and likeness as they see fit—that's where NFTs come into play, along with other creative solutions."
In the end, Garza will leave the University of Iowa well equipped for both business and basketball.
"I don't want to be one-dimensional," Garza says. "I want to be somebody who can do a lot of different things without taking my focus off basketball, graduating, and preparing for the NBA Draft. I want to show what I've learned and the creative business mind that I have."