Music education alumnus helps keep kids on the beat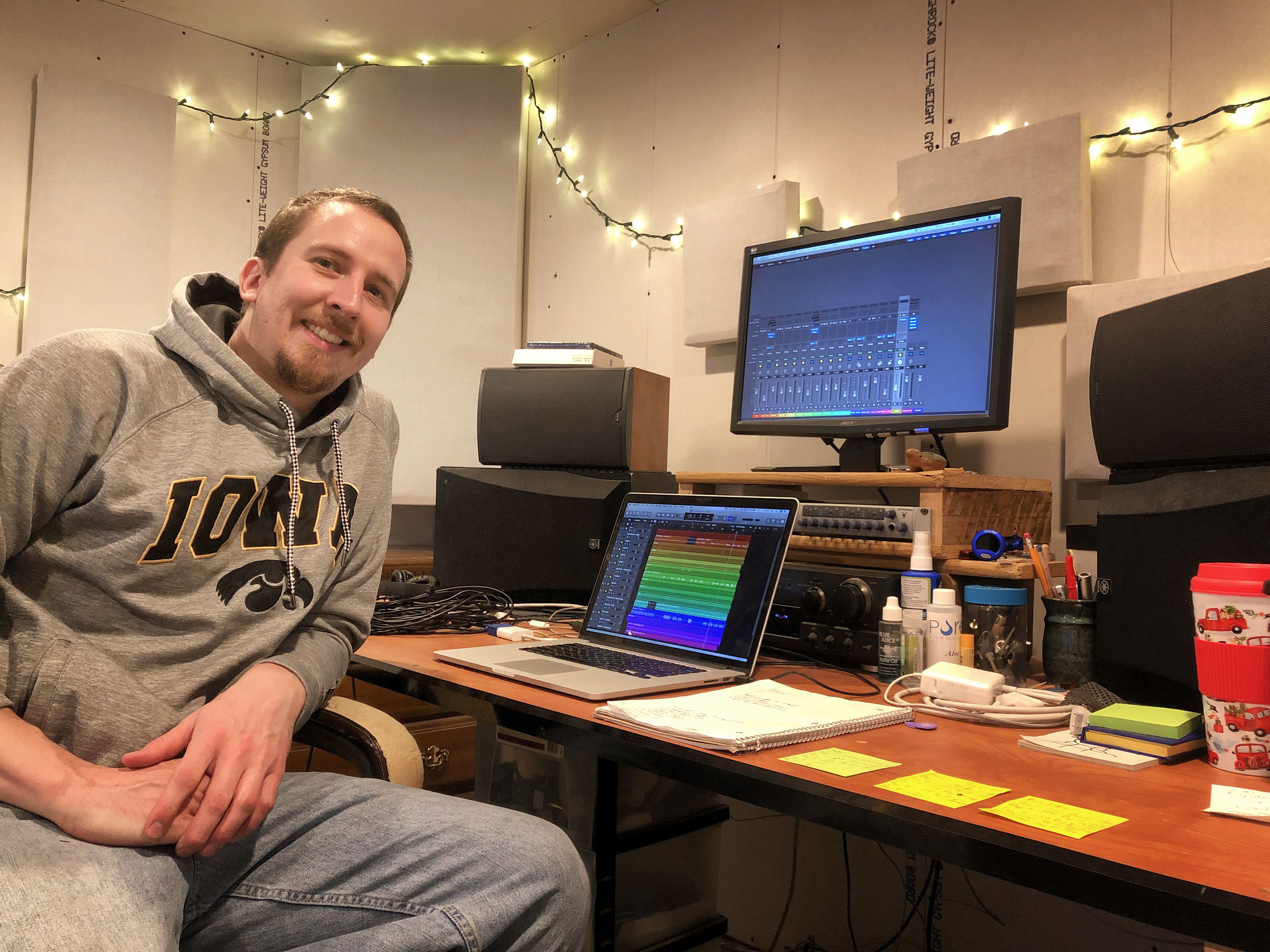 With schools closed and concerts canceled due to the coronavirus pandemic, Iowa grad Rob McCabe conducted an ensemble experiment that he and his middle school music students will never forget.
Middle school band teacher Rob McCabe brought together nearly 100 middle and high school students from five schools to form a virtual ensemble—and create a positive musical memory during a difficult time.
The 2010 music education alumnus teaches band to sixth through eighth grades at Kennedy Community School in St. Cloud, Minnesota. When the coronavirus led to schools closing and instruction moving online, McCabe decided to take on a project that would provide students with an important experience they would otherwise be missing: playing together in concert.
Over the course of the late spring, McCabe led students from across the district to contribute their individual parts to a song, which he pieced together via video editing. The result was a 100-student ensemble playing an arrangement of Queen's "We Will Rock You," physically apart but now musically together.
Music education undergraduate students at the University of Iowa earn a Bachelor of Music in performance as well as a Bachelor of Arts in music education for K–12 vocal and instrumental certification. 
The idea came as McCabe looked for a silver lining despite all that was being lost.
"When all the schools closed down, it became apparent quite quickly that there was no real way to emulate a sense of normalcy through our virtual classrooms," says the St. Cloud native, who was in his third year at Kennedy and tenth year of teaching when schools closed. "On top of that, the one piece that obviously had to go away was having any kind of concert, so there was no opportunity for them to put together a project showing their hard work, nor of working together with peers. So I tried to look at it as, 'What other opportunities are open as a result of this? What messages and lessons can I give to the students in lieu of not being able to teach normal lessons?'"
By asking students to contribute to the video, McCabe realized they would not only be learning their musical parts but also some tactics for proper recording and maybe even a bit about video editing. After gauging interest from other band teachers in the district, McCabe contacted students and their families about the idea. Students received a reference track to listen to, and then McCabe, who describes himself as a "hobby sound engineer," created an instructional guide for the students to follow. 
"Since this was a volunteer project and not an assignment, it was great to see that there are a lot of students out there who really want to continue music, and in a big way."
2010 graduate, middle school band teacher at Kennedy Community School in St. Cloud, Minnesota
"The project involved everything from making sure they were wearing headphones to playing along with the tempo of the track to teaching them 'don't play your trombone directly into the mic of the iPad—make sure you're standing three to six feet back.' All of those little nuts and bolts," he says. "They rose to the challenge, and they were very much capable of doing so."
Students recorded their parts into their school-issued laptops or tablets, or into their own phone cameras, and were asked to upload their submissions by early May. From then until the last day of school on June 1, McCabe logged between 25 to 30 hours of production time piecing together the video.
Giving kids an opportunity to perform together was important for McCabe, who was inspired by his own high school band teacher to go into the profession. He learned the value of not just individual but group performance at Iowa, where he studied under Dan Moore, lead percussion faculty in the School of Music.
On why he chose the University of Iowa
"My grandfather was an alum from 1950. Through my younger years, he'd take me and my two brothers down to football games every couple of years, so I probably visited campus four or five times before college was even on my mind. When it came time to look at college, I was pretty set on studying music, specifically music education. It was the familiarity and quality of the music program that drew me to Iowa in particular."
"He absolutely helped shape me as a musician," McCabe says.
While the virtual ensemble was not posted online due to licensing of the song's arrangement, the students received their copy via email and now have "a nice little keepsake," he says.
"The biggest thing I hope they walk away with is that they have something to look back on from this weird time that we're all living through," he says. "While it can't replace an actual concert, one benefit is that it's now timeless—it will last forever."
What did McCabe learn from the project—aside from teaching himself how to use video editing software? "Since this was a volunteer project and not an assignment," McCabe says, "it was great to see that there are a lot of students out there who really want to continue music, and in a big way."