Celebrating cultural heritage by teaching cultural heritage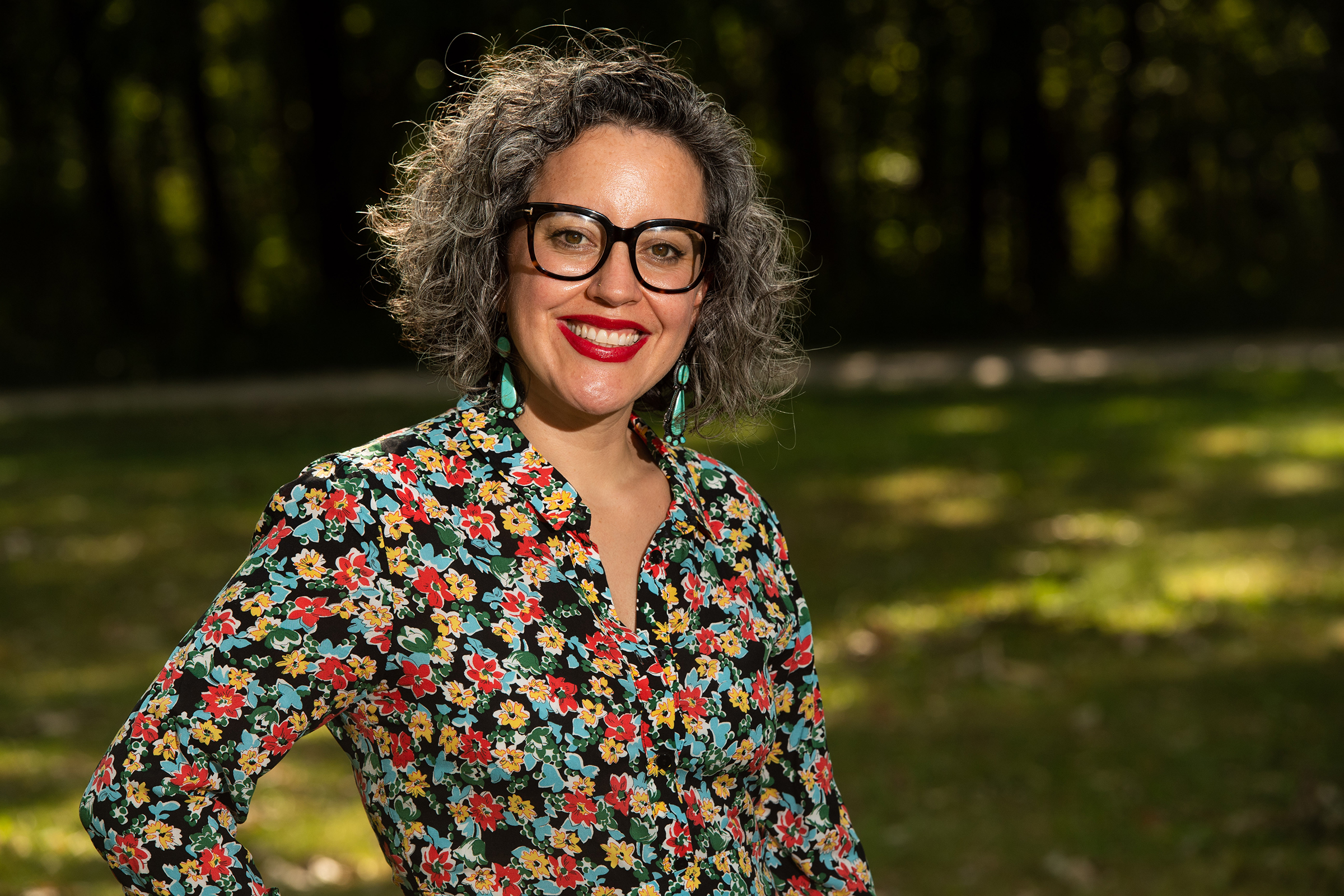 With dual appointments in history and in gender, women's, and sexuality studies, University of Iowa faculty member Lina-Maria Murillo asks her students to examine history through different lenses.
Every month is Latinx/a/o Heritage Month for Lina-Maria Murillo.
Murillo joined the University of Iowa faculty in the Departments of History and Gender, Women's, and Sexuality Studies in 2018, and she teaches Latinx/a/o History from Conquest to the Present, History of Social Justice Movements, Global Reproduction, and Introduction to Gender, Women's, and Sexuality Studies.
"I understand why these months celebrating cultural heritage exist, but it's always Latinx/a/o Heritage Month for me," she says. "It's a 12-month cycle. I am constantly thinking about diverse communities and cultures and how they crisscross and inform each other. I'm always teaching these histories."
How to celebrate Latinx/a/o Heritage Month
UI faculty member Lina-Maria Murillo says a good movie is a great way to get started better understanding Latinx/a/o heritage. She recommends the following films:
Dolores, a 2017 documentary about American labor leader and civil rights activist Dolores Huerta
No Más Bebés, a 2015 documentary detailing the forced sterilization of immigrant women in California in the 1960s and '70s
abUSed: The Postville Raid, a 2011 documentary about the 2008 immigration raid of a meatpacking plant in Postville, Iowa, and its devasting effects on the community
Murillo, whose parents migrated to the U.S. from Colombia and settled in San Jose, California, was raised in a community steeped in social justice advocacy. Her father was active in the farm workers movement, and a mantra of her childhood was, "How do we live our lives creating more justice and more peace?" As a young scholar, Murillo studied the history of Latinas along the U.S.-Mexico border as well as reproductive health.
"We're drawn to 'big hero' stories, but it takes a lot of labor and mundane tasks to physically organize people. It takes skill," says Murillo, who earned a PhD in borderlands history from the University of Texas at El Paso and is writing a biography of abortion rights activist Patricia Maginnis. "I want to bring to the fore the voices of women we don't realize exist, the ones that history oftentimes leaves out of the master narrative."
To that end, Murillo's goals are to write more about the history of Latinas and to teach those histories. She wants to arm her students with the tools they need to create a more hospitable world, and that requires looking at issues through a variety of lenses.
"I tell my students that we're going to do this together. We are going to think critically about the intersections of race, gender, and class, especially now as we grapple with the pandemic and the twin oppressors, racism and misogyny. History provides an incredible window into the past and helps you be a more critical human in this world," she says. "My students understand why people are protesting in the streets right now. It's because we've been fighting racial injustice for the last 400 years."
"As a woman, a Latina, and a first-generation student, I feel Dr. Murillo has given me the tools and resources to apply what I have learned and help my community as well as myself."
University of Iowa undergraduate with social justice major
Daniela Sanchez, a UI junior from West Liberty, Iowa, is majoring in social justice and minoring in Latinx/a/o studies. She has taken several classes with Murillo and says she understands and better retains the information presented due to Murillo's teaching style.
"Class feels more like a conversation—she's not talking at us, she's talking with us and getting us to talk to each other. Her passion for social justice is what captivates my interest, and I always leave her classes wanting more," says Sanchez, who hopes to work with underrepresented students in higher education. "I have learned to be a critical thinker and to consider different perspectives, and I have become a better writer. She has also inspired me to get more involved in social justice movements. As a woman, a Latina, and a first-generation student, I feel Dr. Murillo has given me the tools and resources to apply what I have learned and help my community as well as myself."
Murillo says she is pleased to see an increasing number of students interested in social justice, noting that enrollment in her social justice history course has doubled over the past year.
"Students are seeing themselves as part of the human species. Their goal is no longer to make as much money as they can until they die—it's to fight for freedom and help the human species carry on as we face climate destruction a d a dismantling of democracy," she says. "I tell my students that I am fighting for freedom every day. When I wake up, I ask myself, 'What am I going to do in my everyday life to fight for freedom?' Whether you're a teacher, a firefighter, a nurse, or a landscaper, if you are grounded in these values, the work you do will mean more. And that is what we need."
Understanding Latinx/a/o history is important not only for her students but for all Americans, Murillo says.
"This population is not going away. In fact, it's growing by the day. By 2050, it is estimated a majority of people in the U.S. will be brown," she says. "We need to humanize our community and think critically about a multiracial and multiethnic country. The next step is to ask ourselves how we envision this."