Helping students find their community and voices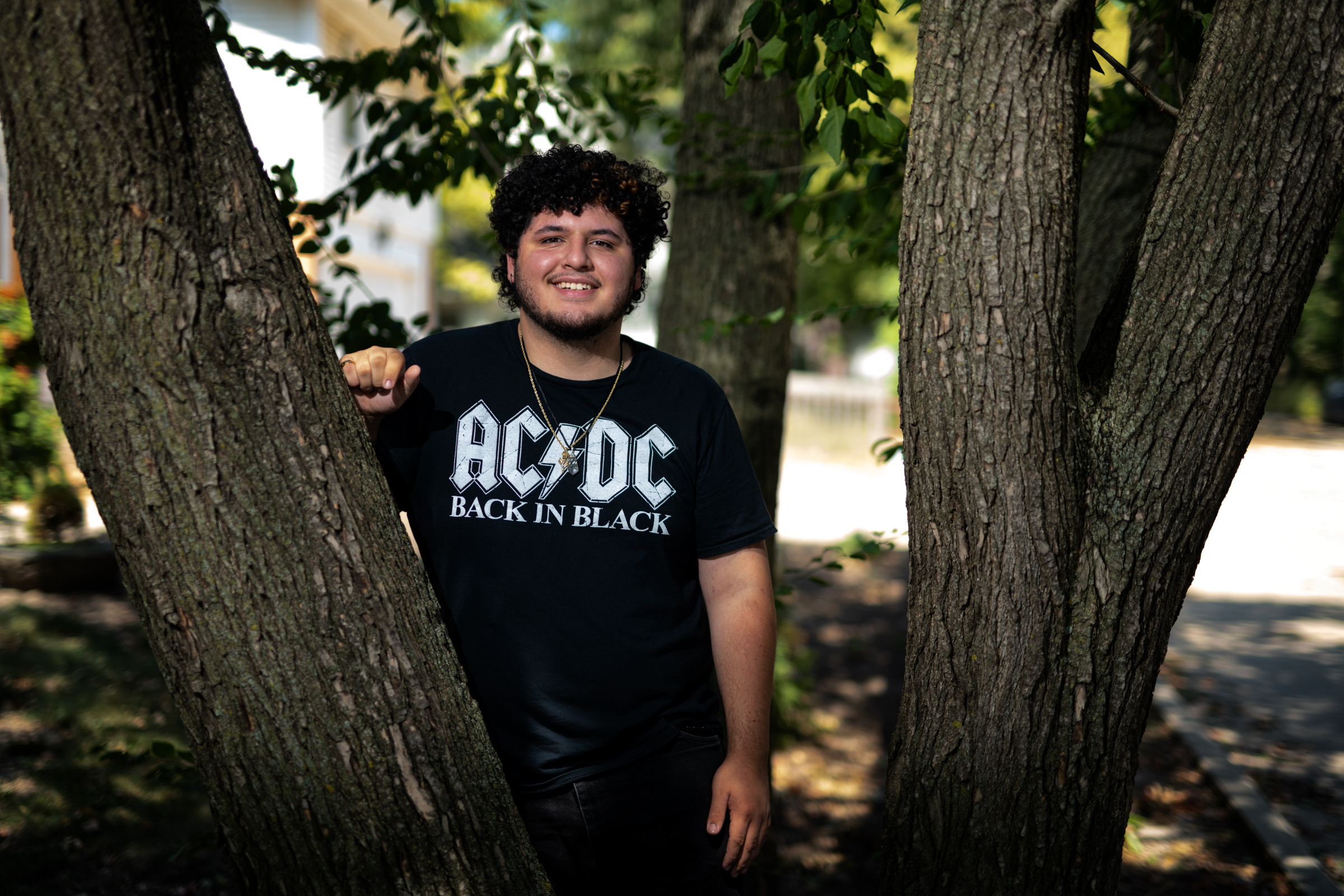 Christopher Vazquez has found a supportive community on campus through groups, programs, and the Latino Native American Cultural Center, but he also knows firsthand the challenges that minority students face on campus.
Christopher Vazquez didn't know anyone when he arrived on the University of Iowa campus. But the Minneapolis, Minnesota, native found his community pretty quickly. And ever since, he has been working to help others find theirs as well.
"Chris's ability to make connections and truly care about the people in his life, and those he comes into contact with at the cultural centers, is beautiful to witness," says Thomas A. Arce,  interim associate director for the Office of Multicultural and International Student Support and Engagement. "Chris wants what is best for his peers and cares deeply about offering support to ensure they're successful academically and personally at the university."
Vazquez initially became interested in Iowa because of the Iowa Writers' Workshop. The English and creative writing major says he read all the time in high school.
"I find that books feel very real to me," Vazquez says. "You can find so many unique stories within them. In high school, I created my own independent-study classes for English because I wanted to go deeper into it."
While participating in the Iowa Edge Program as an incoming first-year student, Vazquez learned about the Latino Native American Cultural Center (LNACC). He quickly found himself hanging out there almost every day.
"That slogan, 'A home away from home,' is so true," Vazquez says. "LNACC truly changed my life. I was really excited that I found a group of people I related to and connected with. I felt loved and accepted by them."
"Going into my sophomore year, I heard incoming freshmen at the (Latino Native American Cultural Center) talk about how scared they were to come to campus and how they felt safer knowing the cultural centers were here and how they made friends here. That impacted me and made me want to work harder for them."
University of Iowa English and creative writing undergraduate
His LNACC friends encouraged him to join the Association of Latinos Moving Ahead (ALMA), and by his second semester, Vazquez was invited to join the group's executive team. He also started working as a programming assistant for LNACC.
"Going into my sophomore year, I heard incoming freshmen at the house talk about how scared they were to come to campus and how they felt safer knowing the cultural centers were here and how they made friends here," Vazquez says. "That impacted me and made me want to work harder for them."
Vazquez also wanted to give back to a program that helped him when he arrived on campus.  The Iowa Edge Program takes place the week before fall classes begin and helps first-generation and minority students ensure a successful academic and social transition to the university.
As a peer leader, Vazquez has worked the past two summers with incoming first-year students, welcoming and introducing them to campus life. In his role as associate peer leader this year, Vazquez also guided new peer leaders in their role.
Due to COVID-19, this year's Iowa Edge Program was conducted entirely online.
The University of Iowa is an exciting place full of academic, cultural, and social opportunities. Yet, attending a large university can be overwhelming and a little intimidating. The Iowa Edge Program aims to ease concerns and ensure a successful academic and social transition by helping students:
Meet faculty and campus leaders who will support them during their college experience
Build community with a group of peers before the semester begins
Develop leadership skills for success in class, on campus, and in life
"We were disappointed, but we heard from students afterward who said how much Iowa Edge helped them and that they already made friends," Vazquez says. "That was so exciting because we were so nervous that we wouldn't be able to connect as well as we had in the past when it was in person. But my group loved it so much and made friends."
Vazquez is grateful to have found a welcoming community through places and groups such as LNACC and ALMA, but he also says that minorities on campus face often discrimination and lack support. And he has been active in helping to amplify these campus voices.
In February 2019, a conservative student group erected a banner on the T. Anne Cleary Walkway that read "Build the Wall." The demonstration rattled many on campus. Vazquez says while sitting with a group of friends that evening reflecting on the day's events, they felt compelled to do something.
"We realized there were a lot of things at Iowa that were hard for us or disappointing," Vazquez says. "We wanted our voices to be heard."
And so was born the #DoesUIowaLoveMe social media campaign, in which hundreds of people shared anecdotes of times that they felt the university neglected them or in which they faced discrimination based on sexual orientation, ethnicity, race, gender, or religion.
"We never expected it to blow up like it did, but it showed we weren't the only ones feeling it," Vazquez says.
While Vazquez says some positive changes did emerge from the campaign, much work remains to be done, citing retention of staff of color as an example.
"What is preventing them from wanting to stay? That's a big issue now," he says. "And considering everything going on now around Black Lives Matter, action in support of black students on campus is needed, and we're not really fully seeing that from the university."
Vazquez says he enjoys that Latinx/a/o Heritage Month highlights the diverse community and allows it to celebrate.
"I think students of color and Latinos often have to put other things first and don't always get a chance to just enjoy things," Vazquez says. "For example, I'm so happy we did #DoesUIowaLoveMe, but it was draining. But we had to do it because it's our lives and it's our friends' and families' lives. I should be able to just be a student, but I can't because I need to put other things first. But this month just means being happy and enjoying myself."
Vazquez says he has been fortunate to have found many mentors on campus, including Isabela Flores, interim coordinator of the LNACC; Maria Bruno, executive director for belonging and inclusion and assistant to the vice president for student life; and Arce.
Latino Native American Cultural Center
Founded in 1971, the Latino Native American Cultural Center (LNACC) aims to develop and foster a sense of belonging where students can authentically engage with their personal, academic, cultural, emotional, and spiritual identities in a safe, trusting, loving, non-competitive, non-judgmental, yet challenging space. Over the years, this center has become home to many students and student organizations that sponsor conferences, powwows, study groups, community educational programs, boycotts, and rallies to address community and campus issues. 
"Thomas truly impacted me in the way I view a lot of things," Vazquez says. "They helped me find myself on campus."
For their part, Arce says Vazquez has inspired them as well.
"We often engage in conversations—whether about student success resources at Iowa or pop culture references—and we leave those dialogues each with a better sense of the topic and each other's perspectives," Arce says. "This a true testament to his ability to engage in conversations that matter—a trait that I appreciate about him."
Vazquez still has two years left before he graduates, but he's planning how he can best help foster community after college. Along with his English and creative writing courses and working toward a Latina/o/x studies minor, Vazquez also is pre-law.
Because he isn't sure he will be able to go to law school immediately after undergrad, he is seeking a way he can make a difference in the meantime. Friends encouraged him to look into social work. Vazquez plans to complete prerequisites this year as he applies to the School of Social Work for his senior year.
"I've known for a long time that I want to help my community," Vazquez says. "There are so many issues within the Latino community that law and social work can help with. I'm not sure where I fit in that yet, but I know I want to help."