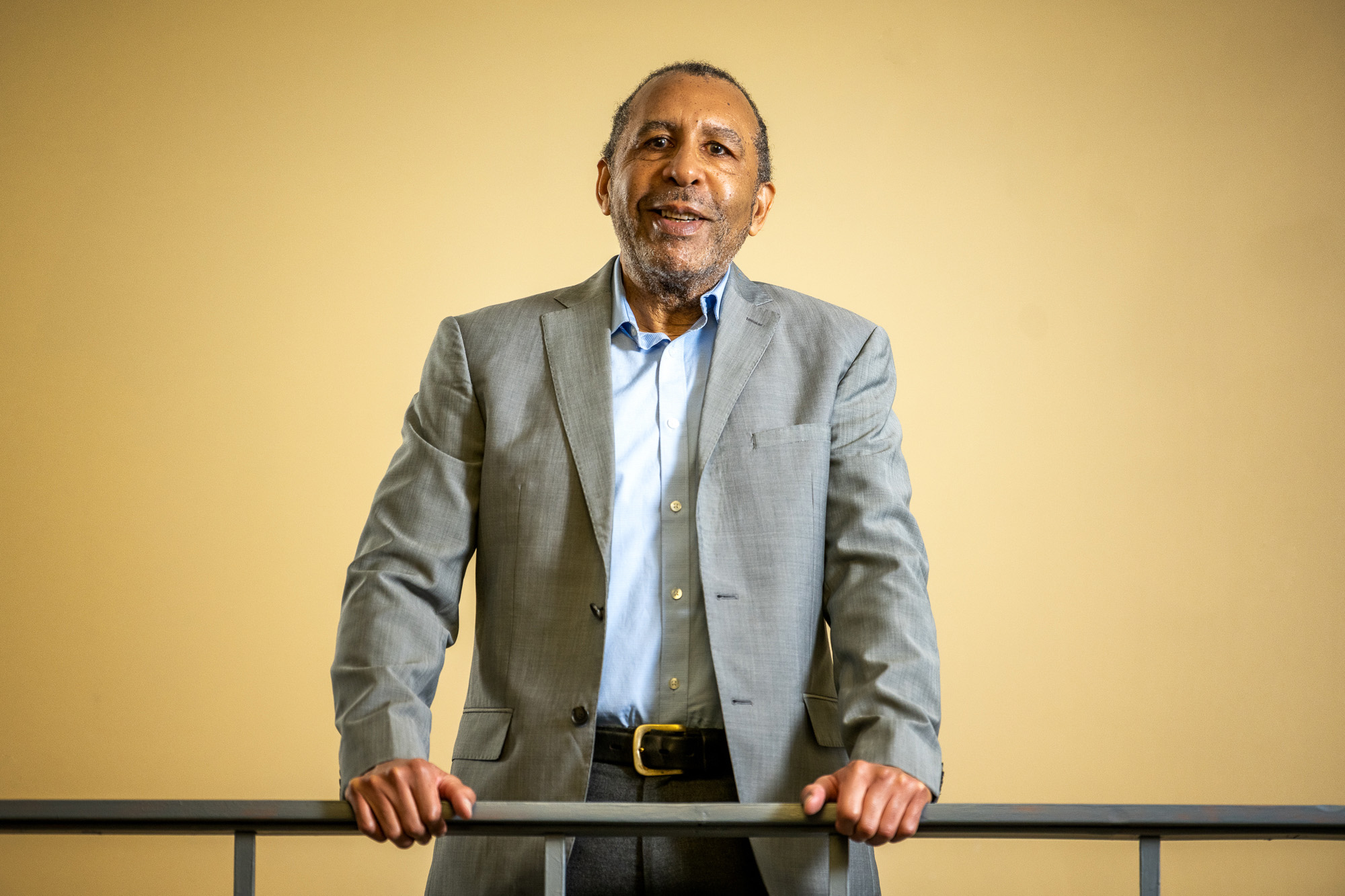 The scholarship of an African American religious history professor at the University of Iowa has come full circle with a book that examines the relationship between African American Islam and jazz.
When Richard Brent Turner was growing up in Boston in the 1960s and '70s, he was surrounded by the syncopated rhythms and silky vocals that emanated from his parents' record player—tunes from musicians like Duke Ellington, Sarah Vaughan, and Billie Holiday.
Little did he know that after decades of scholarship in African American studies and religion, he would find himself once again immersed in music, researching the intersection of jazz and religion.
"My research is interdisciplinary—I'm trained as a historian, a scholar of religion, and an anthropologist in African religion—and I'm just now realizing that music is a central theme of my work," says Turner, who has held UI faculty appointments in religious studies and African American studies since 2001. "My second book, Jazz Religion, the Second Line, and Black New Orleans, pulled me into the streets of New Orleans to interact with jazz musicians and their street parades. At the time, I was living in New Orleans, the most African city in the United States, and saw that I could write a book that would allow me to use my training as an anthropologist to do participant observation and study African American Christianity as well as African diaspora religions and musical forms in that city."
In his follow-up book, Soundtrack to a Movement: African American Islam, Jazz, and Black Internationalism, published in 2021 by New York University Press, Turner explores how jazz helped propel the rise of African American Islam during the era of global Black liberation from the 1940s to the 1970s. The book recently was named a finalist for the prestigious PROSE Award in music and performing arts from the Association of American Publishers.
In 1927, the University of Iowa became the first public university in the nation to establish a religious studies department, and since then its goal has remained the same: to provide every student with opportunities to reflect critically and with empathy on the influences that diverse religions exercise on human consciousness and culture. The department offers a BA, MA, and PhD in religious studies as well as two minor options. Learn more…
Iowa's African American Studies Program draws on faculty expertise in American studies, communication studies, English, history, journalism and mass communication, religious studies, rhetoric, sociology, theatre arts, and women's studies. Students learn to carefully consider the construction of race, ethnicity, and identity, along with the performance of class, gender, and sexuality, to develop an in-depth awareness of African American culture. The program offers a BA, minor, or graduate certificate in African American studies. Learn more…
"I was raised in Boston as a Black Christian, but Boston is one of those places where in the Black community you constantly see Muslim missionaries selling their newspapers or preaching on a street corner trying to get converts," he says. "I always had this curiosity about African American Islam, and it's been an angle of my research."
If he hadn't become a scholar of African American religions, Turner says he might have been an ethnomusicologist. After studying religion and African American studies at Boston University, he was a high school history teacher with Boston Public Schools, the oldest public school system in the country, and took saxophone lessons.
"About that time, I became very fascinated by the music of John Coltrane, so I began studying music in the evenings. I learned how to read music very quickly in a community music program and then started taking saxophone lessons on Saturday mornings at the New England Conservatory of Music," he says. "After a couple of years, I realized I was not going to meet the performance audition to get into a PhD program in ethnomusicology, so I decided that I could pursue music as a hobby and get at some of my musical interests through a PhD program in religion."
Turner earned that doctorate from Princeton University and then taught at the University of California–Santa Barbara, Xavier University in New Orleans, and DePaul University in Chicago. He says he ended up at Iowa "by surprise."
"I absolutely loved working at DePaul and living in the urban area of Chicago. I assumed that I was going to get tenure there the next year," says Turner, who taught religious studies courses at DePaul for two years before moving to Iowa City. "Then the University of Iowa reached out and asked me to think about working in the African American World Studies Department and being the director of graduate studies for their master's degree program. I came here for a lecture and was offered the position of associate professor with tenure. I decided to take it."
"As a professor of African American religious history coming to a Midwestern state like Iowa, with a majority white population, I didn't know what to expect. But there's been great support at this university for courses in African American studies as well as those that focus on religion."
professor of religious studies and African American studies
Turner says he hasn't looked back. Shortly after he arrived on the UI campus, the African American World Studies Department shifted to the new African American Studies Program, and he was named its first academic coordinator. He spent several years building the program—developing courses, hiring faculty, and recruiting students—all while writing his second book and beginning work on a third.
Something else that has kept Turner engaged at Iowa has been his students. His regular course offerings include Introduction to African American Religions; Malcolm X, King, and Human Rights; and Introduction to African American Society, for which he earned a Thank-a-Teacher Award from the UI Office of Teaching, Learning, and Technology in fall 2021.
"I get to teach fascinating students with a variety of majors, from nursing and business and history to religious studies and African American studies," he says. "I think my courses appeal to people because they're about freedom and struggle. They're about civil rights. They're about democracy. They're about human rights."
Musicians to add to your jazz playlist
When Richard Brent Turner was writing his 2021 book about African American Islam and jazz, he often dreamed about music. Here are some of his favorites, in no particular order and not including saxophonist John Coltrane:
Billie Holiday, "I love listening to her as a vocalist and the social- and racial-justice edge to her music like 'Strange Fruit.'"
Grover Washington Jr., "saxophonist from Philadelphia who played popular rhythm-and-blues songs in the 1970s and 1980s."
Drummer Max Roach and vocalist Abbey Lincoln, "They produced a very important album for the civil rights movement, We Insist!, in the early 1960s."
Pharoah Sanders, "saxophonist and member of John Coltrane's groups, very much influenced by the African musical world and the Islamic musical world. Just beautiful music."
Yusef Lateef, saxophonist and flutist
Dizzy Gillespie, trumpeter and bandleader
Charlie Parker, alto saxophonist
Damani Phillips, saxophonist and director of Iowa's jazz studies program
Terence Blanchard, New Orleans trumpeter and composer
 Hip hop artist Kendrick Lamar
Turner admits that he has been surprised by the popularity of his classes.
"As a professor of African American religious history coming to a Midwestern state like Iowa, with a majority white population, I didn't know what to expect," he says. "But there's been great support at this university for courses in African American studies as well as those that focus on religion."
Kefas Lamak, a doctoral candidate in religious studies, served as a teaching assistant in Turner's Introduction to African American Society.
"Academically, Professor Turner is wide and deep in his scholarship. He is the master of what he does. I've read a lot of African American history, but he is always way ahead of me," Lamak says. "With his students, he is very engaging. He'll ask questions and allow you to give your view. He leaves the conversation open—he doesn't dominate you. I love talking to him about African American history."
Turner plans to continue incorporating music into his research and is currently working on a book about hip-hop. He also wants to write about African American religions and human rights. As for music performance, he says he still has his saxophone but it doesn't get much attention.
"I just don't have the discipline, but I plan to get back to it someday. Some of my students have told me that music is what makes me tick. In most of my waking hours I have the radio tuned to the local jazz station," he says. "Right now, I am enjoying the artistic angle of examining the intersections between African American religion, African American music, African Americans, and the civil rights and human rights movements. At heart I have kind of an artistic flair."