Artist finds her footing, and her medium, at Iowa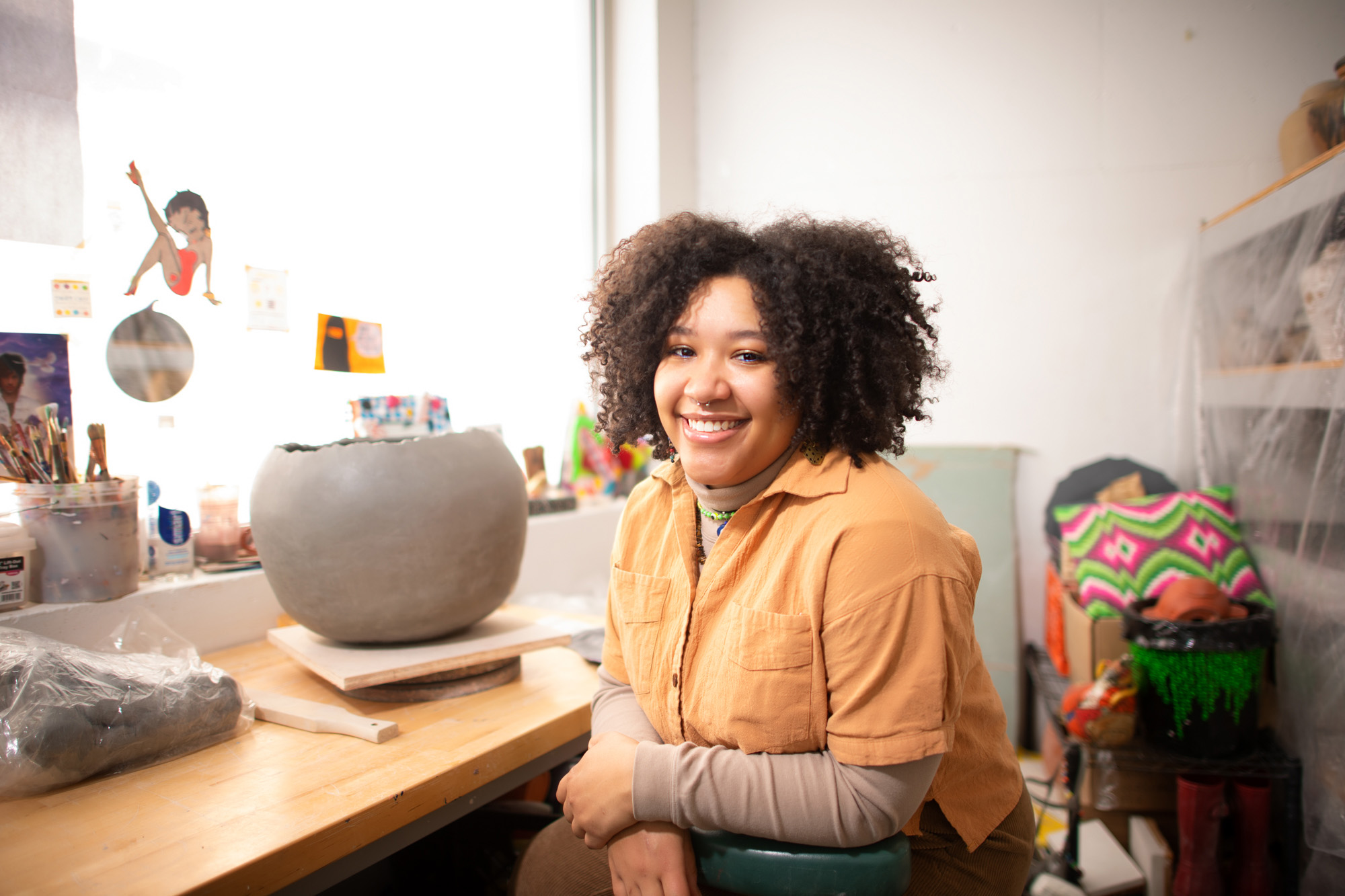 Janiece Maddox was always artistic, but it wasn't until she enrolled at the University of Iowa that she found the tools and encouragement to make art a career.
A yellow-and-red tube of Carmex. A rainbow arc. The ace of spades. Birthday cake candles. Words and doodles captured on lined notebook paper. A toilet.
All of these seemingly ordinary items have found their way into Janiece Maddox's ceramic art. Playful, colorful, and symbolic are words the fourth-year BFA student at the University of Iowa chooses to describe the creations she forges in the studio.
"I put a lot of ideas together in my work," she says. "A lot of it focuses around placing people of color, specifically Black people, in settings that maybe we previously weren't allowed to put ourselves in, such as thinking about things in the future or different realities, things that you find yourself daydreaming about but maybe weren't given the privilege to experience. A lot of it is just thinking about Afrofuturism and simulation theory."
Maddox's work has been shown at Public Space One, a nonprofit community art center in Iowa City founded by UI students; in a Project Art exhibition at UI Stead Family Children's Hospital; at the Latent Space in Chicago; at the Black Book Gallery in Englewood, Colorado; and in an online exhibition from the Black Art Sessions called Straight Lick. In 2021, she was one of five young artists selected for a three-week residency at Red Lodge Clay Center in Montana.
Looking for a fun diversion? Head to the arts campus
University of Iowa art student Janiece Maddox invites community members to the UI arts campus, where she says galleries are updated frequently: "If you haven't spent a lot of time in the art buildings on the west side of campus, you should go. There are multiple exhibition spaces in both the Visual Arts Building and Art Building West. It's free and, starting midsemester, there will be a new show every Friday."
What Maddox loves about clay is that she can make anything.
"It's way more fun than any medium that I've ever worked with," says Maddox, who has taken a variety of art classes at Iowa and originally was a painter. "In painting, you have to paint something and then everyone has to believe it. Printmaking is such a tedious process that you have to be super dedicated to this one image that you're making. But with clay, you can make things that resemble paintings. They can go on the wall or they can be a six-foot sculpture that stands alone. You can make functional things like mugs and bowls and incense holders. You can do literally anything. I think the limitless nature was super helpful in my decision to choose ceramics."
In fact, Maddox says she couldn't even have envisioned a career in art until she transferred to Iowa.
"The option to be an artist was never something that was presented to me in any sustainable way. It was always that stereotypical trope of being a starving artist," says Maddox, who grew up in Davenport, Iowa, and first enrolled at Loyola University Chicago as a pre-med student. "At Loyola, I had to take all the pre-med prerequisites, and the only class I looked forward to was an art history class—and it wasn't even that interesting. It wasn't until I got to Iowa that I discovered the multitude of possibilities of careers that you can have in art."
Although she was reluctant to transfer to Iowa because so many of her high school peers had become Hawkeyes, Maddox says Iowa City has been the ideal place to explore her creativity. Individual attention from the UI arts faculty coupled with strong community support for the arts has shown her the potential of being a professional artist.
"It's unheard of to have the facilities and resources that we have at Iowa. Because our programs are smaller, you get the attention you deserve as an artist. You have more time to get more acquainted with people."
fourth-year BFA student in ceramics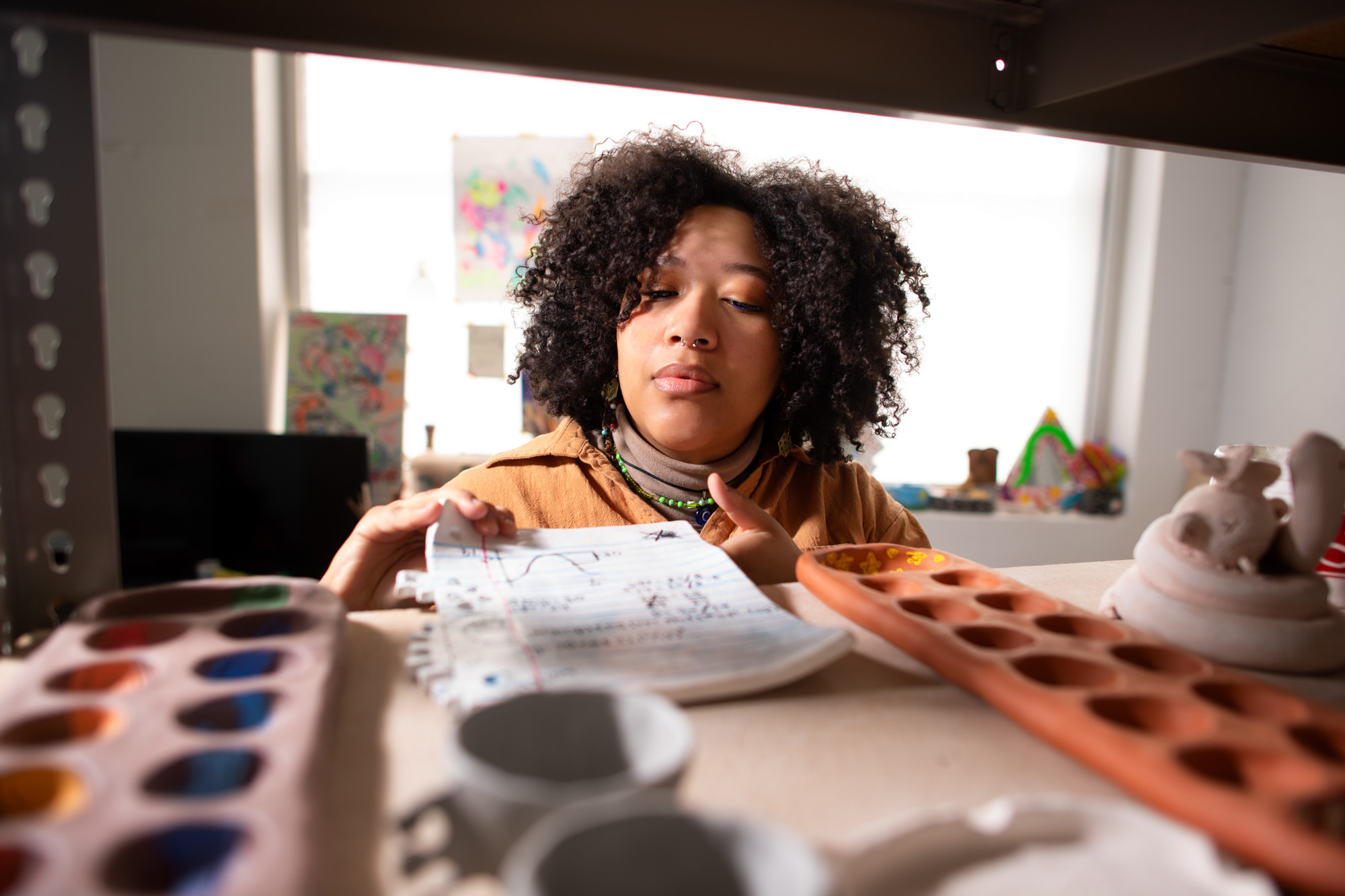 Spending time in Art Building West and the Visual Arts Building (VAB), located along the west side of the Iowa River and across the street from her apartment, has been a treat, Maddox says. She spends two days a week in class and nearly every other waking hour in her studio at VAB. The building is home to 19 kilns, most of which are computer controlled. She carefully plans her work in sketchbooks beforehand and usually has several pieces going at one time.
"I know that when I graduate, I'm going to be heartbroken to leave because the facilities here are so good. We've learned on the best equipment. Everything is automatic. You can press two buttons and come back the next day and your work is perfectly fired," says Maddox, who also leads a student organization called Children of the Clay. "It's unheard of to have the facilities and resources that we have at Iowa. Because our programs are smaller, you get the attention you deserve as an artist. You have more time to get more acquainted with people."
Andrew Casto, associate professor and head of the ceramics program, says Maddox is one of the strongest undergraduates the department has had in his six years at Iowa.
"Janiece is a leader in the studio, the president of our student organization, and is highly effective at creating energy in our studio community," he says. "Her artwork is smart, well made, and prolific, and it addresses current themes in contemporary ceramic sculpture and contemporary art broadly. It's been accepted into juried national exhibitions, and she was selected for a competitive artist residency last summer. She's an absolute pleasure to work with, and we expect to see big things in her future."
Established in 1936, the University of Iowa's School of Art & Art History provides a creative, multidisciplinary environment for students of the studio arts, the history of art, and art education. The Studio Art Division includes the following programs: 3D design, ceramics, graphic design, jewelry and metal arts, painting and drawing, photography, printmaking, and sculpture and intermedia.
Maddox plans to pursue a postbaccalaureate residency and then an MFA, but her ultimate goal is to start an artist-in-residency program in upstate New York.
"Some of my friends and I want to buy a really old house and flip it and ultimately turn it into a place for anybody who wants to work on their art but needs a break from the art world, because being an artist and constantly putting yourself out there can be really emotionally draining," she says. "I have to learn a lot in order to do that, but that is the goal."
Until then, Maddox will continue making art in the studio, work she hopes is accessible and inspiring to budding arts everywhere.
"I love being able to turn literal dirt and mud into anything," she says. "People have been doing it for thousands of years. And the fact that it used to be something that was necessary for day-to-day life and now I feel it's necessary for my day-to-day life in a completely different way is super transcendent of the human experience. Art is, for sure, intrinsic in us. Even though some people may not believe it, it's definitely a part of the human condition."