Merging a love of writing and gaming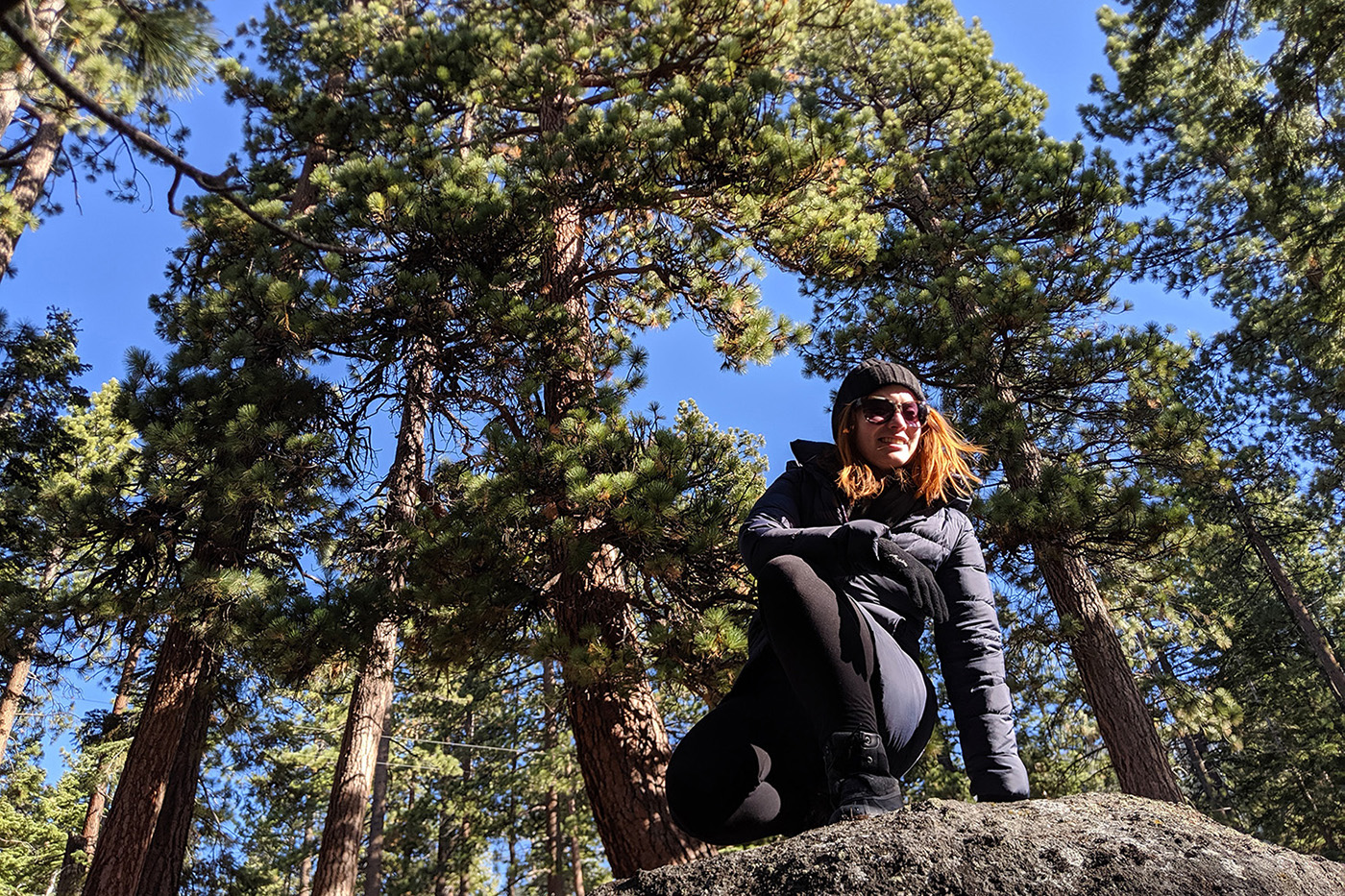 Lauryn Ash always knew she wanted to be a writer. And in creating the worlds found in video games, the University of Iowa graduate found her passion.
It's common career advice: "Pursue your passion." University of Iowa alumna Lauryn Ash pluralized the saying, weaving writing and gaming into her professional life.
The writer, game designer, and entrepreneur has worked on games such as Marvel's Avengers and Dungeon Defenders II since graduating from Iowa in 2014 with a BA in English with a creative writing track, a BA in international studies, and a certificate in entrepreneurial management.
Ash, who lives in San Francisco and now works for video game studio 31st Union, says while she may not have always known she'd work in the video game industry, she never doubted writing was in her future.
"It was never a question of what I was going to do with my English major," Ash says. "I was just confident that I was going to be a writer."
Ash learned about Iowa's top-ranked writing programs as a high school student in Neosho, Missouri. She was training for a national speech and debate competition when she met a University of Iowa representative at nearby Missouri Southern State University.
"I visited and basically fell in love with Iowa City," Ash says. "It reminded me of my time at the University of Cambridge. It's a smaller city and the university is kind of embedded within the town. You don't have to drive everywhere. Add in the writing program and that I could get a double major in whatever I wanted—that all helped make the decision pretty easy."
Ash took advantage of a wide range of opportunities and experiences while at Iowa. Along with being part of the President's Leadership Class and Presidential Scholars Program, Ash volunteered for the Council for International Visitors to Iowa Cities (CIVIC) as a web designer, writer, and host to international visitors.
"Anybody who wants to be a creative writer has to go into it with a mindset of, 'I am going to be a creative writer and challenge what that definition means.' And then they need to own it."
University of Iowa alumna
She says she fell into business by accident. While studying abroad at the Dublin Writers Program, Ash realized that traditional literary writing wasn't for her. She then did a stint at the University of Edinburgh, home to Sir Arthur Conan Doyle, author of her favorite series, Sherlock Holmes. Ash says she hoped Doyle would help lead her down the right path. While there, she side-stepped into the business department, where she says her mind was blown during a one-day workshop, and she knew doing something in tech was where she belonged.
Upon returning to Iowa, she entered the Business Model Competition in the Tippie College of Business and won. She went on to be a semifinalist in the International Business Model Competition at the Harvard College of Business. This was followed by participating in the John Pappajohn Entrepreneurial Center's Venture School, where she launched Tinderbox Studios, an online platform meant to nurture creativity among artists, writers, and digital storytellers.
It was during the local Business Model Competition that a judge suggested she look into a career in interactive fiction and video games. "I didn't necessarily think of that as an option; I don't think most people know it's an option," Ash says. "The video game industry is still relatively new."
No matter how busy Ash was with classes, writing, business ventures, and volunteering, she still found time to play her favorite video, tabletop, and role-playing games.
"I had two continuous Dungeons & Dragons groups in Iowa," Ash says. "It was amazing to be part of two separate groups dedicated completely to creating fantasy worlds and fun adventures. I've actually been working on a homebrew campaign setting and class system since 2011, which I started during my time in Iowa."
Ash says she appreciated the variety of opportunities she found at Iowa.
"It was great to get such a wide range of experiences, from leadership to seeing the world, both through study abroad and meeting people from all over the world in Iowa City," Ash says. "And I did a lot of different types of writing. I was a travel writer, did copywriting, wrote fiction for classes and my friends, plus I did a ton of writing for Dungeons & Dragons."
Want to major in writing?
For more than 75 years, the University of Iowa has been a leader in the writing arts. The English and creative writing major enables students to experience the historical, traditional, and innovative aspects of literature as well as the relationship between critical reading, creative writing, and translation. The major provides transferable skills important for a liberal arts major, including the abilities to think deeply and creatively, read complex texts with comprehension, and develop writing and speaking skills at an advanced level.
After graduation, Ash decided to go to graduate school to gain the technical skills she needed to break into the video game industry.
"At the time I felt like I didn't have hard skills, only soft skills," Ash says. "I didn't realize that creative writing, leadership, teamwork—those are all hard skills. Being able to see the bigger picture and still work in the details, that's a hard skill. The technical skills are hard skills, but so is everything else. I know that now."
After getting a master's degree in interactive technology in level design from SMU Guildhall, a part of Southern Methodist University in Plano, Texas, Ash got an internship with Trendy Entertainment, now Chromatic Games. She was then hired by Playful Corp., followed by Crystal Dynamics, where she worked on Marvel's Avengers, which came out in 2020. Ash started at 31st Union earlier this year.
"Being a creative writer, I like being able to use scripts, art, animation, and design to give players a better, immersive story," Ash says.
Until a couple years ago, Ash also was still running her business, Tinderbox Studios, which had its beginnings in Iowa, but she closed it to focus solely on video game design.
Iowa also played a role in one of Ash's current ventures: Furidashi Pod, a podcast that examines gaming, gamers, and game design from practical and academic perspectives. Her co-host is Nicholas Theisen, a research fellow in the Center for Asian and Pacific Studies and Ash's former honors thesis adviser.
"We hit it off as friends and have kept in contact for 10 years now," Ash says. "A lot of game studios and developers—I've seen it in my own work—are like, 'We just need to make games.' But many times nobody stops to think, 'Why? Why are we making those mechanics? Why do those mechanics work?' And in academia, often you get stuck on, 'Here are the problems,' but you don't look at practical solutions. We had been chatting about these issues and we thought we might as well start recording. We're trying to hash out those arguments in podcast battle. I love it."
Ash encourages students to not limit themselves and to try new things. "If you only go to class and study and don't engage in the communities around you, you'll miss out on fantastic opportunities," she says. "The experiences that I chose to have were rewarding and enriching. Some more than others, but it was the culmination of all of them that really led me to having the skills that I needed."
That includes all the writing skills she gained through her classes and activities.
"In video game design, yes, I'm writing a lot. But I'm not just writing dialogue or fiction," Ash says. "I'm writing designs for the user experience, documentation, even Slack messages. Anybody who wants to be a creative writer has to go into it with a mindset of, 'I am going to be a creative writer and challenge what that definition means.' And then they need to own it."