Levelling up his education game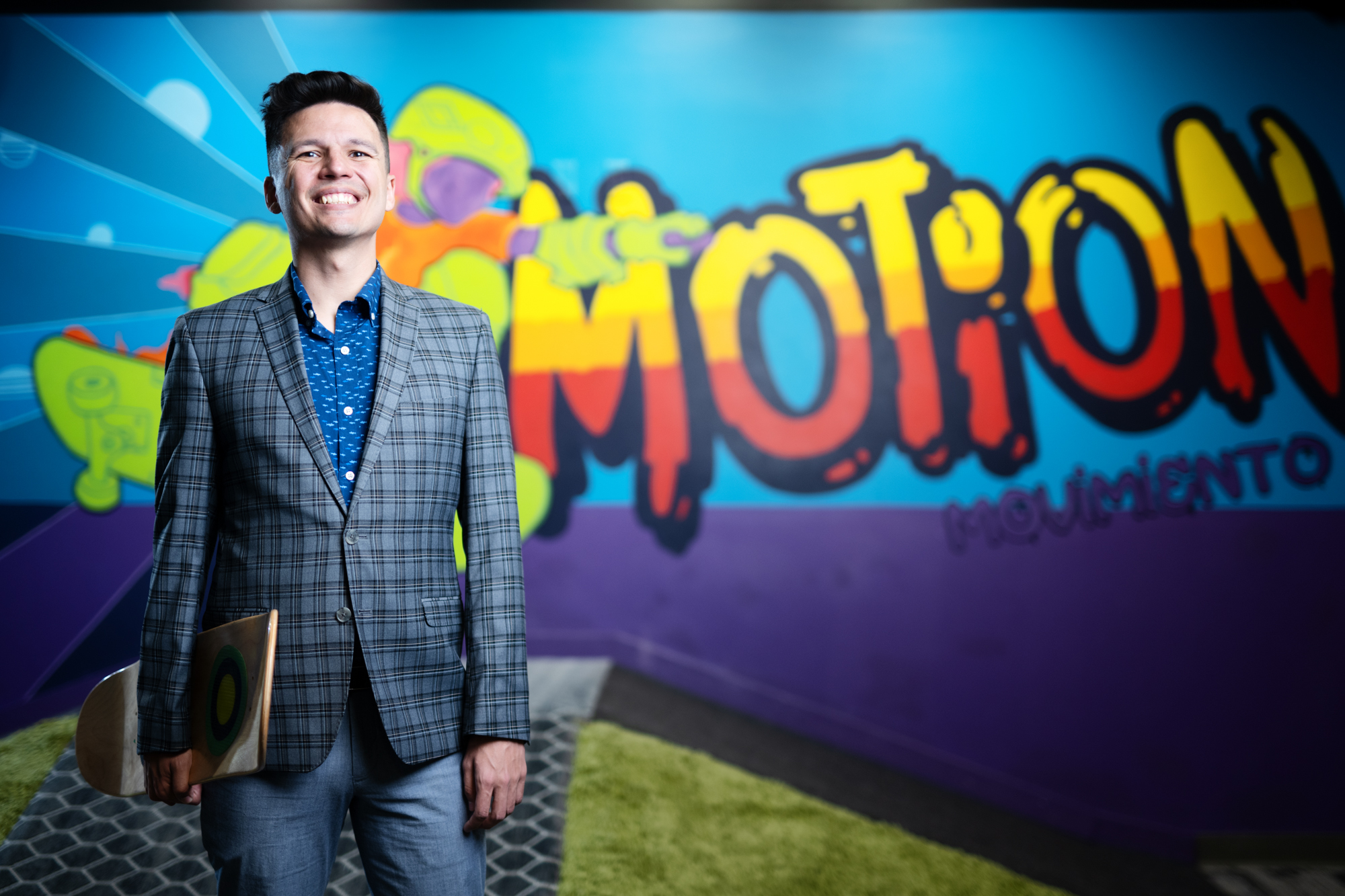 A passion for playing video games led University of Iowa doctoral candidate Jeremy Dietmeier to embark on a career designing better informal learning environments.
Degree: PhD in educational psychology
Hometown: St. Croix Falls, Wisconsin
Future plans: Ultimately wants to be the director of a children's museum, but currently is looking to stay in the Iowa City area and land a job in instructional design
Jeremy Dietmeier has done what many young adults dream of doing: turned a love of video games into a promising career.
Dietmeier, who graduates in December 2021 with a PhD from the University of Iowa College of Education, began playing World of Warcraft as a break from his undergraduate studies at Yale University. He was so enthralled by the activity that he wrote a thesis on why people play video games, examining from a psychological perspective the pleasure people draw from it. At the University of Wisconsin–Madison, he studied educational games in a master's program and worked with middle schools to start game clubs.
At Iowa, Dietmeier found the perfect fit for continuing his education and research in the field and developed a mixed-methods approach to understanding and improving intergenerational learning in children's museums. He helped design an Iowa Children's Museum exhibit on the physics of skateboarding, which prompted him to study the role that adults play in children's learning at such exhibits. He was able to conduct research at the museum, located just a few miles from campus in Coralville, Iowa.
"When I met some of the students in the program, they really sold me on this idea of doing independent research together. Every student had their own projects and interests, but they supported each other. It was the type of community I wanted to be involved in."
2021 doctoral candidate in the UI College of Education
"We had this idea that parents would be always supporting their children, that they would always be there to explain things. But as I made observations, I realized that that's not really true," says Dietmeier, who grew up in St. Croix Falls, Wisconsin. "It's not fair to always expect the parents to do that, so for my dissertation I observed families as they moved through the exhibits and watched the parents to figure out what they would do."
What Dietmeier learned is that parents support their children in a number of ways, whether by participating side by side with them and asking questions or taking a step back and encouraging autonomous play.
"A lot of children's museum design is done considering what parents are going to be doing and how they are going to be supporting their kids," Dietmeier says. "But some parents come in expecting to have what I've called in my dissertation 'parent leisure time,' or moments when they are not completely taking a break but their role as a parent is slightly less intense. They get to watch. They are talking to other adults. They are hopefully able to sit down somewhere, knowing that their children are safe and playing and having fun. And that's an important role for children's museums."
Dietmeier, who wants to one day be the director of a children's museum, says there is a need for museums to focus more on how children direct their own learning. He also wants to make them more accessible and to do more community outreach. The role of parents and other adults, though, should not be an afterthought, he says.
UI College of Education doctoral candidate Jeremy Dietmeier loves the Campus Recreation & Wellness Center: (CRWC) "Since I was in the Lindquist Center all the time, and the CRWC was right across the street, my best friend and I would meet up there as a way to take a break from our work and focus on getting healthy. It was a great place to improve my health, improve my body, and clear my mind. I am so grateful that such a great facility exists on campus."
"If we want children's museums to be able to claim special educational status, we need to make sure that we are providing parents with the things that they need to make it educational. Just by talking to parents I was able to determine that we should add a little card to the skateboarding exhibit explaining the terms that are used in it. For example, 'Here's a definition of friction that a 3- to 5-year-old might understand.'"
Despite COVID-19—and the shutdowns it caused early in the pandemic—Dietmeier says he was able to obtain enough qualitative data and hone the methodology skills he needed to develop his dissertation. He says he feels Iowa prepared him well to conduct research in the field.
"I also took a course on the design of learning spaces, whether it be classrooms, museums, or parks, and how to make a space that supports learning. That's really important for what I do," he says. "The courses I took on learning theory really helped me understand the different learning theories and how to apply them. When I think about children's museums and designing exhibits, I think really critically about the learning goals and how I can help achieve them. How does that align with theory? How would other people in this field approach this problem?"
Dietmeier says he was attracted to the UI College of Education when he was researching doctoral programs, in part due to his Midwestern roots but also because of the community he encountered among its PhD students.
"When I met some of the students in the program, they really sold me on this idea of doing independent research together. Every student had their own projects and interests, but they supported each other," says Dietmeier, whose peers meet weekly to share research developments, vent frustrations, and offer advice. "It was the type of community I wanted to be involved in."
The Educational Psychology and Learning Sciences Program in the UI College of Education offers an undergraduate minor, a master's degree in learning sciences, and a doctorate in educational psychology. It draws from multiple disciplines to teach students how, when, and why people learn, both in and out of school.
Kathy Schuh, professor of educational psychology and learning sciences in the UI College of Education, says Dietmeier's research will impact how children's museums are designed in the future.
"Children's museums aren't just for children. Although children cannot go to these museums alone, research—and the museums themselves—has seldom focused on the adults who accompany the children and how to best support them in the experience," Schuh says. "Addressing these adults as part of the exploration, play, and learning processes that take place in children's museums is a strength of Jeremy's work and will expand our understanding of the various perspectives that come into play in the study of informal learning spaces."
Although life as a doctoral student has been busy for Dietmeier, he still makes time for video games—often the multiplayer battle game League of Legends or the cooperative action-adventure game It Takes Two. Now, though, he plays with an eye toward learning.
"I have studied games for so long that every now and then as I play them these thoughts pop up," he says. "I'll think to myself, 'How could an educational game take advantage of this in a fun and interesting way?' Then I'll write down a note and dive back in. But most of the time it's just really fun."