Building community far from home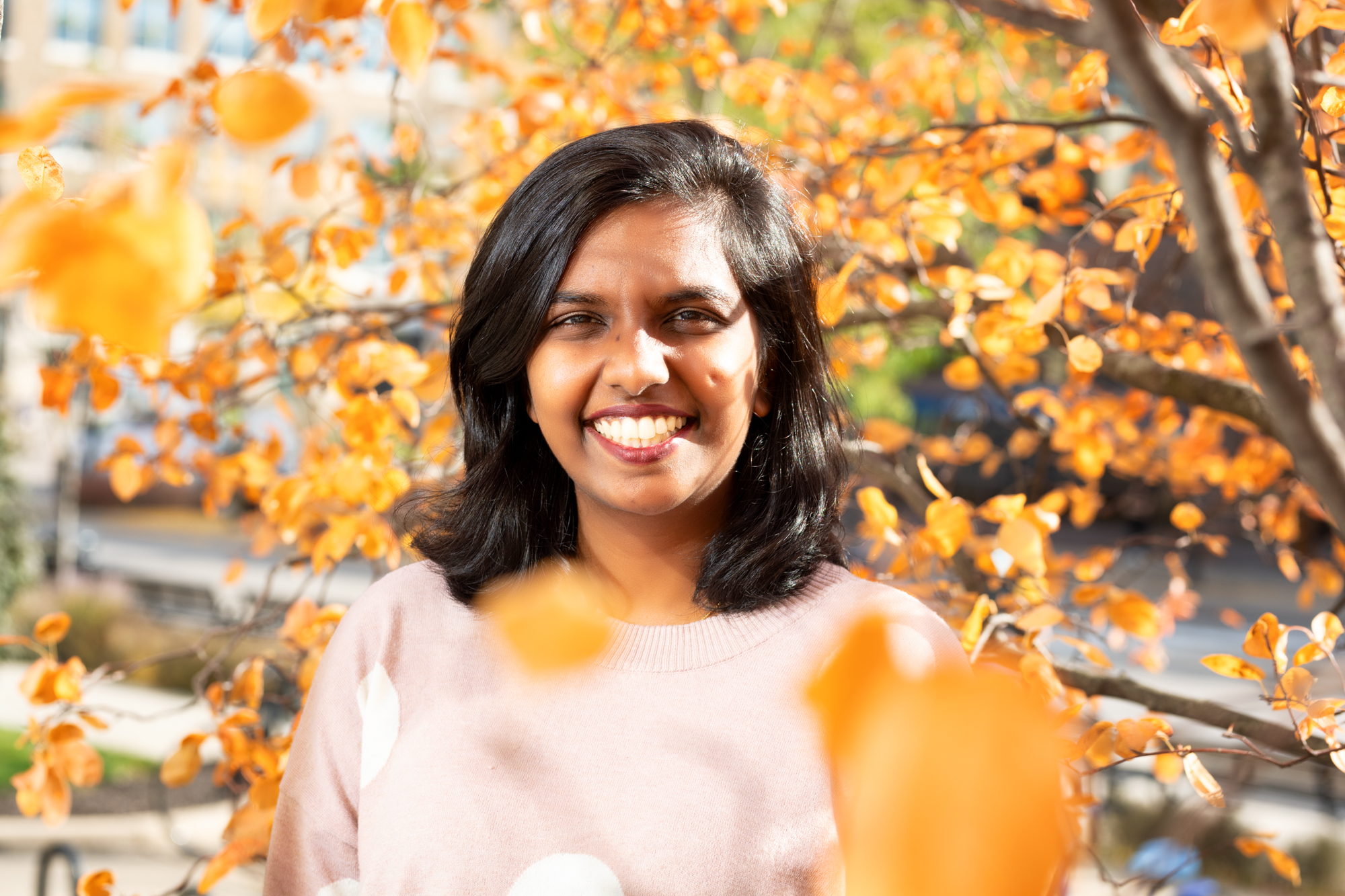 Mishma Nixon's love of literature and writing led her from Sri Lanka to Iowa. Her time at the Writing University cemented her love of children's books.
Degree: BA in English and creative writing, minor in social justice
Hometown: Colombo, Sri Lanka
Plans after graduation: Nixon hopes to work in children's book publishing after graduation, but visa sponsorship is proving to be something of an obstacle. She also would like to get her MFA in writing sometime in the future, although she's not sure if she wants to go the fiction or nonfiction route.
It can be difficult for any parent to drop their child off at college for the first time. And when you're leaving that child half a world away, it can be even more stressful. But Mishma Nixon says being in Iowa City and on the University of Iowa campus put her parents at ease.
"Sri Lanka is known to be a friendly place. When you walk down the road, people say hello," says Nixon, who grew up in the city of Colombo. "When my parents came, they looked around and looked at the people and said this is actually not that different. It's funny to think that I come from this big city around the world and it's the same kind of atmosphere. It's like it was meant to be."
Three and a half years after arriving in Iowa, the first-generation student will graduate in December with a BA in English and creative writing and a minor in social justice.
Nixon says her parents taught her to value education. Her mother graduated from high school, but her father didn't, and Nixon says they encouraged her to pursue further education.
"I grew up a big reader," Nixon says. "My parents didn't speak English and wanted me to learn. My mom used to find all these books and give them to me. So, I grew up loving literature and writing, and wanted to pursue that."
"I didn't know what kind of writer I wanted to be. I always like to push myself to experiment with different forms, so one of the best things for me about all the creative writing classes I took and the professors I had was that they pushed experimentation. I love learning, and every professor I've had has taught me something valuable."
2021 University of Iowa graduate, English and creative writing, social justice minor
She started researching the best places to study English, literature, and writing, and Iowa kept showing up on "best of" lists. Nixon says Iowa has lived up to her expectations—particularly her major, English and creative writing. She especially has enjoyed being immersed in many genres, including fiction, nonfiction, and poetry.
"I didn't know what kind of writer I wanted to be," Nixon says. "I always like to push myself to experiment with different forms, so one of the best things for me about all the creative writing classes I took and the professors I had was that they pushed experimentation. I love learning, and every professor I've had has taught me something valuable."
Nixon also was able to participate in faculty research, earning a Iowa Center for Research by Undergraduates (ICRU) fellowship to work with Loren Glass, professor and chair of the Department of English, studying international writers as part of a literary history of Iowa City.
"It was a very different perspective for me to do that sort of work," Nixon says. "I'm not interested in getting a PhD, but I'm very interested in research, so I wanted to get that experience in undergrad, even if I wasn't going to do it long term."
Glass says Nixon was one of the most engaged and inspiring students in his fall 2018 City of Literature class.
"She wrote a brilliant pastiche of James Alan McPherson's short story 'Elbow Room' called 'No Room For Love' about the relationship between a South Asian woman and a white American man," Glass says. "We agreed to collaborate further on her research and creative writing, focusing on the experience of Asian writers in Iowa City. With the help of an ICRU research fellowship, we were able to explore the rich heritage of Asians who came to Iowa City to study creative writing, a heritage to which Mishma herself has contributed. I foresee remarkable achievements in her future and am honored to have played a small part in her past."
Nixon also did an independent study with Associate Professor Lori Peterson Branch regarding children's books, which wasn't her only brush with children's literature at Iowa. She had an internship in summer 2021 with the Little, Brown Books for Young Readers imprint with Hachette Book Group.
"It was amazing because children's books are my one true love and I've always wanted to work with them," Nixon says.
Along with reading submissions and working on edits, jacket copy, and materials for an acquisition, Nixon also became well acquainted with a genre she wasn't as familiar with: picture books.
"I never seemed to have a picture-book period when I was young," Nixon says. "So, I would go to the library and just sit down and read picture book after picture book. And I just fell in love. It was like reverse aging for me to fall in love with picture books at this age."
Want to major in writing?
For more than 75 years, the University of Iowa has been a leader in the writing arts. The English and creative writing major enables students to experience the historical, traditional, and innovative aspects of literature as well as the relationship between critical reading, creative writing, and translation. The major provides transferable skills important for a liberal arts major, including the abilities to think deeply and creatively, read complex texts with comprehension, and develop writing and speaking skills at an advanced level.
But Nixon's activities on campus go beyond writing and literature. She says she was very involved in high school and wanted to continue that in college—and throwing herself into activities helped her meet people and adjust to the university environment. It didn't take long for Nixon's first-year roommate to joke that it seemed like Nixon knew everyone on campus.
During her time at Iowa, Nixon has held leadership positions in the Campus Activities Board (CAB), South Asian Student Alliance (SASA), and International Student Advisory Board. She also is a writing fellow at the UI Writing Center and a UI Honors Program administrator and peer mentor. 
Nixon says she enjoyed helping organize CAB events and was grateful for the community she found through SASA.
"It's still a very white space, so it was nice to have that sense of community and meet people who kind of had the same culture," Nixon says. "I relate to a lot of other South Asian students, but at the same time, they're very different because they grew up in other places. So we had our differences but also similarities, which was interesting."
Nixon says she joined the International Student Advisory Board because she felt it was important to help support other international students.
"I learned so much about how to advocate for myself and others," Nixon says. "I'm very optimistic and also very idealistic, so it was a bit of a reality check, but at the same time, it was a really good transition for me to learn what's possible and how to navigate things."
Her work also made her more interested in social justice, which she picked up as a minor.
"I grew up in a civil war, and I come from a country where there is a lot of censorship and this idea of you don't bother yourself in things that don't concern you," Nixon says. "Coming here and seeing a very different idea of involving yourself was very rewarding. I don't know if I would make a career out of it, but it has just changed me a lot as a person."
Nixon spent the fall 2020 semester at home in Sri Lanka because of the COVID-19 pandemic. The 10.5-hour time difference meant she was taking classes and attending meetings in the middle of the night and sometimes going to bed when the sun came up. But it also meant that her parents got a sense of what her college life was like.
"My mom was fascinated and would sometimes sit in the room while I was in class or in meetings," Nixon says. "I think it was her way of kind of being involved in my school life."
The pandemic also taught Nixon something about the community she found at Iowa.
"When COVID hit, the residence halls closed and I couldn't fly home yet, so a couple of friends from SASA invited me to move in with them for a couple of months," Nixon says. "It was nice to know that people here are my family and I could lean on them, and that was very special to me."