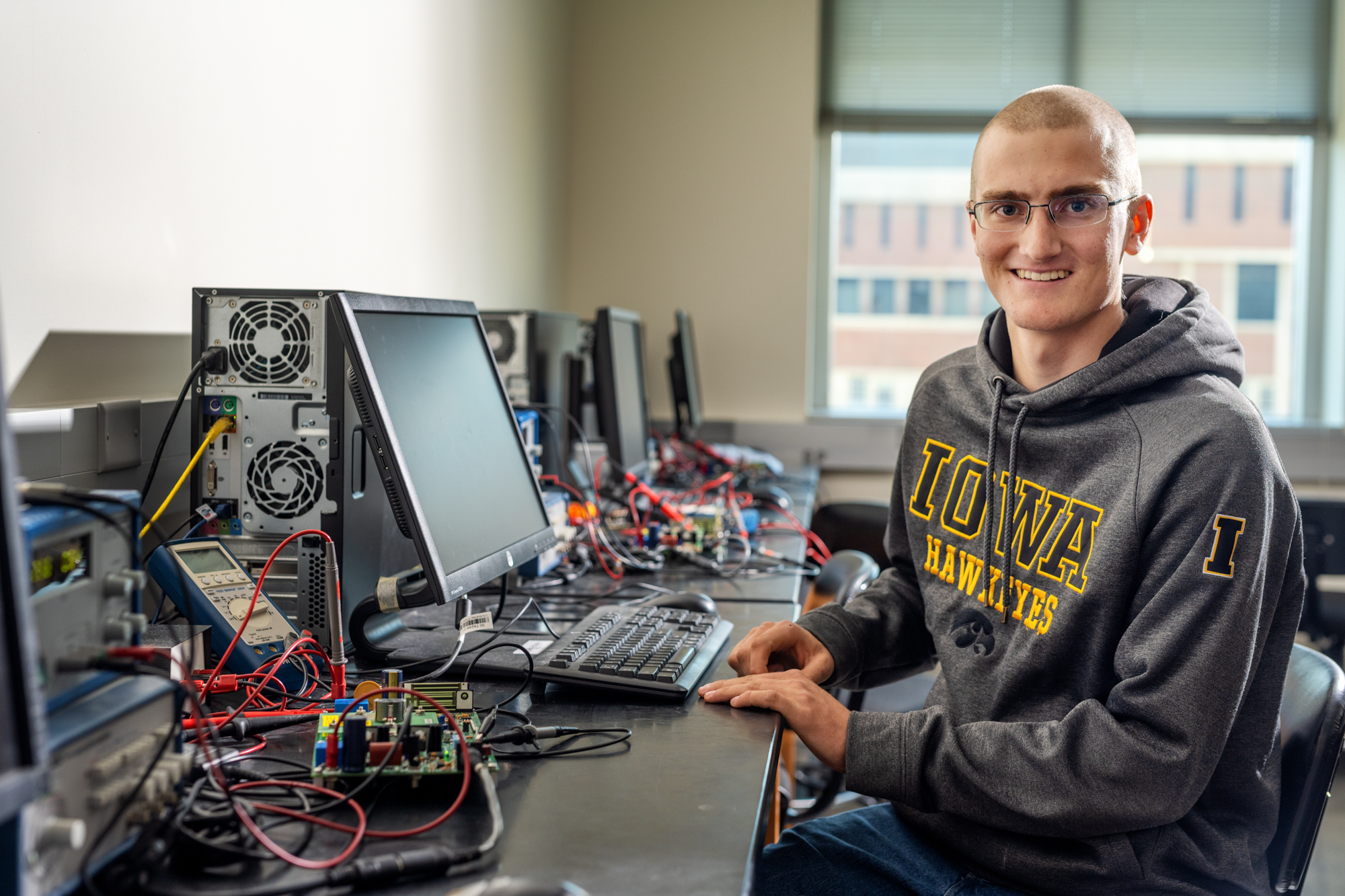 University of Iowa graduating senior Noah Brown was a fifth-grader in a science club in Wilton, Iowa, when he was invited to participate in a special project. Little did he know, his involvement—and particularly the person he met—would lead to his post-graduation job.
Justin Torner and courtesy of Noah Brown
Degree: BSE in electrical engineering
Hometown: Wilton, Iowa
Future plans: Work for Stanley Consultants in Muscatine, Iowa
Noah Brown unwittingly found his career path in fifth grade.
Brown, who will graduate this December from the University of Iowa with a degree in electrical engineering, was an elementary school student in Wilton, Iowa, when his science teacher, Diane Moritz, told him about a special project led by her and her husband. Brown, along with a handful of classmates, was chosen to participate.
The youngsters—with Moritz and her husband as guides—built a hovercraft that could travel over both land and water.
"It was a great teamwork project," says Brown, who remembers it was the first time he used power tools. "We'd go to their house just a few blocks from school and work on it.
Why did Noah Brown choose the University of Iowa? Proximity played a role (it was near his family in Wilton, Iowa), and the quality of academic programs in the College of Engineering was appealing.
At Iowa, Brown joined the GROK Lab, run by Geb Thomas, Department of Industrial and Systems Engineering chair and professor. The lab develops technologies to help scientists and doctors improve their understanding and control of complex systems such as robots, distributed sensor networks, and augmented-reality systems. As a research assistant in the lab, Brown wrote the code, constructed a circuit, and wired three Arduino embedded systems.
Brown particularly enjoyed the course Embedded Systems, taught by Yang Liu, associate professor in electrical and computer engineering.
"It's a project-based class," Brown says. "For our final project, we made our own Minesweeper game, a video game on a 8-by-8 grid of LEDs with joysticks you can move."
"I think it was the first thing that I started from nothing," Brown continues. "Whenever you start from nothing and get a finished product, you think, 'Wow, I know all the steps that led to this, and it actually works.'"
The science teacher's husband was David Moritz, electrical and communication associate at Stanley Consultants, a global engineering firm. Brown stood out enough that David Moritz asked him to continue helping with the club.
"In his later grades, I would get Noah to drive the newer hovers first, because I could trust him," Moritz says. "He listens and always wanted to know why the hovercrafts handled like they did and how to improve them."
Around that time, Brown frequently visited his grandfather, who enjoyed fixing antique radios.
"I suppose he got me into the hobby and guided me," Brown says. "I developed my own interest from that. I worked on a 1929 set—that's the earliest time period I worked on a radio. Any earlier than that, it's not more confusing necessarily but more primitive."
Brown especially liked fixing radios from the 1930s and 1940s, mainly due to the quality of the radios and the Art Deco cabinet design of the period. During high school, Brown showcased these and other period radios at 4-H competitions.
"Just about every year I went to the Iowa State Fair with my radio," he says.
Brown says the hobby deepened his interest in electrical mechanics.
"It's kind of relaxing and a nice, fun challenge too," he says. "I've had them where I can't figure them out. I do feel like I'm a decent troubleshooter because of my antique radio hobby."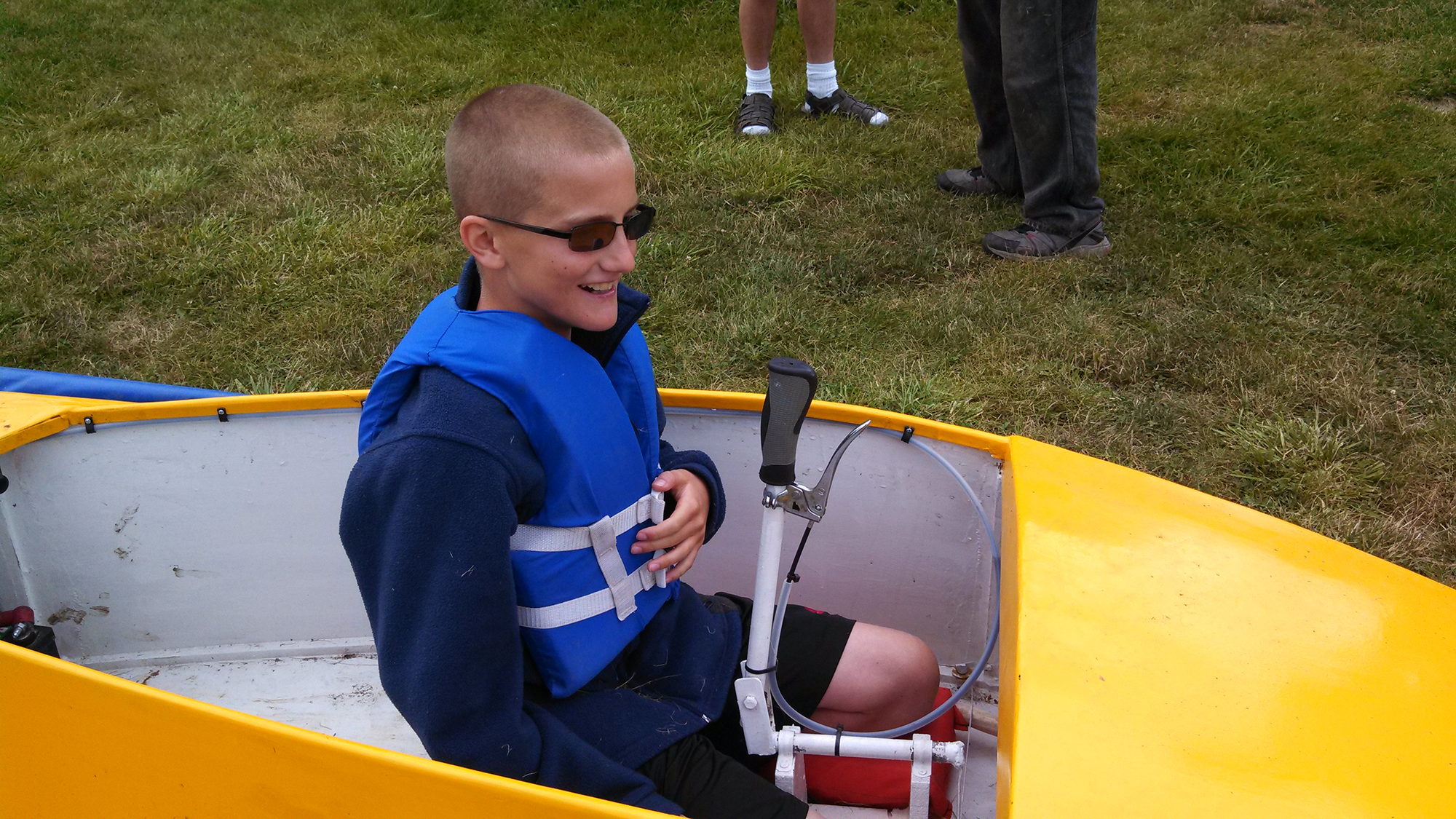 Also during high school, Brown chose Moritz and Stanley Consultants for a one-day job shadow.
"He (Moritz) kind of showed me around and introduced me to people," Brown recalls. "One thing I noticed was how nice everyone was. No one was like, 'I don't have time to chat with this high schooler.'"
The impression would stick: Brown enrolled in the UI College of Engineering at Iowa at 17—he skipped a grade in elementary school—and during winter break of his sophomore year, he began an internship at Stanley.
He continued as an intern at Stanley the remainder of his time at college, working part time during the school year and full time during summer and other breaks. As an intern, Brown designed communication systems for various projects. One involved conceptualizing a fiber-optic system to support multiple buildings, networks, and individual workstations.
The University of Iowa College of Engineering combines a rigorous technical education with essential skills in teamwork, communication, global awareness, leadership, entrepreneurship, and creativity. This "uniquely Iowa" approach builds upon the strengths provided by each college across our comprehensive university.
He also designed a medium-voltage electrical system for an underground distribution network, and he participated in weekly meetings to brief team members on current projects and work responsibilities.
Moritz says Brown's work ethic stood out. "He has always been driven, and the company appreciated his desire to not just accept that something works, but that he wants to know exactly how it works," Moritz says. "He wanted to visually understand, not just accept theory.  That is what makes Noah unique."
The company, with Moritz's encouragement, offered Brown a job when he graduates. He will begin working in the Muscatine office later this month.
"Noah coming on board at Stanley Consultants feels like the full circle has been completed, and I can retire knowing he can step right in," Moritz says. "To be able to be part of finding a replacement, and for it to be Noah…I could not be happier."
At Stanley, Brown will work with clients on their communications infrastructure, electrical transmission, power design and distribution, fiber optics, and other needs. He also plans to earn a professional engineering license, which will allow him to manage projects.
It's a happy set of circumstances stemming from a can-do attitude in grade school in Wilton.
"I would definitely say there's good fortune on my part," Brown says. "I had a science teacher whose husband worked for Stanley, he picked me, and a lot of things have fallen into place well."