Connecting the world through language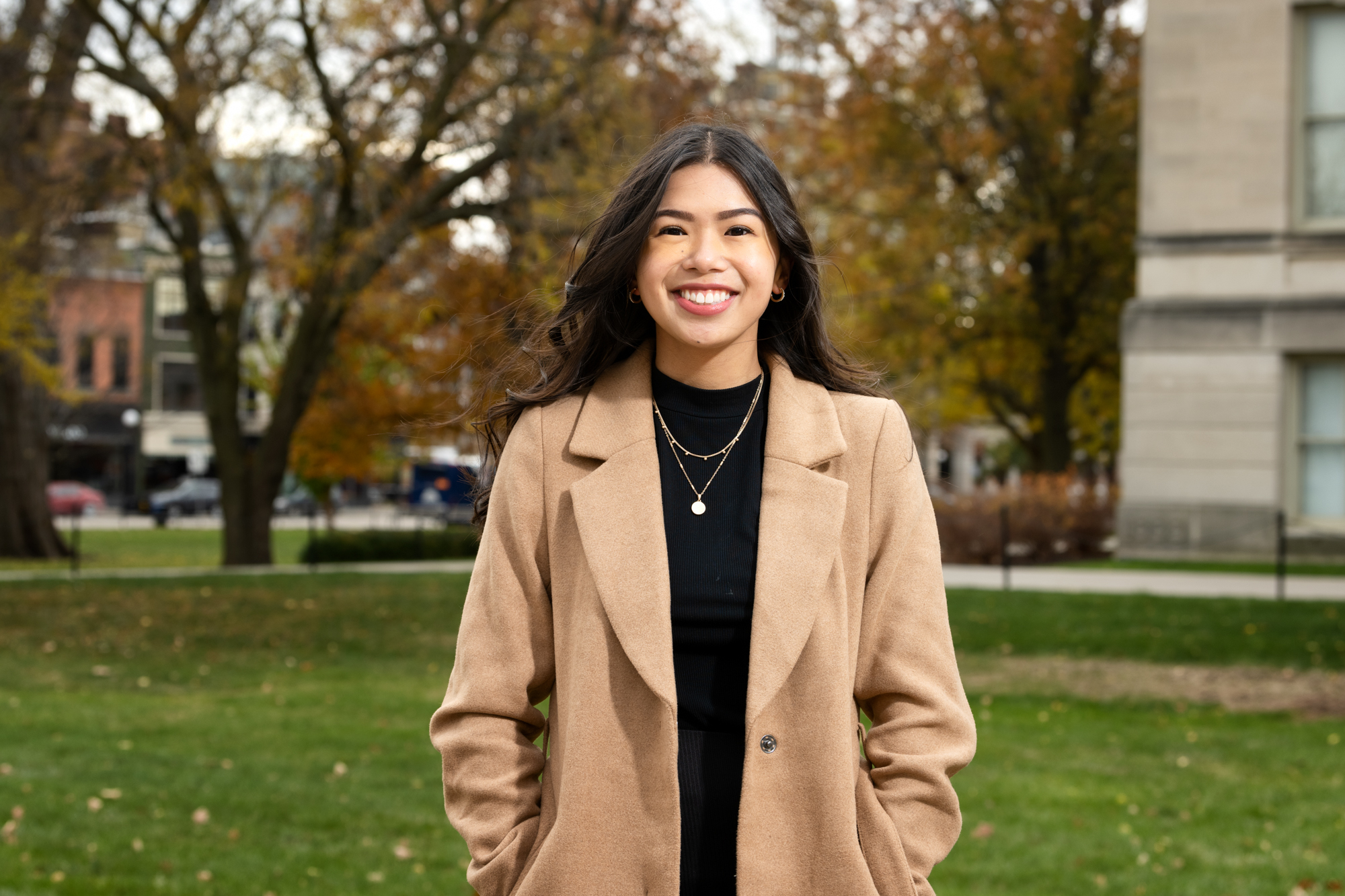 By becoming fluent in Portuguese and Spanish, Holly Harris is striving for an international career where she can use the power of language to bring people together.
Degree info: BA in Portuguese, BA in international studies, Certificate in Nonprofit Leadership and Philanthropy, and a minor in Spanish
Hometown: Waterloo, Iowa
Future plans: Having recently applied for a Fulbright scholarship, Harris' goal is to move back to Brazil after graduation to teach English.
Growing up in the Midwest, Holly Harris always felt a connection with the opposite side of the world. Harris was adopted from China at just 10 months old, and she developed a passion for exploring differences between cultures. As she got older, her experiences through school and travel transformed her interest in life outside the U.S. into a dream career.
"Throughout elementary and high school, I took Spanish classes and really just fell in love with learning the language," she says. "After high school, I went to Brazil through a youth exchange program. While I was living there, I learned Portuguese and decided I wanted to continue learning it on an academic level and make it part of my career."
Harris will graduate this fall with a bachelor's degree in Portuguese, a bachelor's degree in international studies, a certificate in nonprofit leadership and philanthropy, and a minor in Spanish. Her time on campus has been highlighted by her work as a research fellow assisting Armando Duarte, a Brazilian professor in the Iowa Department of Dance, with the translation of historical interviews about samba and Carnival from Portuguese to English.
"After I translate the interviews, the text is analyzed and applied to research. Our goal is to put together something that will spread awareness about Brazilian culture—a lot of which people in the U.S. are not familiar with," Harris says. "Dance is an important part of Brazilian history. When African Brazilians were enslaved, they used dance and music as a way to hide their martial arts. With my research now, I think it's important to bring attention to the dancers so we're also able to commemorate those who have passed away."
Harris says her time working with Duarte over the last few years has been an amazing opportunity to not only learn about Brazilian culture but to learn more about the Portuguese language.
"Professor Duarte has done a lot for me, both academically and professionally," Harris says. "He's given me advice on classes I've taken, he's written letters of recommendation for me, and he's been someone I can look up to as a role model. Most of all, he's allowed me to practice and master the Portuguese language on the highest level—something I'll always be grateful for."
Advice for future Hawkeyes?
As Holly Harris prepares for graduation and reflects on her own time at Iowa, she advises future Hawkeyes to build connections with people on campus as soon as possible.
"Seek opportunities to make connections with both your peers and your professors right away. I know it's kind of basic advice, but getting to know people has been the best part of my experience at Iowa," she says. "Don't be afraid to step out of your comfort zone to learn more about yourself and to meet new people. This is the time to make mistakes and to learn from them so you can grow into the person you want to become."
Duarte says Harris' work ethic, discipline, diligence, and commitment to the Portuguese language have been tremendous assets to his research.
"My research involves a challenging process—one that requires proficiency, patience, accuracy, and the ability to understand meaning and reasoning beyond each translation," he says. "Holly welcomes this challenge with professionalism, grace, and determination. The breadth, engagement, innovation, and creative work generated by her participation in this research is inspirational. Simply saying, the outcome of her work has been outstanding. Holly has already produced and achieved more than what should be expected of a student at this stage in their academic career."
Although Harris has been fascinated by language from an early age, she discovered how to put her passion into practice when she became actively involved within the Iowa City community.
"The summer after my freshman year, I decided to join the Council for International Visitors to Iowa Cities (CIVIC). They were offering an internship that seemed interesting, and since it aligned with my major and international focus, I decided to go for it."
CIVIC is a community-based nonprofit organization that coordinates exchanges with international visitors to build global ties on a local level. Now a program coordinator for CIVIC, Harris works directly with program officers in Washington, D.C., to coordinate programs for emerging leaders to help them learn more about culture in the United States.
"Since I started working with CIVIC, I've had the opportunity to meet with international emerging leaders and to coordinate local resources to help them learn transferable ways to do certain things across borders," Harris says. "It's fun and exciting to speak with other people from around the world. It offers a lot of opportunity for me to learn more about myself and discover what I want to pursue after graduation."
Shortly after joining CIVIC, Harris became an intern for the Iowa City Foreign Relations Council (ICFRC)—a local nonprofit that seeks to promote an understanding of international issues by hosting forums with international leaders. Through her new role, Harris says she's been able to spread even more awareness about different cultures within the Iowa City community.
"Now I get to work with the executive director and a few other board members on starting mentorship programs for future student interns. Even though the internship programs are unpaid, students develop lifelong skills they can use to successfully network with individuals from other cultures."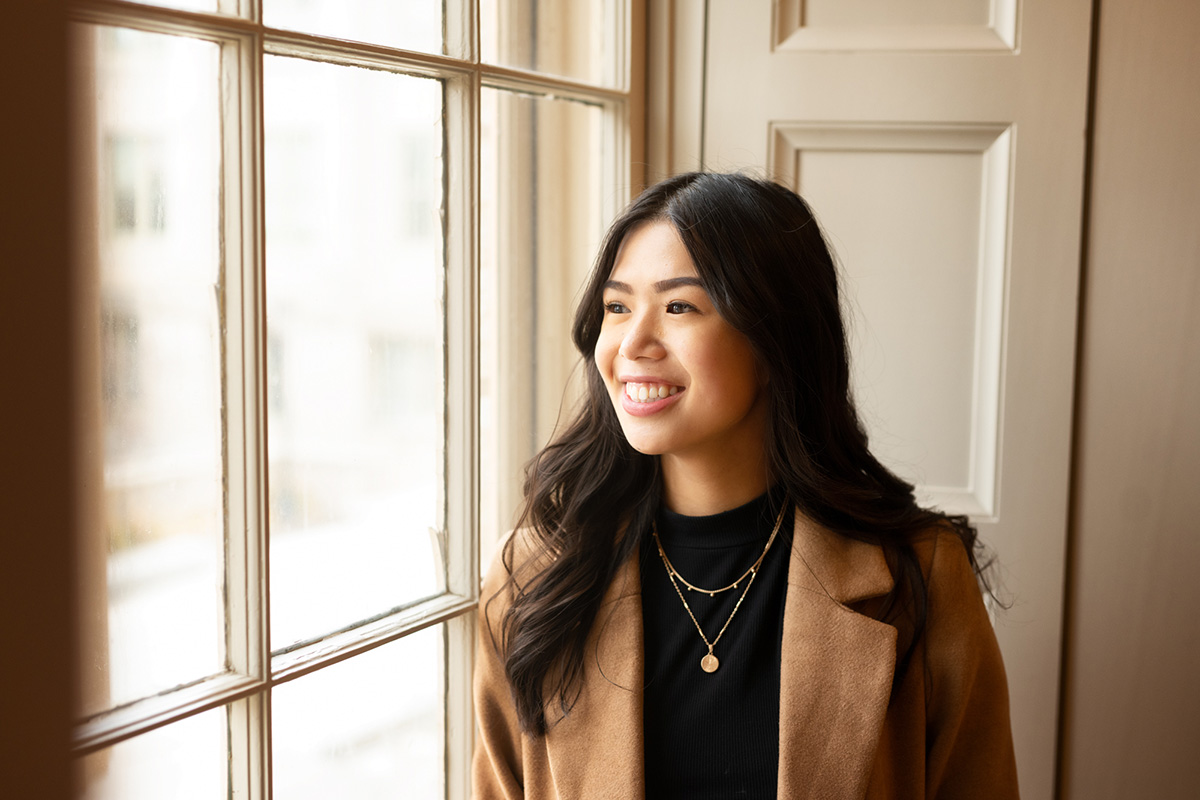 "I think it's important that we learn about people outside of our bubble here in the United States, and vice versa. We're all human and we're all living completely different lives, so there's so much we can learn to appreciate from each other."
University of Iowa graduate earning degrees in Portuguese and international studies
Harris says what she's enjoyed most is simply bringing people together.
"I think it's so cool being able to be in Iowa City and meet with people from around the world," she says. "Having the opportunity to facilitate those connections between emerging leaders with helpful resources here in the United States has been very rewarding."
Harris says she wouldn't be where she is today without her mentor, Duarte, and many of the great professors she's had on campus—especially Cris Lira, a former Portuguese professor at Iowa.
"Professor Lira was fantastic in pushing me to do a lot of different things within the Portuguese language, including the research I'm doing with Professor Duarte," Harris says. "She's written a lot of recommendation letters for me and even helped me explore different possibilities for my future."
Lira, who is now the Portuguese language coordinator at the University of Georgia, says Harris was always extremely dedicated to mastering Portuguese, and Lira is a firm believer in Harris' ability to use language to bridge the gaps between different cultures from around the world.
"Holly is a true example of a global citizen—she speaks four languages, has been working with countries around the world in connection to Iowa City, and has lived abroad before," Lira says. "I am confident that we will see Holly as a United States ambassador soon in the future, either abroad or domestically."
Lira's belief aligns perfectly with Harris' future plans. After recently applying for a Fulbright scholarship, Harris' goal is to move back to Brazil after graduation to teach English. She also says she'd love to move to Washington, D.C., and work with international exchanges for the Bureau of Educational and Cultural Affairs.
No matter where Harris ends up, she wants to continue learning about culture and language so she can use her knowledge to teach others.
"My passion is to use language to help others understand different cultures from around the world. Through my experiences on campus, I've really enjoyed just connecting with people and teaching them about our culture in the U.S. while learning about theirs as well," Harris says. "I think it's important that we learn about people outside of our bubble here in the United States, and vice versa. We're all human and we're all living completely different lives, so there's so much we can learn to appreciate from each other."