A path seldom taken; an experience hardly forgotten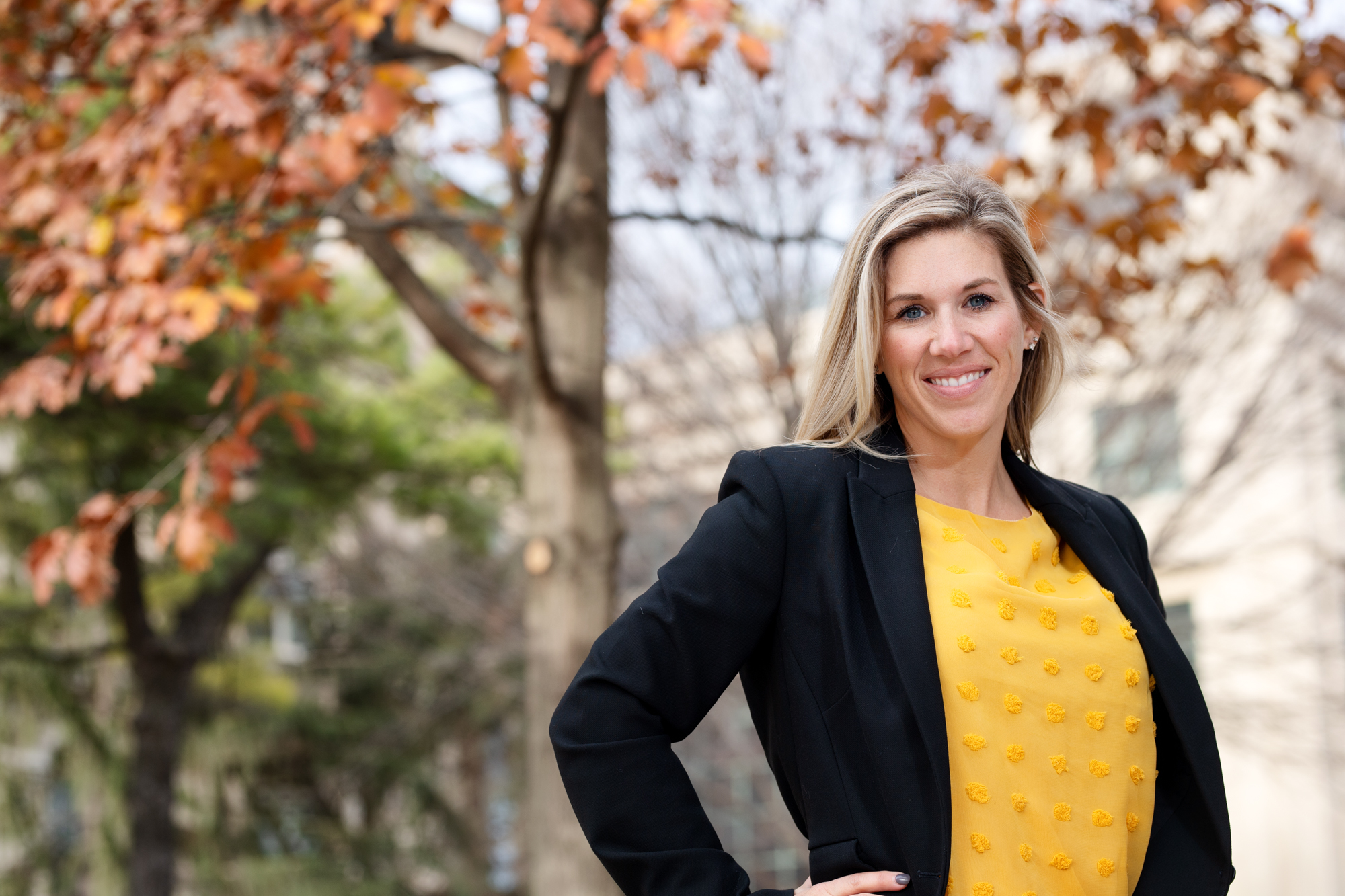 When Ashley Weide returned to higher education, she had some concerns about her nontraditional path. At the University of Iowa, she found a supportive community and an accounting degree program with a sterling reputation.
Hometown: Phoenix, Arizona
Degree: BBA in accounting
Future plans: Begin an internship at RSM in Cedar Rapids, pursue a Master of Accountancy at the University of Iowa, and take the certified public accountant exam.
There is no definitive timeline for success. Just ask Ashley Weide, a nontraditional student graduating this fall who found that going back to college on her own schedule can be just as rewarding and worthwhile.
"Going to college and raising a family at the same time has its pros and cons," says Weide, who will receive a Bachelor of Business Administration in accounting. "Being able to come home and get away from the difficulties of school, have a normal dinner at the table, and ask about their days was a much-needed break at times. I also struggled with feeling like I was taking away from my kids when I had to choose to do assignments instead of hanging out with them. Finding a balance is tough but so important."
Weide, a native of Phoenix, Arizona, first moved to Iowa in 2005. After finishing her two-year degree at Kirkwood Community College in 2009, she found a job and began raising her family.
"I started a family at a young age, and we moved to Iowa for employment purposes and to raise our family," says Weide. "I had always wanted to complete my education but was unable to due to family obligations at the time."
After six years, Weide left Iowa in 2011 and spent time in Minnesota and Illinois before coming back to Iowa in 2017 where she was beginning to feel that going back to school made sense. And after Weide and her two kids became familiar in the "Iowa Way," there was no other place but the University of Iowa—more specifically, the Tippie College of Business.
"Fellow students, professors, and the administration always welcomed me and commended me for coming back to finish my degree. The entire community supports one another in a way I never expected."
2021 graduate of the UI Tippie College of Business
"Being a Hawkeye fan is an intoxicating atmosphere, and both my sons are huge Hawkeye fans," says Weide. "I chose Iowa not only because my kids would probably never forgive me if I didn't, but also because Iowa has the top-ranked business school in the state and within the top 25 public business schools in the country. How could I not choose Iowa?"
Iowa's internationally recognized brand and reputation reassured Weide that upon graduation she would be in a good place in the eyes of employers.
"I wanted to complete my degree with a school that has a positive reputation throughout the country," says Weide. "Iowa is known for being a phenomenal institution. People know the University of Iowa and what to expect from a graduate."
Weide has always had an affinity for spreadsheets, numbers, and making smart, logical decisions. After previously working in the wealth management field, Weide's experience cemented her decision to pursue the BBA in accounting.
"I fell in love with helping people understand and make sense of the complex world of tax and finance," says Weide. "Seeing the relief and trust on a client's face when you can help them understand and move forward in a positive direction made me feel like I was contributing to better someone's life. I would like to move in a direction to help businesses do the same."
Iowa's undergraduate program in accounting gives its students a strong base of accounting courses but also knowledge of information systems, written and oral communication skills, leadership ability, and teamwork skills. The program resides in the Tippie College of Business, the 24th best public business school according to the 2022 U.S. News & World Report rankings.
However, there were a few looming questions in Weide's mind as she took this nontraditional path. Would she be accepted? Would she be the odd one out because of her age?
"I was always afraid to feel old or far removed from the college atmosphere or to be treated differently," says Weide. "I never felt different or like I didn't belong here. Fellow students, professors, and the administration always welcomed me and commended me for coming back to finish my degree. The entire community supports one another in a way I never expected."
While her nerves were eased on one front, the pandemic forced Weide, her kids, and everybody else on the planet to adjust their lifestyles.
"COVID hit at the end of my first semester, so that was pretty interesting," says Weide. "My boys at the time were a senior in high school and an eighth-grader, so we all ended up doing school at home together. There were a lot of struggles, but it was also fun. It was great for my boys to see my dedication to college and how much hard work it takes."
On campus, Tippie professors Kay Hegarty, Jaron Wilde, and Julie Alexander provided a support system for Weide that was bolstered by her counselor in Tippie, Lindsey Aldrich, who was there to answer Weide's emails at all hours.
"These professors taught in a way that I admired and showed that they loved the subject they taught and genuinely care about each of their students," says Weide. "They seemed to understand that each student is multidimensional and has different needs. They were willing to speak with me regarding my future and how to best go about getting there."
After graduation, Weide will begin an internship at accounting firm RSM in Cedar Rapids, while hoping to continue her education in Iowa City.
"I am hoping to get into the Master of Accountancy program here at Iowa and become a certified public accountant in the spring/summer of 2022," says Weide.