Studying life's little mysteries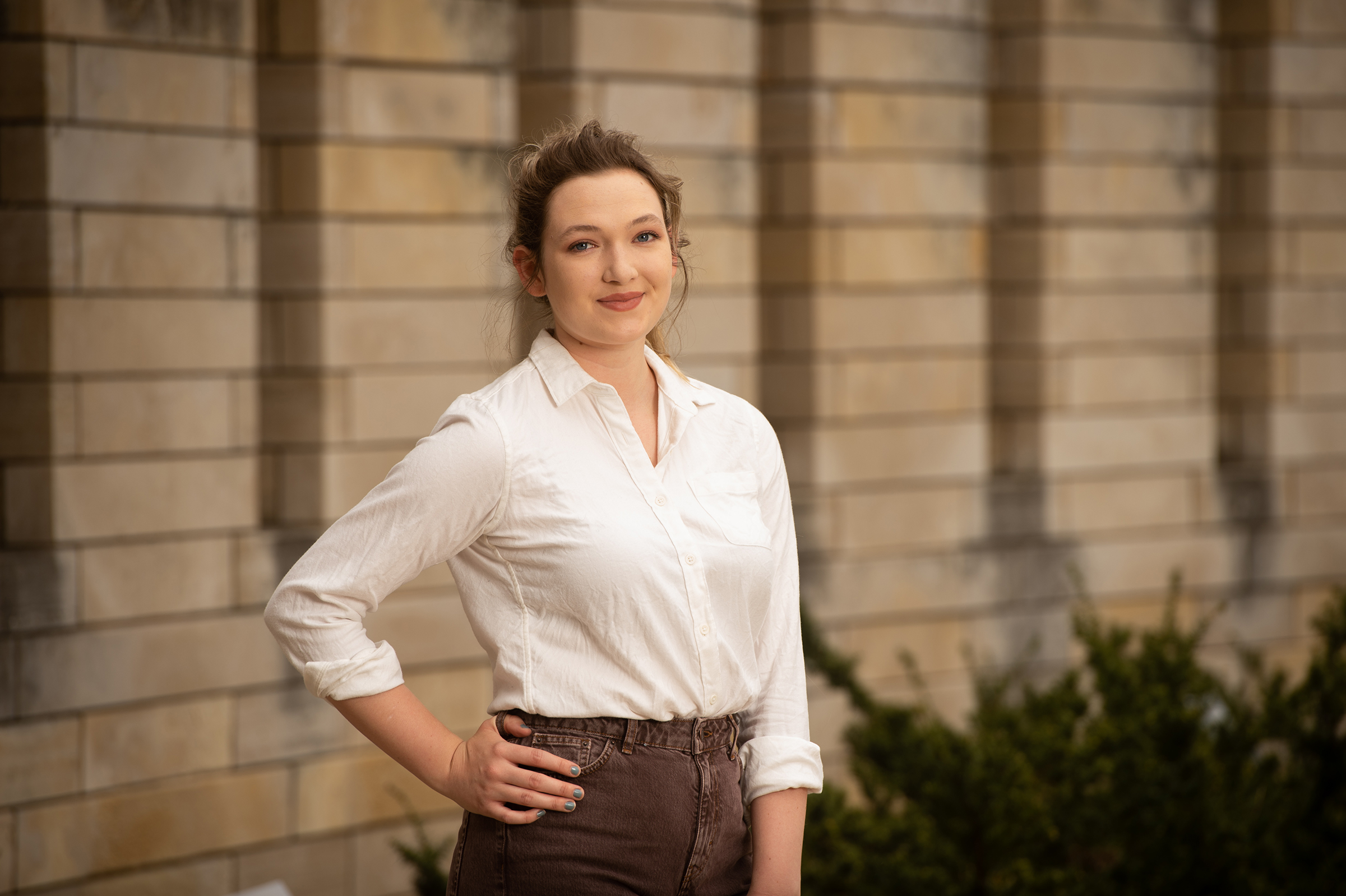 University of Iowa senior Tori Cassady wants to know how early life developed. The senior from West Des Moines, who will graduate in May, will go on to graduate school to study cyanobacteria, micro-organisms that live in Yellowstone's geothermal pools and are believed to be among the first life-forms on Earth.
Every other summer when Tori Cassady was a child, her family would pack into a car and drive from her hometown of West Des Moines, Iowa, to Yellowstone National Park.
There, Cassady would delight in the marvels of the natural world: The mountains, the forests, the wildlife, and, most importantly to her, the majestic geysers erupting from boiling pools.
"I remember being a kid and just running around on every boardwalk constructed around the geysers," Cassady recalls. "I was fascinated by all the different colors, and I thought, 'My gosh, what could possibly live in there?'"
That childhood fascination has morphed into an adult intellectual pursuit: Cassady, who will graduate from the University of Iowa in May, will go on to study extreme life-forms believed to reside in Yellowstone's geothermal pools.
Degrees: BS, Microbiology; BA, Biochemistry
Hometown: West Des Moines, Iowa
Future plans: Begin graduate school this fall at the University of Southern California (USC), studying cyanobacteria—micro-organisms believed to be among the first life forms on Earth
"Little did I realize the things I did not know about would reappear in my life," Cassady says. "It's quite circular, actually."
Cassady will begin graduate school this fall at the University of Southern California (USC), studying cyanobacteria—micro-organisms that live, among other places, in Yellowstone's geothermal pools and are believed to be among the first life forms on Earth. Her research is a quest to understand how life on our planet and elsewhere originated and has evolved.
"To me, that availability of a window into deep time is the most fascinating thing, and I really can't help but want to take advantage of it for the pursuit of knowledge," says Cassady. "So, that's what's got me interested in those environments. I think the timescales that life evolved on are so incomprehensible—to understand that, I want to spend more time studying them. That's what I'm going to graduate school to do."
Cassady majored in biochemistry and microbiology and has done research on volcanic fields beneath Auckland, New Zealand, with Ingrid Ukstins, associate professor in the Department of Earth and Environmental Sciences at Iowa.
Ukstins says Cassady's range of academic interests positions her well to investigate the origin of possible life-forms in the universe.  
"She's got the background in biology and genetics, and she's adding geology on top of that, and that makes her perfectly suited to be the kind of person to address those kinds of questions," Ukstins says.
The Old Gold Scholarship is for incoming first-year students who are Iowa residents. The scholarship's value is $5,000 a year for up to four years; the minimum requirements are a score of 30 ACT (SAT 1360) AND a 3.80 cumulative GPA on a 4.00 scale. Those who qualify do not need to apply—the scholarship is awarded automatically to eligible students upon admission.
Cassady entered Iowa on the Old Gold Scholarship, intending to study medicine. She was well along that path when she took General Microbiology, then taught by Marcia Cordtz, in fall 2017. She switched majors a year later.
"I didn't know microbiology was a field of study until that class," Cassady recalls. "I now had found a new vocabulary to describe what my childhood interests were."
She also had found a new major, which, in turn, led her to a new research goal: Learn more about early life-forms. Searching around campus for faculty with a similar interest, she found Ukstins, a volcanologist who has done research in planetary geology.
The two hit it off from the first chat, which lasted more than an hour—so long, in fact, that Cassady was late for her next class.
"I was incredibly impressed with her," Ukstins recalls of their first meeting. "She's extremely articulate, engaged, very friendly, and thoughtful at the same time."
Ukstins put Cassady to work, analyzing samples of cores taken from underneath Auckland, New Zealand. Cassaday sought to establish how long magma has been pooling under the largest Kiwi city and when it may erupt—from as many as 60 volcanoes—which could imperil its 1.5 million residents.
In the analysis, Cassady learned how to use an electron microprobe, a sophisticated instrument that allows her to examine olivine, the first mineral to crystalize when magma cools.
"Olivine exchanges elements with the magma that surrounds it below the earth's crust," Cassady says. "This is why I am able to use elemental diffusion in olivine to tell a story about what was happening in the magma before eruption."
Cassady and another undergraduate student, Madison Anae, spent nights and weekends examining more than 1,000 olivine samples. Ukstins is well aware of how much time the pair was putting in.
"There were times when I'd walk into the lab and there were piles of used coffee cups, and so I did have to have a few discussions with them about caffeine intake," she says with a laugh.
"We wouldn't be here without the enormous change in habitability that these bacteria created. That's something that's so important to understanding what life on Earth is actually like. Earth is a microbial planet, and we are guests in it."
University of Iowa senior from West Des Moines who will graduate in May
Cassady says she "had a ball" doing the research and learning how to the use the electron microprobe.
"I think knowing I was in the process of mastering this one technique that is so important and to have the skills to extract data from all those samples, that was exciting," she says.
Cassady found time to earn a minor in music, and she performed regularly with the Prairie String Quartet, in which she played violin. She says playing helped her strike a balance with academics and research responsibilities.
"I could take my science brain out and put my music brain in," she says.
Now, Cassady is preparing to enroll at USC, where she will study under Frank Corsetti, an expert in geobiology, early life on Earth, and mass extinctions. Her field site will be Yellowstone, where she will study mechanisms by which ancient cyanobacteria are preserved in the rock record by looking at fossilized cyanobacterial mats called stromatolites.
"We wouldn't be here without the enormous change in habitability that these bacteria created," Cassady explains. "That's something that's so important to understanding what life on Earth is actually like. Earth is a microbial planet, and we are guests in it."