Defining the doctor he wants to become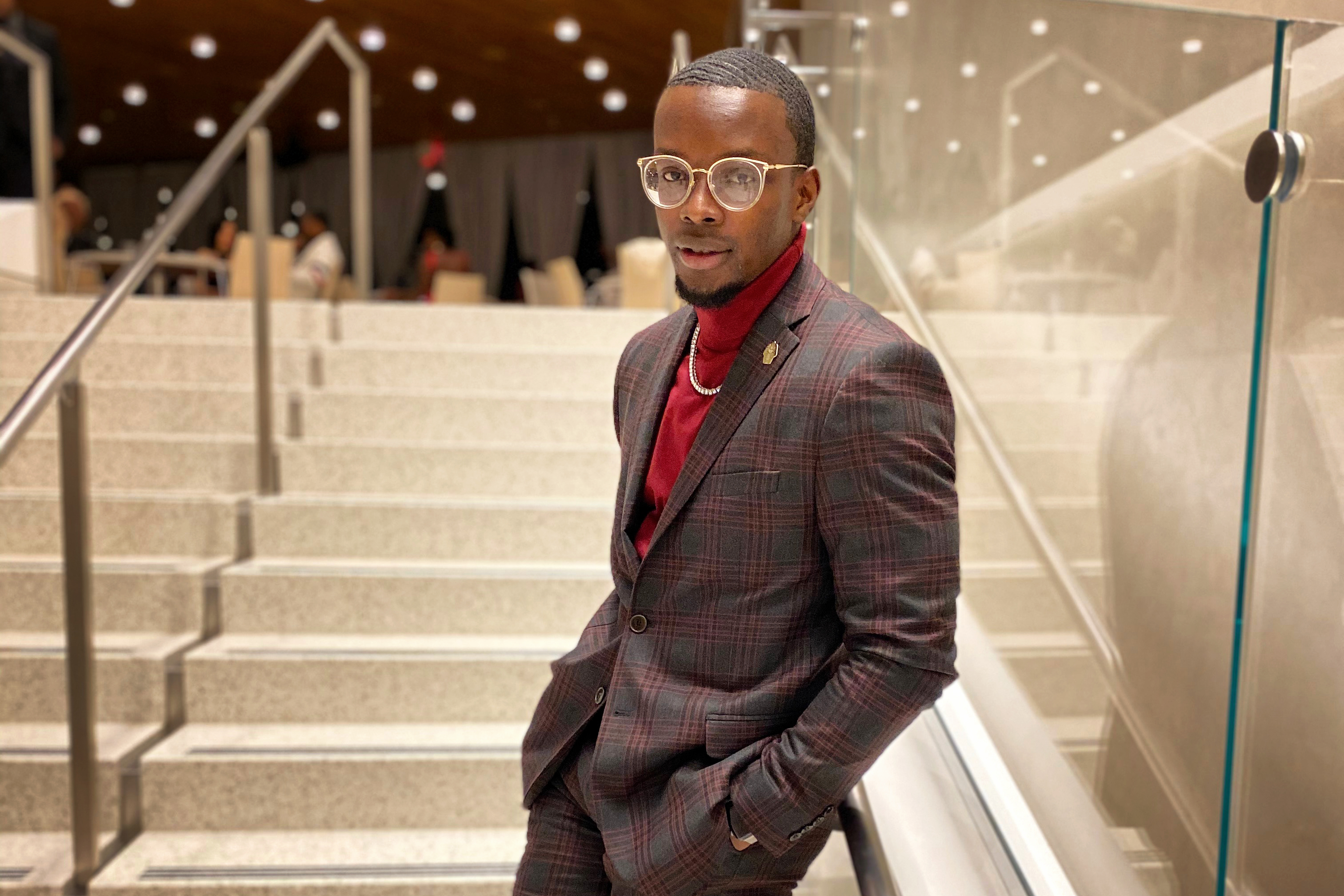 Jimmy Smith knew he wanted to be a doctor. Through his undergraduate studies at the University of Iowa, he learned both inside and outside the classroom how he wants to practice medicine.
Human physiology is an ideal major for students interested in pursuing advanced degrees in medicine, dentistry, optometry, physician assistant studies, physical therapy, and podiatry. Students at Iowa have access to the university's health sciences campus and make connections with faculty in the Carver College of Medicine.
Not only has completing a University of Iowa degree in human physiology prepared him to attend medical school, Jimmy Smith says his many extracurricular activities have helped him develop empathy and awareness that will serve him throughout his career.
"Being a student at Iowa has challenged me and allowed me to figure out how I learn," says Smith, who graduates with a BS this month with plans to attend medical school. "And being involved in many organizations has allowed me to explore parts of my identity that I held close to myself."
That campus work has included mental health advocacy through a student organization called Active Minds; participating in and developing programming for cultural centers, including Afro House and the Pride Alliance Center; conducting research on multiple sclerosis in a faculty member's lab; and joining the fraternity Alpha Phi Alpha, where he served as president of the UI chapter.
"I'm the oldest of four siblings. Joining Alpha Phi Alpha empowered me and gave me a great network—and the older brothers I never had," he says. "I'm also part of Hubbard Scholars, an organization where men of color meet and talk about issues within the university and the whole country. It has been very meaningful to be able to be vulnerable in that space and connect with older students."
That support has been invaluable to Smith, a first-generation college student. His parents fled a civil war in Liberia to Ghana, where he was born. When Smith was 5, the family immigrated to the United States and settled in Sioux Falls, South Dakota.
Degree: BS in human physiology
Hometown: Sioux Falls, South Dakota
Future plans: Attend Howard University College of Medicine in Washington, D.C. 
What he'll miss most: "The start of the fall semester, when students return to campus and new first-year students arrive," says the graduating senior. "There is excitement in the air, and the energy level is high. That's what I'll miss most about the University of Iowa."
"I'm proud to be graduating from college and seeing how far I've come," he says. "Even though there won't be commencement exercises due to the coronavirus, my hope is that my parents will be able to attend a white coat ceremony this summer."
The white coat ceremony, held before classes commence at many medical schools across the country, marks a student's entry into the medical profession. Smith wants to be a cardiothoracic or orthopedic surgeon. He says he is drawn to the challenges that surgery presents.
"I like working with my hands and fixing things. I enjoy problem-solving—analyzing the risks and benefits and determining whether a procedure should be performed. And a surgeon has to keep a cool, collected head while going as quickly as possible," he says. "I'd also like to contribute to the elimination of health disparities and work at a hospital where I'd have opportunities to work with underserved communities."
Working in the research lab of Thorsten Rudroff, an assistant professor studying treatments for multiple sclerosis, helped Smith apply what he was learning in class, some of which included an in-depth and difficult look at medical ethics. Particularly influential in his studies at Iowa was a book Smith read for a medical sociology class called Medical Apartheid: The Dark History of Medical Experimentation on Black Americans from Colonial Times to the Present.
"I've had opportunities to interact with people I likely would not have interacted with at home, and that's challenged my perspective."
2020 graduate, University of Iowa College of Liberal Arts and Sciences
Another important part of Smith's Iowa experience has been meeting with Hawkeyes from all walks of life.
"I've had opportunities to interact with people I likely would not have interacted with at home, and that's challenged my perspective. For example, I've met international students and talked to them about their experiences and what's going on in their lives. I spent three years working at the Pride Alliance Center as an ally, which has been challenging and rewarding as I've learned how I can be the most supportive ally I can be," he says. "One of my favorites, though, is Active Minds, a student group that focuses on mental health awareness. When a friend of mine from high school committed suicide, I looked into organizations to get involved in and I found this one. Now I'm the treasurer. In a way, I feel I'm making up for not being there for him."
Tab Wiggins, associate director of multicultural and international student support and engagement in the UI Division of Student Life, says Smith has many qualities that will make him a good doctor.
"Jimmy is highly intelligent but also very intuitive and reflective. He pays close attention to detail and to what people aren't saying. He will make people feel comfortable within the health care system," Wiggins says. "He's the type of leader we don't see often. I hope he feels we've poured into him as much as he's given us through his student leadership."