Continuing the cycle of mentorship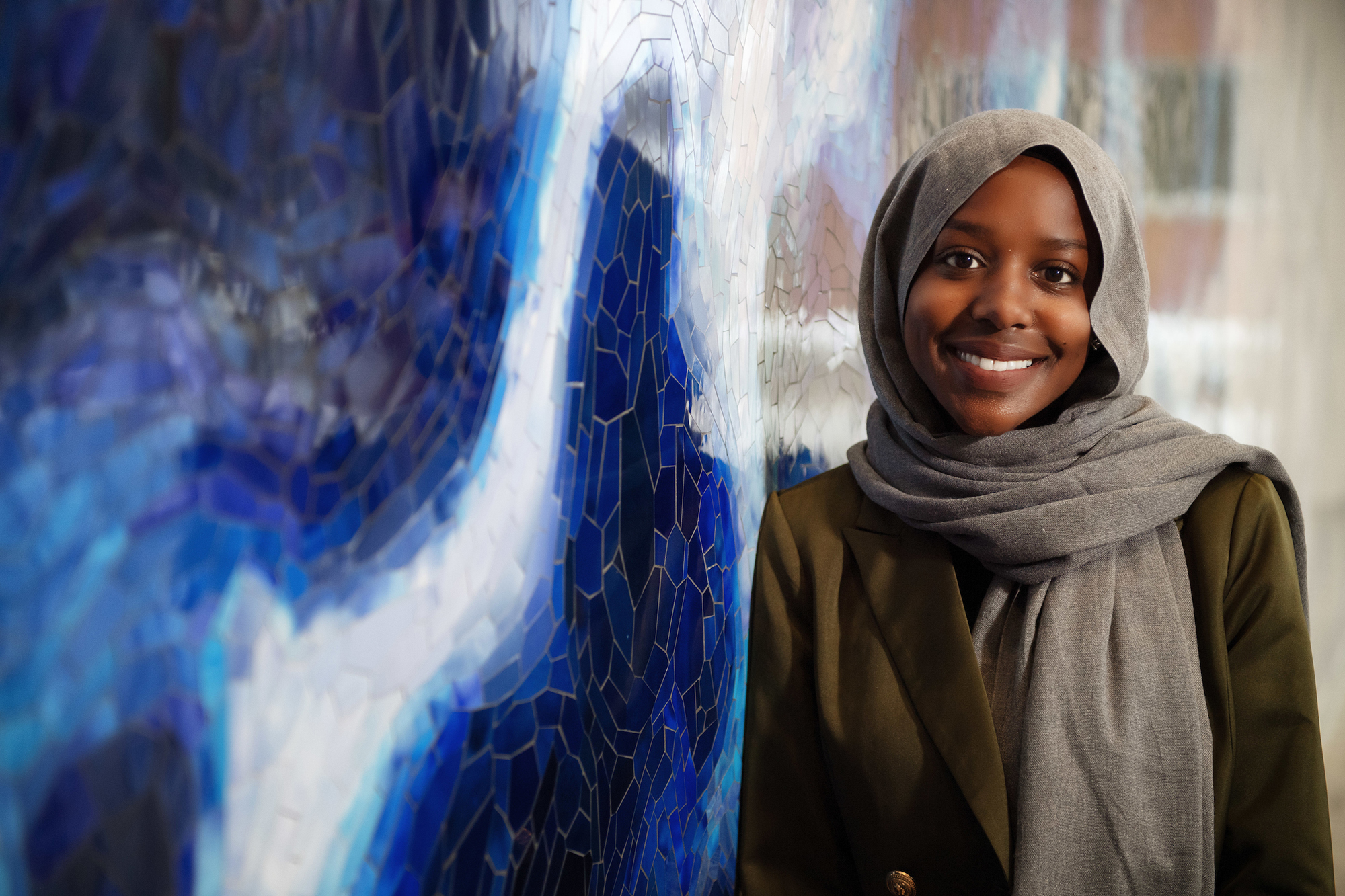 Tartil Ali is thankful for the role models in her life, and the University of Iowa student looks to pay their contributions forward through her work on campus, in the community, and in a future health care career.
Nora Yahia was the first woman in her family to graduate from college, and the University of Iowa alumna served as an early role model for her niece, Tartil Ali. The fourth-year student who was born in Sudan and moved to West Des Moines at the age of 6 followed her aunt to Iowa City—and into her area of study, psychology.
"I used to come visit Nora, and she showed me the ropes and the resources that the university offered," Ali says. "She helped build a path for me to feel like I could be successful in the future."
Now Ali is paying the support she got from her aunt forward. As president of Women in STEM Ambassadors—a group of undergraduate women pursuing science, technology, engineering, and math (STEM) degrees—Ali helps organize K–12 and community outreach activities, plan professional-development opportunities, and provide services to local organizations.
Ali says it is empowering to provide support as well as receive it from other women like her on campus. She also enjoys seeing children's eyes light up when she helps them with science activities.
"One of the reasons I got involved was because I wish I knew more people in STEM who had similar backgrounds and struggles as myself," Ali says. "I want to show that you don't have to fit a certain stereotype to succeed."
Ali's future plans include continuing to give back. After graduating in May, she intends to get a Master of Science, apply to medical school, and join an organization similar to Doctors Without Borders.
"Growing up in Sudan, I saw a lot of health disparities," Ali says. "Health care can be poor, and a lot of doctors don't have adequate training. Seeing that inspired me to make a difference not only for African communities but minorities in general. I want to be able to travel and give back to similar communities."
Traveling with a group from the UI to the Dominican Republic over winter break to study health systems only encouraged Ali to continue along her path.
"I can say hands down that was the most memorable moment of my life," Ali says. "I was able to see a broader, deeper definition of health disparities, and learned that no matter what I decide to do in the medical field there's always a way to give back to communities that are struggling. Thanks to that opportunity and experiences provided by mentors on campus, I have the necessary tools to be able to further seek my education."
Ali is building on her academic foundation by taking advantage of research opportunities and health and science programs at the UI.
The mission of the Iowa Biosciences Academy (IBA) program is to identify academically talented underrepresented junior and senior students with aspirations for a research career and provide them with first-rate training that will facilitate their entry into PhD programs in the biomedical, behavioral, and biophysical sciences.
Through her participation in the Iowa Biosciences Academy, she is working with Daniel Tranel, F. Wendell Miller Distinguished Professor in Psychological & Brain Sciences/Neurology, as a research assistant. Ali says she has appreciated the chance to train at University of Iowa Hospitals & Clinics and learn about the lesion method in her work analyzing the outcome of epilepsy surgery in patients with a history of traumatic brain injury.
"I knew UI was big on health care, but I didn't know they provided this many research opportunities, or that undergraduates could get involved," Ali says.
Summer Health Professions Education Program
The Summer Health Professions Education Program (SHPEP) is a free summer enrichment program with a goal to strengthen the academic proficiency and career development of students underrepresented in the health professions and prepare them for a successful application and matriculation to health professions schools.
Ali also took part in the six-week Summer Health Professions Education Program, which she says she applied to thanks to another role model, Denise Martinez, associate dean and clinical associate professor of family medicine in the UI Carver College of Medicine.
"I initially wasn't going to, but she encouraged me, and I'm glad because it was a life-changing experience," Ali says. "Through networking opportunities, shadowing health care providers, and being able to take preparatory courses, the program gives students an upper hand and bigger support system."
Martinez says Ali has served as an important role model to others, inspiring others to consider careers in STEM.
"Tartil is a passionate person who cares deeply about health disparities," Martinez says. "She will no doubt make a big impact."
As Ali prepares to graduate, she's grateful for the mentors she's had and urges current and future students to find mentors of their own who can help them along their paths.
"Don't be scared to ask questions or to show your weaknesses," Ali says. "When you show your weaknesses, it allows others to help you. It's OK to be vulnerable. College is about creating new experiences and following your aspirations. The only way to do that is to accept help."
She also encourages students to seek out their community and support system on campus.
"I didn't know much about Iowa City before coming here," Ali says. "I did not realize there was a large community of Muslims or any minorities. Through my search to belong, I was able to build my community and support system. I realized the most important thing you can do is surround yourself with those who will allow you to not only grow but thrive. Now Iowa City is a place I can forever call home."