Helping to maintain bed capacity during COVID-19 surge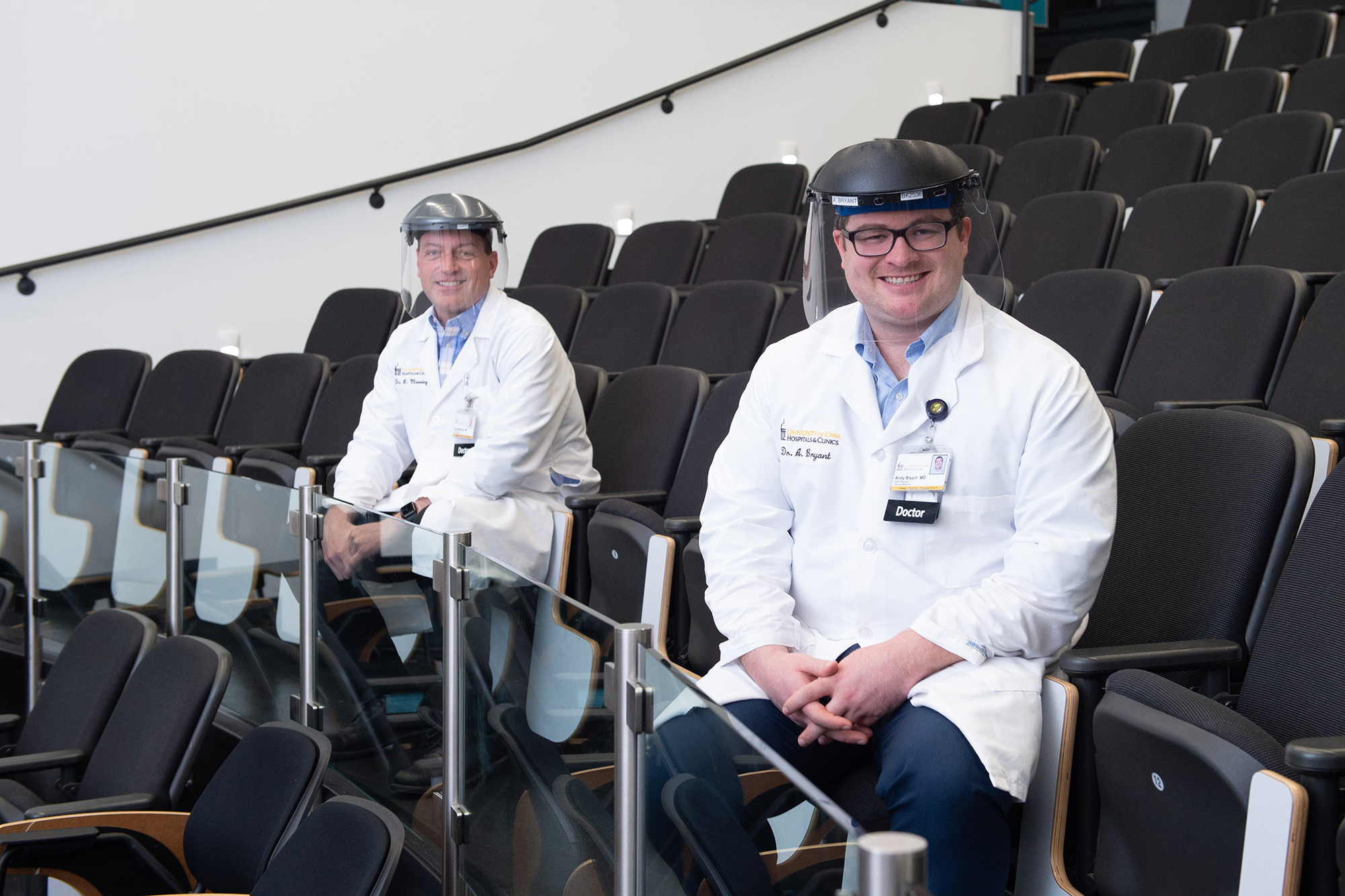 As cases of COVID-19 surge, one potential solution that may allow hospitals to care for more patients with the virus without exceeding their bed capacity is a "virtual hospital" model, such as the one used by University of Iowa Health Care's Home Treatment Team.
Bradley Manning, MD, (left), and Andrew Bryant, MD, two clinical assistant professors of internal medicine and hospitalists with UI Health Care, helped develop a program that provides direct daily care and support to non-hospitalized patients with COVID-19.
The University of Iowa Health Care's Home Treatment Team (HTT) provides direct daily care and support to non-hospitalized patients with COVID-19 who have underlying medical problems. Patients track their vital signs (blood pressure, heart rate, temperature, and blood oxygen) daily and receive "virtual" visits via phone or video from the providers to check on their progress. Providing virtual care helps most patients recover in the comfort of their home. Close monitoring means patients who need extra assistance can rapidly get to the hospital or emergency room.
As of Feb. 25, 2021, more than 1,800 patients have received care through UI Health Care's "virtual hospital" HTT program. All of the patients enrolled in the program have underlying health factors that put them at increased risk for hospitalization, needing ICU care, and even death. Despite this higher level of risk, only around 8.9% end up needing to be hospitalized and the survival rate for patients in the program is 99.6%. Moreover, the ability to keep even high-risk patients out of the hospital helps maintain the availability of inpatient beds.
The HTT can also decrease the length of stay for patients already in the hospital with COVID. About one third of patients enrolled in the HTT enter the program upon discharge from hospital. Because the program provides follow-up care at home, these patients can be discharged days earlier than if that care was not available.
"This program has had a huge benefit for our patients," says Theresa Brennan, MD, UI Health Care chief medical officer. "It has also had a major impact on our ability to manage this pandemic by safely caring for patients out of the hospital and keeping hospital beds open for those who need them the most."
Evolution of the program
Since its start in April as one of the first in the nation, the UI Health Care's HTT has continued to evolve. The team now classifies patients who test positive for COVID-19 into high-risk and low-risk groups. People who a have a higher risk of developing problems, about 10% to 20% of all patients with COVID-19 seen at UI Hospital & Clinics, are followed by the HTT team. Patients who are at lower risk of problems, mostly younger people with no underlying risk factors, are followed by staff from the Influenza-like Illness Clinic.
Leaders of UI Health Care's HTT have reached out to other health system leaders to share the success of the HTT and offer assistance to help establish similar programs elsewhere. Genesis Health System in Davenport recently implemented a Home Care program modeled after the UI program.
"What started as a program to ensure excellent patient care for our patients with COVID-19 has proved to have important benefits for our health care system and staff, too," says Bradley Manning, MD, clinical assistant professor of internal medicine and a hospitalist with UI Health Care. "As we implement many efforts to help prevent Iowa's health system from being overwhelmed, this approach offers another mechanism to keep hospital beds open for those who need them the most, while providing appropriate, safe care for patients with COVID-19."