Channeling her heritage to help others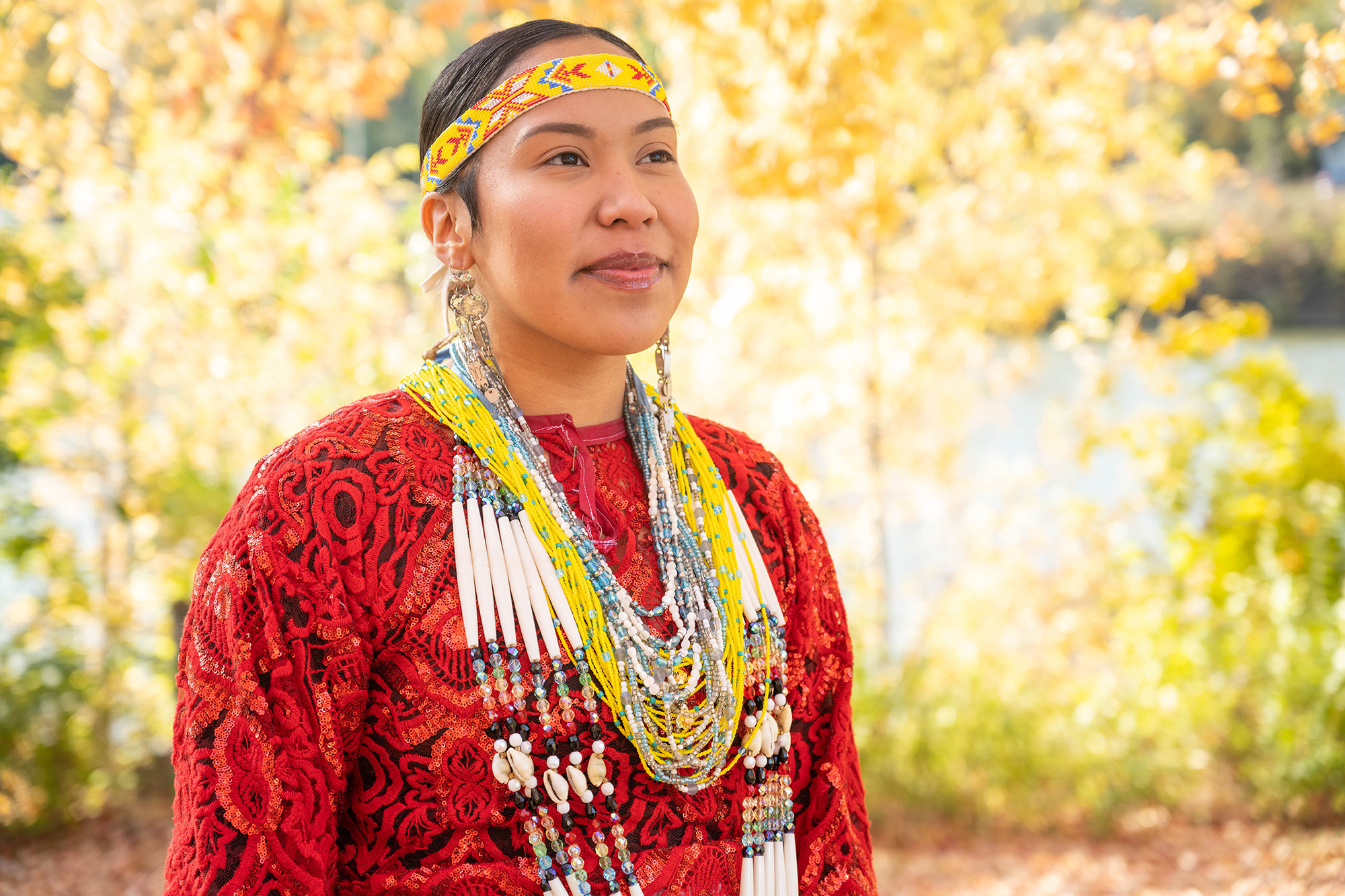 Having built connections and found a supportive community on the University of Iowa campus, Queta Wanatee-Diego strives for a career where she can shine a light on Native American culture and have a positive impact on many lives.
Having grown up on the Meskwaki Settlement in Tama, Iowa, Queta Wanatee-Diego has always been surrounded by her Native American heritage. The roots of the Sac & Fox Tribe of the Mississippi in Iowa, with whom her family is affiliated, go back centuries.
As a first-generation minority student, Wanatee-Diego says going off to college meant not only leaving her home, but an entire community that feels like one big family.
"Being Native American, it feels like you're related to everyone in your tribe. Both sides of my family are just so big," she says. "I like to joke that everyone's my cousin."
Thanks to her family's personal ties to the UI, Wanatee-Diego says she's always felt a connection to the university, which made her transition as a college student a lot easier.
"The first time I got to visit the Latino Native American Cultural Center (LNACC) on campus, I found pictures of my family from like the '90s. To me that felt like a sign that I'm supposed to be here, that this was my home. All because of that connection that was established when I was growing up."
Queta Wanatee-Diego says her heritage remains a big part of her life and has played an even bigger role since coming to Iowa.
"My grandparents were big on culture, so I grew up going to a Native American church, participating in ceremonies, and dancing in powwows—which I still do now," she says. "Since going to college, I feel like I've been able to showcase my culture on a deeper level, especially during times like Heritage Month, when I'm so involved with the activities going on. I now see Heritage Month as a time of celebration. A time to embrace who we are as Native Americans and to flaunt that cultural aspect we still have despite the adversity our ancestors went through. I want people to know that we're still here."
Wanatee-Diego knew from an early age that her purpose in life was to help others, and it was when she applied for college as a first-generation student that she decided to make that the focus of her career.
"My mom is very supportive. Even though she doesn't have a big understanding about college, she always does the best she can to help me, so I'm super grateful for her. But when it came to things like filling out college applications and applying for scholarships and financial aid, I pretty much had to figure it out all by myself," she says. "Those were big challenges for me, but I knew I had to do it for my family, especially my younger siblings. I want to be that role model for them so they don't have to face the same challenges I did. I want a career that will allow me to make sure they feel supported in every aspect of their future."
Now in her third year as a political science major, Wanatee-Diego is on the pre-law track with plans to attend law school at Iowa—a career path much different than what she originally had in mind.
"When I first started school, I was majoring in chemistry so I could go into forensic science," Wanatee-Diego says. "I've always wanted a career where I could help people, so at first, I thought I wanted to do that by solving crimes. But a lot came to light during the pandemic—all the injustices and how flawed the system can be. I felt like I needed to go in the legal direction to help people."
In addition to her experiences as a first-generation student, Wanatee-Diego says her Native American heritage has also inspired her passion for helping others.
"I want to help people. I want to be that advocate, that person people can look up to as a role model. Especially being a Native American, a minority, I feel like that representation is needed now more than ever," she says. "Putting myself out there to represent the Native American community will show people that if I can do it, they can do it too. I know I put that responsibility on myself, but I didn't have that guidance growing up, so I've decided I want to be that person for anyone who needs it."
Through her involvement with the cultural centers at Iowa, Wanatee-Diego says she's been able to build connections and find a supportive community on campus.
"When I first got to campus, I wanted to do everything I could to be a part of the Native American community here. I thought joining the LNACC would allow me to meet people and build a handful of strong connections, and it definitely did," she says. "I come from a very small, close-knit community, and there's thousands of people here, so going to college was a bit of a  culture shock. The LNACC was a way for me to lighten the load a little bit and find my community."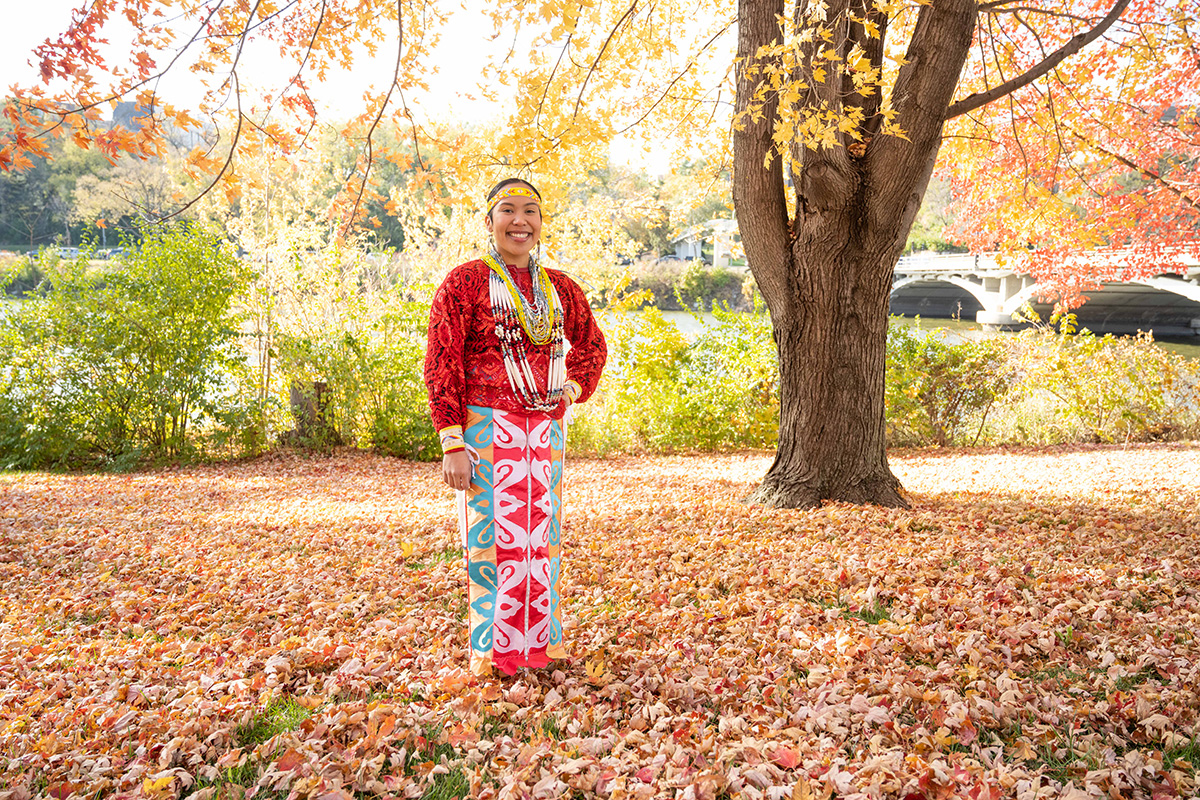 "I want to help people. I want to be that advocate, that person people can look up to as a role model. Especially being a Native American, a minority, I feel like that representation is needed now more than ever."
University of Iowa undergraduate student
Out of all the connections she's made at Iowa, Wanatee-Diego says Isabela Flores, coordinator for the LNACC, is the person she can lean on the most.
"Isabela has been my biggest supporter at Iowa. We talk every day, not just about work-related things, but things like how school is going. She's the one who's helped me make a lot of my connections with people at the law school and has even connected me with new job opportunities. She knows I want to be an advocate, and she's been that advocate for me."
From their time working together in the LNACC, Flores says Wanatee-Diego has offered a fresh perspective on culture and has proven her ability to make a positive impact in the community.
"What I saw in Queta and what pulled me to hiring her was the new perspective she brought to the LNACC," she says. "She possesses some very foundational pieces of being a great leader. Being able to learn about others and their stories, moving cautiously and intentionally to represent folks as best as she's able, having a curiosity of humans and working to find out how she can support them, and moving in caring ways all inform me that Queta will continue to grow into a phenomenal student leader. We're just now witnessing her beginnings, and I know we will be amazed at how she continues to grow while here and in the future as a lawyer."
Latino Native American Cultural Center
Founded in 1971, the Latino Native American Cultural Center (LNACC) aims to develop and foster a sense of belonging where students can authentically engage with their personal, academic, cultural, emotional, and spiritual identities in a safe, trusting, loving, non-competitive, non-judgmental, yet challenging space. Over the years, this center has become home to many students and student organizations that sponsor conferences, powwows, study groups, community educational programs, boycotts, and rallies to address community and campus issues.
Wanatee-Diego differs from the stereotypical leader in that she isn't the loudest person in the room. Rather, her warm, welcoming presence allows her to be just as effective behind the scenes—which Flores says shows her commitment of putting others' needs before her own.
"Queta demonstrates that she doesn't need all people's attention on her. This may be a bonus for some and can alter the way that they show up for community. But for Queta, she will always show up with the same dedication and care, no matter who is watching," Flores says. "Her humility in her natural ability to support the community in large and small ways is admirable."
Along with helping her build a network of connections, Wanatee-Diego says the cultural centers on campus have allowed her to grow even closer to her heritage.
"Since joining the LNACC, I feel like I'm able to embrace my culture more. When I was younger, in early middle school and high school, I never really got to see my culture celebrated. And when it did happen, I was almost embarrassed because I was so different than everyone else. But now, I realize there are so many people who appreciate my culture and that I should be proud of where I come from. The LNACC has really helped me do that."
After graduation, Wanatee-Diego plans to travel in pursuit of career opportunities that will allow her to be an advocate.
"For me, it's all about whether I can help people," she says. "I'll eventually come back to my roots in Iowa, but for now I want to travel so I'm able to spread awareness for my culture and to broaden the positive impact I can have on others."
As someone who's found nothing but positivity from the LNACC, Wanatee-Diego advises future Hawkeyes to get involved with student organizations as much as possible.
"Get involved as much as you can and make those connections with people. Even though there's tons of people here, there have definitely been times when I've felt alone," she says. "Leaving your family and the everyday life you're used to can be really hard, so making those connections and having a solid support system is really important."