Finding inspiration, and championing the underrepresented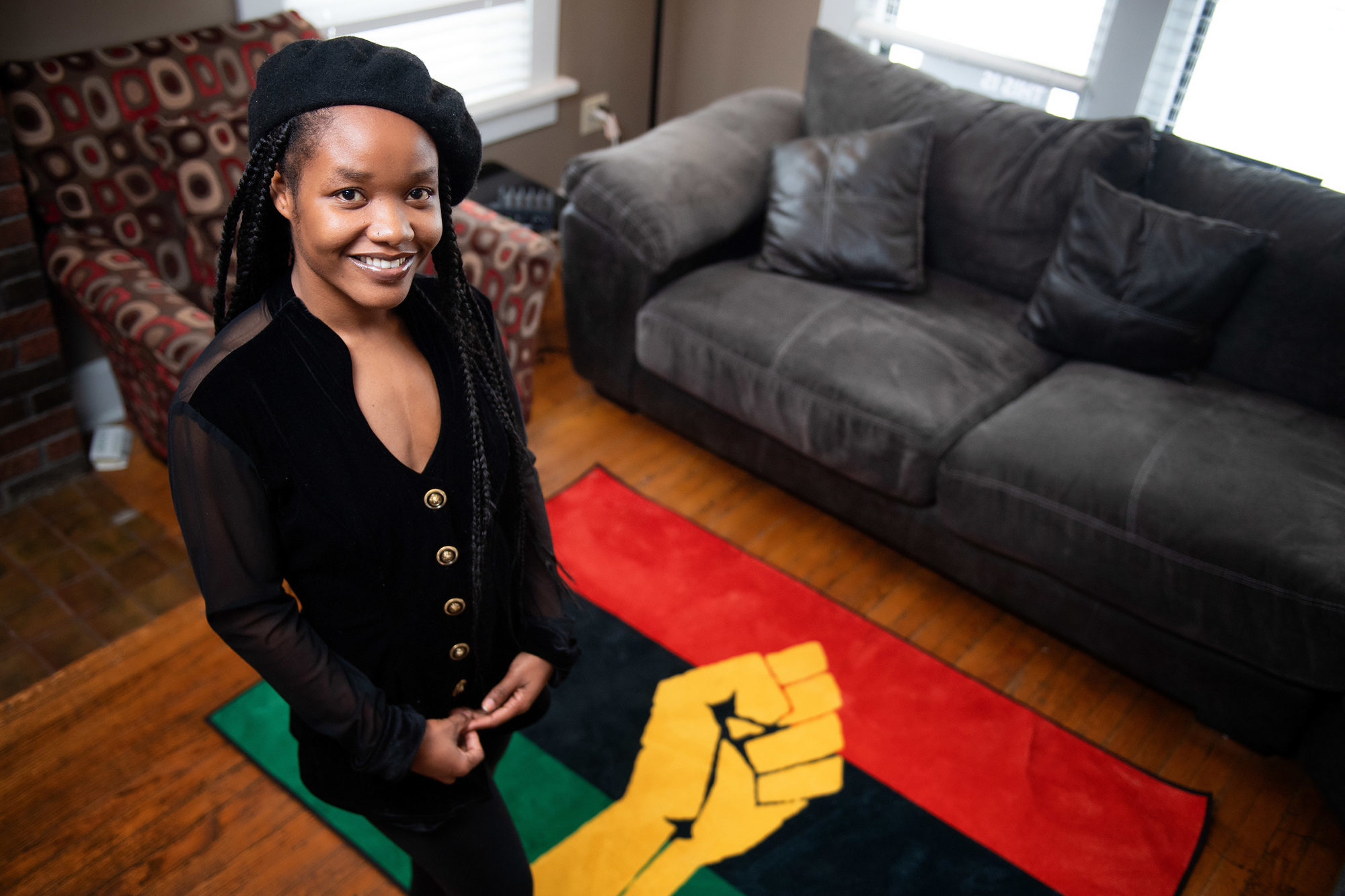 After a childhood amid civil unrest in Ivory Coast and times of financial hardship in Des Moines, Adeline Barron found inspiration at the University of Iowa. Here, she is a champion for underrepresented voices on campus, and aims to have a career in higher education administration.
Adeline Barron's life has been about overcoming obstacles.
Barron was born a refugee in Ivory Coast, after her mother fled her home country of Liberia while pregnant. After resettling in Iowa, Barron's mother worked demanding, minimum-wage jobs to make ends meet.
Barron enrolled at Iowa State University but left after a little more than a year, beset by doubts she belonged in college.
She then enrolled at the University of Iowa in January 2019, still unsure what she wanted to study and struggling to find her place.
A year later, Barron is a senior who plans to earn a graduate degree in higher education administration. She is the black constituency senator in UI Student Government (UISG). She is an advocate for minority rights and representation on campus and part of a diverse group that meets quarterly with UI President J. Bruce Harreld.
And, she wants to make a career out of inspiring minority students to succeed in higher education.
"I feel like I've endured some of the things that push people who look like me out of universities," says Barron, who is a communication studies major with a minor in African-American studies. "I feel like I've overcome them, and I can't wait to be able to find ways to help others."
Barron's story is one of resilience. She and her mother lived nine years in Ivory Coast, a country marred by civil strife, dangerous streets, and nightly curfews. A United Nations refugee program helped them leave the country and settle in Des Moines. But even then, times were hard: Her mother labored at a plastics factory making $7.25 an hour. The two for a time lived in low-income housing and relied on the church they attended for clothing, furniture, and a car.
Through it all, her mother stressed the value of an education.
"She would say a college education is not optional. That's the key out of my tax bracket, out of my situation," Barron says. "College was the way. I don't like to be tested, but I love being educated."
Barron entered Iowa studying business and planning to parlay her major into a career in sales. But those plans began to change when she went to an Association of Big Ten Students conference and noticed the lack of diversity among the student representatives there.
Barron's interest in switching her major grew when she was given a class assignment to learn about someone in another field. At a roundtable meeting, Barron noticed Tabitha Wiggins, associate director for multicultural and international student support and engagement in the UI Division of Student Life.
"I asked her if I could interview her for my assignment," Barron says. "And the funny thing is, I was thinking, 'Wow, wouldn't it be amazing if I walked in and got myself a mentor?' And we talked, and she said, 'If you need a mentor, I would gladly be one.'"
Wiggins says she took an interest in Barron in part because aspects of her upbringing—growing up black, raised by a single mother, lower-income background—were similar to her own. She praises Barron for being thoughtful, empathetic, and courageous.
"She's met challenges with resilience and grit," Wiggins says.
"We all need someone to believe in us, someone to push us. I want to be that person because a lot of people have been there for me, and that's the only way I can pay it back. And I just think black girls are so magical, and with more representation, visibility, the magic is just going to continue to be unlocked."
University of Iowa senior who plans to earn a graduate degree in higher education administration
With support from Wiggins, former vice president of student life Melissa Shivers, and others, Barron found her stride. She overcame some initial hesitancy and joined UISG, advocating for more financial resources for minority organizations on campus. As the black constituency senator, Barron is the liaison between minority student groups and UISG, as well as a link to the central administration more generally.
"I got an email that was saying they were looking for a black constituency senator," Barron says. "I figured, 'You know what? You want it. Why not?'"
She continues: "I went, and I realized that there really was a need for more diversity on UISG. It made me realize that there was a need for people who look like me who understand the necessities for black student organizations, who can sit there and make decisions."
With her student government experience, what she's learned in classes, and her regular meet-ups with Wiggins, a career path crystallized: higher education administration.
"I want to focus on student affairs, especially on the retention of marginalized folks," Barron says. "Why? Well, there's not enough of us. It's about accessibility and also being able to stay here once you get here. And we need to find ways to fix those things, to better impact people."
Wiggins is proud that Barron has found her purpose.
"I'm excited to see where she's going to go at Iowa and in life," says Wiggins, who has a master's degree in higher education administration. "She's finding opportunities where she can thrive, and it's awesome to watch."
Barron hopes her journey may inspire others, just as her mother and others have influenced her.
"We all need someone to believe in us, someone to push us," Barron says. "I want to be that person because a lot of people have been there for me, and that's the only way I can pay it back. And I just think black girls are so magical, and with more representation, visibility, the magic is just going to continue to be unlocked."