Writing the 'Into the Wild' bus's next chapter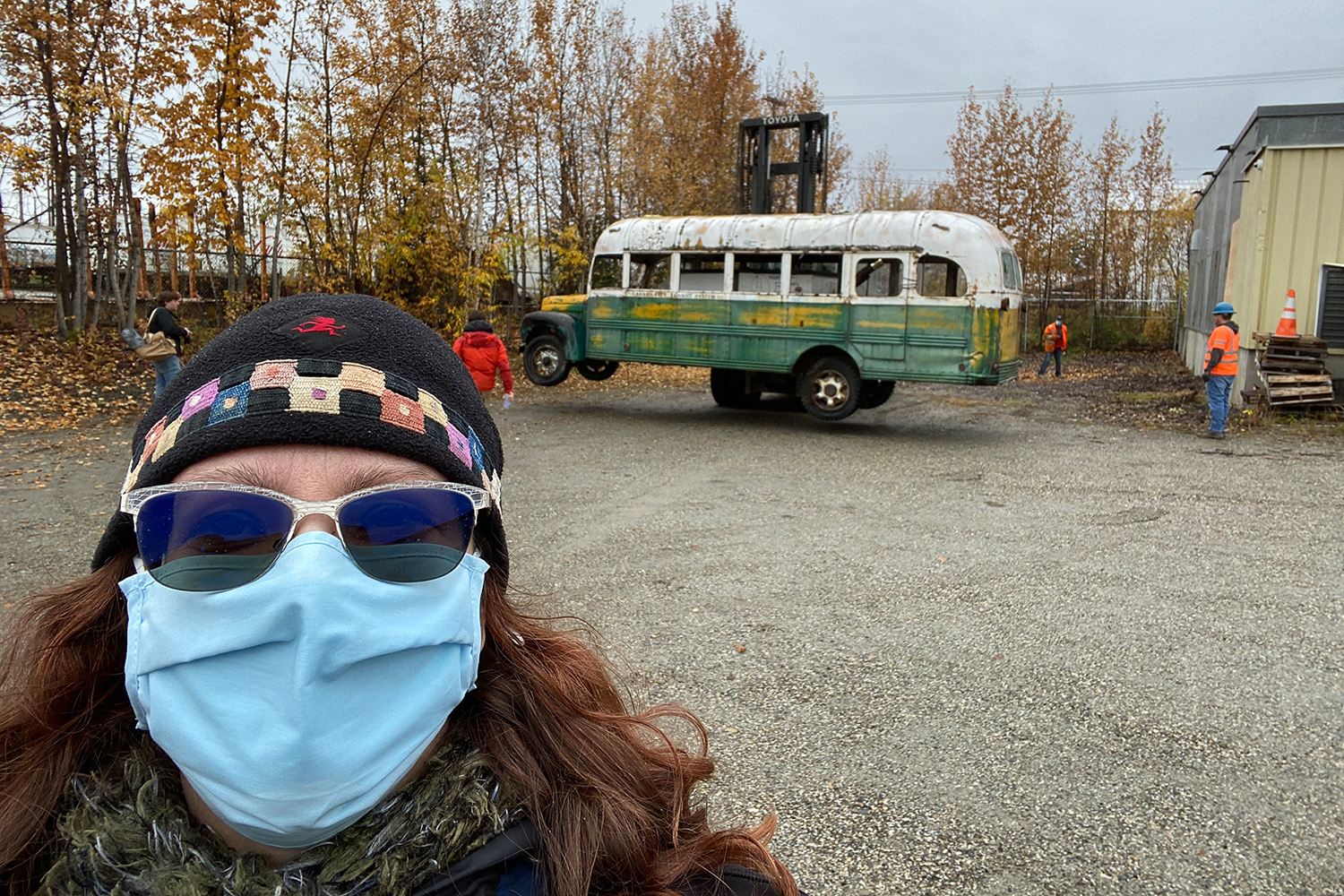 University of Iowa alumna Angela Linn, a museum professional for more than 26 years, is developing a plan to conserve, interpret, and exhibit the bus made famous by Jon Krakauer's book about Christopher McCandless.
Bus 142 has been the site of many stories. It was a Fairbanks, Alaska, public transit bus in the 1940s and '50s before being towed to the Stampede Trail near Denali National Park to serve as a work crew camp and eventually a temporary shelter for backcountry travelers. But it gained international fame 25 years ago with the publication of Jon Krakauer's book Into the Wild, which told the story of Christopher McCandless, who came to Alaska to live off the land alone and stayed in the bus until his death in 1992.
In summer 2020, after numerous search-and-rescue operations and the deaths of two people trying to reach the site over the years, the rust-covered green-and-yellow bus, also known as the Magic Bus, was airlifted out of its remote home and found its way to the University of Alaska Museum of the North (UAMN) in Fairbanks.
Bus 142's story now is partially in the hands of Angela Linn, a native Iowan and 1994 University of Iowa graduate.
Meet Iowa alumni, such as Angela Linn, with interesting careers, backgrounds, and stories to tell in this series of virtual engagement sessions.
"This bus has stood witness to many changes in Alaska," says the senior collections manager of ethnology and history at UAMN, who is developing an exhibit around the bus. "I try to think about what it has seen throughout its life, where it has traveled, and the people who have interacted with it. We want to create an experience where people can pay their respects or connect with whatever part of the story that they connect with, and do it in a safe space."
Linn says the education and experiences she got at Iowa set her future and career in museums in motion, and she tries to pay it forward to the students she works with now.
"As a student, I was able to really contribute to the success of our museums, and I want my students to get the same sort of hands-on opportunities I got at the University of Iowa," Linn says. "I want students to think about objects in the same way that they think about books and how they can represent knowledge, lives, and experiences of people everywhere."
Linn seemed almost predestined to attend Iowa.
"I grew up right down the road in Solon, so the University of Iowa was always a big part of my formative years," Linn says. "My dad graduated from there. My parents met in Iowa City. My uncle got his law degree there. My grandpa attended school there before he went off to WWII. I went to band camps there. And we went to the awesome museums on campus."
Linn says she was a little nervous about attending a Big Ten school after growing up in a small town, but two things especially helped her feel more comfortable: One was a program that placed first-year students into groups that attended seminars and some core classes together for the first two years of college. The other was joining the Hawkeye Marching Band.
"I immediately had that big extended family that musicians so often form," Linn says. "And that was hugely influential in making the transition to college."
Linn decided to major in anthropology, along with pursuing a minor in religious studies and a concentration in museum studies.
"I was interested in learning about cultures of the past, as well as living cultures, and finding ways to tell the stories of those people and places," Linn says. "I remember the feeling of dropping down into the lower-level gallery of the art museum to see the Jackson Pollock painting. I have so many memories of walking through those spaces and being exposed to art from all around the world and cultural materials from the Africa or Native American collections. It was really an anchoring experience for me in terms of the possibilities of exhibits and collections and exposing people to things from all over the world."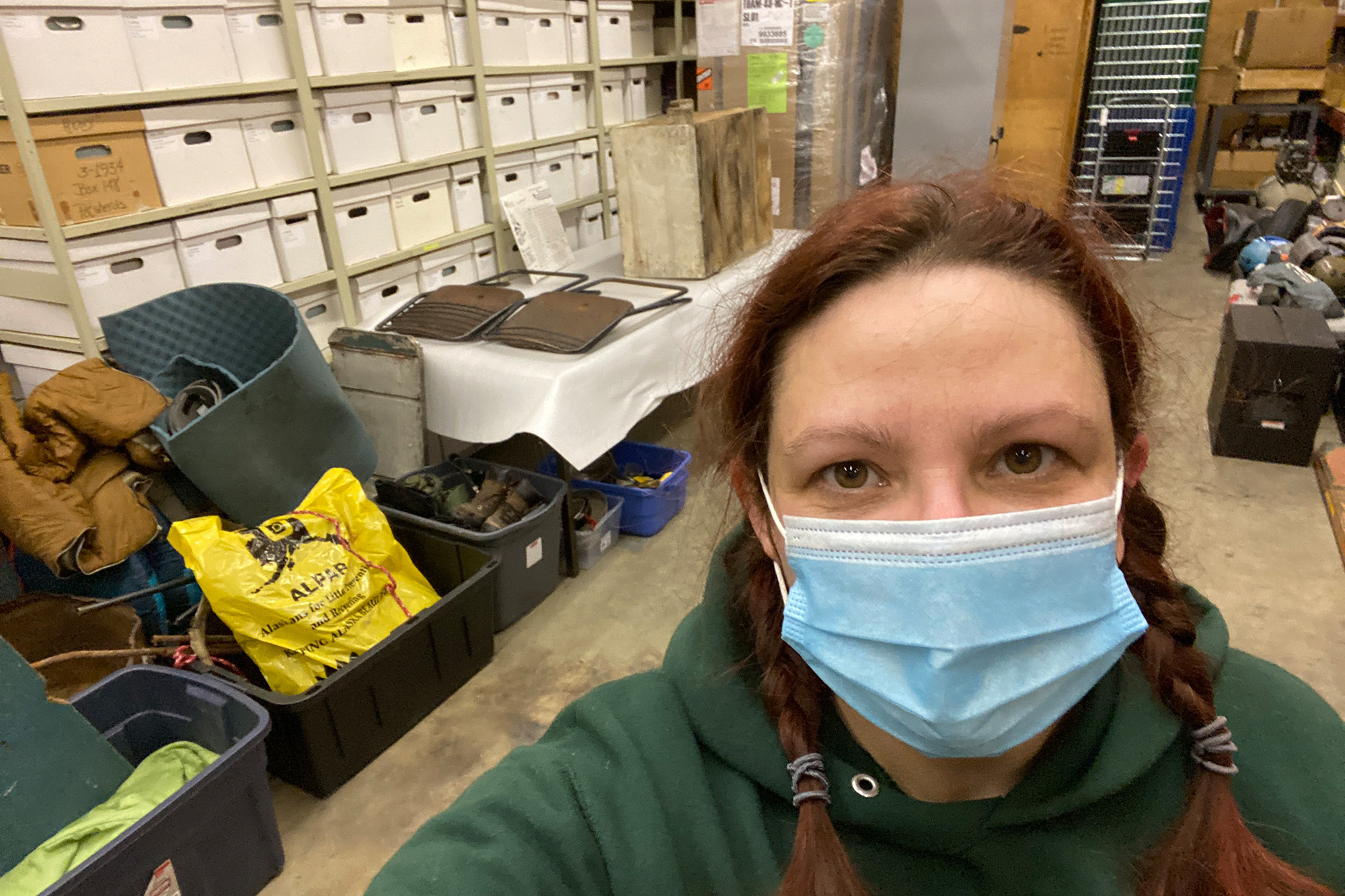 Linn credits working with professionals in the Pentacrest Museums, Stanley Museum of Art, and University of Iowa Libraries for preparing her to go out into the professional world.
"We used the campus museums and libraries as our living laboratories," Linn says. "That's one of the really exciting things about campus-based museums: you have this incredible opportunity to get your hands in there."
Linn says her experiences at Iowa helped her realize early on how important it is to make museums accessible and comfortable for everyone.
"We would walk past the Mammal Hall and Hall of Birds to get to class in the lecture hall in Macbride Hall," Linn says. "It was just part of the environment. And it made me think about how important it is not to set those things apart. People shouldn't feel like there's a big impediment to go through the doors of a museum. But it's often a problem with museums in general that too many people don't feel welcome or comfortable in them. But I felt like the University of Iowa museums did a good job of making them feel like places that you could always go."
During college, Linn spent her summers working for her aunt and uncle's business, the Portage Glacier Lodge near Girdwood, Alaska.
"I knew I wanted to move to Alaska because every year it got harder and harder to leave at the end of the summer," Linn says.
The Monday after Linn graduated, she and her mom packed her Jeep and drove to Alaska. She worked for her aunt and uncle and volunteered at the Anchorage Museum, where she got the chance to work in several departments. In 1996, she started working on her master's degree in anthropology at the University of Alaska Fairbanks (UAF).
She was hired as a collections manager at UAMN in 1999 and later promoted to senior collections manager. She also is currently an interdisciplinary PhD candidate UAF's Arctic and Northern Studies program.
"As a student, I was able to really contribute to the success of our museums, and I want my students to get the same sort of hands-on opportunities I got at the University of Iowa."
senior collections manager of ethnology and history at University of Alaska Museum of the North, 1994 University of Iowa graduate
Linn says she has seen many changes in the museum world over the years, and she appreciates that museums are increasingly including more voices and perspectives.
"We're working to be more culturally inclusive of perspectives that aren't solely based on a white curator reading an academic publication," Linn says. "We're integrating more first-person narratives. When people come and see the works of their aunties and uncles and moms and dads, we want to incorporate their firsthand experiences and knowledge into the collection records so they are more reflective of lived experiences and more valuable and truthful for people who are using them and researching them."
Listening and taking into consideration multiple perspectives will play a big role in developing an exhibit around Bus 142. Many people have strong opinions about the bus, particularly its most famous inhabitant.
"There are people who revere McCandless and what he was attempting to do, going off the grid and living off the land," Linn says. "And they wanted to follow in his footsteps by going out there to pay their respects. But there are also people who think he was crazy and unprepared, and they took it out on the bus by shooting at it or vandalizing it."
While Linn says the exhibit will examine those viewpoints and the aftermath of Into the Wild, it will also tell a bigger story.
"Obviously that's the most famous part of it, but that bus had a whole life before McCandless showed up," Linn says. "There's the story of the Stampede Trail and transportation and shelter in Alaska. These are also important stories to tell."
Being part of an academic institution, Linn says UAMN is particularly suited to tell this story. Along with working with McCandless's sister, they are working with the UAF English department to examine the role the book and film played in the story, along with historians, anthropologists, and biologists, among others.
Linn says her start at Iowa prepared her well for such interdisciplinary work.
"I've worked in pretty much every area of museums, from collections to exhibits to visitor services to painting exhibit cases," Linn says. "I didn't realize at the time how important the interdisciplinary approach that Iowa introduced me to would be to how I think about museum work. I always tell my students to take advantage of every opportunity your professors give you. All of those experiences have served me well over the years."