Dentistry grad creates buying club with bite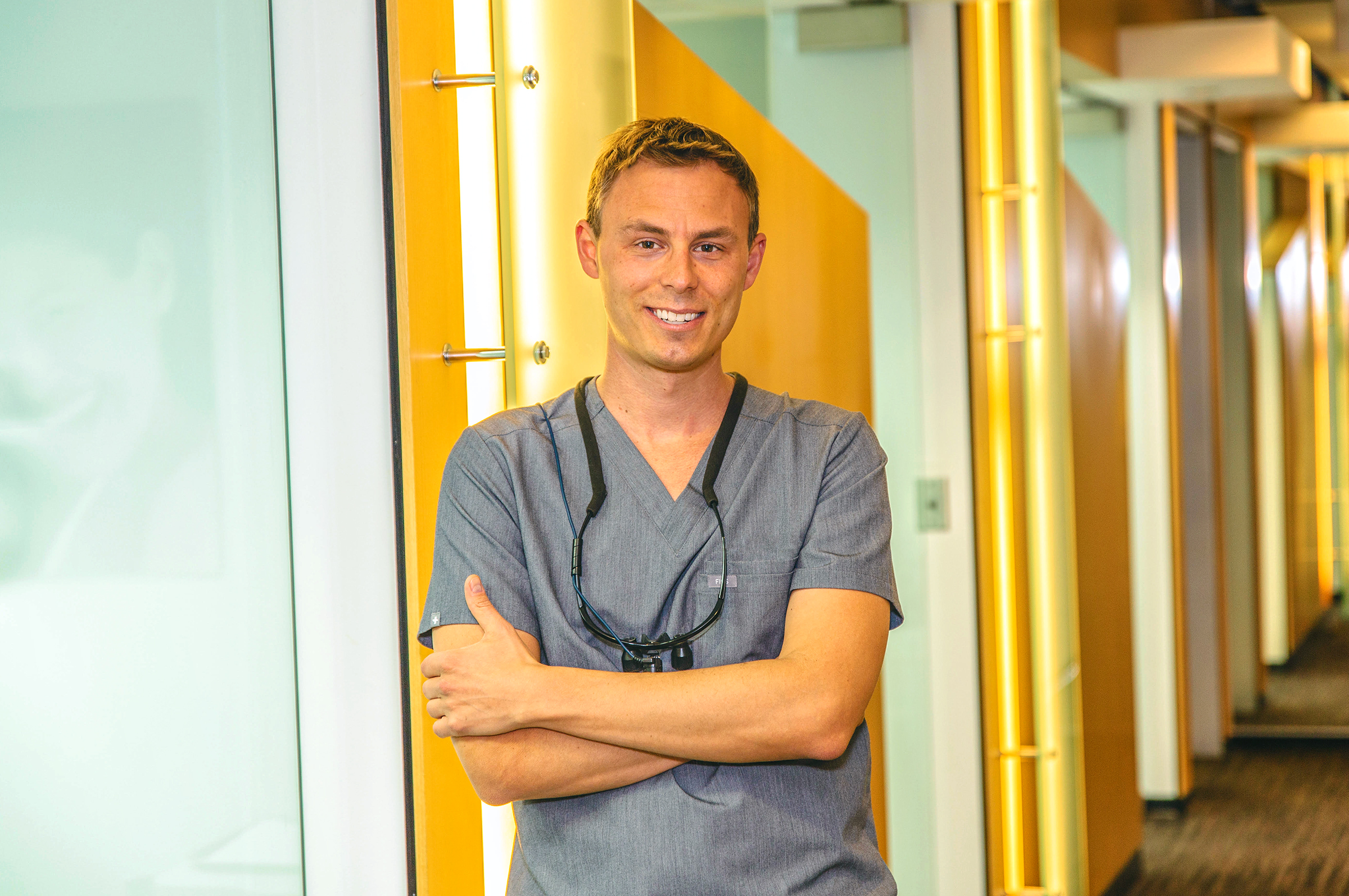 The economic slowdown brought on by the pandemic prompted a University of Iowa graduate to pursue an idea he had been chewing on for years: starting an organization that helps small dental practices secure big discounts.
As Doug Johnson repairs fractured teeth and places veneers in a Los Angeles dental clinic, often treating patients seen on screens large and small, never far from his thoughts are those in the profession who inspired and educated him in Iowa.
The 2014 University of Iowa College of Dentistry graduate and Iowa native practices at a clinic that specializes in aesthetic dentistry and has many clients in the entertainment industry. With dental traffic ebbing during COVID-19, Johnson had the opportunity to put into place a business plan that aims to help small dental offices in Iowa and across the country.
"Teeth Power is like Costco for dentists but membership is free," says Johnson, of the organization he founded at the end of 2020 to provide savings to dentists through bulk discounts on equipment and supplies. "I am so grateful to the University of Iowa College of Dentistry and to all the dentists of Iowa, and I've always wanted to give something back. Especially now with the pandemic, dentists are facing financial struggles, and I figured the best way to help them would be to cut overhead and create savings that they, in turn, could pass on to their patients."
University of Iowa College of Dentistry graduate Doug Johnson moved to Los Angeles because he is an aspiring screenwriter. He took writing classes as an Iowa undergrad and even wrote a screenplay in dental school with Michael Kanellis, associate dean of clinics in the dental college.
"While the College of Dentistry offers a challenging dental curriculum, it also encourages students to pursue the arts," he says. "I went to the University of Iowa to study science. But the classes that made the biggest impact on my life were in the arts."
Johnson has several screenplays in the works. Stay tuned…
Johnson drew on his observations working in a corporate dental office in San Diego, where he was employed for a year after graduating from Iowa. He wanted to see smaller operations enjoy the same corporate discounts, so he formulated the plan for Teeth Power. The idea, he says, is "power in numbers."
"Teeth Power is about bringing together a collective to get the best possible prices on quality supplies, equipment, and services—like a buying club, except that membership is free," says Johnson, noting that the average dental office spends about 75% of its income on overhead costs. "My hope is that all dentists and dental students will sign up, not only in Iowa but across the nation, because it will benefit everyone."
Johnson has partnered with manufacturers such as Brasseler, Nobel Biocare, and Ultradent to provide discounts of up to 50% on products, as well as with companies that offer breaks on payroll, records management, and communication systems. Dentists simply need to sign up on the Teeth Power website to receive the discounts.
"I find inspiration in entrepreneurs who are making a big difference in the world. I want to revolutionize dentistry and really make a big impact so that everyone benefits," he says. "When we launched Teeth Power, we partnered with Oral-B in Iowa City to donate over 2,000 toothbrushes to the Los Angeles Food Bank, and I want to do more of that."
Michael Kanellis, associate dean of clinics in the UI College of Dentistry, says he is not surprised to see Johnson giving back to the community through Teeth Power.
"I had the opportunity to work closely with Doug when he was in dental school," Kanellis says. "It was clear early on that he had a very strong creative and entrepreneurial side."
"My time at the University of Iowa prepared me not only for a dental career but for life. It is such a freethinking place, and it shows you how to make a change and then take action on that change. I'm really proud to be a Hawkeye."
2014 UI College of Dentistry graduate
Johnson, who grew up in Marion, Iowa, reveres his home state and the dentists who cared for him. He even maintains a mobile number with a 319 area code. He says he was drawn to the university in part because his oldest brother had attended and also because he had a positive experience getting braces at UI Dental Clinics when he was 12.
Pursuing a career in medicine had been Johnson's plan—as an undergraduate at Iowa, he studied microbiology and worked in an oncology research lab on campus—but after two years of teaching seventh- and eighth-grade science in Boston, he took the advice of a friend from Iowa and shadowed a dentist.
Training dentists across specialties
The University of Iowa College of Dentistry has educated nearly 80% of Iowa's dentists and is one of only two dental schools in the country to offer advanced education in all nine specialties recognized by the American Dental Association.
"It was a good fit. I really like working with my hands and I liked teaching," says Johnson, who earned a BS in 2008 and a DDS in 2014. "I enjoy the patient interaction and making friends with them. In fact, some of my most loyal patients in LA are from Iowa."
While Johnson says he appreciated the thorough and challenging curriculum in the UI College of Dentistry, he says being a student at Iowa taught him about much more than oral medicine.
"My time at the University of Iowa prepared me not only for a dental career but for life. It is such a freethinking place, and it shows you how to make a change and then take action on that change. I'm really proud to be a Hawkeye," he says. "Iowa City is such a unique and awesome place, and I'll always call it home."