Giving back to Iowa through dentistry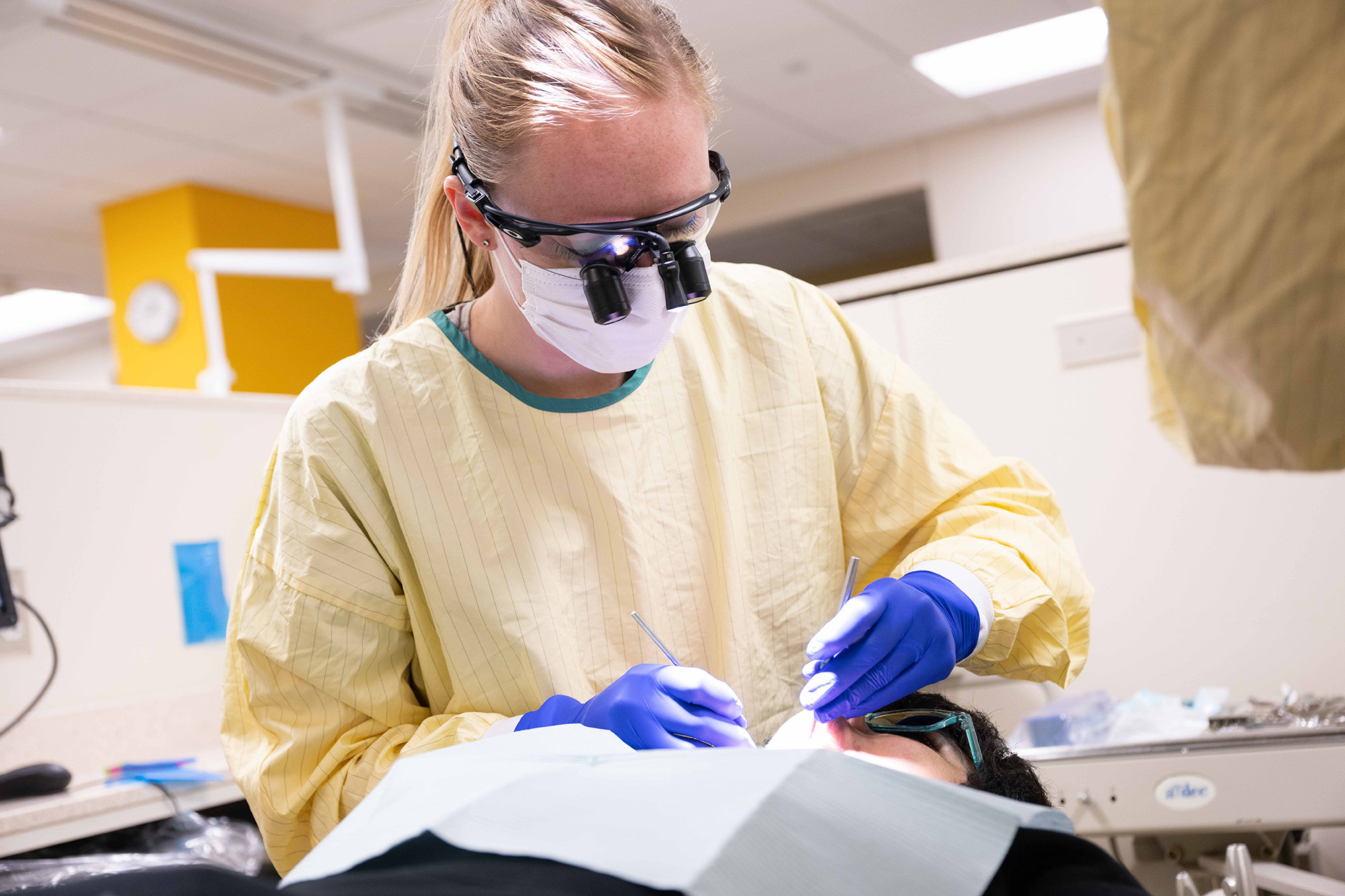 Michaela Bobenhouse's orthodontist in Des Moines, Iowa, inspired her to become a dentist. Now, the third-year UI College of Dentistry student looks forward to creating strong connections with her own patients in the Hawkeye State.
Michaela Bobenhouse has always found the human body fascinating. By the time she got braces in middle school, she already was interested in pursuing a career in a health care field. Her orthodontist suggested she consider dentistry.
"He was super passionate about his job and I could tell that he loved coming to work every day," Bobenhouse says. "He told me that dentistry was a good balance of science, health care, and art. I also loved that you can really make a connection with your patients. There are a lot of areas of health care where you maybe see a patient once or twice, but in dentistry, you usually see your patients twice a year. You get to know them and watch families grow."
As the third-year dental student from Des Moines, Iowa, prepares to go into her final year at the University of Iowa College of Dentistry, she also plans to join the ranks of the nearly 80% of Iowa dentists who are graduates of the college.
"I always knew I wanted to practice in Iowa," Bobenhouse says. "I'm from Iowa and I want to give back to Iowa."
Bobenhouse says the University of Iowa was a perfect choice for her undergraduate studies because of its strength in health care and the resources and opportunities that come with being affiliated with University of Iowa Hospitals & Clinics.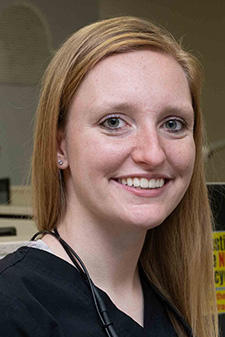 "I always knew I wanted to practice in Iowa. I'm from Iowa and I want to give back to Iowa."
College of Dentistry student from Des Moines, Iowa
While majoring in human physiology and minoring in chemistry, Bobenhouse participated in the UI Pre-Dental Advisory Club and volunteered with Iowa Mission of Mercy, an annual event in which dental professionals and general volunteers donate their time to provide free oral health care to Iowans who face barriers to receiving dental care. Bobenhouse says she may not have had those opportunities or the chance to make connections with faculty and students in the College of Dentistry if she had gone to another school.
While the UI College of Dentistry was always Bobenhouse's first choice, she did apply to a couple other Midwestern dental schools.
"My interviews at the other schools were great, but Iowa felt different and special," Bobenhouse says. "Everyone was so kind and caring, and I felt like I belonged. And everything I thought about the Iowa College of Dentistry was correct. My experience has been so enriching largely because the instructors and faculty are supportive and helpful and just so passionate about learning. And that translates to an incredible education."
Bobenhouse, who is co–vice president of the UI chapter of the American Association of Women Dentists (AAWD), also appreciated that clinical experience starts in year one of the UI dentistry program. Dental students at other schools may not begin seeing patients until year three.
"Iowa has a great reputation for preparing students for the real world, and for being prepared on day one of their career," Bobenhouse says. "It's amazing the number of procedures I've done by the end of my third year. There's an awful lot they can teach you in the classroom and simulation clinic, but it's never the same as actually working with a patient."
For nearly 140 years, the College of Dentistry has been an integral part of the University of Iowa and a resource for the state of Iowa. The college has as many recognized ADA dental specialties as any dental school in the country, each of which is incorporated into our dental curriculum and in advanced training programs. The college's connections involving graduate education and research extend well beyond national boundaries and give the UI College of Dentistry a reputation that is recognized worldwide.
She's also already developing connections with patients in clinic, which is one of the main reasons she wanted to go into the field.
"I've done a few dentures for patients and got to know them pretty well," Bobenhouse says. "One patient in particular wasn't happy with his smile and he had trouble eating since he was missing teeth, but by the end of our time together he was able to eat efficiently and was so much happier with how his smile looked."
After graduation, Bobenhouse plans to go into general dentistry in the Des Moines area. Along with wanting to be close to her family and her fiancé's family, Bobenhouse says there are other benefits to staying in the state.
"I love that you can live in a bigger city like Des Moines and still only be 20 or 30 minutes from a small town. So, you can still have all the opportunities and resources of living in a big city but still make small-town connections," Bobenhouse says. "Also, I never thought too much about that 'Iowa Nice' quote growing up, but it's definitely true. People are genuinely nice here."