Dentistry dream job becoming reality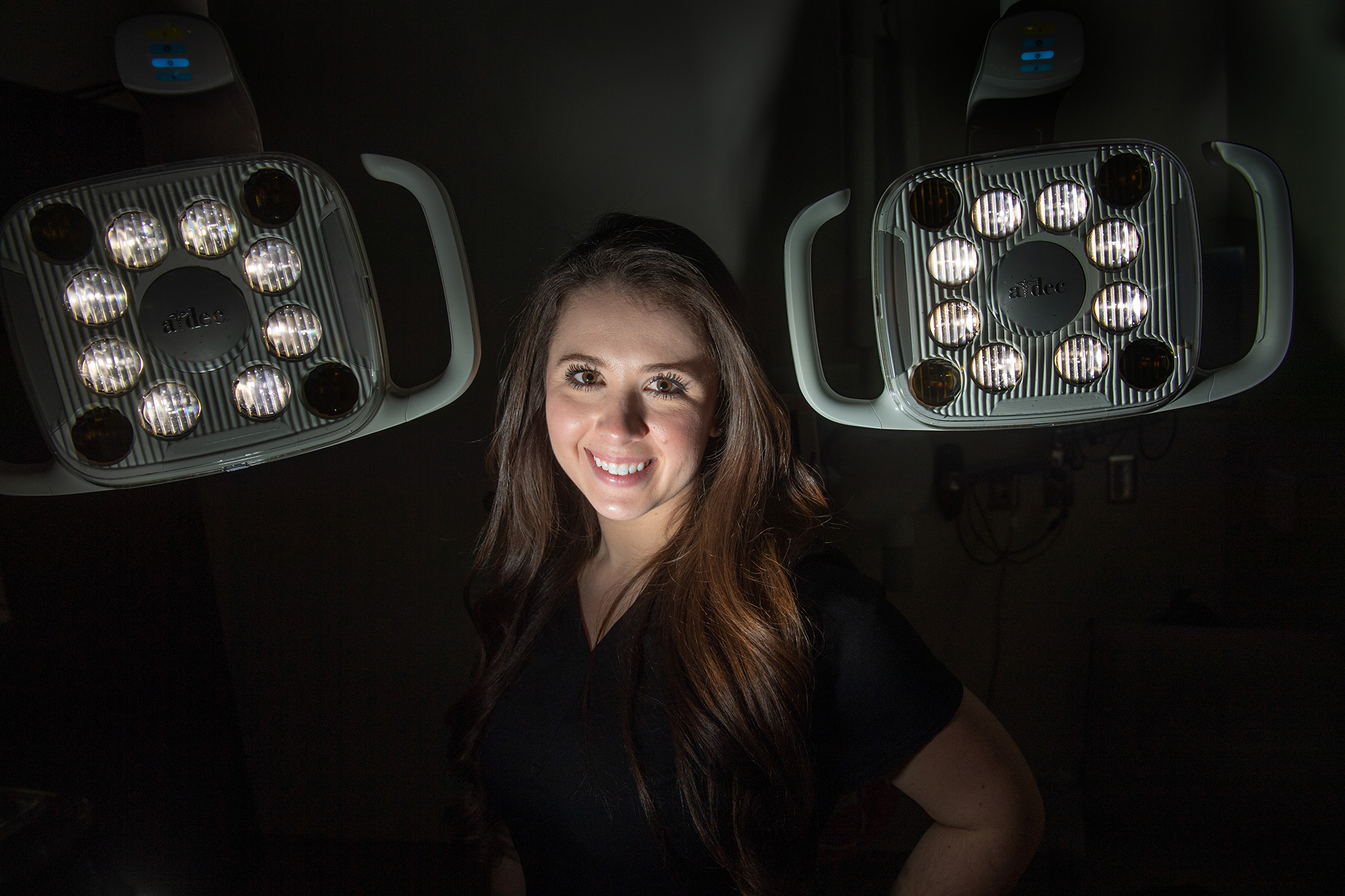 Briar Voy never wanted to be anything other than a dentist. The University of Iowa third-year dental student feels her educational and leadership opportunities are preparing her to jump right into the profession and confidently care for patients.
Briar Voy knew she wanted to be a dentist when she was 3. By 5, she was sitting in the corner of her father's dentist office watching him work—with patients' approval, of course.
"They thought it was adorable," says the University of Iowa third-year dentistry student from Great Falls, Montana. "Dad would come home and talk about his job. He loves being a dentist and he loves his patients. So, growing up, I thought being a dentist was the best job ever."
Her father, Scott Voy, graduated from the University of Iowa (BS, '85; DDS, '88), but he encouraged his daughter to explore multiple schools to find the best fit for her. Voy says she asked fourth-year students at each school if they felt prepared for the real world. The answers weren't always entirely positive.
University of Iowa College of Dentistry
For nearly 140 years, the College of Dentistry has been an integral part of the University of Iowa and a resource for the state of Iowa. The college is one of only a few dental schools in the nation to offer advanced education in all ADA-recognized dental specialties, and its connections involving graduate education and research extend well beyond national boundaries and give the UI College of Dentistry a reputation that is recognized worldwide.
At the UI College of Dentistry, though, the overwhelming consensus was "yes."
Voy appreciates numerous aspects of Iowa's program. One is that clinical experience starts in year one; students at some programs don't get into the clinic until year three. Another is that Iowa students don't have to schedule their own patients.
"I have friends in other programs who have gone out to farmers markets to hand out cards," Voy says. "I don't have to worry about that. I can focus on learning and being a dentist. Iowa is very patient-centered, and I couldn't be happier I chose to come here."
Alongside her studies, Voy has taken on several leadership positions while on campus, including with the Graduate and Professional Student Government and the Iowa chapter of the Hispanic Dental Association. Voy says she appreciates having a good support system across disciplines.
"We focus on interprofessional care," Voy says. "Being able to meet our fellow students in pharmacy, ask questions, and see what they are going through is helpful. I like to help foster that."
Along with being involved in the American Dental Student Association and recently being appointed for a national position on the Associated American Dental Schools Application Service (AADSAS) Advisory Board, Voy also is working to help start a campus American Dental Education Association (ADEA) Chapter for Students, Residents, and Fellows. The group's mission is to promote student interest in education and foster a sense of community among faculty and students.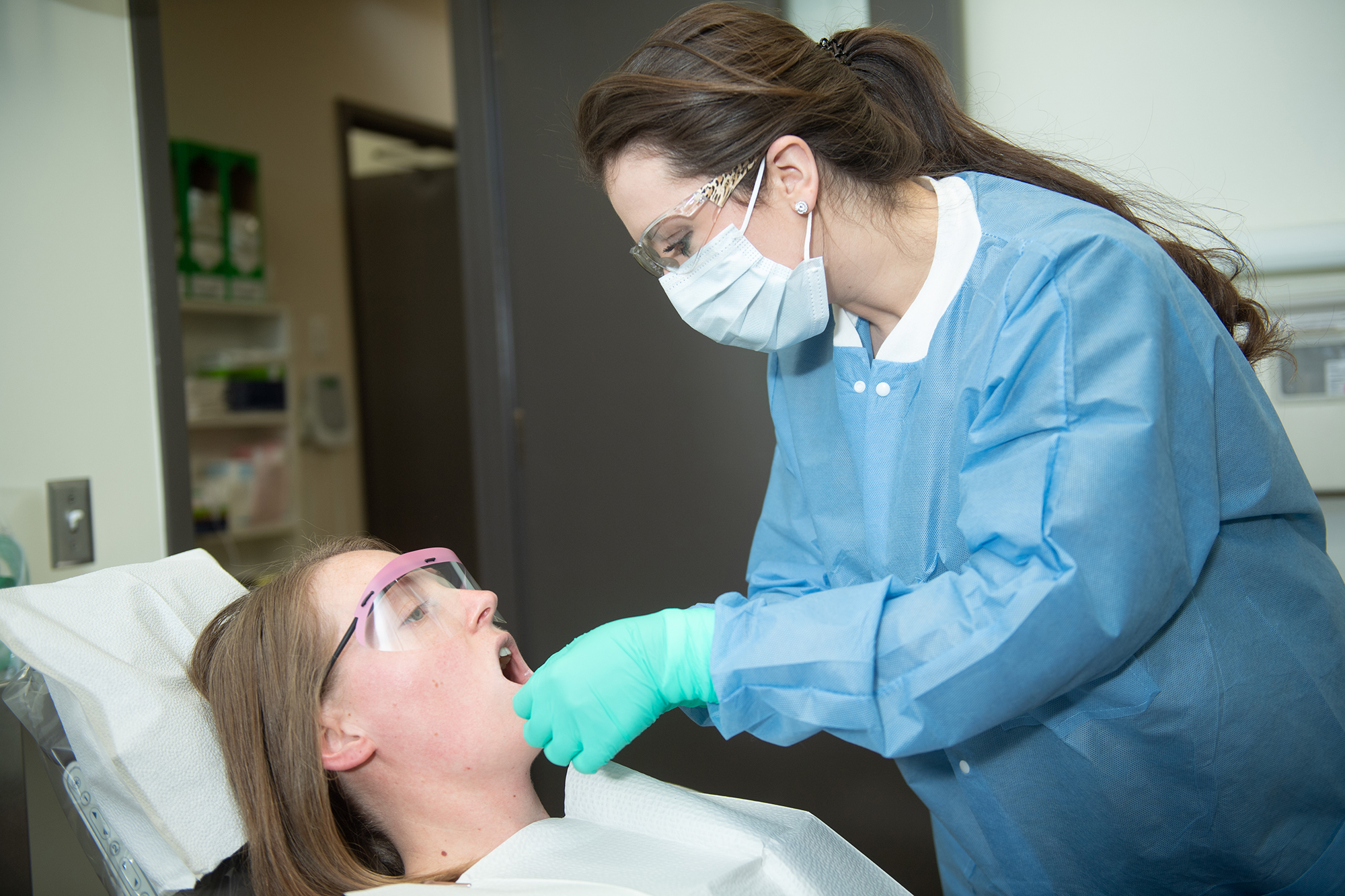 Her work with ADEA has inspired Voy to consider teaching in her future, at least on a part-time basis or as a visiting professor—hopefully at Iowa at some point.
"I really value the education I've gotten here," Voy says. "It would be rewarding to give back to future students."
An ADEA fellowship allowed Voy to design and present lectures to first-year dental students, help in the simulation clinic, and research whether students find working on artificial teeth with simulated caries (cavities) helps them prepare to remove decay in human teeth. Voy says there are pros and cons—as well as expense—to using the teeth, and it's important to determine if students value the experience.
Natalia Restrepo-Kennedy, clinical assistant professor in the Department of Operative Dentistry, served as Voy's mentor during the fellowship. She says Voy has been one of her most memorable students because of her charisma and willingness to help others.
"Being able to help someone with their self-confidence, that can completely change someone's perspective, outlook, job opportunities—a lot more than you would think. I think dentistry is the perfect combination because you get to help people and you have the artistic portion of it, which is pretty unique in a lot of fields."
third-year student in the UI College of Dentistry
"Briar expresses joy and kindness every time you interact with her," Restrepo-Kennedy says. "Being Briar's mentor has also enriched my experience as a faculty member and confirms how valuable my teaching experience is."
Voy says a pleasant surprise during her time at Iowa has been how many conferences she has been able to attend, including those hosted by ADEA, the American Student Dental Association, and the dental fraternity Delta Sigma Delta.
"Iowa values students getting these opportunities," Voy says. "It can be expensive, but they put money aside for students to attend."
Voy also says she appreciates the time that faculty spend with students, particularly outside of class.
"You expect them to have office hours, but they are always so willing to help," Voy says. "They come in on weekends to help us prep for practicals. You don't realize how important that is until you're in that situation. They truly care about their students and want them to succeed."
Voy says she knows firsthand that even after she graduates, faculty will be there for her when she has a question.
"My dad still calls the dental school when he has complex cases or wants an opinion on a new medication on the market," Voy says.
Voy is also looking ahead to the sort of dental care she wants to provide: A sculpture class in high school led to a love of art and working with her hands—and an interest in pursuing aesthetic dentistry after graduation.
"Being able to help someone with their self-confidence, that can completely change someone's perspective, outlook, job opportunities—a lot more than you would think," Voy says. "I think dentistry is the perfect combination because you get to help people and you have the artistic portion of it, which is pretty unique to this field."
And the days of spending time with her dad in his dental office may not be over.
"We've talked about working together someday," Voy says. "I'm hoping that happens."
Meanwhile, if a future dental student asks her if she feels ready for the real world, Voy says she feels confident in her answer: yes.