A career path changes trajectory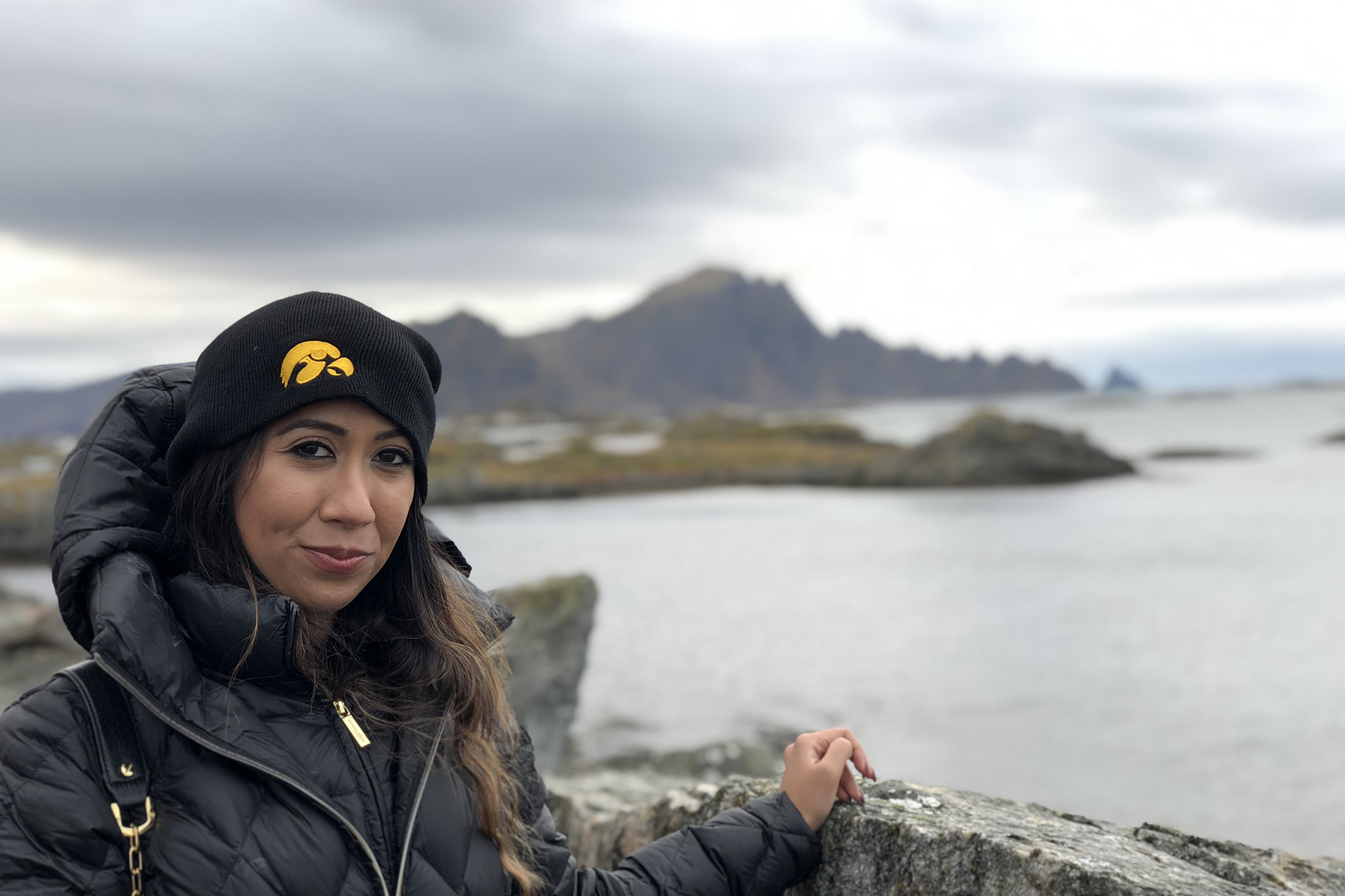 Suman Sherwani is well on her way to becoming a rocket scientist. The December graduate will stay at the University of Iowa to work as a design engineer on NASA-funded rocket and satellite missions in the Department of Physics and Astronomy.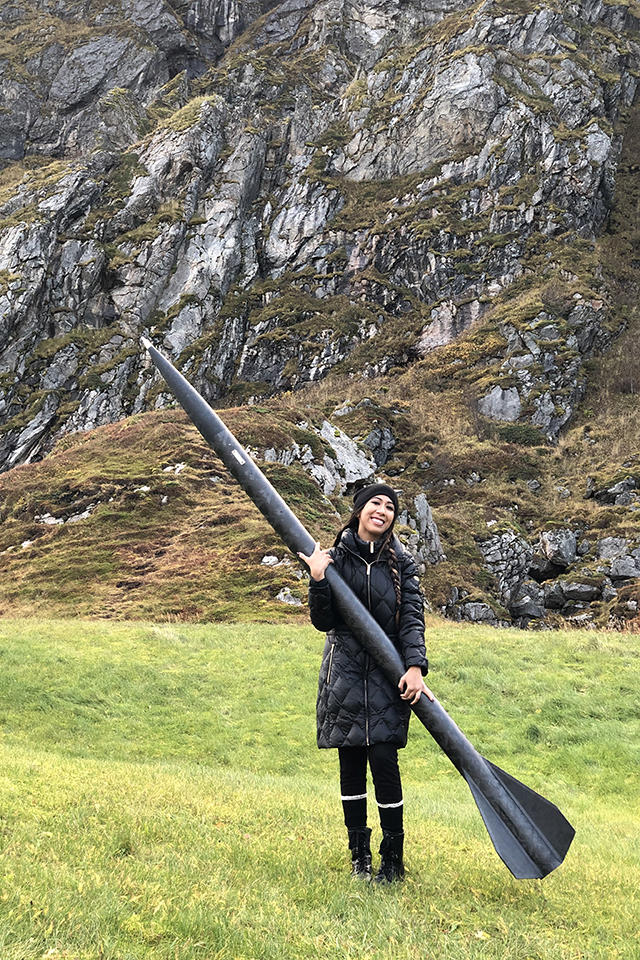 Degree: BSE in electrical and computer engineering
Hometown: Naperville, Illinois
Future plans: Work as a design engineer for the University of Iowa Department of Physics and Astronomy
Suman Sherwani entered the University of Iowa figuring she'd gain the knowledge and skills for a career in innovative technologies.
She became a rocket scientist instead.
Sherwani, from Naperville, Illinois, worked at Tesla, Inc., explaining to the public the engineering principles behind electric cars, while earning an associate's degree in engineering science at the College of DuPage in nearby Glen Ellyn, Illinois.
At Iowa, she embarked on her next academic pursuit: a Bachelor of Science in Engineering in electrical and computer engineering, with a minor in computer science. Her rationale: She would be well positioned to work in current and emerging technological fields.
"I went to Iowa thinking when I graduated, I'd go back and be an electrical engineer at Tesla," Sherwani says. "I already worked there. I have some rapport there. I know people."
Yet in October 2018, her plans changed dramatically.
Sherwani had been selected to participate in the Canada Norway Sounding Rocket program, an intensive, four-and-a-half-day international student exercise in Norway to design, build, and fly a sounding rocket toward the atmosphere's outer boundaries. The experience opened to her a field she didn't know existed.
"I didn't realize you can launch rockets for a job, that you could just literally do science using rockets," Sherwani says. "I had no idea that this was something I could do for the rest of my life."
Indeed, Sherwani's first career step will occur at Iowa. She has been hired in the Department of Physics and Astronomy as a design engineer for upcoming sounding rocket and satellite missions, including a $115 million NASA-funded mission—the single largest externally funded research project in institutional history—to study the mysterious interactions between the magnetic fields of the Earth and the sun.
Take the first step to joining the Hawkeye family!
Iowa will prepare you, challenge you, and change you. You will change the world. We accept applications year-round, and are currently admitting new students for the following fall semester.
"Space has always been really inspiring, but our technology depends so much on satellites these days," Sherwani says. "It's so important for us to understand it too. You get to feel the rush of a rocket launching, and you're contributing to science and the advancement of society. I can't think of anything I'd want to do more than that."
Sherwani chose Iowa in large measure because of the overwhelmingly positive responses she received from friends who had attended the university. She also liked the big-campus college atmosphere on offer and the community feeling of Iowa City.
She chose to major in electrical and computing engineering for practical reasons as well as her desire to be current with innovative technologies.
"I thought electrical and computer engineering is so much a part of our daily lives, I felt like I needed to understand what it was," says Sherwani, who praised the College of Engineering for its academics and faculty. "It didn't make sense to me that most people don't know how it works. It was broad enough that I could work with any kind of innovative technology that I chose to."
"Iowa gave me all those opportunities to figure out who I am."
graduating with a bachelor of science in engineering in electrical and computer engineering
In a spring 2017 class, Engineering Fundamentals II: Electrical Circuits, she met course instructor Mark Andersland, who told her and her classmates about a scholarship opportunity. That fall, Sherwani asked Andersland to be her academic adviser and met with him frequently to discuss school work and professional opportunities.
One such conversation came when Sherwani mulled an offer to work on software programming and applications at a summer-fall co-op at Collins Aerospace in Cedar Rapids, Iowa.
"(Andersland) gave me some really great advice that I still use to this day," Sherwani says. "He told me, 'It's what you make it. Lead the way, lead how you want it to be, and make the experience what you want it to be,' and that's exactly what I did."
Andersland, associate professor in electrical and computer engineering, says Sherwani invariably had the right frame of mind in her approach to academics and extracurricular options.
"She was willing to take action and do what it took to be successful," Andersland says. "She has the right perspective, and that comes from maturity and her personality."
Sherwani learned about rocket school from David Miles, assistant professor in the Department of Physics and Astronomy, who led Iowa's inclusion in the program. (Iowa is the first and still only American university to participate.) She learned all about rocketry, from design to build to launch.
To top it all off, she was the one who pressed the button to fire the rocket.
"It was the coolest thing ever," Sherwani says. "I was part of a real rocket mission. I couldn't believe that was a job that people have, and I knew I needed to do this."
Now, that's what she will be doing for the foreseeable future—and at Iowa too.
"You think you have this linear plan in mind, but when you get here, you start to figure out who you are as a person and what makes you happy," Sherwani adds. "Iowa gave me all those opportunities to figure out who I am."
Produced by the University of Iowa Office of Strategic Communication
courtesy of Suman Sherwani