Making connections, building community in the classroom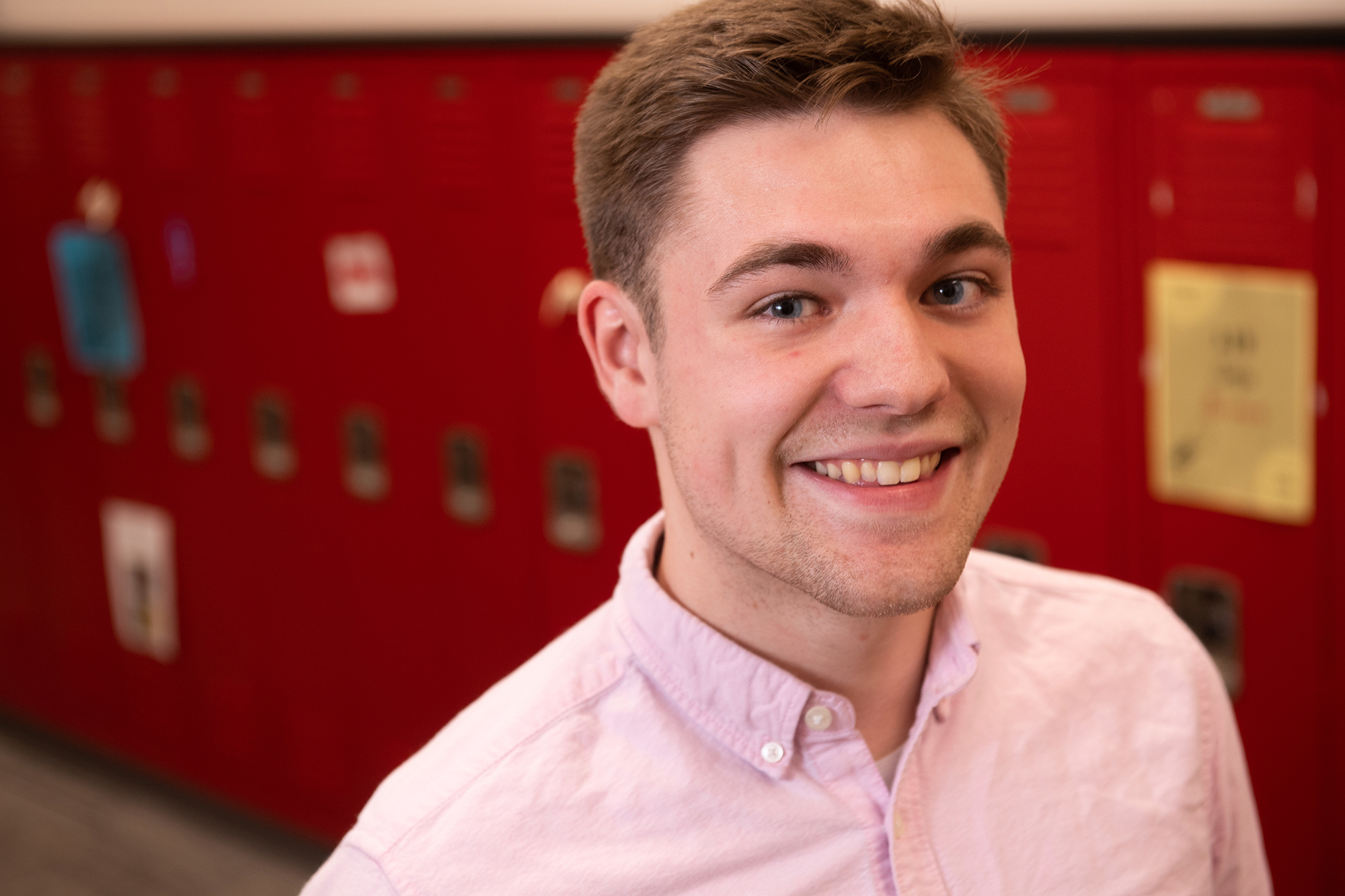 After discovering a passion for education while at the University of Iowa, Kaleb Farnham is making an impact as a student and teacher.
Degree: BA in social studies education with a talented and gifted endorsement, and a BA in history
Hometown: Des Moines, Iowa
Future plans: Substitute teaching during the spring 2020 semester while seeking a full-time position for the fall
The sophomores in Kaleb Farnham's world history class at Adel DeSoto Minburn (ADM) High School were one class period away from a long holiday weekend and in high spirits. But as Farnham walked from student to student, each settled down and focused on him, asking questions about the assignment they were finishing and chatting about their Thanksgiving plans.
These are the sorts of connections Farnham says he strives to make as a student teacher.
First-generation college students at Iowa
First-generation college students are the first in their family to earn a four-year degree. Compared to their peers, these students may face a unique set of challenges and often benefit from additional support. In addition, first-generation students share many common personal assets that contribute to their success. The University of Iowa aims to celebrate these assets and help students learn to utilize them in order to reach their full potential and realize their academic goals.
Find resources for first-generation college students.
"I feel you can be a really positive part of your community if you're making an impact on young adults, especially when some of them don't have other adults to communicate with in a positive way," Farnham says. "I think I've made some good relationships just being a little different from the average adult. Connecting with your students is the most important thing you can do. If you do that, everything else will fall into place."
Farnham will graduate in December 2019 with a BA in social studies education with a talented and gifted endorsement, and a BA in history. In fact, the Des Moines native is part of the first University of Iowa College of Education class to graduate with a double degree.
When Farnham arrived on the Iowa campus, he planned to major in accounting. However, the first-generation college student quickly realized that path was not the right one for him. He joined his girlfriend, who is graduating this month with a degree in elementary education, at a scholarship award meeting at the College of Education. There, he met Nancy Langguth, associate dean of the college.
"She told me that day I was going to be a teacher," Farnham says. "I thought, 'No way.' But she was right, and I've never looked back."
Farnham switched his major to history and was accepted into the College of Education his sophomore year. He says he chose to focus on social studies because he wants students to feel as excited about the subjects as he is.
"You hear students say it's boring or there's nothing interesting about it," Farnham says. "I just try to bring some fun and inject some energy into these topics."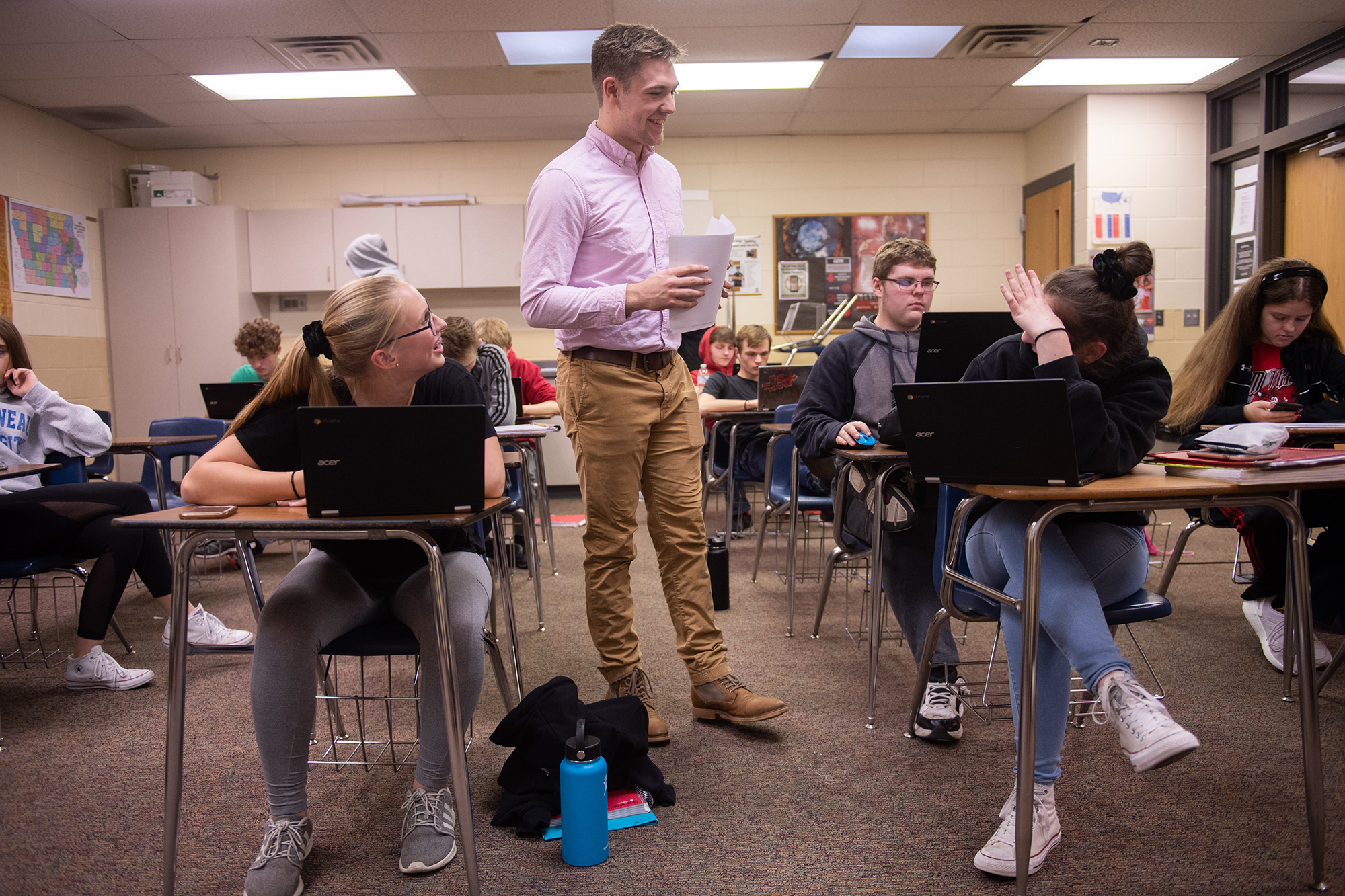 Wasting no time in practicing his vocation, he began tutoring Iowa City students whose primary language wasn't English.
"It was a good first experience for me because it can be a little anxiety-provoking to get in front of a whole class when you're 19 years old," Farnham says. "One-on-one tutoring was good for me to ease into it."
Farnham credits his practicum at Liberty High School in North Liberty, Iowa, and the College of Education faculty for preparing him for what he might experience in his own classroom one day.
"The faculty have been there, they've done it," Farnham says. "I got a lot of insight when practicing with them. They made it an authentic experience. And at Liberty, I was able to watch really good teachers and see different teaching styles that helped mold me into the teacher I want to be."
The University of Iowa is home to the No. 1-ranked college of education in the state of Iowa, its secondary education program is in the top 2% in the nation, and its elementary education program is in the top 6%. Hawkeye teachers graduate with a Teacher Leader Certificate that sets them apart from every other teacher in the nation.
He also became extremely involved in the College of Education, volunteering with the Hawkeye Teacher Student Ambassador Group, serving as a student representative on the college's technology committee and during the University of Iowa's Hawkeye Caucus Day at the Iowa State Capitol, and working in the college's Office of Student Services.
Langguth says Farnham's contributions during his time in the College of Education are indicative of the educator and community member he will be. Her stories of Farnham's commitment and dedication to helping in any way he can included him weathering a sudden downpour during a tornado watch while crossing campus to be on time to present to a class, and finding him on the office floor assembling a desk for a new student greeter.
"Kaleb is a Hawkeye about whom we all can be proud, and who has made a positive difference in the college and university throughout his time as an undergraduate student," Langguth says. "I continue to find Kaleb to be an intellectually curious, highly responsible, and kind individual who I have every reason to believe will experience success as a classroom teacher, and who will make positive contributions to the schools and communities in which he works and resides."
As Farnham finishes his semester student-teaching and looks forward to substitute teaching in the spring while seeking a full-time position for the fall, he fondly remembers his time at Iowa and the community he discovered.
"It's a more tight-knit community than people think it is," Farnham says. "It's almost weird how connected people are, and how many people you find you know even though it's a huge Big Ten campus. There is a community here for you. Whether it's in your major or the people you associate with or live near, there are a lot of welcoming people. And there are so many opportunities. Things I definitely wouldn't have found in Des Moines, I found in Iowa City."