Telling stories with the click of a camera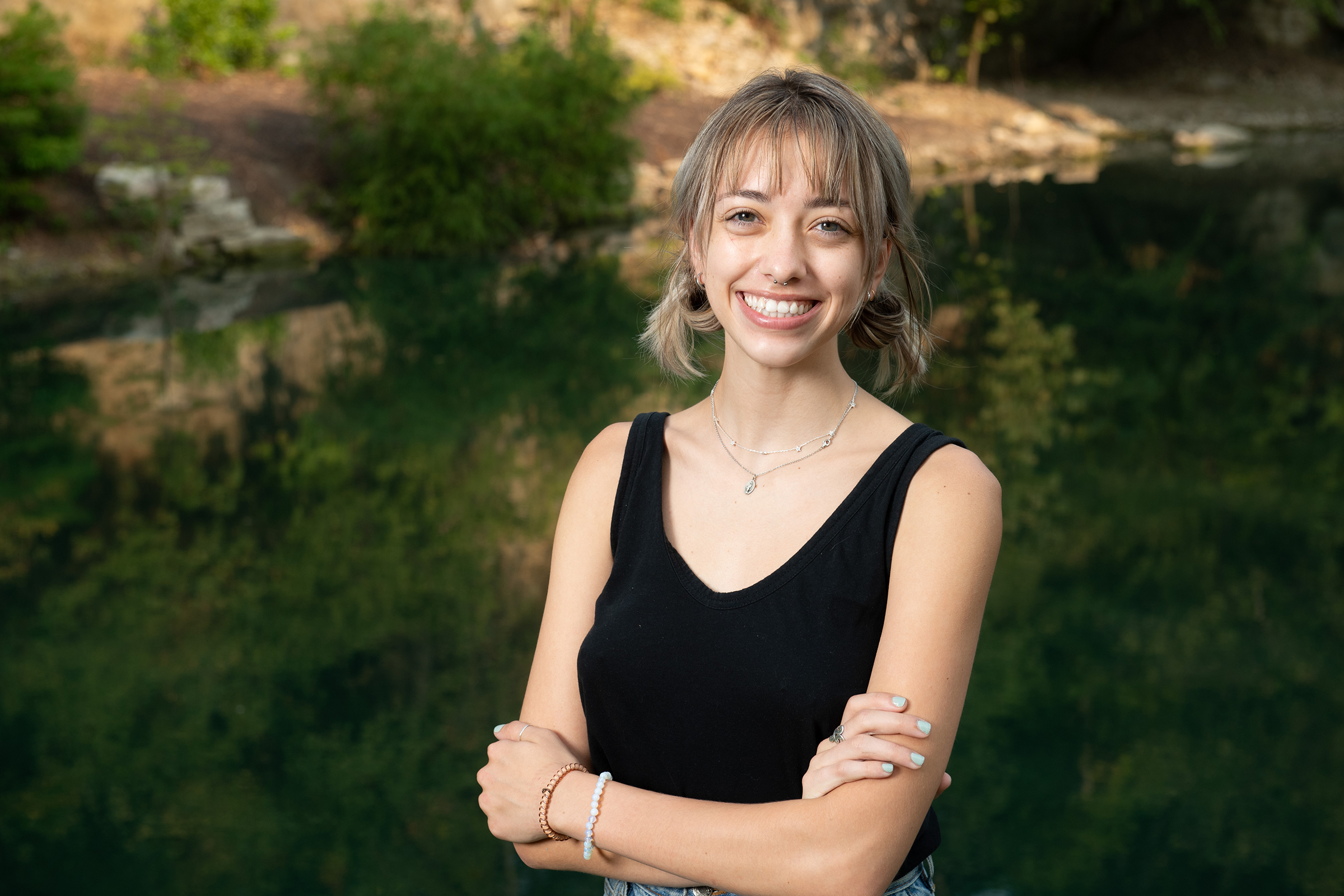 Gabriella Estlund's goal of becoming a photojournalist is taking shape at the University of Iowa. Camera in hand, the first-generation student often can be found around a campus and community where's she found no shortage of exciting photo opportunities.
Gabriella Estlund admits that she can be indecisive. But fortunately, she found a way to merge two passions—photography and writing—and a place at which to do it.
The third-year University of Iowa student from Fort Dodge, Iowa, is majoring in studio art and journalism and mass communication with the goal of becoming a photojournalist.
"I love photography's ability to tell people's stories in a way that's accessible to a wider audience," Estlund says. "There's that saying, 'A picture is worth a thousand words.' It sounds a little corny, but it resonates with me. I knew Iowa's art program and journalism program were really good. That factored into my college decision."
Once on campus, Estlund wasted no time immersing herself in her interests.
"I love learning and meeting people, and I love to stay busy," Estlund says. "It helps me stay on top of things and forces me to manage my time better."
She joined the staff of Fools Magazine, a local art and literature publication, as a web assistant her first year. This year, she'll take over as photo editor. Along with taking photos for the magazine, Estlund also shoots events for campus organizations.
In spring 2019, Estlund was hired as a student employee by the UI Office of Strategic Communication to write and edit marketing materials and web content for the university. She also joined the marketing team for the 2020–21 UI Undergraduate Student Government campaign of Connor Woof and Mara Smith, for which she took photos and helped with social media. Woof and Smith won.
"These experiences have given me a lot of opportunities to try a bunch of different things that I don't think I would have been able to do otherwise," Estlund says.
Estlund says she always knew she would go to college, but as a low-income, first-generation student, she says there have been challenges. However, she credits being a part of Upward Bound in high school for helping prepare her for college and its sister program, TRIO Student Support Services at Iowa, for supporting her once she got to campus.
"I knew I'd get a lot of opportunities when I came to Iowa, but experiencing them firsthand has been so exciting. […] I see all these opportunities presented before me and being able to pursue whichever ones I am interested in has been surprising and very fulfilling."
first-generation University of Iowa undergraduate
"Being a first-generation student is unique in that your parents can only do so much to help you get ready for college," Estlund says. "It can be a big learning curve. I really appreciate TRIO providing resources for students like myself who might not know the basics of being on campus. They help you stay on track with your career path and with résumé-building and applying for scholarships and grants, among other things. It's just a really nice support service."
Estlund also finds inspiration in her fellow TRIO students.
"TRIO is full of go-getters and high achievers," Estlund says. "Being with them is motivating. I love hearing what other students are involved in and what opportunities they are pursuing. It's fulfilling to know we worked so hard to get here and that we're making the most of it."
The TRIO support staff also has proven top-notch, Estlund says, singling out her student success coach, Steph Yazell.
"Along with being a good role model, it's nice to have someone who relates to being a first-gen student and the struggles that come with that," Estlund says. "You only know what it's like if you've been there."
TRIO Student Support Services
TRIO SSS serves students at the University of Iowa who demonstrate academic need and are first-generation, low-income, or have a verified disability. Through success-coaching, tutoring, and a one-semester-hour course each semester, students focus on topics such as academic skill-building, professional development, financial literacy, and leadership.
Yazell says she is thankful to have crossed paths with Estlund as she has had the opportunity to learn from her as well.
"Gabby is one of the most dedicated and passionate students with whom I've worked," Yazell says. "She holds herself to a high standard of excellence and strives to not only achieve her goals, but learn as much as possible along the way. Along with this, she is thoughtful and reflective about how her experiences can help her grow. I'm so excited to continue seeing her growth and passion for her goals."
Though Estlund is taking all her classes online this semester, she says she is excited to get back into the learning environment. She's particularly looking forward to a photography class with Stephanie Dowda DeMer, an Iowa Idea visiting assistant professor who Estlund says has been inspiring and motivating.
Now, as recent high school graduates begin their college careers, Estlund urges them to make connections with their professors and advisers and take advantage of every opportunity possible.
"It's been said a thousand times that you won't know until you try, but it's especially true in college," Estlund says. "I knew I'd get a lot of opportunities when I came to Iowa, but experiencing them firsthand has been so exciting. For example, I got to photograph Common, the rapper and activist, which is something I never would have been able to do in my hometown. I see all these opportunities presented before me, and being able to pursue whichever ones I am interested in has been surprising and very fulfilling."