Thriving after devastating burn accident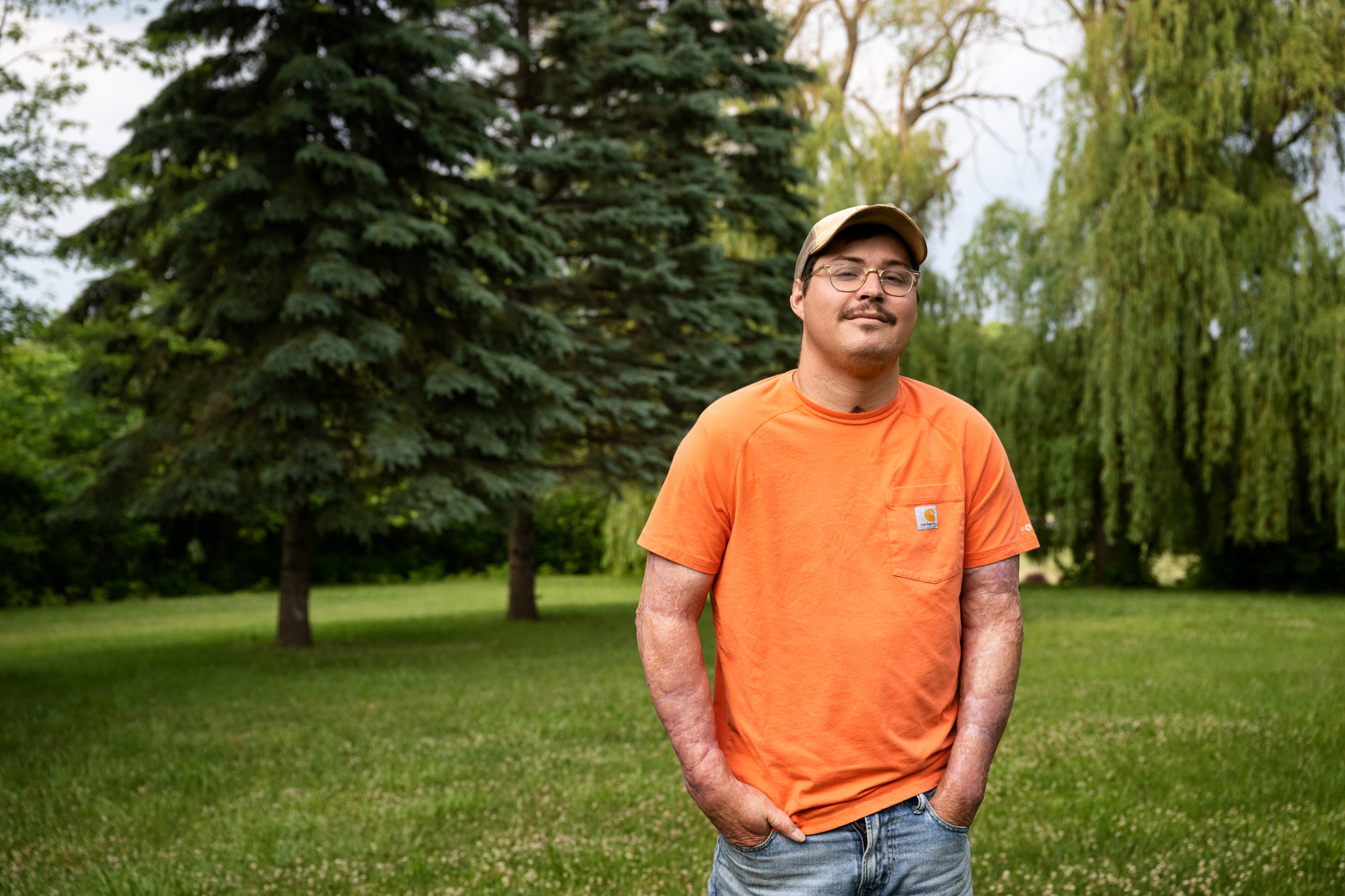 Thanks to a little luck—and a lot of care and skill from the University of Iowa Hospitals & Clinics' Burn Treatment Center team—James Rogers is back to loving life with his new wife in their new home in Denver, Iowa.
Justin Torner and Alyssa Leicht
When James Rogers thinks about everything that has happened during the past three years, one word keeps coming up: luck.
"I feel lucky every day for 10,000 different reasons," Rogers says. "And Iowa City is one of them."
Rogers, who now lives in Denver, Iowa, spent nine months of 2020-21 in the University of Iowa Hospitals & Clinics' Burn Treatment Center with third-degree burns covering 90% of his body.
Lucy Wibbenmeyer, MD, a burn surgeon at University of Iowa Hospitals & Clinics, says when she first started treating Rogers, she admitted to his family that she was worried.
"With a big burn like that, everything has to go just right," Wibbenmeyer says. "I told them it's going to be touch and go, and it's going to be touch and go for a while. And it was. He'd get better, and then he'd get worse.
"But Jimmy continues to amaze me. His whole story amazes me."
The Burn Treatment Center at University of Iowa Hospitals & Clinics is one of 62 burn centers in the United States and the only one in Iowa. It is officially verified by the American Burn Association, which also verified the University of Iowa Hospitals & Clinics' burn fellowship in 2021, the first such program in the nation.
The Burn Treatment Center includes a 17-bed critical and intermediate care inpatient unit plus related emergency, outpatient care, telemedicine capabilities, and rehabilitation facilities for both adult and pediatric populations. The center's staff applies skill and compassion, aided by specialized monitoring and bathing equipment and a hydrotherapy facility that allows for state-of-the-art wound care.
Rogers says Oct. 11, 2020, started out like any other Sunday. After raking the leaves in the yard of his Clarksville, Iowa, home, he tried to burn them. But they were damp and didn't seem to be igniting, so he grabbed some gas from the garage to help get a fire going. However, unknown to Rogers, the leaves were already smoking. When the gas hit them, the fire flashed and burned him.
He says he immediately initiated the fire safety technique he was taught as a child: stop, drop, and roll. But that wasn't enough to stop the gasoline-fueled blaze.
That's when he encountered his first bit of luck. A neighbor across the street heard him yelling and ran over to help and called 911. Meanwhile, the neighbor's wife ran to alert Rogers' parents, who lived a couple of houses down. His dad, Jay, grabbed a hose and sprayed Rogers down until emergency responders arrived.
"I didn't really realize how bad it was," Rogers says.
The health care professionals at Waverly Health Center did realize the extent of his injuries and immediately arranged for him to be airlifted to the University of Iowa Hospitals & Clinics' Burn Treatment Center.
Even in the middle of the COVID-19 pandemic, they allowed Rogers' parents and his now wife, Mikki Rogers, to see him before he was sedated and put onto the helicopter.
"They said, 'You can tell him goodbye,'" Mikki Rogers says. "When we got to Iowa City, they told us from the beginning that it would be a roller coaster, and they were not wrong."
A great outcome from challenging circumstances
Rogers was placed on a ventilator and heavily sedated for 24 days to help his body begin healing. The first of his nearly 40 surgeries took place three days after the accident.
Wibbenmeyer says one of the major challenges in Rogers' case was that all his burns required skin grafts—and he had little nonburned skin to work with.
"All we really had was his head," Wibbenmeyer says. "I think we harvested his head nine times. I was scared his hair would never grow back, so I was really glad when he came back to the clinic with a full head of hair."
To get more skin, they used cultured epithelial autograft (CEA). This technology uses a tiny sample of the patient's skin to grow new skin in a laboratory.
While this method has proved a game-changer for some patients with large burns, the lab-grown skin is extremely fragile.
"It requires a lot of patience to use, but Jimmy had a great outcome," Wibbenmeyer says. "He's got nice, pinchable skin. To me, it looks and feels normal."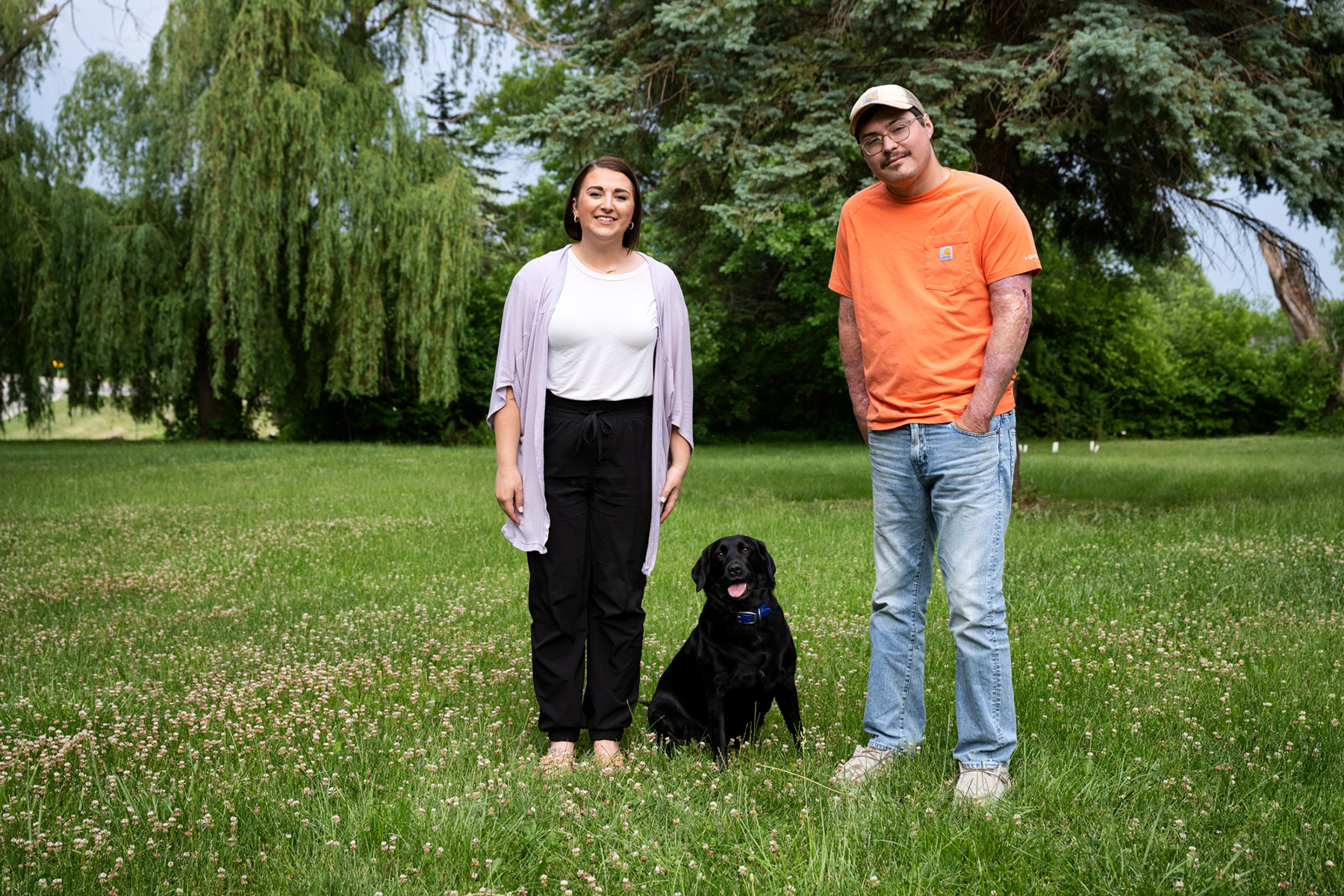 "All my nurses and doctors doubled as my counselor, as my physical therapist, as my friends. I feel like I'll never be able to find the words to tell those folks how much they mean to me."
Denver, Iowa, resident and University of Iowa Hospitals & Clinics patient
Compassionate care from a talented team
Mikki Rogers says the doctors and nurses did a wonderful job keeping the family updated about James' condition and working with them to reschedule visitation times on days he had surgery.
"Knowing that people were taking really good care of him was huge," Mikki says. "We truly trusted all of his nurses and doctors."
James says not only does he feel lucky to have had a team with the training and expertise he needed, but he also always felt that his doctors and nurses were personally invested in his situation and care.
"There were times when I was in dire straits, and they kept me positive and kept me fighting," James says. "Hope is very important to making up your mind to do everything you can, even when it's so hard."
Wibbenmeyer says she is proud of her team in the Burn Treatment Center. Along with being one of 62 burn centers in the United States and the only one in Iowa, it also in 2021 became the first in the nation to have its burn fellowships verified by the American Burn Association.
"For a burn unit to succeed, it needs every multi-professional team member pitching in and using their full skill set. And we have that," Wibbenmeyer says. "We have the best nurses, nurse practitioners, therapists, social workers, chaplains, pharmacists, physicians, and surgeons. We all know the game and how to play it well. This team is just really good."
She also says the Burn Treatment Center is constantly branching out to include new treatment methods.
"There are a lot of new ways we can approach burn wounds," Wibbenmeyer says. "We can grow skin. We can use spray-on skin. We can use dermal substitutes. It's a field that's always changing, which is exciting. So, we can treat a patient with serious burns like Jimmy and see really good outcomes."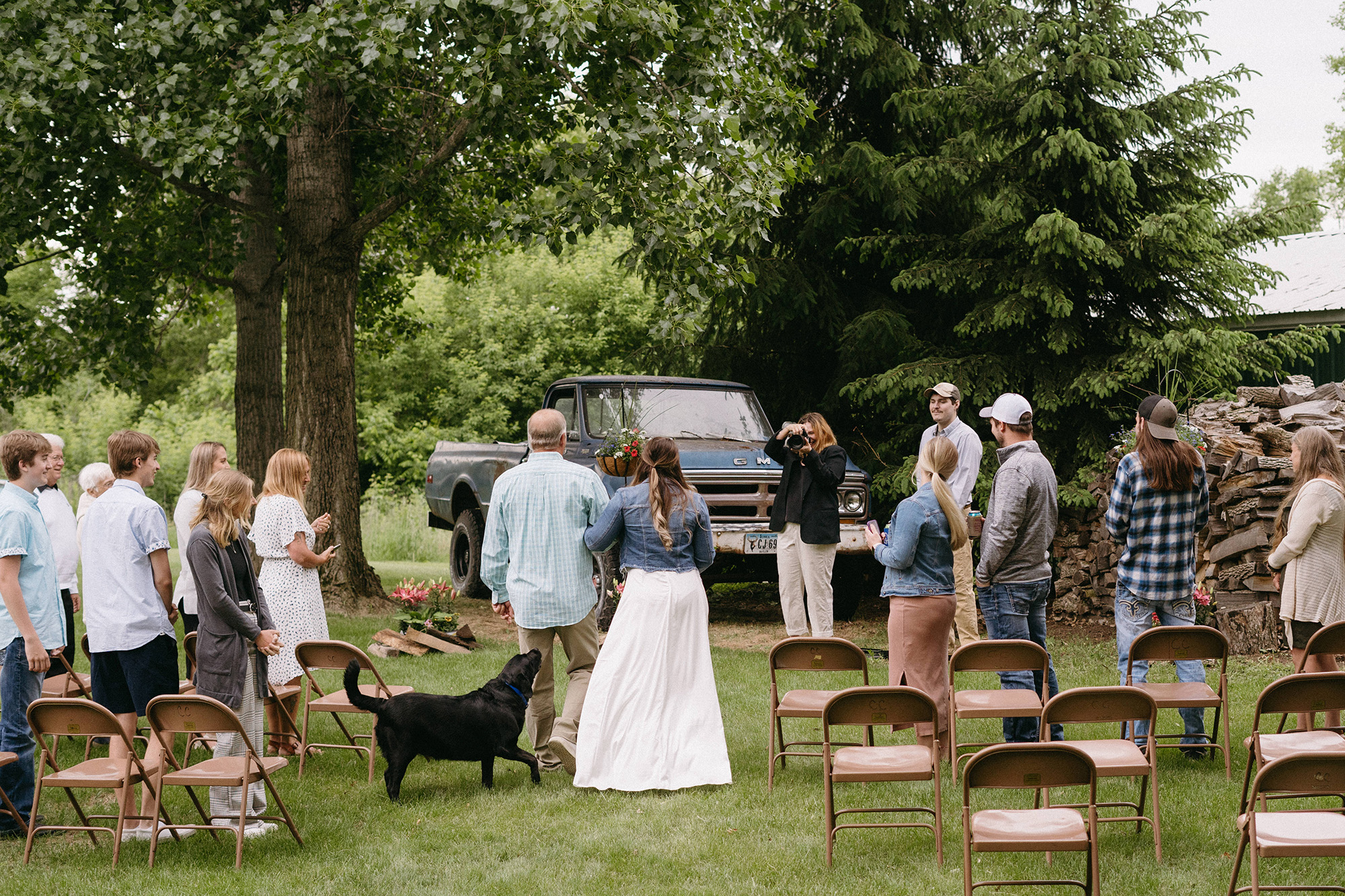 Working toward independence (but not alone!)
Rogers left UI Hospitals & Clinics on July 22, 2021, for an inpatient rehabilitation center in Waterloo, which was much closer to his family. He finally came home Oct. 8, 2021, almost one year to the day of the accident.
James says he had been planning his marriage proposal to Mikki at the time of the accident. While he was sedated that first month, he says he dreamed they got married.
"When I woke up, I asked Mikki where her ring was," James says. "I spoiled my own proposal."
The couple married June 4, 2022, with family and a few close friends in attendance. They plan to hold a big celebration this fall.
Thanks to everything that has happened, they say they know the true meaning of "in sickness and in health."
"We stuck through that part of the vows even before we were married," Mikki says, laughing.
"There probably aren't many people who would stick by someone through all that, because it was tough. It was very tough," James says. "She shows me more and more compassion every day, and she puts up with me when I'm frustrated. I'd be dumb to mess that up. And we're so happy now. And we're so carefree that we don't really remember how tough it was. We just buckled down when we had to and didn't ask any questions."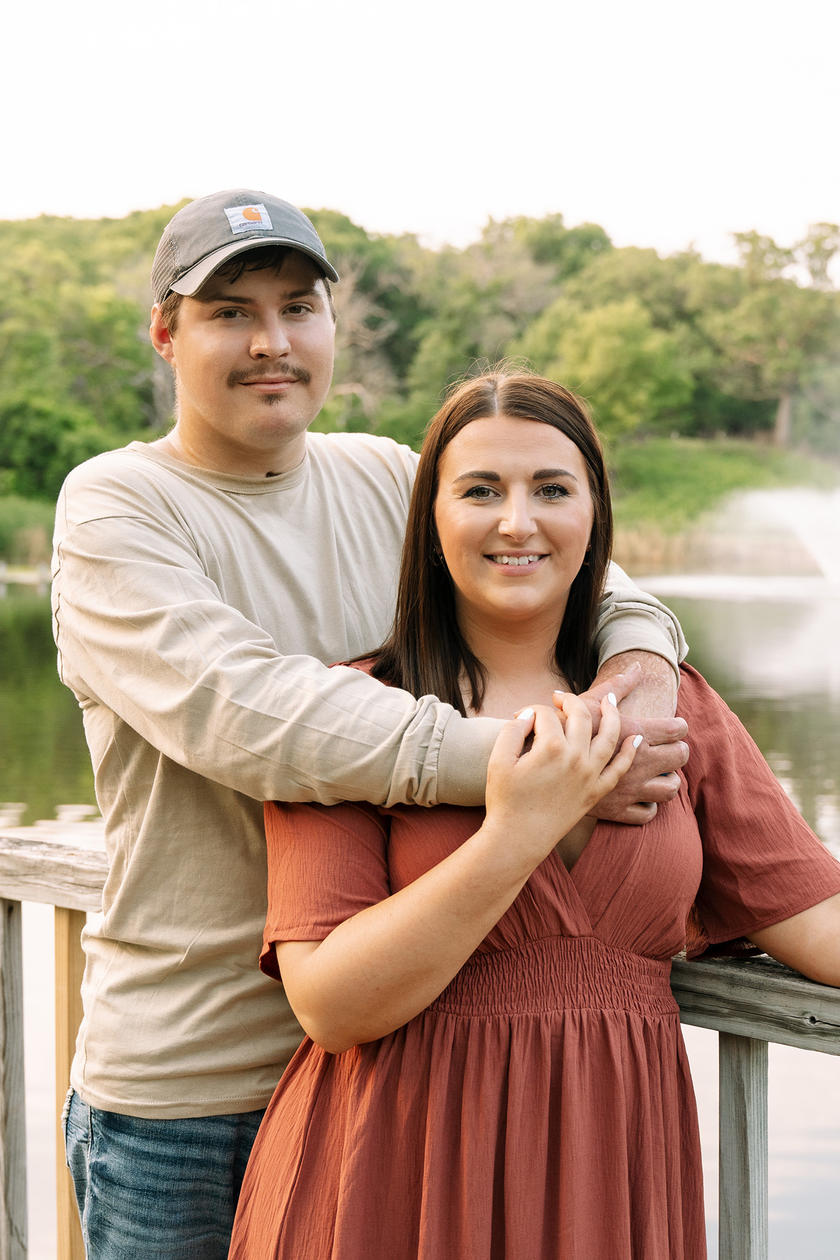 James and Mikki pose for an engagement photo in 2023. The couple married in 2022 with family and close friends in attendance, but plan a larger celebration in the fall of 2023. (Photo by Alyssa Leicht)
Nearly three years later, Rogers says he feels pretty good. He'll have at least one more surgery to improve the range of motion in his shoulder.
"I'm still sore from time to time, and I'm still growing into my new skin," Rogers says. "I don't have anything I can really complain about right now besides dealing with the heat and the cold, but we're getting used to it."
Rogers continues to go to physical therapy every day, and while he says he is close to being completely independent, there is one thing he's still working on.
"I can't put my socks on yet," Rogers says. "But we'll get there. We're working on that in therapy right now."
He says he hopes to return to work as an electrical lineman, which he had done for seven years before his accident.
"I hope I can go back, because when you find something that you enjoy, you don't want to give up on it," Rogers says.
Rogers also has become a vocal advocate for fire safety.
"I don't care if I make people uncomfortable when I tell them to quit doing dumb stuff like I did," Rogers says. "I'm 27 years old and I have young friends who think they're invincible. I tell them it's not worth it. Look what it did to our lives—and all for some leaves. There are plenty of safer options that aren't going to get you hurt or killed."
Rogers says it takes a special person to work in a burn center and once again feels lucky that UI Hospitals & Clinics was full of such people.
"You can show up for your shift and collect your paycheck and do what you're supposed to do, but you can also go above and beyond, and that's what they did," Rogers says. "All my nurses and doctors doubled as my counselor, as my physical therapist, as my friends. I feel like I'll never be able to find the words to tell those folks how much they mean to me."