Mastering the art of conducting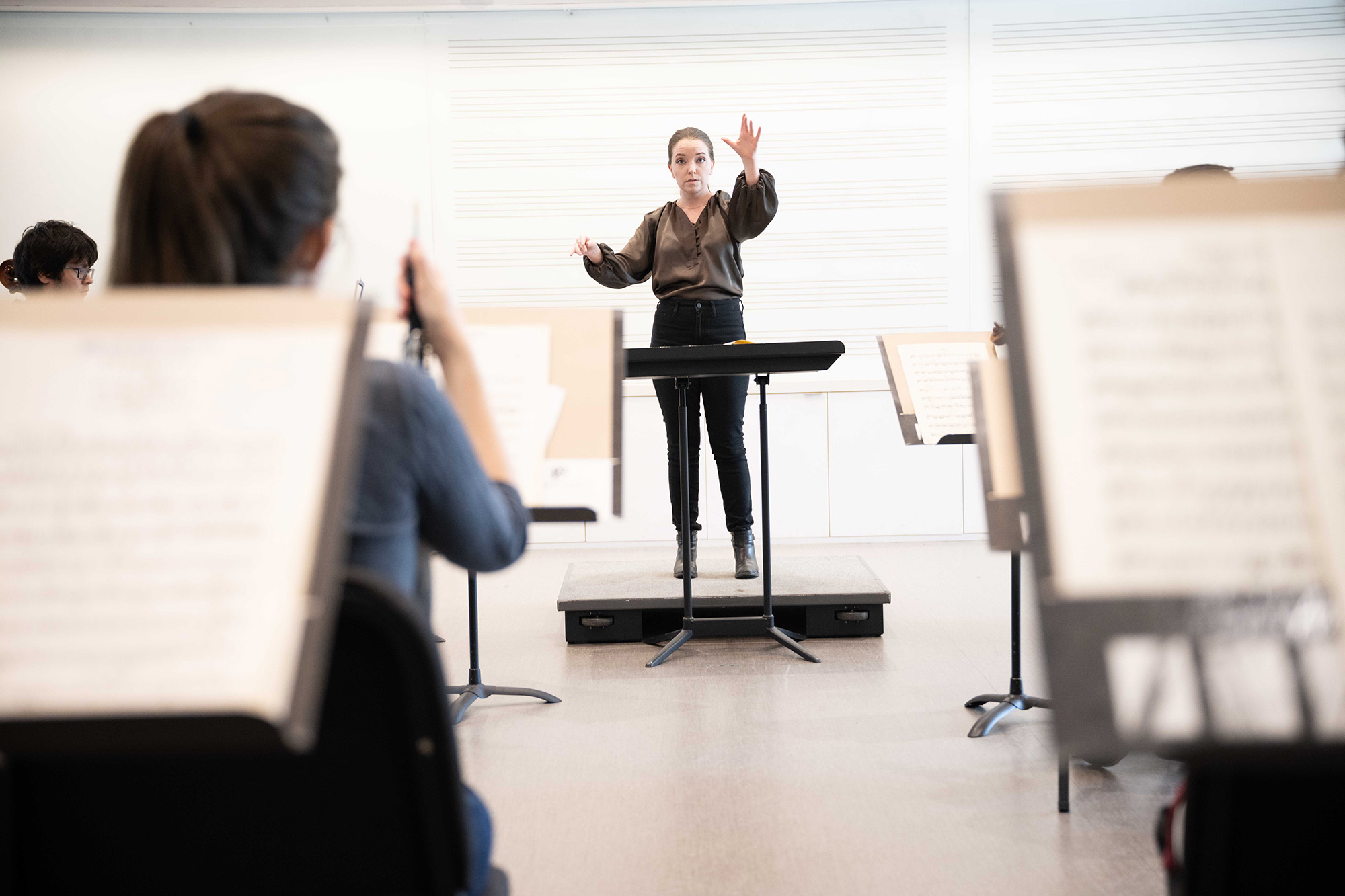 Students in the University of Iowa choral, orchestral, and wind conducting programs find unique opportunities to lead the campus' premier musical ensembles, preparing them for a wide variety of careers.
A few years ago, three soon-to-be University of Iowa graduate students in wind conducting found themselves as semifinalists for the same university director of athletic bands position.
"The person leading the search called me and said, 'I want you to know that your students make such strong candidates. Don't change anything that you're doing,'" says Richard Mark Heidel, professor and director of bands in the UI School of Music.
The school hired one of the Hawkeyes. As for the other two, they got jobs, too.
"I'm really proud of the wind conducting program's 100% placement record over the past 15 years," Heidel says. "The market has become incredibly competitive; there are far more applicants for the few jobs that open. Our responsibility is to help our students chart a course in which they are competitive upon entering that market. We get wonderful students here. They work hard and they absorb everything that they can as part of the program."
The choral, orchestral, and wind conducting programs in the UI School of Music pride themselves on preparing their students for their chosen career paths—whether that is in the classroom, with a professional orchestra, on the football field, in a church, or any combination of gigs.
And the reputation of someone who receives a conducting MA or DMA from the University of Iowa School of Music precedes them.
"A degree from Iowa means a lot, and I don't think I fully understood that when I first started," says Andrew Kendall, a DMA student in choral conducting. "This is a program that is taken seriously on a national scale, which is really something that we can be proud of. There's only a certain number of degrees of separation that you can get before you'll find a conductor who has at least one of their graduate degrees from Iowa."
Only 9% of music directors across 174 American ensembles were women in 2016, the last year for which data is available, according to the League of American Orchestras.
But that number is beginning to rise.
"We've come a long way in just the last five years, and it's something I never thought I would witness in my life," says Mélisse Brunet, assistant professor and director of orchestral studies. "I think the next years are going to be big for female conductors, which is fantastic."
Brunet, who is the first woman director of orchestral studies at Iowa and the first woman conductor of the Lexington Philharmonic, says she discusses issues with her students that they may face in the professional world.
"I warn them that they might be judged on what they wear, on how they look, their voice—things that are not about the music," Brunet says. "We talk about sexism and how it affects us as women in this field. It's changing, but it took a long time for society to get to where we are, and it will take time to change."
Podium time sets Iowa conducting program apart
Some aspects of musical education remain the same anywhere you go, but unique opportunities await Iowa students.
"I truly believe that what we're offering here for our conducting students is different from what is done other places in the country and many places in the world," says Mélisse Brunet, assistant professor and director of orchestral studies.
Brunet says unlike a violinist who can practice their instrument on their own, a conductor's instrument is the ensemble.
"I went to some of the best musical conservatories, but I realized quickly the limitations of my learning experience, and one of the big ones was that I almost had zero podium time, so I was never in front of an orchestra conducting," Brunet says. "I want my students to have lots of podium time, because that's how they learn their instrument. Not by sitting and watching me conduct."
Iowa students in any of the three conducting programs can expect to have musicians in front of them almost daily. This could be in rehearsal or during public performances in locations such as the Voxman Music Building concert hall, E.C. Mabie Theatre, or Kinnick Stadium. Students may be conducting ensembles such as the Symphony Band, Symphony Orchestra, Kantorei (Iowa's premier choral ensemble), the Hawkeye Marching Band, or an opera or musical theater.
"I think what separates us from other programs is the breadth of experience that our students get," Heidel says. "They work with a full range of students from the University Band, which is largely non-music-major students, to musicians who are pursuing music as a career. It gives our students a wonderful challenge of having to adapt from group to group to group, and that is not the case in every program. That breadth of experience and the amount of podium time that they are afforded here has really been an essential part of their success coming out of here."
Timothy Stalter, professor and director of choral activities, says the Iowa choral conducting programs strongly emphasize that performance cannot be separated from the academic side of the program.
"Some programs might emphasize one over the other, but here they are inextricably linked," Stalter says. "We have a fantastic core curriculum in which students will take a course in choral literature and analysis in the Renaissance with our choral literature specialist, David Puderbaugh (professor, assistant director of choral activities, and director of graduate studies), while also taking an intensive course in conducting Renaissance music with me. This coupling of performance and academic inquiry is a great strength of our program."
Iowa students aren't just conducting any ensemble; they work with long-established ones.
"Some programs don't dedicate any time and others dedicate a little time to graduate students conducting their regular ensemble," Stalter says. "But we have a strong commitment in keeping our program small enough that we can have all of our students conduct our standing ensembles. This means that they're able to really step into an already established ensemble that knows each other. It makes the learning process a lot better and a lot easier."
Kendall says that was a big plus in Iowa's favor when he was looking at graduate schools.
"When I auditioned here, Dr. Stalter said to me, 'If you come here, I'd like you to have your own choir for your entire first year,'" says Kendall, who grew up in St. Cloud, Minnesota, and earned a BA in music education at Gustavus Adolphus College and an MA in choral conducting at Louisiana State University, respectively. "No other school could give me that, and of course that's what we want. Conductors want to have our own ensembles; we want to be able to have some free rein over what we're doing."
Ready to direct on the field, in the performance hall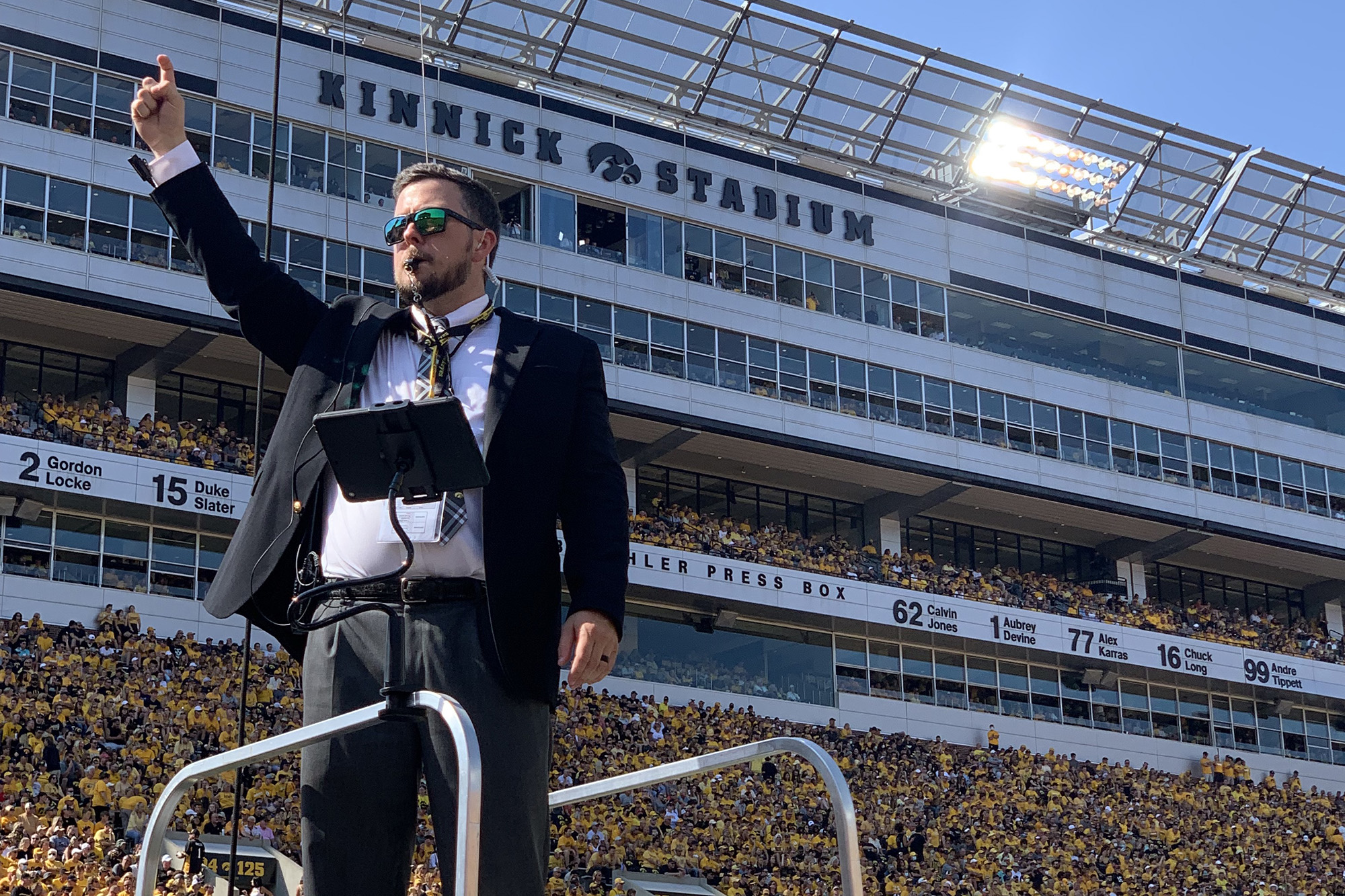 Tyler Strickland graduated from the University of Iowa having conducted the Hawkeye Marching Band on some of the biggest stages: Kinnick Stadium, a Big Ten Championship game, and the Citrus Bowl.
That also goes for one of the most visible bands on campus. When football fans enjoy the Hawkeye Marching Band's halftime performances in Kinnick Stadium, there's a good chance there's a graduate student on the podium.
Tyler Strickland, who graduated in 2022 with a DMA in wind conducting, wrote drill for four of the six 2021 home Hawkeye football halftime performances and arranged music for the band as well.
Strickland now is director of bands at the University of West Alabama, where he conducts the wind and chamber ensembles and directs the West Alabama Marching Band. He credits Heidel and Eric Bush, associate director of bands and director of the Hawkeye Marching Band, for understanding what students need to be marketable.
"I got the opportunity not only to write the drill, but I was also the guy on the tower teaching that drill to the entire Hawkeye Marching Band," Strickland says. "In some other programs, you may get to write the drill or do an arrangement, but the marching band director teaches it. Dr. Bush trusted us to do that, and that's not something that everyone gets in a DMA program elsewhere."
Megan Maddaleno, who received an MA in orchestral conducting at Iowa and is working toward a DMA in 2022, is known to brag about the program to friends who are considering getting a graduate degree in conducting.
"In my time here at University of Iowa, I've had the chance to conduct full operatic and musical theater productions, as well as conducting our incredible Symphony Orchestra," says Maddaleno, who is from St. Louis and received her BM in music education from Webster University. "The quality of experiences and opportunities here is unlike any other, which is what makes this program so amazing."
While working with Iowa's premier ensembles is a wonderful opportunity for students, learning opportunities also happen in more intimate settings.
"We also have a lab ensemble—an 11-piece orchestra, so it's smaller in instrumentation. This is a space where we are free to try things," Maddaleno says. "For example, one of my goals this year is to show more musicality in my gestures. And that space is wonderful to experiment and see what works."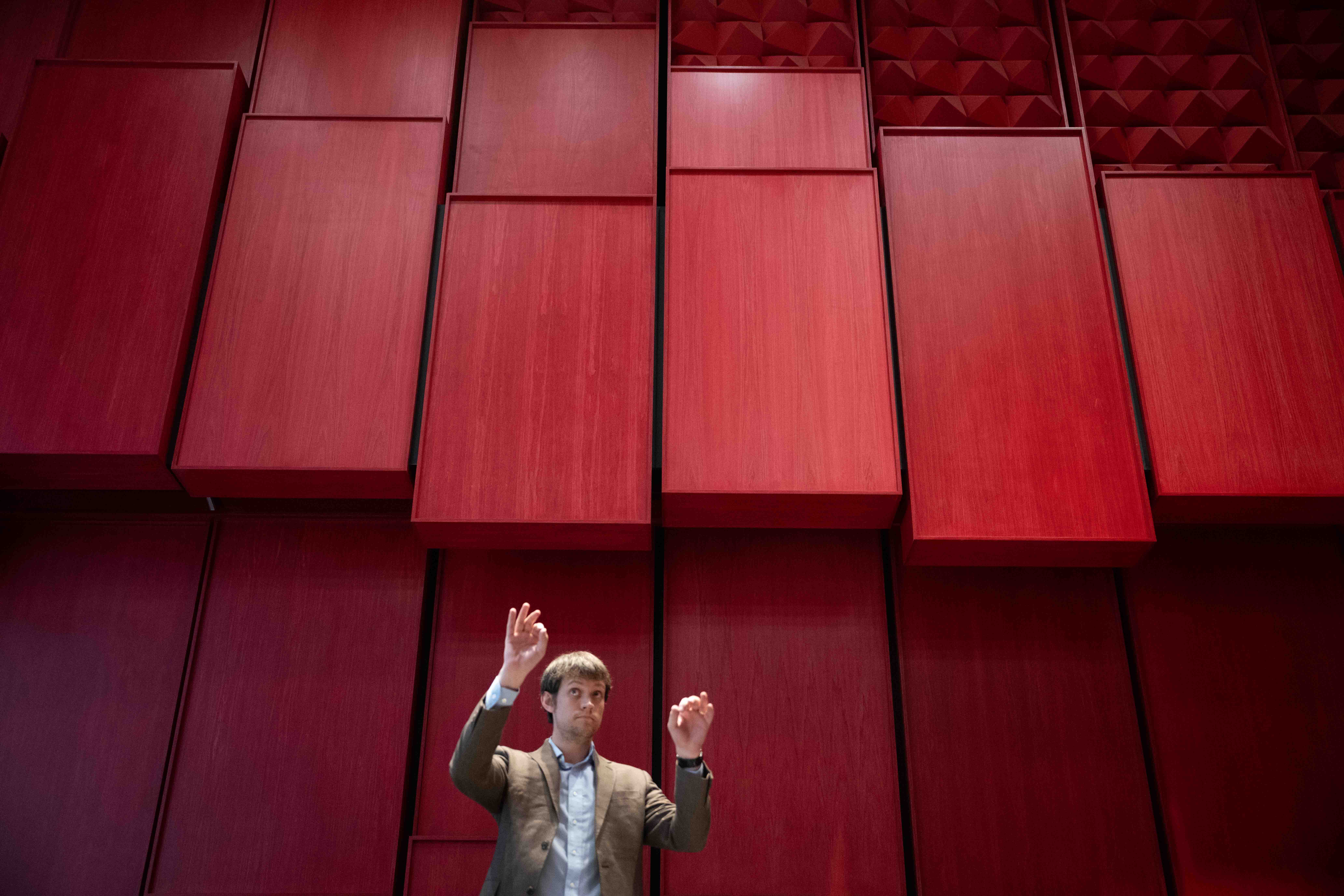 "A degree from Iowa means a lot, and I don't think I fully understood that when I first started. This is a program that is taken seriously on a national scale, which is really something that we can be proud of. There's only a certain number of degrees of separation that you can get before you'll find a conductor who has at least one of their graduate degrees from Iowa."
University of Iowa DMA candidate in choral conducting
Preparing students for a variety of careers
Anyone who wants to be a conductor now needs skills that extend beyond the music—a fact not lost on Iowa faculty. Brunet runs through a checklist:
Give excellent radio, TV, and newspaper interviews
Create videos for social media
Raise funds
Talk to thousands of audience members—and entertain them
Create the season's programming
Oh, and actually conduct the orchestra
"What is required from a conductor now is so much harder than what was required when I started," Brunet says. "You need to be good in so many things."
To give her students a chance to see and learn from a conductor performing such tasks required in the professional world, Brunet developed partnerships with the Northeastern Pennsylvania Philharmonic and Lexington Philharmonic. Brunet serves as the music director for both orchestras, and students have the opportunity to accompany her as the cover conductor.
"We go through the repertoire and my rehearsal plan. They watch rehearsal and take notes. They learn the rules of working with a unionized orchestra. They observe a full concert, and my interaction with the audience, with the patrons and reporters, during fundraising activities, all the major activities of a music director," Brunet says. "This is a unique opportunity because these are things that we can talk about but you can't see in a classroom or working with a student orchestra." (Iowa provides financial assistance for the trips so students don't have to cover all the costs.)
There are still plenty of opportunities for students in the academic setting to take a hands-on approach and gain skills beyond what they do on the podium.
The Iowa Pep Band, which performs for Iowa basketball games and select wrestling meets and other university events, is completely in the hands of the conducting students.
"Dr. Bush lets us run it, and again, that's something that looks great when we're applying for jobs," says Strickland, who was the instructor of record for the pep band during the 2021-22 season.
Conducting students who graduate from Iowa head off for a wide variety of careers, taking over established ensembles or forming their own, or working in churches, universities, and high schools.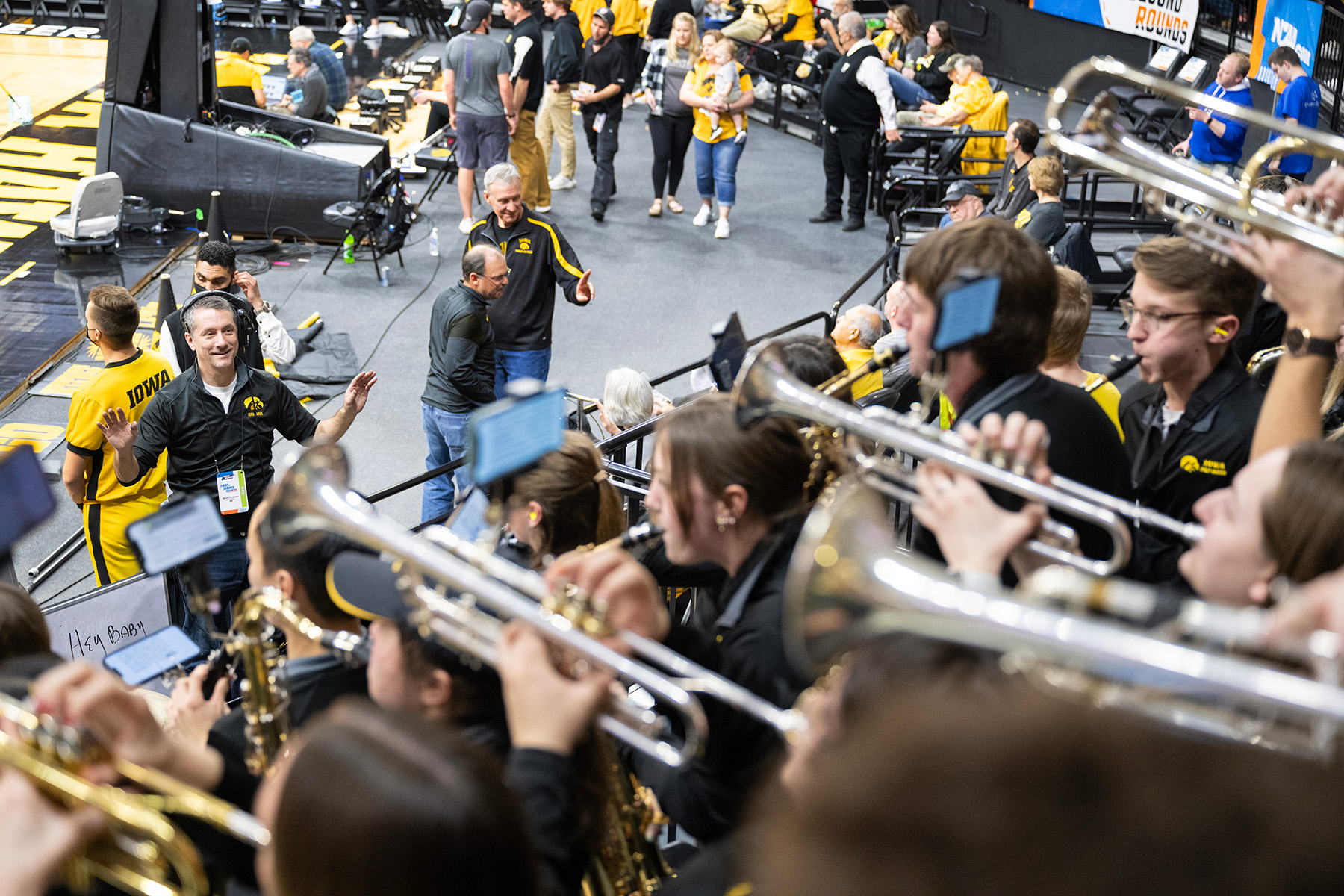 Kendall says his experiences in the School of Music have expanded his idea of which direction his career might go.
"I think 10, even five, years ago, if you got a DMA in choral conducting, you were probably going to go teach at a university," Kendall says. "But tenure-track positions at higher education institutions are rapidly disappearing, and we have to be prepared for positions that are not the traditional tenure track. What's been so enlightening is to discover how many different things you can do with this degree, and this university does an excellent job of preparing you for all of them."
Kendall will begin in academia, having accepted a position as a sabbatical replacement for the director of choral activities at his alma mater, Gustavus Adolphus College, for the spring 2023 semester, during which he'll also finish his dissertation.
As a small department within a large School of Music, the conducting program at the University of Iowa offers graduate students the best of both worlds: stimulating performance opportunities, ample teaching opportunities, and excellent access to research libraries, all with a maximum of individualized attention from faculty.
He's not the only student juggling school and work. Maddaleno began work in February 2022 as the director of orchestral studies at the University of Wisconsin-Platteville.
"It's a part-time position right now, but I'm able to get into that world and establish myself in my career, which is really exciting," Maddaleno says. "I am so lucky to have Dr. Brunet, who is really understanding of that and helps me balance that with my TA work, studies, and dissertation. She's been supportive from the beginning and has always been there for me when I need advice professionally."
Kendall says along with having supportive faculty, he feels lucky to be surrounded by his fellow students.
"My colleagues are a big reason that I am here. I've learned so much from them," Kendall says. "They are from all over the country and it helps to bring in different perspectives and see different ways of doing things."
As Iowa conducting students head out into the world, they join a distinguished group of musicians.
"We have a national and international reputation," Heidel says. "The University of Iowa School of Music's history is long and proud."