Ready to direct on the field, in the performance hall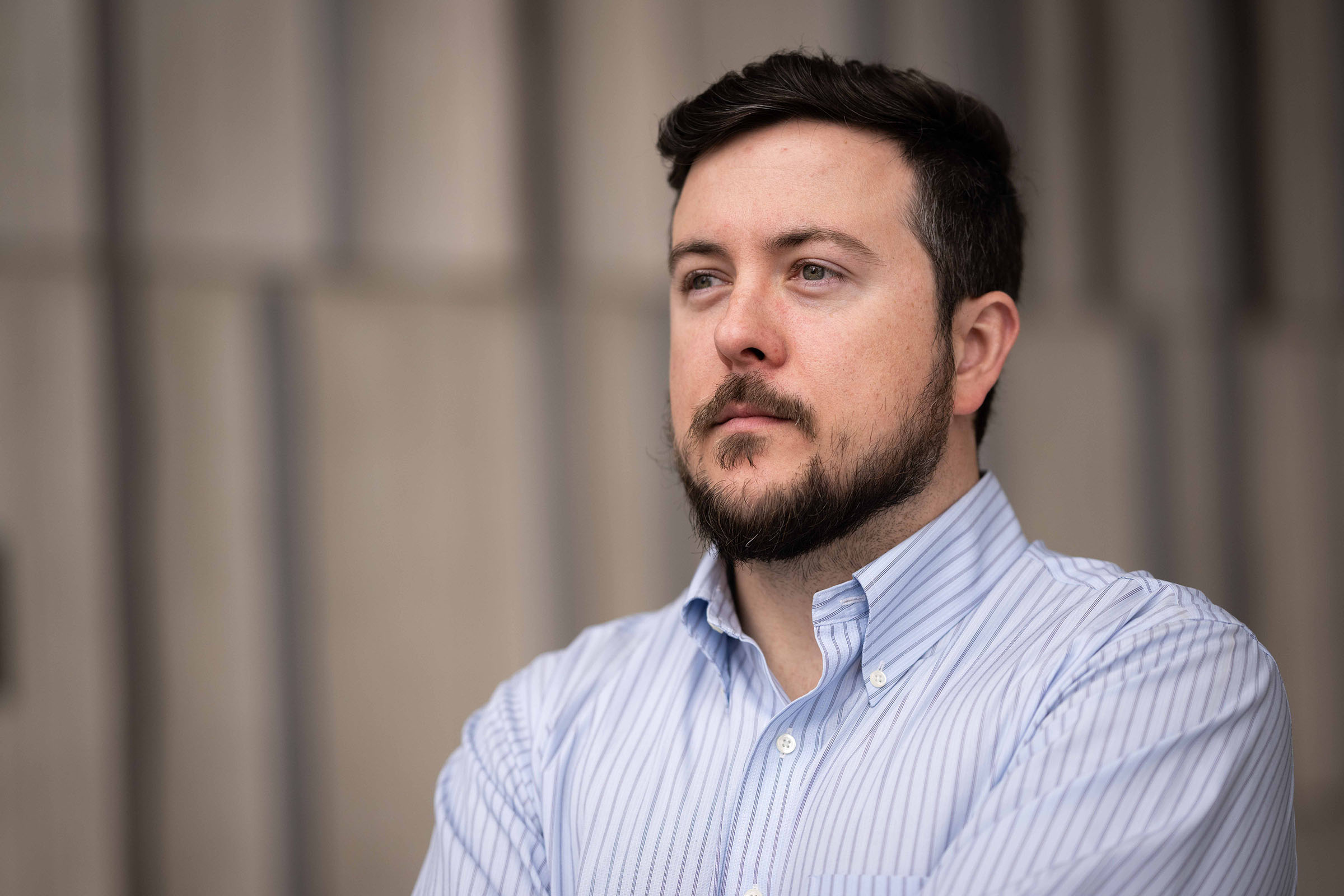 Tyler Strickland will graduate having conducted the Hawkeye Marching Band on some of the biggest stages: Kinnick Stadium, a Big Ten Championship game, and the Citrus Bowl.
Degree: DMA in wind conducting
Hometown: Birmingham, Alabama
Future plans: Strickland is interviewing for athletic band director positions at universities
Nearly 70,000 fans at the Sept. 25, 2021, Hawkeye football game might have experienced flashbacks to the days of Hayden Fry and Chuck Long, courtesy of the Hawkeye Marching Band.
The band performed its "'80s Vibes" show, which featured tunes by Toto, a-ha, and Van Halen. The popular program was designed, arranged, rehearsed, and conducted by Tyler Strickland, who will graduate from the University of Iowa with a Doctor of Musical Arts in wind conducting.
"The show was a big crowd pleaser in Kinnick, and we included it in our 'Fan Favorites' halftime show, which was performed at the Big Ten Championship game and the Citrus Bowl," says Eric Bush, associate director of bands and director of the Hawkeye Marching Band. "It's unusual for a teaching assistant to take the center ladder on the field at halftime in such high-profile games, but Tyler earned that opportunity outright. He stepped up when he saw what the band needed, and he's really grown as a band director through the experience."
Strickland's path to that prominent perch took shape in his early high school years, a point when he knew he wanted to be a band director.
"I had the same band director and assistant band director from fifth grade until I graduated high school," says Strickland, who grew up in Birmingham, Alabama. "I could see how much they enjoyed what they did and they had a huge influence on me."
He went to Auburn University in Auburn, Alabama, where he played saxophone in the marching band and every ensemble that he could. He initially majored in business but couldn't deny that music was his true calling. He switched to music education after two years.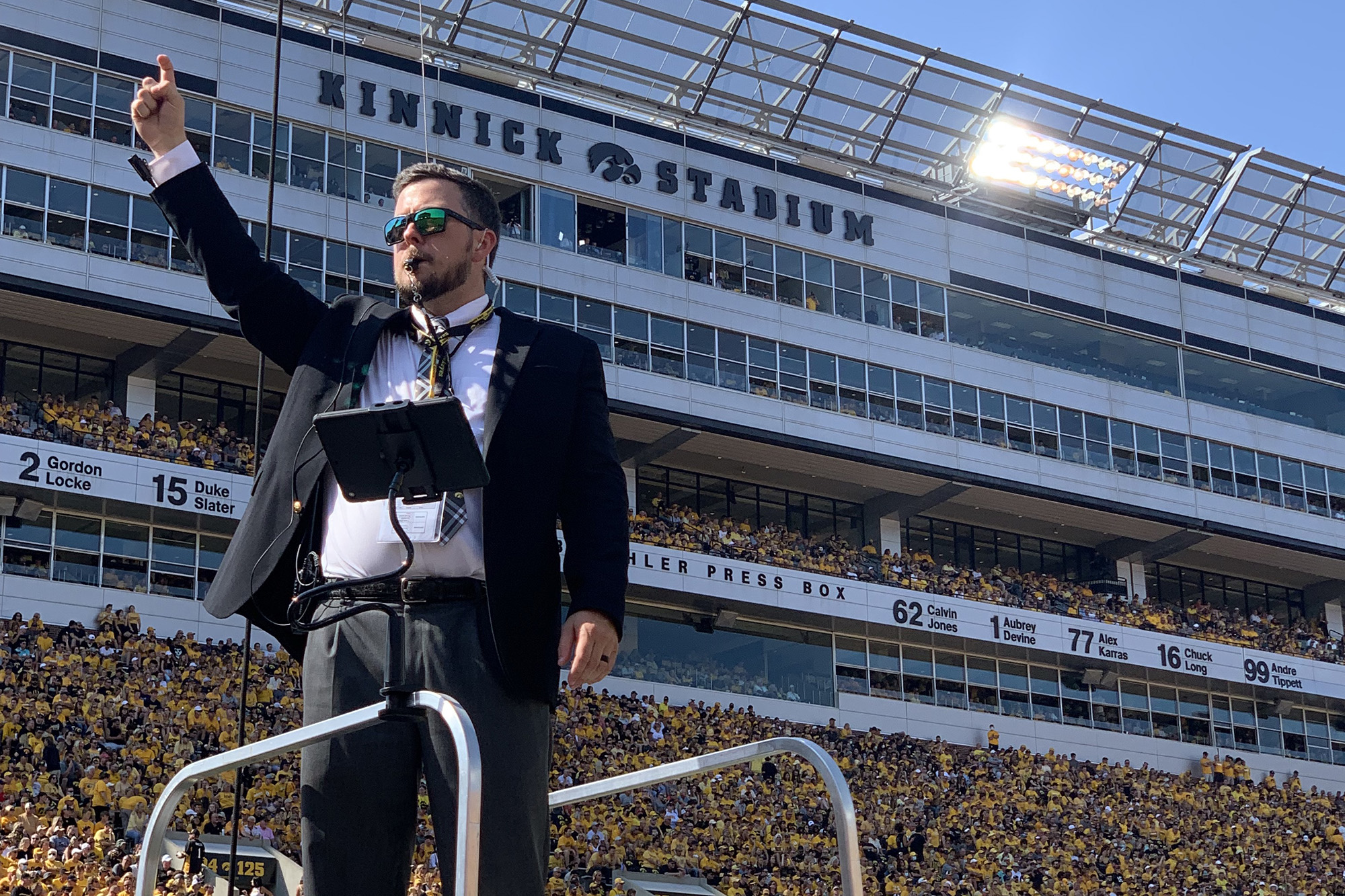 "I came here to be a better band director, and although it has been a weird, pandemic-ridden time, that goal has been achieved."
May 2022 University of Iowa graduate
After graduation, Strickland taught band to sixth- through 12th-graders in a town near Mississippi State University, where his soon-to-be wife was working on a master's degree. A couple of years later, his wife—whom he met in the Auburn marching band—got into a PhD program at Auburn for clinical psychology, and the couple moved back to Alabama. Strickland got a job teaching band to fifth through 12th grades at Reeltown School, 25 miles from Auburn. He completed his Master of Music Education at Auburn during the summers, while teaching at Reeltown.
"I wanted to do a master's in conducting, which wasn't available at Auburn, so I did my master's in music education instead," Strickland says. "And because Auburn doesn't have a DMA program, I looked elsewhere once my wife finished her PhD. I wanted to go elsewhere anyway because I didn't want to do all three degrees at Auburn—as much as I love it."
While talking to people he knew in the music programs at Auburn and Mississippi State, Iowa's School of Music kept coming up.
Strickland visited Iowa City in November 2018 and hung out with the marching band during the Iowa–Nebraska football game, which the Hawks won on a field goal as time expired.
Training the next generation of conductors
As a small department within a large School of Music, the University of Iowa conducting programs offer graduate students the best of both worlds: excellent access to research libraries, stimulating performance opportunities, and ample teaching opportunities, all with a maximum of individualized attention from faculty.
"I had SEC game-day experience and wanted to get another Power Five game-day experience," Strickland says. "It's a different culture as far as the marching band goes in the Big Ten than it is in the Southeastern Conference. Iowa also felt very much like Auburn because it's not a huge metropolitan area and the campus is integrated into town. It just felt good."
Strickland returned for an audition in February. He was scheduled for an audition a few weeks later at another school, but canceled it when he found out he was accepted at Iowa.
He started the DMA program in fall 2019 and had one and a half "normal" semesters before COVID-19 hit. While the pandemic turned much about the world upside down, there were some silver linings.
"We had chamber ensembles of 15 or fewer people and we could only rehearse for 30 minutes at a time, but that actually gave us the opportunity to work more with ensembles, though they weren't large ensembles," Strickland says. "Typically, we would get to work with the concert band twice in an academic year, and the symphony band once, but throughout that year we actually worked with a symphony band chamber ensemble both semesters and a concert band chamber ensemble both semesters. So, we were actually getting to do more conducting.
"I came here to be a better band director, and although it has been a weird, pandemic-ridden time, that goal has been achieved," Strickland says.
The Hawkeye Marching Band only performed virtually in the fall of 2020, but Strickland was able to make up for the missed year by writing drill for four of the six home football halftime performances and arranging music for the band as well.
"Because Tyler had the experience, understanding, and enthusiasm for the work we were doing, he was given even more responsibility than a teaching assistant typically would," Bush says. "He wrote more drill and arranged more custom music for the HMB than any other TA has since I took on this role."
"It kept me very busy, but it was the experience that I wanted and needed," Strickland says. "And it was wonderful that they allowed me to do that because it makes me more marketable. When I send my CV out for job applications, it shows that I wrote four shows for a Big Ten marching band."
Continuing to play, continuing to learn
Tyler Strickland says he appreciates the number of opportunities he's had to not only conduct, but also play with the many ensembles at Iowa. He says in some graduate conducting programs, students don't play.
"But I love playing; I'm a musician," Strickland says.
Playing in so many ensembles led in part to one of the biggest surprises during Strickland's time at Iowa: a new appreciation and skill in playing the clarinet.
"I was a saxophone player, but I wasn't much of clarinet player," Strickland says. "I taught it to kids, but I did not anticipate becoming a proficient player who could sit in an ensemble like the Iowa Symphony Band and play a clarinet. It's been fun experimenting with different instruments."
Strickland says he's not sure he would have received so much hands-on experience at other schools.
"I got the opportunity not only to write the drill, but I was also the guy on the tower teaching that drill to the entire Hawkeye Marching Band," Strickland says. "In some other programs, you may get to write the drill or do an arrangement, but the marching band director teaches it. Dr. Bush trusts us to do that, and that's not something that everyone gets in a DMA program elsewhere."
Teaching assistants like Strickland are even more hands-on with the Iowa Pep Band, which performs for Iowa basketball games and select wrestling meets and other university events. In fact, Strickland was the instructor of record for the pep band this past year.
"Dr. Bush lets us run it, and again, that's something that looks great when we're applying for jobs," Strickland says.
Strickland says he's been fortunate to work with faculty who care and have high standards, including Bush and Richard Mark Heidel, professor and director of bands.
"You can develop a lot of bad habits after teaching for eight years, so I was a project for sure," Strickland says. "Learning is lifelong and never ends, and I've improved a lot at Iowa, and that's due to the work all the faculty have put into me."
Strickland is interviewing for positions at universities, and while he wants to be a marching band director, he also hopes to get the chance to continue working with concert bands as well.
Bush says he has no doubt that Strickland will make a positive impact on the next generation of musicians for years to come.
"He has a wonderful rapport with the students; he teaches with a good balance of clear expectations and collegiality," Bush says. "I'm proud of him for the growth he's made, and I'm really excited to see where his career takes him next. I know he'll be an excellent athletic band director, wherever he lands."