Delivering fun to the science classroom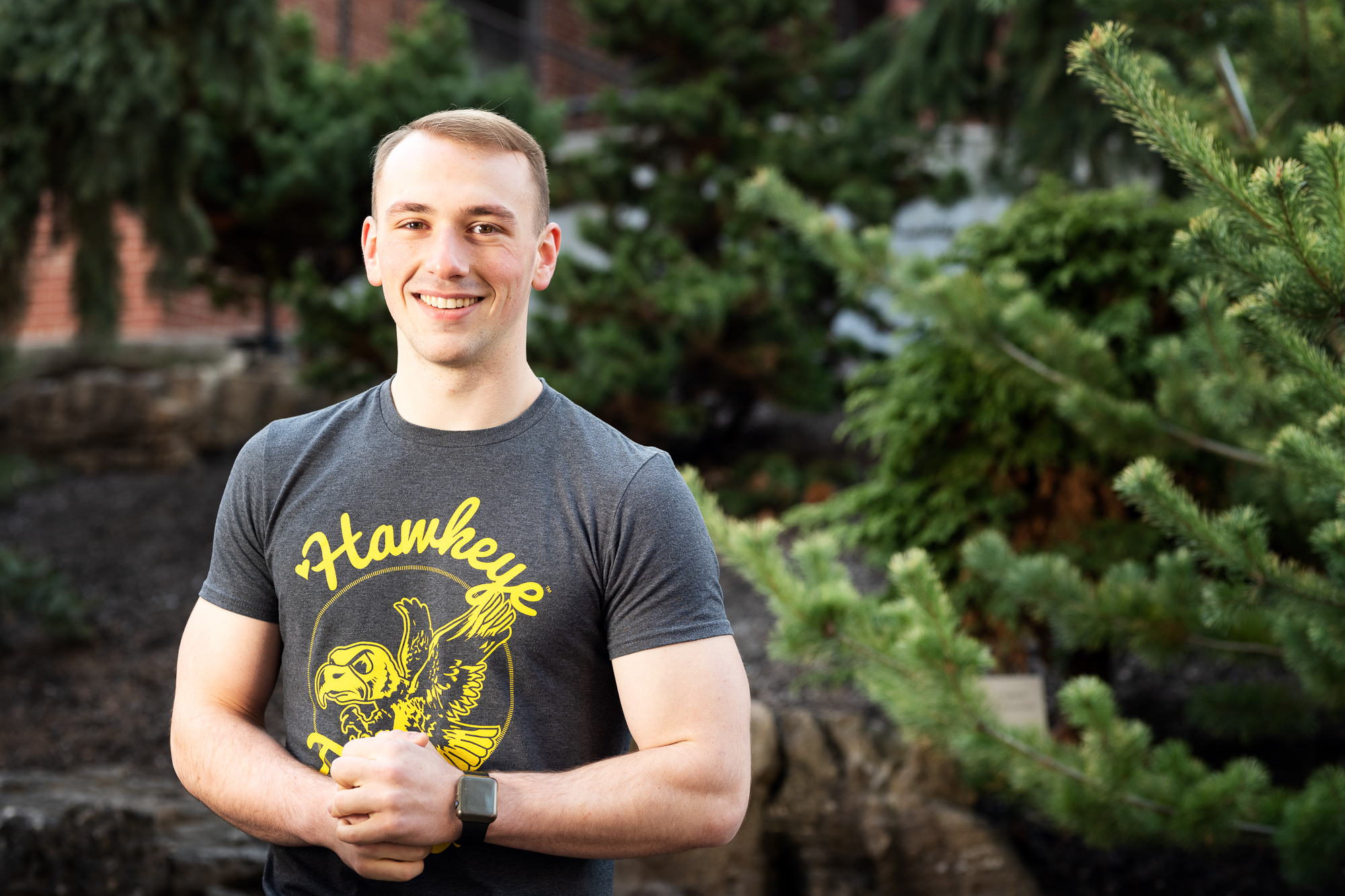 Teaching runs in Zac Gavin's blood. The soon-to-be University of Iowa graduate will become part of the third generation of teachers in his family, and he can't wait to inspire future generations at his alma mater in Maquoketa, Iowa.
Degree: BA in science education and BS in science studies (all science)
Hometown: Maquoketa, Iowa
Future plans: Gavin has accepted a position as a high school science teacher at Maquoketa High School.
When Zac Gavin enters his Maquoketa High School classroom next fall, he will become part of a long family legacy. Three generations of the University of Iowa student's family have a cumulative 152 years of working in the Iowa school district.
"If a child today stays in the Maquoketa Community School District long enough, they could start pre-K with my sister, have my mom for kindergarten, and then end with senior year physics with me," Gavin says. "I think that's kind of neat."
Gavin will graduate this May from the UI College of Education with a BA in science education and BS in science studies (all science). He will return to his alma mater to teach high school science courses and coach middle school football and wrestling.
While teaching is in his blood and his mom told him that he'd make a good teacher, it wasn't his first choice. But a physics class during his junior year of high school changed his mind.
"I've always loved science classes and I thought to myself, 'I would love to do this. Why don't I do this?'" Gavin says. "I thought I wanted to be a dentist, but I just realized I would have more fun teaching science."
Teaching may not have been his first choice, but going to the UI was.
"I never even visited another school. I always knew I was going to be a Hawkeye," Gavin says. "It's a top-tier university, and you can't get better than Iowa in terms of quality of education. There is cutting-edge research going on, not just in science fields but in the education field as well. I feel like a very competent educator, and that's all thanks to my education here."  
Gavin will graduate in only three years, but says he feels well prepared to take over a classroom. He says that's largely thanks to the faculty at Iowa, who were welcoming, supportive role models.
Your opportunity to make a difference starts here. Our students go on to become world-class teachers, supportive mental health professionals, and innovative leaders in higher education, measurement, and learning technology. Choose from more than 80 undergraduate and graduate degree programs, including licensure, endorsements, certificates, and online programs.
Gavin says he especially wouldn't be the educator or person he is today without Ted Neal, clinical professor of science education.
"He was able to explain how to teach in a way that supports student learning, and he would model it without us realizing it," Gavin says. "And he would do it so considerately and patiently that you can't help but follow along."
Even when classes were maddeningly difficult, Gavin says his professors found ways to make learning fun, which is what he hopes to do in his own classroom.
Gavin spent the spring semester student teaching at Davenport West High School, where he taught various science courses, including a forensics class.
"That has been a ton of fun," Gavin says. "I plan crime scenes for the students to solve. I love doing that stuff because it gets the students interested. You have to do more than lecture."
Neal says Gavin has a natural gift for teaching. The UI professor shares a story of what he says is one of the best lessons he's seen a student teach.
"Zac was teaching a lesson related to bats at College Community School District and asked the students about their personal connections to bats," Neal says. "He then explained that he had a 'surprise.' He put on gloves, went into a back room, brought out a small dog kennel with a towel over it, and told the students to stay quiet and keep still while he brought out the 'surprise.' Total drama moment. He reached in, all quiet, shushed the kids, pulled out the 'surprise' in his gloved hands and threw it in the air. Kids ducked, screamed, and laughed as a fake bat fluttered around the room. Zac is just an amazing, energetic, passionate teacher."
"I want to be a lifelong teacher and see kids and maybe their kids come through my classroom. Maybe I'm young and naive, and maybe it's silly to say that, but that's what I'll be happy with."
May 2022 University of Iowa graduate
One experience from his time at Iowa that Gavin says will stick with him was a geology course through the College of Education that brought the class to Colorado.
"It was so cool because we saw the story firsthand," Gavin says. "And that's the thing about science, it's just building stories. And that's what we did, we built a story in Colorado. And the same can be done in Iowa."
And getting to teach just miles from the famed Maquoketa Caves State Park, Gavin is excited to do just that: "It's a wonderful spot to teach science."
While COVID-19 put a wrench in many things, Gavin found one silver lining: While living at home in Maquoketa and taking classes online, he served as a substitute teacher whenever he could.
"That raised my confidence and my competence level in teaching and coaching," Gavin says. "You can find positives everywhere. I was a bit bummed living at home, but I made the best of it."
Gavin encourages students at Iowa to set goals and to not be afraid to ask for help achieving them. He also reminds them to have fun.
"Get out there and join extracurriculars or go do trivia with your friends—that was something I loved immensely," Gavin says. "Go explore the campus and find those awesome niche spots like Fitness East or the two trees behind Stanley Hall that are perfect for slacklining."
Gavin looks forward to joining his mom, Jennifer, and sister, Liz—who graduated from Iowa in 2019—in the classroom next fall.
"We've always been a very tight family, but now we can talk about all the educational jargon and the struggles that we share together," Gavin says. "This has made us even closer. We're all so proud to be teachers."
Gavin says he is excited to return and give back to the community where he grew up.
"I want to be a lifelong teacher and see kids and maybe their kids come through my classroom," Gavin says. "Maybe I'm young and naive, and maybe it's silly to say that, but that's what I'll be happy with."