Nursing student learns resilience from tragedy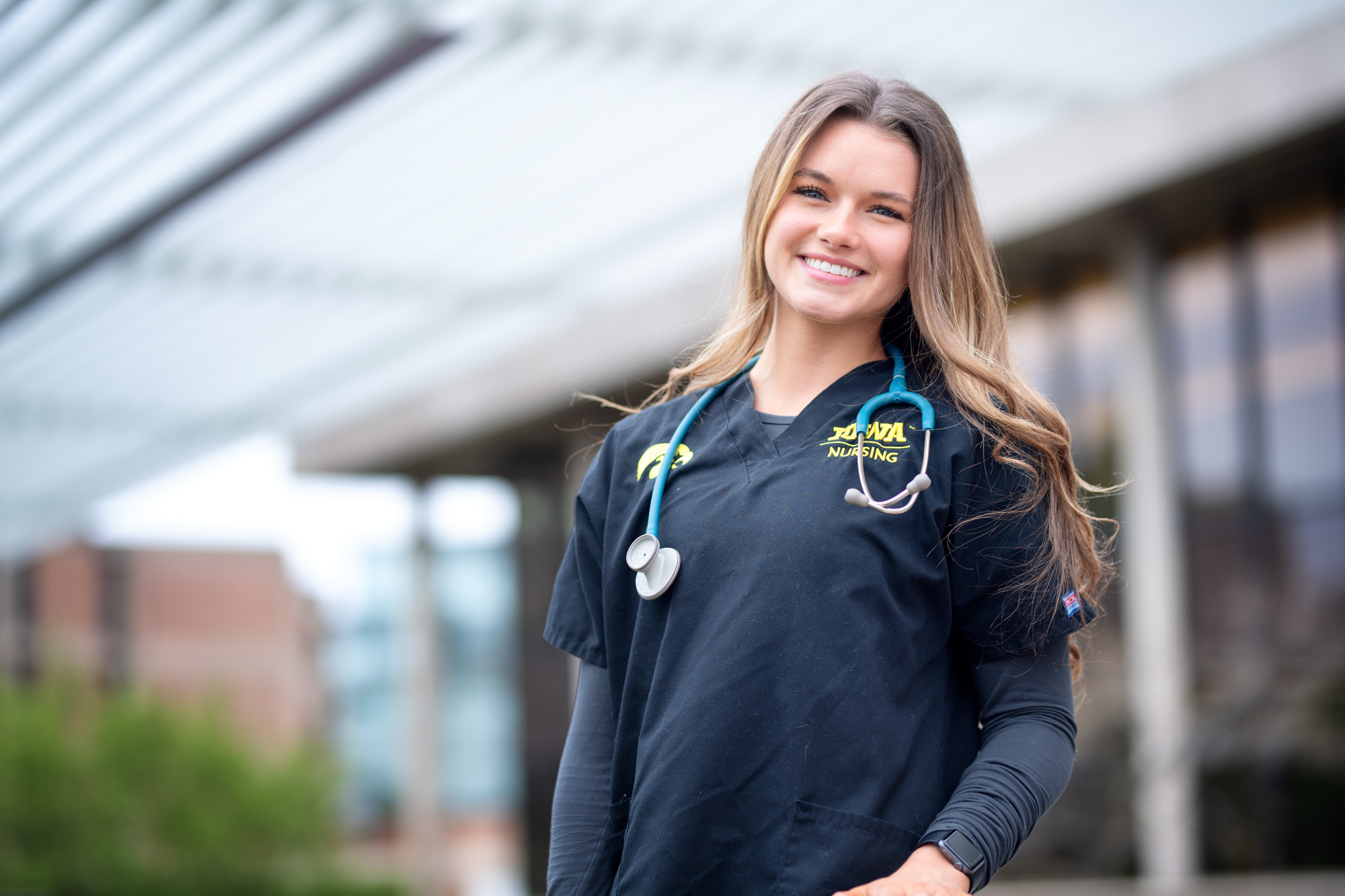 A life-changing boating accident just before starting college didn't throw Rylee Petitgout off course. Instead, she persisted and now is set to earn a University of Iowa nursing degree.
• Degree: BSN with a minor in human relations
• Hometown: Iowa City, Iowa
• Future plans: Will start a job in the neonatal intensive care unit at University of Iowa Hospitals & Clinics in August, with the ultimate goal of pursuing a nurse practitioner degree
The summer before her first semester at the University of Iowa, Rylee Petitgout nearly died in a boating accident on Coralville Lake. As she was thrown into the water, a propeller severed her pinkie finger and multiple tendons in her right hand and gouged her thigh and buttocks. She lost a lot of blood.
Treated initially in the emergency department at UI Hospitals & Clinics, Petitgout was airlifted to Mayo Clinic in Minnesota, where she spent a month undergoing dozens of surgeries and recuperating. Within a week of being released to her family home in Iowa City, she moved into Catlett Residence Hall and started classes as a first-year nursing student.
Now, nearly four years later—with a lot of assistance from family and friends and steady support from the College of Nursing—Petitgout is set to graduate with a BSN and has accepted a job starting in August in the neonatal intensive care unit at UI Stead Family Children's Hospital.
Petitgout says she didn't consider putting off her education despite the physical challenges she faced. She needed a crutch to get around campus and had to learn to write with her left hand. Her mother, Janine, a nurse practitioner at UI Hospitals & Clinics and Iowa nursing alumna, came to her room every day to administer antibiotics and help wash her hair. Friends and family offered rides to and from physical therapy appointments, and Iowa staff helped her to arrange online classes, schedule extra test time, and utilize scribes when needed.
"It surprised me how much hands-on experience we get as students. We're very fortunate to get those opportunities at a hospital like UI Hospitals & Clinics. Also, the college does a really good job taking feedback from students to improve classes—they are very responsive and accommodating. Being a nursing student at Iowa has been such an amazing experience that I am sad to be graduating."
UI nursing student graduating in May 2022
"It was kind of tough getting into the groove of things, but resilience is definitely a quality I gained from being in my accident," says Petitgout, who runs, does yoga, and can do most things she did before the accident. "It's taught me to take situations that might not be the best and use them to find motivation. A lot of people go through similar things—I'm not alone—and my hope is to inspire somebody who has scars to not be afraid to continue doing the things they love to do, regardless of the past."
Before the accident, Petitgout had decided to follow in her mother's footsteps—to become a nurse and to pursue her training at Iowa. She was inspired by the impact her mother had on her patients. Now she says she can use her experience as a patient to help others.
"I know what it's like to be in the hospital and how scary it can be. I think that's beneficial in this career path," she says. "I always had my mind set on being a nurse, and when you're in the hospital, you have a lot of time to do nothing but think. I knew that I was going to continue my education regardless—and I knew that I could do it."
With help from Linda Myers, academic program management specialist in the UI College of Nursing, Petitgout was able to adjust her course schedule to allow for rehabilitation while also keeping up with her cohort. Myers says facilitating Petitgout's education was a group effort.
The University of Iowa College of Nursing is the smallest nursing college in the Big Ten, and many of its programs are ranked among the 25 best in the nation, including a No. 10 ranking from U.S. News & World Report for its BSN program.
"I don't think you'll find a more caring environment in which to learn than the College of Nursing. We are a family here and we look out for each other," Myers says. "For Rylee to apply her academic talents in one of the best nursing programs in the country and to excel and still graduate in four years after all she went through is a testament to her personal attributes. I think her persistence, her belief in herself, and her faith, combined with a great nursing education, are going to make her an exceptional nurse and allow her to change the world for many people."
Petitgout says the UI College of Nursing has been even better than she anticipated it would be, and she feels well prepared to start professional practice. Experience in a patient simulation lab, exposure to a variety of patient populations through clinical rotations, and periodic exams that emulate nursing boards are just some of the things that have stood out, she says.
"It surprised me how much hands-on experience we get as students. We're very fortunate to get those opportunities at a hospital like UI Hospitals & Clinics," Petitgout says. "Also, the college does a really good job taking feedback from students to improve classes—they are very responsive and accommodating. Being a nursing student at Iowa has been such an amazing experience that I am sad to be graduating."