Research ambitions yield big rewards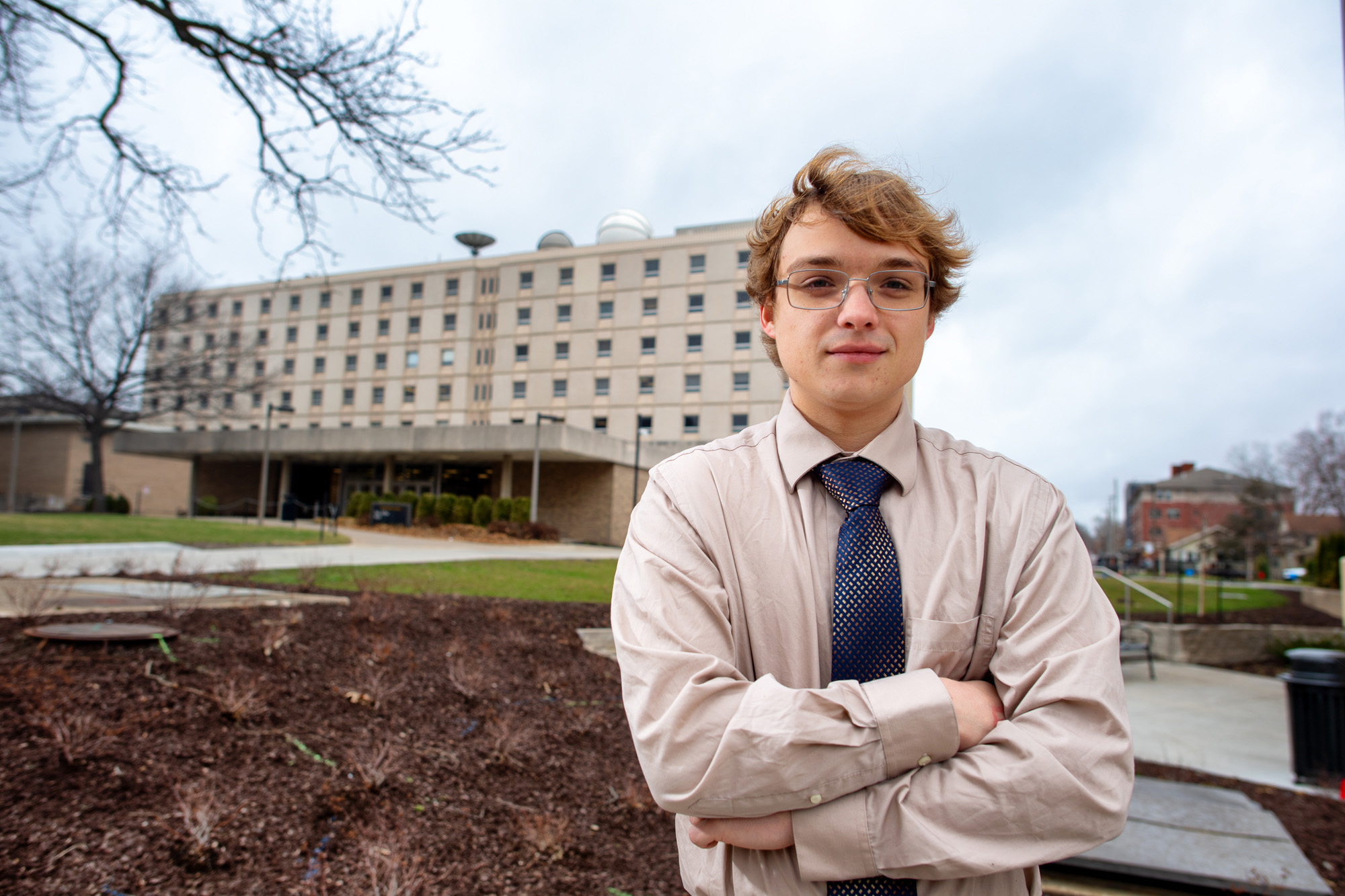 Joshua Doucette found his academic and career paths through research, joining faculty-led teams in space physics and particle physics during his undergraduate years at Iowa. These rewarding experiences have launched his next phase: the pursuit of a doctorate in physics.
Degree: Bachelor of Science in physics
Hometown: Charles City, Iowa
Future plans: Pursue a doctorate in physics
A simple request from Joshua Doucette opened his academic and career paths.
The fall of his first year at the University of Iowa, Doucette decided he wanted to do research in physics and astronomy. He emailed as many faculty members as he could find in the department who were looking for undergraduate help in their labs.
At the same time, Doucette was taking an introductory physics class taught by Allison Jaynes, assistant professor in the Department of Physics and Astronomy. Still looking for a research home, Doucette decided to ask Jaynes in person after class.
"I knew who she was, and she's approachable," he says.
One in-person meeting later, Doucette was hired. He joined Jaynes' research group that November and has been with her ever since. Doucette, a senior from Charles City, Iowa, who will graduate in May with a physics degree, has learned new programming languages, contributed to discoveries in space and particle physics, and won a summer research stint at the Brookhaven National Laboratory, operated by the U.S. Department of Energy. He will further his studies as he pursues a doctorate in physics at the University of Wisconsin–Madison.
Doucette describes his involvement in research as rewarding in both short and long terms.
"The research roles reward you in different ways," Doucette says. "You may have a challenging programming problem, and you might need to spend a few hours to get that to work, and then it's immediately rewarding to see you have built this application that furthers the research. Then, there's the long-term reward, which is, 'OK, now I've built several programs, I can make all these graphs, I'm putting in all this data gathered by the spacecraft and actually doing the analysis that leads to discoveries published in peer-reviewed journals.'"
Iowa Center for Research by Undergraduates
ICRU promotes undergraduate involvement in research and creative projects at the University of Iowa by facilitating the mentorship of students in research/creative work. It works with students, faculty, and staff from the arts, humanities, natural/physical sciences, social sciences, health and medicine, engineering, and business.
As an undergraduate, Doucette has won substantial funding for research-oriented awards and scholarships. He's earned money from myriad entities, including the Iowa Center for Research by Undergraduates (ICRU), the U.S. ATLAS SUPER Program, the NASA Iowa Space Grant Consortium, and the UI Department of Physics and Astronomy.
His tip? Find the opportunity, and pounce.
"First, you've got to apply. That's the biggest thing," Doucette says, adding he made sure a faculty member reviewed his applications before he submitted them.
The awards supported Doucette's varied research adventures.
His first opportunities came with Jaynes, whose group was examining the Van Allen radiation belts, intense bubbles of energy surrounding Earth named for famed Iowa physicist James Van Allen.
"I told (a University of Iowa outreach coordinator) I wanted to study physics, and he told me Iowa has a world-class, internationally recognized program in physics. In hindsight, I say that's the best choice I could have made."
Charles City, Iowa, native who graduates in May with a degree in physics and will pursue a doctorate in the field
"Josh wrote original computer programs to determine the amount of high-energy electrons in the radiation belts, and how those levels change over time, using data from the Van Allen Probes spacecraft mission," says Jaynes, a co-investigator on the NASA-led mission. "He also created a program that analyzes a proxy value of a type of magnetospheric wave, so we can estimate how many particles are being lost to the atmosphere from the radiation belts."
Doucette's contributions earned praise.
"I'm amazed by Josh's abilities and enthusiasm," Jaynes says of the first-generation college student. "He's one of the strongest undergraduate students I've ever encountered."
In spring 2020, as a sophomore, Doucette joined the research group led by Usha Mallik, a particle physicist and professor in the Department of Physics and Astronomy. The next summer, he was selected to join scientists at Brookhaven National Laboratory on Long Island who were involved in investigating upgrades to ATLAS, one of two main detectors operating at the Large Hadron Collider, the particle accelerator that has yielded a host of revelations about the fundamental laws of physics and the universe.
Do you seek to understand the nature of space, time, and matter from the quantum level to the outer reaches of the universe? Iowa's Department of Physics and Astronomy offers challenging courses on a variety of subjects, and most of our students participate in research projects and work directly with faculty members.
"I was involved in preparing for the upgrade. We need to have construction, and we need to have testing," Doucette says. "And this needs to be done by technicians, not scientists, who chiefly will analyze data. So, people like me need to make software that is easy enough for the technicians to get their jobs done and to operate as automatically as possible."   
Doucette chose Iowa after taking classes at North Iowa Area Community College. He says he was influenced partly by an outreach coordinator from the university who visited his high school.
"I told him I wanted to study physics, and he told me Iowa has a world-class, internationally recognized program in physics," Doucette recalls. "In hindsight, I say that's the best choice I could have made."