Bringing a business sense to sports world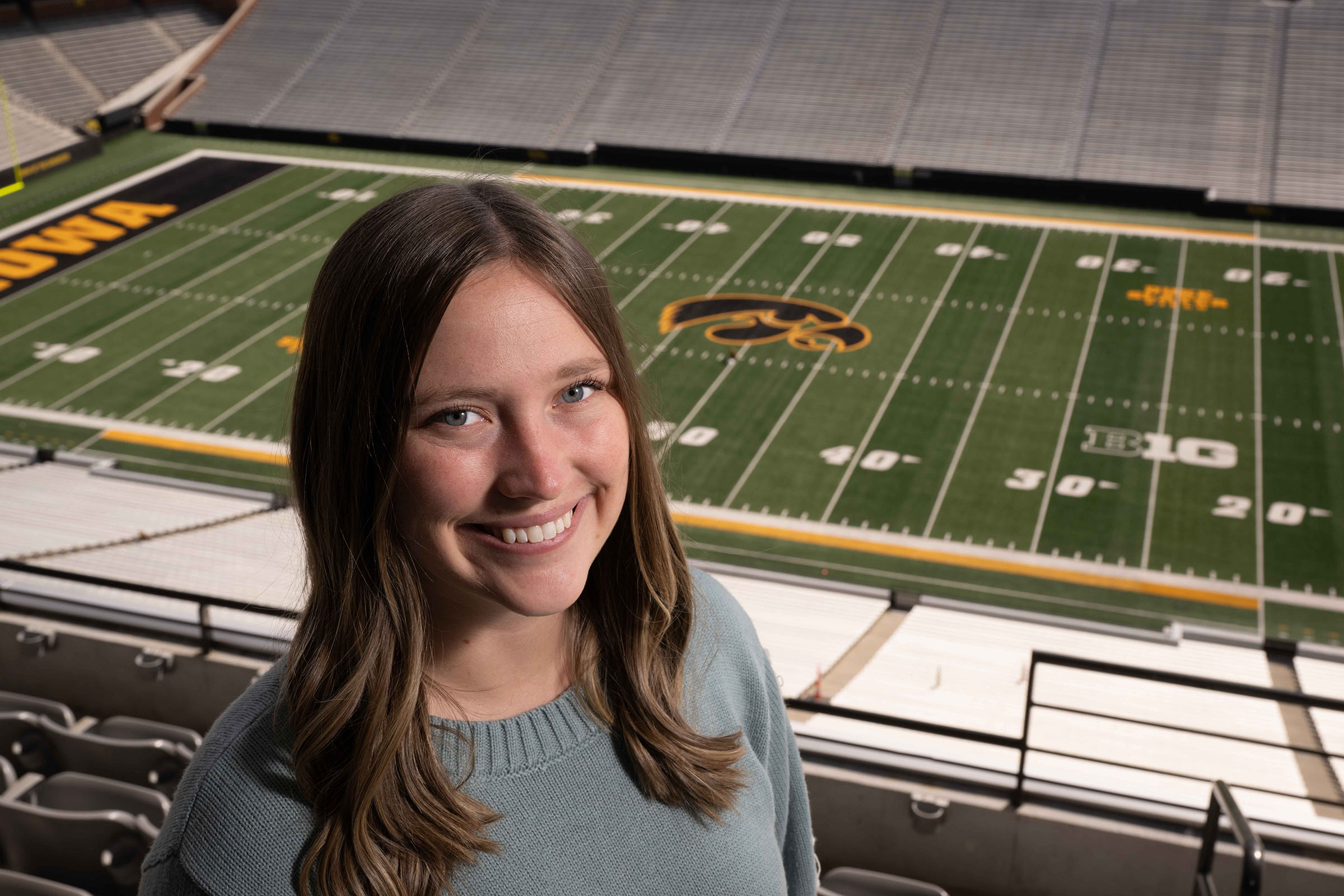 Madelyn Swaim came to the University of Iowa knowing she wanted to major in business. Here, she learned she could put her business skills to use in another area she loves: sports.
Degree: BBA in marketing on the analytics track; BBA in management on the leadership track; minor in sport and recreation management; certificate in event management
Hometown: West Des Moines, Iowa
Future plans: Move to Minneapolis to take a youth marketing associate position with the Minnesota Vikings
Madelyn Swaim knew she wanted to do something creative with her career. In high school, she loved theater, art, and music. She also loved sports.
At the University of Iowa, the fourth-year student from West Des Moines, Iowa, was able to merge her passions and gain professional experience in a career path that will start with the Minnesota Vikings after graduation.
Swaim will graduate from Iowa in May 2022 with a double major in marketing on the analytics track and management on the leadership track, a minor in sport and recreation management (SRM), and a certificate in event management.
Iowa, however, wasn't always Swaim's dream school. She grew up a Cyclone fan and always thought she'd go to Iowa State University.
"I decided I wanted to go into business and learned that Iowa had one of the best business schools in the country, so I decided to go on a tour," Swaim says. "I fell in love with the campus and the environment. I just felt like I fit in here."
"You can feel the energy here. You can feel the passion of not only the students and faculty, but the people who live in Iowa City. Everybody just feels a sense of pride in the University of Iowa. And I definitely feel that pride. I'm so thankful to have come here."
May 2022 University of Iowa graduate
Swaim says she chose marketing because it would allow her use her creativity in a range of ways—although she didn't know in which direction it would lead her.
"I came in strictly marketing and management, but through course catalogs and talking with friends, I was lucky enough to find the SRM minor," Swaim says. "And that was exciting and helped me shift what I wanted to do in business and marketing to go in a sports direction. It's also been exciting, through SRM and the event management certificate, to be able to take classes outside of Tippie and get a broader student experience."
For the past two years, Swaim has put her skills to work through a sports marketing internship with the Iowa Department of Intercollegiate Athletics. There, she has helped facilitate and assist in running all sporting events put on by the university.
"It's been such a great opportunity. I have been able to do so many unique things that are exciting," Swaim says. "I've been part of the social media team this year, which has been so fun and rewarding. I've had the chance to learn more technical skills, create great content with my team, and watch our pages grow. And I have a great team of supervisors and interns around me, so it's been a great experience and definitely one of the highlights of my career here at Iowa."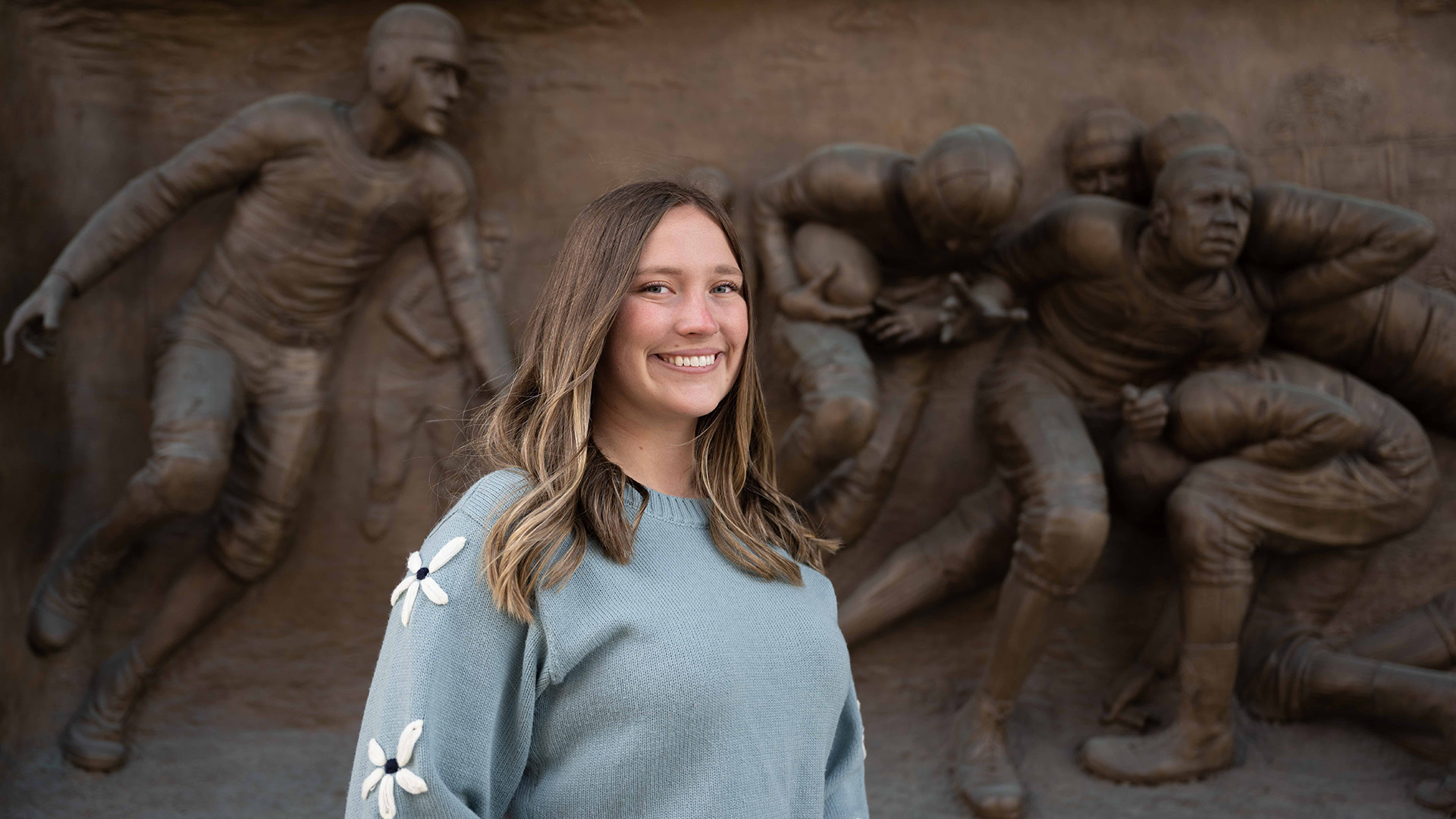 In addition to providing a solid foundation in core business disciplines, the Tippie College of Business offers career-specific tracks within each discipline. Each track has a dedicated faculty leader and includes internship opportunities, networking events, and professional preparation courses.
Swaim also had internships outside of sports, spending summer 2021 as a district manager intern with ALDI and summer 2020 as a marketing and communications intern with the Iowa Finance Authority.
She says her classes and activities outside the classroom—including being on the digital marketing committee for the Campus Activities Board, a member of the professional business fraternity Alpha Kappa Psi, Tippie Students for Service, and Dance Marathon—prepared her well for her internships and a career after college.
"Joining these student organizations has really helped develop me as a person and as a leader," Swaim says. "I've been able to learn what it takes to be part of a team and how to communicate effectively. And then I've been able to take a lot of those skills and apply them to real-life scenarios."
Swaim says she's grateful for all the people who have mentored her throughout her time at Iowa, while expressing particular admiration and appreciation for Katherine Mersch, associate director of advising services in the Tippie College of Business.
Mersch says Swaim has the drive to be successful.
"It doesn't take longer than a quick glance at Maddy's résumé and academic record to know that she was set on making the most of her college career and ensure it set her up for professional success," Mersch says. "The privilege of her education is not lost on her, and she has a strong desire to continue her personal and professional learning throughout life. I think one of the most unique things about Maddy is her level of maturity and responsibility. She carries a heavy load, but knows she has a responsibility to herself and the community around her to follow through with her commitment to leave this place better than she found it."
Swaim had been accepted into the sport and recreation management master's program, but she says she wanted to explore some marketing, event management, and fan experience options within professional sports.
Turn a love of sport into a career
Students with a degree in sport and recreation management can find a variety of career opportunities including community recreation, intercollegiate athletic departments, high school programs, the commercial fitness business sector, and minor and major league sport teams.
After graduation, Swaim will move to Minneapolis to take an experiential and youth marketing associate position with the Minnesota Vikings. There she will join a number of Hawkeyes who work for the team, including her new boss, Brandon Clemens, director of youth marketing.
"It is exciting to know that I'll be working with fellow Hawkeyes," Swaim says. "I am so excited to be starting with the Minnesota Vikings and am so grateful to have been given this opportunity. I'm looking forward to learning more about the world of professional sports and how working in the NFL differs from working in a collegiate athletics department."
Swaim says she may not have grown up a Hawkeye fan, but now she can't imagine being anything but a Hawkeye.
"You can feel the energy here. You can feel the passion of not only the students and faculty, but the people who live in Iowa City," Swaim says. "Everybody just feels a sense of pride in the University of Iowa. And I definitely feel that pride. I'm so thankful to have come here."